September 20, 2018 by The Traveler · Leave a Comment
A few days ago my journey took me to New York City by the way of the New York Spectator dated September 15, 1818. It is there I found the announcement "Death of Col. Daniel Boon (Boone)," which included in part: "As he lived so he died, with his gun in his hand… rode to a deer-lick, seated himself within a blind raised to conceal him.. while setting thus concealed… without pain, he breathed out his last so gently, that when he found next day by this friends… he looked as if alive…"
Hmmm, maybe he truly was still alive as he did not die until two years later on September 26, 1820!
~The Traveler
September 14, 2018 by GuyHeilenman · Leave a Comment
Each month the staff of Timothy Hughes Rare & Early Newspapers sends out a newsletter to our members which includes special offers, discounts, alerts to new inventory, and information related to the rare newspaper collectible.
The September, 2018 newsletter:
Welcome to the September edition of our monthly newsletter. This month we offer a free newspaper (see details below), a set of nearly 200 issues discounted by 50%, a link to our newly discovered items, and a selection of a few recent posts from our History's Newsstand Blog. Please enjoy.
Free Newspaper – We have approximately 35 issues of the Niles' Register (Baltimore) which we are offering for no cost – except, potentially, S&H. If you order it as a stand-alone item, you only pay $5 S&H. If you order other items but the order is less than $100, you will only pay $1 additional S&H for this issue. If your order is for over $100, you will not pay any shipping on this "free" issue. Please, only 1 per collector. The issue may be purchased at:
FREE NILES' REGISTER
History's Newsstand Blog (featured posts):
Thanks for collecting with us.
Sincerely,
Guy Heilenman & The Rare & Early Newspapers Team
September 14, 2018 by GuyHeilenman · Leave a Comment
The following snapshot comes from The Leominster Daily Enterprise dated January 27, 1927…
Perhaps the editor should have picked up on this double entendre tainted headline?
September 10, 2018 by GuyHeilenman · Leave a Comment
Many are familiar with the Panama Canal and its profound impact on international trade and travel, however, few are aware of the great cost paid – in effort, dollars, and loss of life, in order to bring it to fruition. Still, after decades of suffocating labor, the canal opened in 1914. Trivia buffs may know of the Alexandre La Valley (a floating crane) – which became the first self-propelled vessel to pass from one end to the other , and others are able to recall the United States steamship, Ancon, as being the first large vessel to make the trip.
Trivia Challenge: What about the impact of the canal on military interests? While the intention of the canal was one of peace, which country has the distinction of being the first to have one of its warships pass through the canal? After you've made your best guess, go to the August 18, 1914 Boston Evening Transcript to see if any of you are correct. If so, feel free to brag about your knowledge by contacting me through e-mail. Good luck. To-date, "0" people have guessed correctly.
September 7, 2018 by GuyHeilenman · Leave a Comment
What news was reported in the month of August – 50 (1958), 100 (1918), 150 (1868), 200 (1818), and 250 (1768) years ago? Such a walk back through time via the eyes of those who read the daily and weekly newspapers of the period can be quite revealing. This is why we often say, "History is never more fascinating than when it's read from the day it was first reported." The following links will take you back in time to show the available newspapers from the Rare & Early newspapers website. There's no need to buy a thing. Simply enjoy the stroll.
September:

September 3, 2018 by The Traveler · Leave a Comment
Today I journeyed to New York City by way of The New York Times dated September 1, 1918, where I found that the Boston Red Sox had won the American League Pennant. "The Two Rival Managers & Their Shock Troops Primed for the World' Series Clash This Week." "Boston clinched the American League pennant by winning the first game of today's double header from Philadelphia, 6 to 1, with Ruth holding the visitors to three hits… (Babe) Ruth's all around play, including his terrific double to deep centre field, which just missed entering the bleachers, was the feature of the first game."
Babe Ruth would end up being traded to the New York Yankees in December, 1919, in a very controversial trade. This would also be the last World's Series that the Red Sox would win until 2004, sometimes dubbed "The Curse of the Bambino."
~The Traveler
August 31, 2018 by GuyHeilenman · Leave a Comment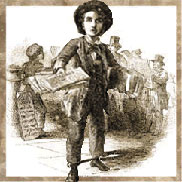 Catalog 274
(for September) is now available. Due to an influx of new inventory, this is likely one of our best catalogs in quite some time. There are too many great issues to highlight, but a sampling includes:
a German newsbook dated 1607, a Richmond broadside on the Battle of Gettysburg, the Inauguration & death of W.H. Harrison in a Washington newspaper, a defining moment for the "hippie" generation, the Battle of the Alamo, a great Statue of Liberty foldout,
and more. The following links are designed to help you explore this latest edition of our catalog:
Don't forget about this month's DISCOUNTED ISSUES.
(The catalog links above will redirect to the latest catalog in approx. 30 days, upon which time it will update to the most recent catalog.)
August 27, 2018 by GuyHeilenman · Leave a Comment
Nobody likes me, everybody hates me
I think I'll go eat worms!
Big fat juicy ones
Eensie weensy squeensy ones
See how they wiggle and squirm!
Down goes the first one, down goes the second one
Oh how they wiggle and squirm!
Up comes the first one, up comes the second one
Oh how they wiggle and squirm!
I bite off the heads, and suck out the juice
And throw the skins away!
Nobody knows how fat I grow
On worms three times a day!
Nobody likes me, everybody hates me
I think I'll go eat worms!
Big fat juicy ones
Eensie weensy squeensy ones
See how they wiggle and squirm!
When a child sings, "Nobody Likes Me," rarely does it inspire the reaction (from those within listening distance) hoped for. The reality is, they child may be down in the mouth, but they're likely not going to eat worms. After all, who would do such a thing? Of course we forget times throughout history when many have chosen to do so as a result of severe famine, long sea voyages (where food was scarce – and refrigeration was limited), and of course, in the present as a means of what we often call entertainment on a plethora of reality television shows. speaking of the latter, when such is put upon others against their will, the result is no laughing (or entertaining) matter. Perhaps it is the contrast between a willing act and one which is unjustly perpetrated upon others which drew my attention to the following article found in the New York Daily Tribune, September 3, 1863:
PS Please don't respond with comments stating this post was in bad taste.

August 23, 2018 by GuyHeilenman · Leave a Comment
The 6th installment of Who's Who in Newspapers:
George Washington, Benjamin Franklin, Alexander Hamilton… Babe Ruth, Jesse Owens, Vince Lombardi… John Wayne, James Dean, Katharine Hepburn – these individuals, among many, are easily recognizable. However, there are quite a few historical figures who, while having adorned the pages of many a newspaper, are far from household names, or, if they are, their connection with historic newspapers might be a bit of a surprise. Such is the case with Karl Marx. While his name is well-known, few are aware he was a foreign correspondent for the New York Tribune before his name became synonymous with socialism and communism.
Feel free to peruse the following chronological list of newspapers to explore his articles, and a few others which were written about him:
August 20, 2018 by GuyHeilenman · Leave a Comment
The following snapshot comes from the New York Tribune, November 11, 1864…