May 24, 2019 by Stephanie Williams · Leave a Comment
Last week I didn't post because I was involved in a local amateur production of Disney's Beauty and the Beast.  Consequently, I returned to work with many dramatic musical numbers dictating the soundtrack of my mind.  Perhaps that influenced my interest in an assigned hunt for a title that reported on the death of the "Leather Man" in 1839.
I found it, and duly replied back to the collector.  But I also took a little bit of a break to search out the meager story of this individual who was a vagabond for 32 years of his life.  The inscription on his tombstone describes a man, "who regularly walked a 365-mile route through
Westchester and Connecticut from the Connecticut River to the Hudson living in caves in the years 1858–1889."  Like clockwork, apparently, he completed his circuit every year and was greeted and given hospitality by many along the way who would normally reject any other vagrant.  The internet provides an intriguing image of this leather patchworked fellow in his exile from the rhythms of normal life.
And, with the tortured song of the male lead sounding in my head, I wondered at the days preceding his arrival; what made him the man who came to be known this way?
Was he tormented and driven to trudge through the days, or was this a happy occupation for a human being – leaving behind the established cares of civilized life, content to cover so much ground in so many hours for the prescribed revolutions of the sun?  Either way, or something in-between, he made it to the second page of The New York Times.  For all the documentation housed here, how many millions of unread or even untold stories must there be?
Anyway, I am back at work, tracking down first, second and third day accounts of the original murder that inspired Capote's "In Cold Blood"  and pulling the obituary for a man who had no known name or history of origin.  Next week I am determined to look at these territory papers that are so desirable, and maybe delve into the popular Gentleman's Magazines with their coveted battle maps.
All of which remind me of one theory concerning the Leather Man: that he was an ex-French soldier.  Perhaps that's true, and all the years of marching over fields and sleeping rough became a way of life he ultimately could not break.  Whatever compelled him, day after day, I'm fairly certain a tragic musical score is appropriate.
May 21, 2019 by GuyHeilenman · Leave a Comment
Each month the staff of Timothy Hughes Rare & Early Newspapers sends out a newsletter to our members which includes special offers, discounts, alerts to new inventory, and information related to the rare newspaper collectible.
The May, 2019 newsletter:
Welcome to the May 2019 edition of our monthly newsletter. Featured this month is an early look at one of the best issues from the Virginia Gazette collection, a free illustrated newspaper from 150 years ago (along with a snapshot of life from the period), three of my favorite posts from the past month (one full of discovery, one politically encouraging, and another providing food for thought), newly discounted items, and more. Please enjoy.
Free Offer (members only)
– What was life like in 1869 – 150 years ago? This month we are offering a free issue of Harper's Weekly from 1869, which will provide a 1-week (illustrated and textual) snapshot of life from 150 years ago. We have up to 25 free issues to offer – all we ask is that you pay the S&H. Also, if this is included as an add-on to another purchase, the S&H will only be $1 – and free if the complete order qualifies for free shipping. In addition to the
free issue
, you can also take a look through the entire year's worth of Harper's at:
1869 through the eyes of Harper's Weekly
Virginia Gazette – Although the issue is scheduled for a future catalog, we are giving our members an early look at what we believe to be one of the best issues to be had (Lexington & Concord). Although it is beyond the reach (price-wise) of most, for those who enjoy historic newspapers, we believe it is worth a gander.
Discounted Newspapers ~ 50% off
– We've added nearly 150 new items to last month's discounted issues. Some of the more interesting items include: the execution of the bandit Vasquez, the sinking of two monitors in Charleston Harbor, Susan B. Anthony's sentencing for voting, a rare 19th century title from Colorado, a proclamation by Brigham Young, news from Dodge City, an Elvis photo related to the debut of Jailhouse Rock, and more.
Catalog 282
– A number of items were added to our catalog since it went to print, which include: a rare issue from South Carolina with a report on the Monitor vs. the Merrimack, Alexander Graham Bell Invents the Telephone, Lincoln's 1st Election, a rare mention of Bat Masterson, a diagram of the Confederate Flag, a 1665 (1666) report referencing the end of the Great Plague, and more:
Three additional catalog-related links which may be of interest are:
History's Newsstand – Although a number of new posts have been made on our blog since last month's newsletter, the following three are perhaps my favorites:
Thanks for collecting with us.
Sincerely,
Guy Heilenman & The Rare & Early Newspapers Team
May 14, 2019 by GuyHeilenman · 1 Comment
As we were searching through our issues from 1848 looking for early Gold Rush content, we discovered an interesting item in a August 8, 1848 Boston Evening Transcript with content related to Communism. With contemporary material related to early Communism hard to come by, it is nice the B.E.T. decided to put this in print:
May 10, 2019 by Stephanie Williams · Leave a Comment
All of my grandparents immigrated to the United States as young adults, and three of them came through Ellis Island. My maternal grandmother spoke six languages since she was from a portion of Europe that had a high degree of ethnic overlap. However, she never taught anything but English to her seven children because my grandfather was adamant that he, his wife, and all their offspring would read and write English fluently and speak it without a trace of an accent. He didn't count the heavy Jersey City vowels they acquired along the way.
As proud as they were to be Americans, the history of these states was far less important than the political and economic makeup of the land of opportunity.
This week I encountered four different collectors who are tracing their ancestry via newspapers. And, through their eyes, I see different aspects to catastrophes like the Dust Bowl and the Johnstown Flood — the human stories. Each American tale is so varied, so unique, so distinct within the melting pot of  "huddled masses yearning to be free" welcomed by the Statue of Liberty.
Whether family was part of the westward expansion, established in the old blood of Philadelphia, divided along the Mason Dixon Line, or descendant from early coastal fisherman that braved mortality rates to literally eke out a living – pieces of the stories are buried within these old newspapers. One fellow found a pot from the Tennessee foundry in which his great-great-grandfather worked, and then he managed to track down a paper with an article on the workmen facing a strike. "There were only twelve employees," he told me. "So one of those mentioned was my ancestor."
I'm a wee bit envious of those of you who can find your folks through the New York Tribune or the New Orleans Picayune, or even D.C's National Intelligencer .  Still, the next best thing might be pulling a title that contributes a piece to someone else's puzzle. Thank you for enlisting our help; please keep the requests coming.
And, in honor of "Jack", Faustina, Stephen and Charlotte, I am including in this post a photograph from an issue of Scientific American. If there is only one piece of American history in your lineage, I think Ellis Island is a pretty hefty one.
Cheers!
Post Script:  The number of staff here is too limited to do more research than pulling titles and dates that have been requested by collectors.  There are many great databases for searching content.  Once you know the paper you are looking for, we are happy to see if we have it!
May 6, 2019 by GuyHeilenman · Leave a Comment
"Equal Rights" – Within the United States, it is easy to think the struggle for equality based on race, gender and/or socioeconomic status was, and in certain areas continues to be, one placed on the shoulders of only Blacks and Women. However, it doesn't take too much digging to see this was not the case. I was reminded of this reality when I recently came across a December 19, 1818 issue of the Niles'  Weekly Register. Therein I found a heading titled "Maryland legislature," which included in part, "…A committee was appointed to bring in a bill to extend the same civil privileges to persons professing the Jewish religion as are enjoyed by those of any other religious sect…".

As a bit of history, In 1776 Maryland's constitution safely protected "…all persons professing the Christian religion…" yet said nothing at all for those of other beliefs. It was a fact not widely known among other Americans that in the State of Maryland, and in Maryland alone, a citizen professing the Jewish religion could not hold any office, civil or military. In 1797 Solomon Etting, Baltimore leader and representative Jewish figure, along with other prominent Jews petitioned the Maryland Assembly to address this prejudicial issue and secure equal rights for Jews. The petition was well received but ultimately rejected. Year after year as it was presented and turned down new advocates were enlisted including influential Gentiles. In 1818 Judge H. M. Brackenridge and others began a vigorous battle to right this wrong. The legislation ultimately to be known as "The Jew Bill" was enfranchised in 1825 and confirmed the following year. This change, along with a series of others, helped motivate many Jewish citizens to participate, from a position of privilege, in the early suffrage movement.
Regarding State and National Constitutions… Our fore(parents) may not have gotten everything right, but thankfully, in most cases, they had the foresight to created peaceful paths for change. Peaceful progress, using the proper channels the framers built within these founding documents, may take entirely too long, but staying within the given bounds has served us well over time. There is, and will likely always be much to be done, but we live in a marvelous land of progress. Let's never let the need for pruning and continued growth ever cause us to hack away at the roots.
May 3, 2019 by Stephanie Williams · Leave a Comment
This week I learned a bit more about major stories that were not covered by news outlets, as well as events and people for whom fame was achieved through failure.
Lindbergh's flight and the details of his life were a big deal in the world of newspapers. Like Amelia Earhart, many chronicles exist of the events leading up to and including his famous flight path. And those are very popular issues with experienced and novice collectors alike. I enjoy the perspective through the eyes of the reporters of the time – and all of the details on which they chose to focus.
Interestingly, Lindbergh's renowned success was rivaled by the widely reported failure of Douglas "Wrong Way" Corrigan, who flew to Ireland instead of the return trip to California he had logged in his flight plan. Further research suggests that Corrigan had been denied permission for that "accidental flight" multiple times. My personal opinion is heavily influenced by the photographs I could find which certainly seem to portray the grin of a fellow intent on breaking at least a few rules.
Papers that cover the Chicago Fire of 1871 describe the destruction, the casualties, and even the investigation into Mrs. O'Leary, whose cow is the stuff of campfire songs. The latter made me laugh, as I have always assumed it to be a fictitious rhyme. However, it becomes oddly real when a full column asserts Mr. O'Leary's adamant claim that the cow was not his, but his wife's, and he was sleeping at the time of the fire.
Strangely, there is little popular knowledge of fire that burned Peshtigo, Wisconsin, and much of the surrounding area on the same day. It far surpassed the damage to Chicago and is potentially the "deadliest fire in American history". Two papers, "Peshtigo Times" and the "Green Bay Advocate" appear to have covered it, but the 1500-2500 deaths so far eclipse the three hundred or so that perished in Chicago I am perplexed by the scant notice.
What makes a story newsworthy? In this day of the "24-hour news cycle", I relish this week's pause to consider that "truth" has always been in the hands of the publishing houses. Since earliest printings, someone has decided what to tell the general public. The best thing about accessing old newspapers is that each reader can at least verify what was being reported, rather than relying on a current interpretation or paraphrase.
Aldous Huxley said, "Facts don't cease to exist because they are ignored." But what about the facts that no one knows?
April 30, 2019 by GuyHeilenman · Leave a Comment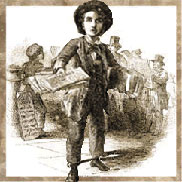 Catalog 282
(for May) is now available. This latest offering of authentic newspapers
is comprised of over 300 new items, a selection which includes:
a set of "National Intelligencers" on the Dred Scott Case, Washington's inaugural (with an eye-witness account), a 1775 "Virginia Gazette" from Williamsburg, the very rare "Daily Rebel" from Chattanooga, a Broadside "Extra" announcing Lincoln's assassination, a 1755 "Maryland Gazette" (quite rare)
, and more.
The following links are designed to help you explore this latest edition of our catalog:
Don't forget about this month's DISCOUNTED ISSUES.
(The catalog links above will redirect to the latest catalog in approx. 30 days, upon which time it will update to the most recent catalog.)
April 23, 2019 by GuyHeilenman · Leave a Comment
Overusing words and phrases is not merely a 21st century phenomenon. In 1937, Wilfred J. Funk, renowned author, poet, lexicographer, and publisher, took a pause from his responsibilities as the President of Funk and Wagnalls to formulate a list of the "most overworked words." While Howard Hughes, Amelia Earhart, Adolf Hitler and Seabiscuit were capturing the headlines, the publishers of the Springfield Union (MA) managed to find a bit of front page print-space to post his list in their March 27, 1937 issue. Enjoy.
April 19, 2019 by Stephanie Williams · 1 Comment
Since my entries are personal perspective, and this is a significant week in the Christian calendar, my post carries a tinge of my own religious convictions.  Please skip reading if such things offend you.  After today I'll endeavor to quash my worldview until a similar time next year…
There are newspapers inventoried in this facility that are so old they preceded the term, and are referred to by those in the know as a newsbook or a "coronto".  At least, that is my sketchy understanding.  This week I am thinking about things that have survived generations, inventions, wars and cosmic changes.  The listing that caught my eye was a title from 1629, banned in 1632 –but then given special license to continue six years later.  Wikipedia says, "In 1638 they were granted a patent from King Charles I for the publication of news and history, in return for a £10 annual donation toward the upkeep of St. Paul's Cathedral…"  And, of course, I wanted to see this for myself.  The small volume sold in 2015, just days after it was made available, but I was able to find a German newsbook from 1607 that I could look at. It wasn't in a vault, but neatly cataloged and filed with all the other items in the seventeenth century inventory.  There are so many treasures, I suppose a vault would have to be the size of a warehouse — which indeed it is.  AUSSFUHRLICHER BERICHT was accessible, and I was able to pull the folder, open it on a surface, and even lift the clear archival cover in order to take a photograph without the obstruction of a reflected glare.  Not many people have the privilege of holding a publication that is over four hundred years old, and I know myself to be ridiculously undeserving.
But this week Paris has superimposed itself on my mental wanderings.  As for much of the western world, images of flames engulfing an icon that has stood for eight hundred years are incomprehensible.  At a certain point old things seem to become everlasting.  Particularly, stone cathedrals are expected to survive history itself.  Invasion, famine, revolution and disease have moved around that block work for nearly a millennium.  But we have records here at History's Newsstand of many seemingly immovable things that have eventually yielded, and those accounts are interspersed with all the common themes of humanity that seem unhampered by the passage of time.
This is the week that Notre Dame burned.  It is also the week before Easter — the darkness and mourning of "Good Friday" so closely  followed by the joyful resurrection of Easter Sunday.
There is destruction and devastation, but there is also redemption.  It's the common cycle of the accounts told within these pages of history that are so neatly sorted, labeled, and shelved for retrieval.   Obituaries and birth announcements.  Demolitions and groundbreakings.  Political structures that rise and fall, and new ones that rise again.
"A time to every purpose under heaven."
Brokenness and healing.
April 12, 2019 by GuyHeilenman · Leave a Comment
The Springfield Union (MA), dated March 10, 1937, has the complete text of Franklin D. Roosevelt's Fireside Chat in which he defends his rationale for "packing" the Supreme Court. As we stand at the brink of perhaps yet another similar moment in American political history, it is timely to consider his thinking – in his own words, and thanks to the editors of The Springfield Union, they put it in print. Enjoy.