March 4, 2019 by GuyHeilenman · Leave a Comment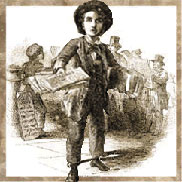 The following links are designed to help you explore this latest edition of our catalog:
March 1, 2019 by Stephanie Williams · 2 Comments
These last few days have been highlighted by fascinating rare newspaper excursions that touched on Johnny Appleseed and hot air balloons and genealogy searches and gold ink newspaper editions and even "mourning rules" (a post-worthy ramble in itself).  As this week closes, I find myself musing on all things literary.
I recall my first encounter with Walt Whitman's poetry as being somewhat controversial.  Compiling an anthology for a sixth grade project I stumbled across "Song of Myself" and laboriously copied it out onto its own page — carefully fitting text to margins and indents that defined, despite lackluster rhyme or rhythm scheme.  Abruptly, I was the focus of adults pontificating on the perils of the modern age and the coming doom symbolized by artists throwing off established norms and strictures.  In college, I was perplexed to find that Whitman wrote his grieving "Lilacs" four months after the eloquently detailed sixteen hundred mile funeral procession for Abraham Lincoln.  From all the squawking, I had assumed the poet lived in my time, or my parents' time — not contemporaneously with the sixteenth president.  I'm keen on Frost and Dickinson and Oliver and all the greats, but Whitman broke the lingering nursery rhyme cadence of Robert Louis Stevenson with a clear voice of plain-speaking, beauty filled, heartwrenching truth.  And so, with ten minutes of unscheduled time this week, I delved into the directories of perhaps the largest Civil War newspaper collection in the world, to see what we might have within our archives.  Three years after Lincoln's assassination, the popular New York Herald was the first to publish the words  "…to all cut off before their time, Possess'd by some great spirit of fire Quenched by an early death."   It is signed in block type, "WALT WHITMAN".  And, yesterday, I held it in my very own 21st century hands, looking at this poem irreverently  sandwiched between complaints against Kansas senators and the connection of the Minneapolis/Montreal railroad.  In 1888 Walt Whitman's words were taken at face value, distinct from any of the acclamation or aspersion that would come with the passage of time.  Reading them, this way, is a little bit like traveling back two hundred years to look at things from a completely different view.  Many of you who call or email or write or browse online in search of particular subjects, dates and people are reaching for the insight from the immediate context of newsprint columns, to hear what was once merely words in print, chronicling the events of the day.
At any rate, no one can live by poetry alone, so next Friday I am honor bound to tell you of one or two colossal mistakes I have made, and balance this week's ponderous tone with a humorous tale or two.  Things around here are often funny and deep — a little bit like those old, modern poets.
February 25, 2019 by GuyHeilenman · Leave a Comment
Few nations can boast of a peaceful trek from being a slave state (at least in part) to the enslaved people-group holding the highest position in the very land that had once enslaved their ancestors. Whereas there is still much work to be done, the United States' governmental structure allows, and even promotes such progress. Since much of these historic events were put in print, the link below is able to provide a chronology of many of the highlights of this amazing, albeit bumpy road. Since the link only provides a snapshot of each issue's content, in order to view the related coverage you may need to click on the item number of several in order to view the item's full description.
Note: While perusing the issues shown in the link above, one might wonder why a link to a chronology of "Black Americana" issues includes those from outside the United States. Answer? Life rarely happens in a vacuum – and this is equally true with the trek shown above. Both the related tragedies, atrocities,  and eventual progress which transpired outside the U.S. were often foundational in the thinking of those within. As a result, they have been included.
December 6, 2018 by GuyHeilenman · Leave a Comment
December 3, 2018 by The Traveler · Leave a Comment
I traveled to New York City today by the way of The New York Times dated December 3, 1868. I found that General Sheridan had provided his official report on General Custer's fight with the Indian's at the Battle at Washita River. "…On the 26th, he struck the trail of the war party of Black Kettle's band… He at once corralled his wagons, and followed in pursuit… on the morning of the 27th surprised the camp of Black kettle, and after a desperate fight, in which Black Kettle was assisted by the Arapahoes under Little Raven, and the Kiowas under Santanta, we captured the entire camp, killing the Chief, Black Kettle, and 102 warriors… The highest credit is due to Gen. Custer and his command…"
~The Traveler
December 1, 2018 by GuyHeilenman · Leave a Comment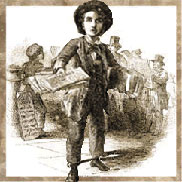 The following links are designed to help you explore this latest edition of our catalog:
November 12, 2018 by GuyHeilenman · Leave a Comment
November 5, 2018 by GuyHeilenman · Leave a Comment
Who should have the right to vote? Should Native Americans? Blacks?  Poor Whites? Women? Citizens who either don't own land or who are unemployed (i.e., don't pay taxes)? Although all of these at one time did not have the right to vote, today, we all (hopefully) unanimously agree the answer is a resounding YES – and thankfully, although it took time, they now can. However, although we are unified in our appreciation that all citizens should be granted this privilege, is there a responsibility that comes with this right – a civic duty to not only exercise this "right", but to do so as an informed voter? THE DAILY GRAPHIC's (New York) November 2, 1875 illustrated front page weighed in on this issue with a degree of sarcasm. Enjoy.
November 1, 2018 by GuyHeilenman · Leave a Comment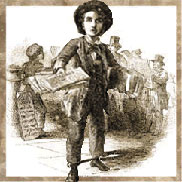 The following links are designed to help you explore this latest edition of our catalog:
October 18, 2018 by GuyHeilenman · Leave a Comment
During an interview in 1887, Walt Whitman stated he did not appreciate contemporary poetry, with one exception. How do we know? They put it in print in the Harper's Weekly dated April 23, 1887: