November 18, 2019 by GuyHeilenman · Leave a Comment
In 1934 Bonnie penned what most believe to be her last poem: "The Story of Bonnie and Clyde", which appeared in newspapers throughout the country shortly after their deaths. The uncanny foretelling of their fate would capture the imagination of many, and help transform them into legendary figures – a fantasy she had held since her teenage years. Although the poem appeared in quite a few newspapers, few can be found. However, we recently came across a Chicago Daily Tribune dated May 25, 1934 which printed the poem on the day of their funeral. Enjoy.
November 11, 2019 by GuyHeilenman · Leave a Comment
Bob Dylan returned from a nearly eight-year break from touring by teaming up with The Band for a 40-concert, 21-city tour – which was kicked off at the Chicago Stadium. As the crowd waited for the concert to begin many wondered whether he would return to his stripped-down, acoustic-forward style, or his amped up, electric-infused experiment – a style which he, to the chagrin of many of his devoted followers, had introduced at the *Newport Music Festival in 1965.  After such a long absence, which Dylan would show up? One thing was certain, although he had received considerable criticism for his change in style, what they were about to hear would be pure Bob Dylan – according to his own terms.  The Village Voice out of Greenwich Village, NY, wrote a nice review in their issue dated January 10, 1974: "Most Likely He'll Go His Way."
Forty concerts within a 2-month span! Were you there?
*Prior to his touring hiatus, Bob Dylan began experimenting with playing Folk Music infused with electric instruments. This uncommon practice began with his concert at the 1965 Newport Music Festival and continued for approximately 2 years. While many of the songs were familiar, their sound was unlike anything they had previous heard. In the end, although others had tried a similar style, he made it popular and once again solidified his reputation as a pioneer in music.
November 7, 2019 by GuyHeilenman · Leave a Comment
Anyone in the past 100+ years who has visited Niagara Falls could not help but notice a structure, a mere 3 football-fields upstream, which seems precariously out of place – yet, the word precarious is far from the appropriate descriptive. Truth is, for 100+ years, this iron eye-sore – now refereed to "The Niagara Scow", has not budged – until now. Due to recent heavy rains, what was thought to be a permanent fixture in the Niagara landscape has reminded us that nothing lasts forever – faith, hope, and love excepted. 🙂
One of the many pleasures of collecting rare newspapers is the ability to grab a current-events story such as this, and run back into time to explore its roots. We did just this in regards to the Niagara Scow, and we found a report in a New York Times dated August 7, 1918. Whereas the issue itself can be viewed/purchased on eBay, the entire text of the article is available on our website. Enjoy.
November 4, 2019 by GuyHeilenman · Leave a Comment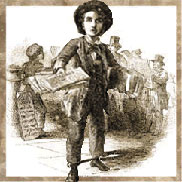 Catalog 288
(for November) is now available. This latest offering of authentic newspapers
is comprised of more than 300 new items, a selection which includes:
a complete printing of The Declaration of Independence, George Washington is elected President, a first report of the Great London Fire, a terrific & displayable Abe Lincoln centerfold, the full text of the Continental Association (in a Virginia newspaper), the Coronation of the King & Queen (in a London newspaper)
, and more.
The following links are designed to help you explore this latest edition of our catalog:
Don't forget about this month's DISCOUNTED ISSUES.
(The links above will redirect to the latest catalog in approx. 30 days, upon which time it will update to the most recent catalog.)
November 1, 2019 by Stephanie Williams · Leave a Comment
This week I discovered another section of the archives previously unexplored — actually, I didn't even realize it was there.
The walls in these connected buildings are shelved from floor to ceiling, as are the aisles and corridors.  Inside those rigid 15′ dividers are movable racks that provide another layer of coordinates for filing archival folders of old and rare newspapers.  It was here, highlighted by the angle of the tag, that I saw the title and date of voices for abolition.  The Liberator  issues that are housed here go as late as 1865, but I was interested in the ones that preceded the Emancipation Proclamation. What was being written and discussed by this publication from the "Anti-Slavery Office" in Boston in 1859?  What was the tone prior to that April bombardment that marked the start of the Civil War?
The rag paper is full-sized ("folio", in fact) and consists of four pages, mostly devoted to telling the stories of injustice and accounts that should provoke outrage.  Headed by an illustration intricately representing people divided into groups based on the color of their skin, a banner curves along the bottom proclaiming, "THOU SHALT LOVE THY NEIGHBOR AS THYSELF" while a sign above a wooden structure crowded with human beings advertises, "Slaves, Horses & Other Cattle In Lots To Suit Purchase."  I feel the effectiveness of the graphics, of the pleading tone in the "Letter to Southern Ladies" and the headline which queries, "Shall Massachusetts Be Slave-Hunting Soil?"  But what surprises me the most in this new acquaintance was the attitude toward the forerunner of Abraham Lincoln.  A full front-page column is headed "PRESIDENTIAL FALSIFICATIONS", and pulls no punches in its criticism of James Buchanan's avoidance of the situation with the Free State Men of Kansas and the powerful politicians whose support of Slavery  led to an effort summarized with, "The Missourians openly exulted in the sure prospect they had of making Kansas a slave state, in spite of the Free State men."
I am looking forward to delving into the dates that discuss the events that followed — in all the permutations and compromises and regrets and triumphs.  And I can't help but wonder how much of a change anyone could have honestly expected after such a long period of such passionate division.
October 28, 2019 by GuyHeilenman · Leave a Comment
Now you see it… Now you really see it. As one who cannot identify people's faces if they are more than a few feet away, I really appreciate a good pair of glasses. It is hard to imagine a time when eye-glasses were a luxury, and even what was available was rather rudimentary. Thankfully, in the late 1600's, an inventor developed a passion for optics, and made significant progress towards helping those with poor eyesight see well. The King and Queen of England took notice and he soon became their personal optician. Although quite rare, we came across an early advertisement for his services within an issue of The Athenian Mercury:
October 25, 2019 by Stephanie Williams · Leave a Comment
Sometimes I think that the constant hum of political discourse is unique to our time.  Certainly, the tone is billed as uniquely vitriolic – in stark contrast to the bucolic days of yore.  Except, I keep uncovering these eviscerating denouncements of a certain elected leader, or particular view, or specific cause, or controversial vote – with all the surrounding discussion and debate.  The only difference I can see is that a certain level of pride seemed to stamp each public statement – as if a political position was strengthened by dissent.  These days, nearly as much time is spent disassociating from one's words as in the pontificating.
Adding a second distinguishing feature, this week I discovered the satirical  Puck – begun in Germany and published in America in 1877.  Interestingly, the founder collaborated with the renowned Leslie's Illustrated prior to making the transition.  Headed with the Shakespearean character's wry commentary, "What fools these mortals be," the clever magazine takes the tone of an outside, slightly mocking, observer.
The one I selected for perusal deals with the Justice System on the cover, and New York's participation in the World Fair of 1839.  A brief glance at the latter conveys a fairy tale worthy, beautifully colored double page centerfold that on closer inspection mocks the greed associated with the exposition and its participants.
It's an elevated tone, when compared with the shrill modern volume on television and radio.  Somehow, satire is more palatable to me — a velvet glove of watercolor illustration covering the iron fist of debate in a place where freedom of speech was so highly esteemed that it was almost an art form.
October 22, 2019 by GuyHeilenman · Leave a Comment
Each month the staff of Timothy Hughes Rare & Early Newspapers sends out a newsletter to our members which includes special offers, discounts, alerts to new inventory, and information related to the rare newspaper collectible.
The October, 2019 newsletter:
Welcome to the October 2019 edition of our monthly
newsletter
. This month we've added nearly 150 items to last month's discounted issues – all priced at 50% off. Additional highlights include: newly listed items, an assortment of posts from the History's Newsstand Blog, a set of links to issues from Catalog 287, and "Items of Special Interest." Please enjoy!
Newly Discounted Items
Nearly 150 new items have been added to last month's set of discounted issues – all priced down by 50% through November 12th. The prices shown reflect the discount. Please enjoy:
Newly Discounted Items
Catalog 287
A number of items were added to our catalog since it went to print. The links below will take you to various portions of the catalog:
Items of Special Interest at RareNewspapers.com (our website):
Items of Special Interest at History's Newsstand (our eBay store):
History's Newsstand
This month rather than focusing on stand-alone posts, we are highlighting those which appear in ongoing columns:
Newly Discovered/Listed Items
Thanks for collecting with us.
Sincerely,
Guy Heilenman & The Rare & Early Newspapers Team
October 18, 2019 by Stephanie Williams · Leave a Comment
Today's post is a bit harried because Guy was away for a few days.  There is nothing like his absence to bring home to me how much I still have left to learn.  Thankfully, he has returned and no one was irrevocably distressed by my continued ineptitude — which was blatantly apparent without his buffering.
That said, I juggled as successfully as I could, and in the process found a sphere of knowledge of which I have somehow remained ignorant.  The covers of Harper's Weekly publications are often pen and ink constructions that are balanced and aesthetically appealing.  Many collectors purchase these to frame and subsequently decorate walls and offices.  An issue from 1859 passed under my gaze while fulfilling a request that had been paired with a name unfamiliar to me.  The collector was searching for Garibaldi reports.  As I was completely unfamiliar with the name, my shipping room buddy brought the June 18, 1859 Harper's to my desk before commencing his painstaking shipping process.
Clearly, I have been missing out.  This "famous Italian patriot whose exploits on the slopes of the Alps are at present in every one's mouth" was featured on the full front page, and continued onto one inside column.  His visage is coldly angular, and his narrowed eyes appeared to find me across the length of my desk.  My reaction must have been noteworthy, because an hour or so later Mike brought me a different date for that same title.  "This artist had a kinder interpretation," he said as he carefully placed another Garibaldi side by side with the first.  And, the difference was so pronounced I spent a bit of time looking for the minute changes that dramatically influenced the whole.
Then I thought of all the people who search out issues containing Lincoln portraits, or a date among the seemingly unending eight years of Teddy Roosevelt covers.  How funny it is to realize that our collective views of historically foundational people have been based on the interpretation of artists!  Based on the shape of Joseph G.'s eyes, I suspect that some of them had a distinct bias that has unconsciously colored our perspective.
Even with my reasoning braced against my imagination, I find the introductory paragraph to the report does nothing to soften the aggressive life chosen by this commander.  "Joseph Garibaldi is the type of gallant soldier of fortune, to whom the excitement of war is a necessity; but when his country's opportunity arrives, is never found wanting among her defenders."
October 14, 2019 by GuyHeilenman · Leave a Comment
You may have really got them going, but did they get you going enough to get you to go to their 1981 concert at Madison Square Garden? The Kinks, who are considered by many as one of the most influential British rock groups of the 1960's, as of 1981 were still selling out at some of the biggest and greatest venues of the day. The full-page ad below, printed in The Village Voice dated September 9-15, 1981 (for the week of September 8th), is for their October 3rd concert at Madison Square Garden. Were you there? If so, feel free to share your family-friendly memories. Just as an FYI – Three of the four original members, and all who are living, are still playing concerts as of 2019.