January 17, 2020 by Stephanie Williams · Leave a Comment
This week I made two different forays into a subject I only visited once before — The Wild West.  Thankfully, when you are dealing with a forty-four year old company that specializes in items printed hundreds of years ago, twelve months is not a long time.  And that is good for me, because even when I tally up the number of days I have been here at Rare & Early Newspapers I still feel like a novice.  Today I had back-to-back victories using the organizational system efficiently.  Harper's Weekly from 1912 is not in the front warehouse (designated "W" on location maps) with issues published through the end of the 19th Century, but in the annex ("A") along the right wall, almost to the very end.  Better still, as I confidently strode through the front building with an inward chuckle over my early bumbling efforts to determine what happened after December 30, 1899, I recalled the clipboard hanging in that area.  Rather than maneuver the lift across four rows and down a 15′ column in order to ascend to the appropriate decade, I checked the sheet.  There, recorded after exhausting all potential volume locations, was the notation, "August 17, 1912 — no cc".  So, a disappointing answer for the collector inquiring, but a resounding victory for me as the entire search took a total of three minutes.
Every time I can locate an issue someone is seeking, I feel victorious. But the worst thing is spending a lot of time (which is always needed elsewhere) without having anything to show for it.  Today's glance at the inventory tally reminded me that even a negative result can be useful, if not to me then surely to someone else.  Anyway, I am finally reaching the stage where I am wasting less time when I head into the back in search of whatever someone has called, emailed, written or web queried about.  In theory, the more time I save, the more I have to search out another Titanic issue (665700) for the collector in Germany or a Jay Gould cover portrait for the fellow in Minnesota.
And, for those of you who continue to read these posts, I will always make time to follow up on your requests.  I might even write about them…
January 13, 2020 by GuyHeilenman · Leave a Comment
Walk with us back through time to see what noteworthy, historic and collectible events occurred during the month of January. In so doing, we hope you'll agree: "History is never more fascinating than when it's read from the day it was first reported."
January 9, 2020 by GuyHeilenman · Leave a Comment
We recently came across a New York Times dated November 12, 1954 which told of the closing of Ellis Island, and included a large photo of the last group of immigrants to take the oath as new citizens (see below). If you've never visited this historic landmark, it is a moving experience – certainly worth the trip.
January 7, 2020 by GuyHeilenman · Leave a Comment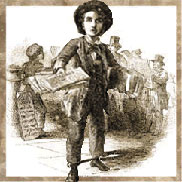 Catalog 290
(for January is now available. This latest offering of authentic newspapers
is comprised of more than 300 new items, a selection which includes:
the trial & execution of Captain Kidd, Cornwallis surrenders at Yorktown, an American almanac with a rare Revolutionary War battle print, a San Francisco newspaper on the San Francisco earthquake, a rare British "newsbook" from 1642 (first we've offered), a great account of the Battle of Bunker Hill
, and more.
The following links are designed to help you explore this latest edition of our catalog:
Don't forget about this month's DISCOUNTED ISSUES.
(The links above will redirect to the latest catalog in approx. 30 days, upon which time it will update to the most recent catalog.)
December 24, 2019 by GuyHeilenman · Leave a Comment
Earlier this year I came across a December 21, 1850 issue of Household Words – a publication "conducted" by Charles Dickens, which actually contained an original work by him titled "A CHRISTMAS TREE." Although this was his publication, the majority of the contributions within were typically written by others. While perusing the issue I came across a set of Christmas-themed poems which stirred my heart. Hopefully you will also find them moving. Enjoy.
December 9, 2019 by GuyHeilenman · Leave a Comment
As those of us at Rare & Early Newspapers have been saying for over 4 decades, "History is never more fascinating than when it's read from the day it was first reported." Another collector whole-heartily agrees as he has used his collection of historic newspapers as the foundation for his latest book: "Strangers & Natives: A Newspaper Narrative of Early Jewish America 1734 -1869". Amazon describes this latest release as follows:
Strangers and Natives: A Newspaper Narrative of Early Jewish America, 1734 – 1869 focuses on the daily life and customs of the Jewish community and the Jewish people; the formation of Jewish congregations and organizations; and the involvement of Jews in education, literature, journalism, politics, the marketplace, the military, and history itself. While there are numerous historical accounts of early American Jewry quoting documents, diaries and memoirs, this is the first that uses periodicals from that time period. Using scans of the original newsprint, most from the author s own extensive collection, Strangers and Natives displays the actual written words – the first blush of history – in visual form.
The book can be purchased through Amazon through the link above. Thanks Ron.
Another author, among others, took on a similar newspaper-rooted effort which is also quite intriguing: "Reporting the Revolutionary War: Before It Was History, It Was News"
November 25, 2019 by GuyHeilenman · Leave a Comment
When one considers the evolution of the computer, certain names come to mind: Charles Babbage and his son Henry, Alan Turing, John Atanasoff, John von Neumann, Henry Edward Roberts, Bob Bemmer, and James Gosling to name a few. However, like any grand endeavor, the number of unsung contributors is endless. Case in point: Have you ever heard of Vannevar Bush & Harold Locke Hazen? If you answered no, you are not alone. In fact, their names are absent on most lists of "pioneers in computing". However, like thousands of others, their efforts were not insignificant. An article on the front page of a NEW YORK TIMES for October 21, 1927 places them front-and-center – albeit if only for a snapshot in time.
November 18, 2019 by GuyHeilenman · Leave a Comment
In 1934 Bonnie penned what most believe to be her last poem: "The Story of Bonnie and Clyde", which appeared in newspapers throughout the country shortly after their deaths. The uncanny foretelling of their fate would capture the imagination of many, and help transform them into legendary figures – a fantasy she had held since her teenage years. Although the poem appeared in quite a few newspapers, few can be found. However, we recently came across a Chicago Daily Tribune dated May 25, 1934 which printed the poem on the day of their funeral. Enjoy.
November 11, 2019 by GuyHeilenman · Leave a Comment
Bob Dylan returned from a nearly eight-year break from touring by teaming up with The Band for a 40-concert, 21-city tour – which was kicked off at the Chicago Stadium. As the crowd waited for the concert to begin many wondered whether he would return to his stripped-down, acoustic-forward style, or his amped up, electric-infused experiment – a style which he, to the chagrin of many of his devoted followers, had introduced at the *Newport Music Festival in 1965.  After such a long absence, which Dylan would show up? One thing was certain, although he had received considerable criticism for his change in style, what they were about to hear would be pure Bob Dylan – according to his own terms.  The Village Voice out of Greenwich Village, NY, wrote a nice review in their issue dated January 10, 1974: "Most Likely He'll Go His Way."
Forty concerts within a 2-month span! Were you there?
*Prior to his touring hiatus, Bob Dylan began experimenting with playing Folk Music infused with electric instruments. This uncommon practice began with his concert at the 1965 Newport Music Festival and continued for approximately 2 years. While many of the songs were familiar, their sound was unlike anything they had previous heard. In the end, although others had tried a similar style, he made it popular and once again solidified his reputation as a pioneer in music.
November 7, 2019 by GuyHeilenman · Leave a Comment
Anyone in the past 100+ years who has visited Niagara Falls could not help but notice a structure, a mere 3 football-fields upstream, which seems precariously out of place – yet, the word precarious is far from the appropriate descriptive. Truth is, for 100+ years, this iron eye-sore – now refereed to "The Niagara Scow", has not budged – until now. Due to recent heavy rains, what was thought to be a permanent fixture in the Niagara landscape has reminded us that nothing lasts forever – faith, hope, and love excepted. 🙂
One of the many pleasures of collecting rare newspapers is the ability to grab a current-events story such as this, and run back into time to explore its roots. We did just this in regards to the Niagara Scow, and we found a report in a New York Times dated August 7, 1918. Whereas the issue itself can be viewed/purchased on eBay, the entire text of the article is available on our website. Enjoy.