February 24, 2020 by GuyHeilenman · Leave a Comment
We recently came across an August 6th Leominster Daily Enterprise which had an article stating that a young woman was attempting to swim across The English Channel, and while acknowledging her spirit, made it clear she was soon to fail as many woman had done so prior to her effort. Of course this inspired us to check the issue for the following day to see whether this young girl, or her doubters would come up short. The headline tells it all.
February 17, 2020 by GuyHeilenman · Leave a Comment
Each month the staff of Timothy Hughes Rare & Early Newspapers sends out a newsletter to our members which includes special offers, discounts, alerts to new inventory, and information related to the rare newspaper collectible.
The February, 2020 newsletter:
Our most recent newsletter is as follows:

Welcome to the February Newsletter from Timothy Hughes Rare & Early Newspapers. Whereas typically a newsletter would focus on

Newly Discounted Items

(50% off through March 12th), the remaining items from our current catalog

(Catalog 281)

, new posts on the

History's Newsstand Blog

, under-the-radar listings which are quite desirable (such as those with

Botany Bay and/or Captain Cook

content),

New Items

(outstanding listed after Catalog 291 was released), etc., this month we'd like to bring your attention to three special offerings:

like to bring your attention to three special offerings:
A Snapshot in Time – May, 1863 – featuring the Battle of Chancellorsville and the wounding and death of Stonewall Jackson.
An incredible issue on the Bombing of Hiroshima – book-ending the beginning an end of American involvement in World War 2 – the first of its kind we have ever had. Note: The most desirable issue regarding the attack on Pearl Harbor is the key report in The Honolulu Star Bulletin. The Bombing of Hiroshima issue in question is a dramatic report on the bombing in this same title.
A Free Newspaper – We are offering up to 25 free newspapers from London dated in 1790 – an original printed over 2 1/4 centuries ago. All we ask is for you to pay S&H (standard S&H criteria applies).
Thanks for collecting with us.Sincerely,
Guy Heilenman & The Rare & Early Newspapers Team
Timothy Hughes Rare & Early Newspapers . . .
           . . . History's Newsstand
"…desiring to conduct ourselves honorably in all things." Hebrews 13:18b
See what's happening on our social sites
xxxxx
Thanks for collecting with us.
Sincerely,
Guy Heilenman & The Rare & Early Newspapers Team
February 10, 2020 by GuyHeilenman · Leave a Comment
Walk with us back through time to see what noteworthy, historic and collectible events occurred during the month of February. In so doing, we hope you'll agree: "History is never more fascinating than when it's read from the day it was first reported."
February 7, 2020 by Stephanie Williams · Leave a Comment
I am always ready to learn although I do not always like being taught.   Winston S. Churchill
This is an appropriate enough quote to summarize my perspective at the close of a year of many new lessons – and not all of them pleasant at the time of learning.  It's tough to be new, but it feels great to be not-new.  Since I find myself in a "next stage" here at Rare Newspapers, as of this week I am transitioning the title(s) of my blog.  Once a month I will continue to pass along something new I have learned, under the heading "Still Learning." In the other three weeks I will focus on different aspects of this wonderful place.
My most recent orientation was a byproduct of searching the wide world of Frank Leslie's Illustrated Newspaper.  It seems these treasures, similar in size to Harper's Weekly, are located in a completely different collection of Civil War Era papers.   Although our titles are meticulously indexed and cataloged, the facilities could not possibly be rearranged with each new collection acquired.  Consequently, the front warehouse has its own area of 1861-1865 issues, while the annex has a separate one.  It's so funny to still be discovering a nook packed full of Historical Relevance (in capital letters).
Within a publication from 1862, I located a four-panel, tipped-in centerfold. It's a beautiful illustration that measures 20″ high by 32″ wide, folded inside the magazine, with no binding holes or glue lines within the image margins.  The top half is titled "The Second Day of the Second Battle of Bunker Hill", and depicts a lovely landscape in which lines of marching men wind along hilltops and alongside lanes of trees.  Even the award winning photography of later wars doesn't compete with the impact of this intricate rendering.
Note that this is not a double-page centerfold, as I originally described it to Guy, but a more extravagantly sized and highly desirable four-panel, tipped-in centerfold.  I have recently been taught the difference.
Anyway, I have much more to learn, but in case you were wondering, I am ready for more Leslie's requests — particularly Civil War issues.
February 3, 2020 by GuyHeilenman · Leave a Comment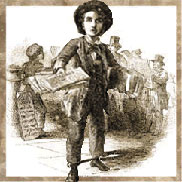 Catalog 291
(for February) is now available. This latest offering of authentic newspapers
is comprised of more than 300 new items, a selection which includes:
Frederick Douglass' follow-up to the 'North Star', a 'Virginia Gazette' on Bunker Hill & Washington named commander-in-chief, a broadside issue of the 'Daily Rebel' from Chattanooga, an issue re: "codes" for rebuilding London after the Great, the surrender of Lee to Grant at Appomattox, Cornwallis surrenders at Yorktown
, and more.
The following links are designed to help you explore this latest edition of our catalog:
Don't forget about this month's DISCOUNTED ISSUES.
(The links above will redirect to the latest catalog in approx. 30 days, upon which time it will update to the most recent catalog.)
January 31, 2020 by Stephanie Williams · Leave a Comment
This week has gone by in a blur.  The (exciting) new catalog ships out tomorrow, and all the attendant hoopla has filled our schedules.  It's always a juggling act to maintain regular work around special projects, because there is plenty of the latter to pack our days.
A seasoned collector was filling gaps prior to an approaching exhibit, and he called to have me check a New York Times obituary in 1898. 
We didn't have the date it ran, and I exhausted all the other major papers.  However, the deceased was an abolitionist who also contributed to the effort to gain the vote for women.  As a last ditch effort I pulled a volume of the Woman's Journal from Washington DC, and found a lengthy tribute to Robert Purvis.  Mr. G was quite pleased, and I felt triumphant with my find, particularly as it led me to delve into my favorite category – publications in which women played an important role.  Although much content pertains to suffrage, there seems to have been an effort to provide a platform for intelligent discussion that encompassed many other aspects of life in the 1800's.  These journals are a valuable resource for a look into the 19th Century, and I am always glad to fulfill an order with one of these gems.
As I begin this second year here at Rare & Early Newspapers, I am planning to dedicate my last post each month to a look at our titles, beginning with the Woman's Journal.  Hopefully, I can unearth enough nuggets that you will all start to consider that a collection cannot possibly be complete without containing at least an issue or two from the Woman's Tribune, The Woman's Journal, The North Shore Review, the Ladies Magazine or Womankind.
Thank you for the kind comments and encouragement in this first year.  I beg your continued forbearance as I wade more deeply into the water.
Cheers!
January 27, 2020 by GuyHeilenman · Leave a Comment
Each month the staff of Timothy Hughes Rare & Early Newspapers sends out a newsletter to our members which includes special offers, discounts, alerts to new inventory, and information related to the rare newspaper collectible.
The October, 2019 newsletter:
Welcome to the first member's newsletter for 2020. Shown below are links to recently listed items (a great set – see below), newly discounted issues (50% off), the History's Newsstand Blog, and our most recent catalog of original newspapers (Catalog 290). Please enjoy.
Newly Discounted Items
A new set of issues have been reduced in price by 50% through February 13th. To view all discounted issues (priced as shown), go to:
Discounted Newspapers
Catalog 290
Items from Catalog 290 continue to be available. Some of the remaining topics include: the trial and execution of the notorious pirate Captain Kidd, Cornwallis surrenders at Yorktown (a first report), print of the storming of Stony Point by General Anthony Wayne, the best San Francisco earthquake issue to be had, the Coronation of King James II and Queen Mary, the first full-fledged Broadway musical, and more. The entire catalog may be viewed at: Catalog 290
New & Resurrected Issues
Since the release of our most recent catalog we had fun searching our inventory and have unearthed a number of new items and "refreshed" a host of others. These issues may be viewed at:
New & Resurrected Issues
Did You Know…
We have quite a few containing collectible coverage of NFL-related achievements and events, including several reports on past Super Bowls:
NFL Reports
Our Blog has an abundance of material related to the hobby. Some of the recent posts include:
Thanks for collecting with us.
Sincerely,
Guy Heilenman & The Rare & Early Newspapers Team
January 24, 2020 by Stephanie Williams · Leave a Comment
History's Newsstand/ Rare & Early Newspapers has a well-deserved reputation for excellence and integrity; and procedures and processes are regularly evaluated to incorporate the highest quality systems available.  Our website is undergoing some upgrades, most of which will be indiscernible to the average collector/follower.  But in order to be certain things will indeed remain in order, I have been given the assignment to spend some time logging in and out and creating orders from an objective perspective.
As such, I have perused our web inventory – reading through descriptions and looking at photographs.  I have completed numerous purchases the budget of my reality would never allow.  And it has been great fun.
I learned two notable things.  The first is that our website is an amazing tool to navigate the extraordinary inventory here.  I searched date, title, topic, item number with successful outcomes.  But most interesting to me was the list available by clicking the orange oval button "View All Categories".  This index of more than sixty topics, while not exhaustive, is a fabulous research resource.  For those who regularly meander through online topics and items of interest, I encourage the home page of Rare Newspapers as a springboard for many happy hours of informative browsing.
As a second point of interest, I tagged the strangest report I encountered in my wanderings.  It seems some of the earliest plastic surgery occurred in India and included rhinoplasty (although not identified as such).  Through three separate avenues I arrived at the same description from The Gentleman's Magazine, published in London, October of 1794.
Included is a fascinating–and extremely early–account of what we would call plastic surgery, being a letter from the East Indies which notes in part: "…the following very curious, and, in Europe, I believe, unknown chirugical [archaic spelling of 'surgery'] operation which has long been practiced in India with success; namely affixing a new nose on a man's face…" followed by the various details. Accompanying this is a full page plate of it, with 5 images (see).
Ironically, all these features and items are available on our website in its current state.  I just hadn't taken the time to look.
Have you?
January 17, 2020 by Stephanie Williams · Leave a Comment
This week I made two different forays into a subject I only visited once before — The Wild West.  Thankfully, when you are dealing with a forty-four year old company that specializes in items printed hundreds of years ago, twelve months is not a long time.  And that is good for me, because even when I tally up the number of days I have been here at Rare & Early Newspapers I still feel like a novice.  Today I had back-to-back victories using the organizational system efficiently.  Harper's Weekly from 1912 is not in the front warehouse (designated "W" on location maps) with issues published through the end of the 19th Century, but in the annex ("A") along the right wall, almost to the very end.  Better still, as I confidently strode through the front building with an inward chuckle over my early bumbling efforts to determine what happened after December 30, 1899, I recalled the clipboard hanging in that area.  Rather than maneuver the lift across four rows and down a 15′ column in order to ascend to the appropriate decade, I checked the sheet.  There, recorded after exhausting all potential volume locations, was the notation, "August 17, 1912 — no cc".  So, a disappointing answer for the collector inquiring, but a resounding victory for me as the entire search took a total of three minutes.
Every time I can locate an issue someone is seeking, I feel victorious. But the worst thing is spending a lot of time (which is always needed elsewhere) without having anything to show for it.  Today's glance at the inventory tally reminded me that even a negative result can be useful, if not to me then surely to someone else.  Anyway, I am finally reaching the stage where I am wasting less time when I head into the back in search of whatever someone has called, emailed, written or web queried about.  In theory, the more time I save, the more I have to search out another Titanic issue (665700) for the collector in Germany or a Jay Gould cover portrait for the fellow in Minnesota.
And, for those of you who continue to read these posts, I will always make time to follow up on your requests.  I might even write about them…
January 13, 2020 by GuyHeilenman · Leave a Comment
Walk with us back through time to see what noteworthy, historic and collectible events occurred during the month of January. In so doing, we hope you'll agree: "History is never more fascinating than when it's read from the day it was first reported."