December 2, 2013 by The Traveler · Leave a Comment
Today I journeyed to Boston through the
Boston Gazette of December 2, 1813
. There I found numerous reports pertaining to the Battle of Chrysler's [Crysler's] farm. Within this one issue is the
"American Un-Official Accounts"
, the
"British Official Accounts"
and the
"American Official Accounts"
. This battle took place on November 11th between the British under the command of Lieut. Col Morrison and Canadian under the of command Capt. Mulcaster against the Americans under the command of Maj. Gen. Wilkinson, fighting on both land and on waters. The American troops encountered a high number of injuries and deaths
"...The dead rest in honor, and the wounded bled for their country and deserve its gratitude...".
Also included is a proclamation from *Maj. Gen. Wilkinson.  
"...Those, therefore, among you who remain quiet at home, should victory incline to the American standard, shall be protected in their persons and property -- But  those who are found in arms must necessarily be treated as avowed enemies. To menace is unmanly -- to seduce dishonorably -- Yet it is just and humane to place these alternatives before you...".
If one didn't know better, this proclamation sounds as if it may have come from a non-American General (see note below).
~The Traveler
*Background (wiki): James Wilkinson (March 24, 1757 – December 28, 1825) was an American soldier and statesman, who was associated with several scandals and controversies. He served in the Continental Army during the American Revolutionary War, but was twice compelled to resign. He was twice the Commanding General of the United States Army, appointed first Governor of the Louisiana Territory in 1805, and commanded two unsuccessful campaigns in the St. Lawrence theater during the War of 1812. After his death, he was discovered to have been a paid agent of the Spanish Crown.
November 28, 2013 by GuyHeilenman · Leave a Comment
Since we are in the midst of the 150 anniversary of the Civil War, we thought some might enjoy exploring the mention of thanksgiving (holiday and otherwise) within CW era issues arranged in chronological order.  The issues may be viewed at:
Thanksgiving through the Civil War
Happy Thanksgiving! Guy Heilenman
November 19, 2013 by GuyHeilenman · 1 Comment
"Four score and seven years ago..."
150 years ago this month, President Abraham Lincoln delivered what we now consider to be one of the greatest speeches of all time. Interestingly enough,
since 5 different manuscripts exist
, there is some disagreement amongst historians concerning what he actually said. Might original newspapers of the day with eye witness accounts provide the answer? If the speech had been long we probably wouldn't have a high degree of confidence in the newspaper reporters' accounts, but the brevity of the speech certainly increases the probability of an accurate transcription. Original reports may not have the definitive answer to this question, but they certainly provide reasonable evidence regarding what was actually spoken. Once again,
"History is never more fascinating than when it is read from the day it was first reported.
"
View Authentic Newspapers with Gettysburg Address Coverage
November 4, 2013 by The Traveler · 1 Comment
Today's journey took me to Washington, D.C. via the Daily National Intelligencer (
November 4, 1863
). There I found an article advertising a new theatre tragedy at Ford's
Theatre entitled "The Robbers" written by a German author. What is most intriguing is find that a cast member that they are applauding is the son of Junius Brutus Booth, John Wilkes Booth
"...probably as good an interpreter of its interpreter of its many intricate and difficult portions as could be desired...  Mr. Booth will, as a matter of course, appear as Claude Melnotte, a character which he is admirably suited to sustain, both by personal and mental gifts... those desirous of witnessing the honest and sincere efforts of an aspiring young actor in all of the best acting tragedies should make their arrangements accordingly."
It is hard to image his following appearance on April 14, 1865...
~The Traveler
October 31, 2013 by GuyHeilenman · Leave a Comment
The New-York Observer (August 14, 1856)
has a report which seems right out of a Hollywood Halloween-Thriller script (or crypt?). Was this a bogus story? Perhaps the blockbuster "Ghost" (1990) wasn't fiction after all. I'll save the "being married to a dead-beat" jokes for another post.
October 28, 2013 by TimHughes · Leave a Comment
The photo shows the report in the December 2, 1864 issue of "
The Liberator
" of Lincoln's very famous & heart-felt letter to a woman who lost five sons in the Civil War. A very sobering report which gives one a small sense of the horror of war not just on the battlefield, but at home as well. This letter has been praised by many as among Lincoln's best works of writing, along with the Gettysburg Address and second inaugural address.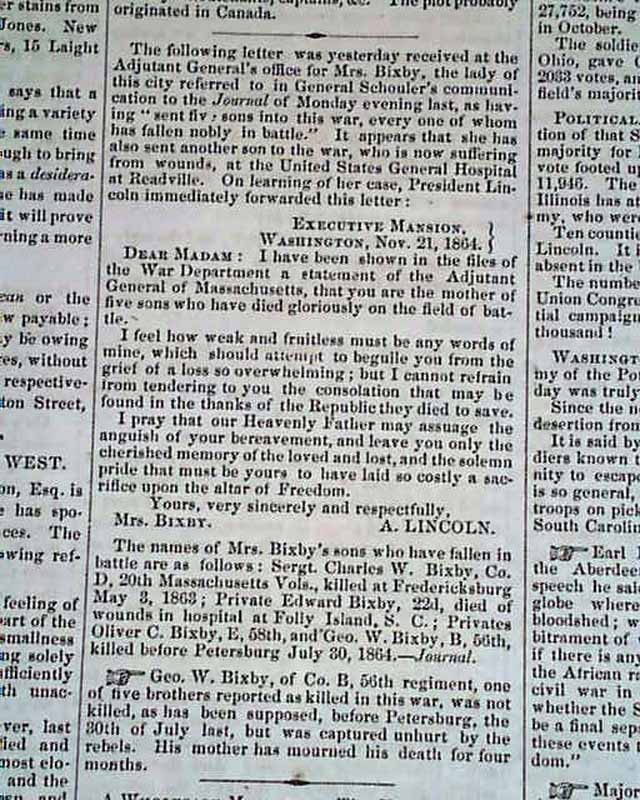 October 7, 2013 by The Traveler · Leave a Comment
Today I journeyed to Baltimore, Maryland, through The Weekly Register (
dated October 9, 1813
).  As Commodore Perry commenced battle on Lake Erie, he raised a flag with the infamous words "Don't give up the ship" on it.
"...They speak of the battle as being one of the hottest ever fought..." (see below).
In the report of the Battle on Lake Ontario, Commodore Chauncey references the news of the battle on Lake Erie.
"...There is a report here, and generally believed, that Capt. Perry has captured the whole of the enemy's fleet on lake Erie. If this should prove true in all its details (and God grant that it may) he has immortalised himself and not disappointed the high expectations formed of his talents and bravery..."
~The Traveler
October 4, 2013 by TimHughes · Leave a Comment
Vermont was the first state to join the union outside of the original thirteen colonies, although in a sense they were always a part of the federal union. The territory of present-day Vermont was previously divided among the states of Massachusetts, New Hampshire, and New  York.
The first newspaper in Vermont was the "
Vermont Gazette, and Green Mountain Post-Boy
" done in Westminster, first published on February 12, 1781. Only one of this issue exists and is in the Vermont Historical Society. Its first newspaper began later than all of the other first newspapers of the original 13 states. The weekly newspaper only lasted until 1783, published by Judah Spooner and Timothy Green, the latter of the famous family of printers from New England. It is notable that Vermont's first newspaper was printed on the famous "Daye Press", brought from England by Stephen Daye in 1638 and set up in Cambridge, Massachusetts. The press came into the possession of Harvard College in 1656, and in 1714 it became the property of Timothy Greene, who took it to New London, Conn., later set up in Norwich, Conn. by Alden Spooner, and in 1781 it was moved to Westminster, Vermont. The second newspaper in Vermont was founded on August 7, 1783 titled the "
Vermont Journal & the Universal Advertiser
" printed in Windsor by the partnership of Alden Spooner and George Hough. The newspaper continued publishing into the 20th century. Other 18th century Vermont titles included "
Herald of Vermont
", Rutland, 1792; "
Rutland Herald
", 1794; "
Fair Haven Gazette
", 1795; "
Farmer's Library
", Fair Haven, 1795; "
Burlington Mercury
", 1796; and "
Federal Galaxy
", Brattleboro, 1797.
September 30, 2013 by TimHughes · 2 Comments
In the world of collectables,
early newspapers
by no means rank among the most well-known of hobbies. In fact most would be surprised that it even is a hobby.  Who knows anyone who collects early newspapers? That was exactly my thought nearly 40 years ago. Having been a coin collector since I was a kid, I knew that hobby well. I knew it well enough to recognize that no bargains could be had for the truly rare coins. Coin collecting was, and is, a well exploited hobby. The number of serious collectors must run in the hundreds of thousands with a proportionate number of dealers who make a living selling coins. So as a youngster with only grass-cutting money in my pocket, it didn't take long to become frustrated when trying to find the last few desirable coins to fill out a set. I simply could not afford them. Everyone knew they were rare, and with more people wanting them than inventory allowed, prices were beyond my reach. I liked collecting and I wanted a hobby that dealt with history. Holding a coin minted during the time when Lincoln was President, or when Indian battles were still raging on the Plains, intrigued me. I felt like I was touching history. But I needed a collectable that was yet to be exploited. One which few people were involved in.  More importantly, one where I could hope to amass a reasonably nice collection without breaking the bank.
So it was by accident that while browsing through a local flea market that I came across a Philadelphia
newspaper
from 1846. I was intrigued, not only by the price--$3—but by what I would get. Quickly my mind ran through the host of various coins from 1846 which would require more than ten times the price tag, and what do you get but a hunk of medal with a date & an image of a dead President? A coin could be fully examined in seconds. But this 1846 newspaper would take half an hour to absorb.  So $3 exchanged hands and the newspaper was mine. Handling this newspaper was better than touching history. Yes, someone in 1846 held this newspaper in their hands, just like coins of the era, but
this collectable actually CONTAINED history
. News of the day, including events of the Mexican-American War, were within its four pages. Political reports from the term of James K. Polk were scattered throughout. Even the advertisements were fascinating. I was hooked. The coin collection went on a shelf and I pursued whatever 
old newspaper
I could find. It didn't take long to discover a whole new world of collectables. Better yet, because so few people were collecting old newspapers prices seemed such a bargain compared to what coins or stamps or any other collectable with similar rarity would cost. I was convinced I got in on the ground floor. As the years passed my hobby turned into a business catering to a niche market. At best I would suspect there are less than 2000 serious collectors of
rare newspapers
. Compare that number to the world of stamps, coins, books, or autographs, which hundreds of thousands consider their hobby.
A hobby still yet to be discovered by the collecting world, prices remain attractive for the most modest of budgets. Consider that a genuine New York Times in very nice condition from 1863 with front page Civil War reports sells for less than $30. Or consider that a genuine London Gazette from 1680—a 330+ year
old newspaper
—is available for under $50. Of course content certainly drives interest and price so a newspaper reporting the Battle of Gettysburg can exceed $500, while the same in a Confederate title (much more rare) could be triple the price. But still, genuine issues covering the War of 1812 sell for $25; newspapers with Indian battles are under $35; issues with baseball reports from the 1880's can be had for $25; newspapers from during the administration of George Washington for $45. Is there a hobby where genuine items of comparable vintage are at comparable prices? Certainly not.
Rare newspaper
collecting is a fascinating world which awaits any historical hobbyist. Whatever event or era in history intrigues, newspapers covered those events.  From the Great Plague of London in 1666, to reports of pirates Blackbeard and Capt. Kidd, to the French & Indian War, the Revolutionary War, the Lewis & Clark Expedition, the Texas War for Independence, every presidential election & inauguration (and death), the outlaws of the West—you name it. Newspapers exist which document those occurrences and every other transforming event in American & world history. Don't just touch history with your hobby. Read history from the very day it was reported. You, too, will be hooked on a hobby you never knew existed.
September 27, 2013 by GuyHeilenman · Leave a Comment
While many are familiar with Jack the Ripper and are aware that his actual identity has never been confirmed, what may be surprising to some is how many "false alarms" have surfaced over the years. William Henry Bury is such an individual... or is he?  An internet search will return much concerning this potential "Ripper".  I wonder if this case will ever be resolved to any degree of certainty??? Please enjoy the following report found in the
Kansas City Daily Journal for February 12, 1889: