December 9, 2013 by TimHughes · Leave a Comment
The tragedies of the Civil War touched many facets of life, from the pain & hardships of the soldiers to dealing with the loss of loved ones.  The war affected the love lives of many as well, as evidenced by this letter found in the "
Hammond Gazette
" hospital newspaper from Point Lookout, Maryland,
September 15, 1863
.
November 25, 2013 by GuyHeilenman · 1 Comment
Fifty years ago today scores of Americans awoke in their William Levitt-style home (or similar), slipped on their robe and slippers, and headed out to their front drive to pick up the morning paper. Within moments they were sipping their cup of coffee as they opened their newspaper to discover that Lee Harvey Oswald, the destroyer of American innocence, had been shot and killed. While the spontaneous emotional reaction of many may have betrayed their parent's Biblically-charged rearing that two wrongs don't make a right, somehow this morning's news never found a way to fill the hole left by the events of just a few days prior -
the assassination of JFK...
their beloved president. This event was captured well on the front page of the same newspaper which had brought horrific news on November 23, 1963: 
Lee Harvey Oswald Shot & Killed
Perhaps someday we'll know the truth behind all that occurred during this infamous week in American history.
November 18, 2013 by GuyHeilenman · Leave a Comment
Fifty years ago this week my older sister and I came in from carving Matchbox-car-sized roads through the previously well-manicured turf of our backyard to find our mother staring at the semi-snowy, partially visible screen of our black and white television with tears streaming down her face.  Not being prone to such outward displays of emotion, her anguish screamed to us that something tragic had happened.  This moment was emblazoned in our minds for life... and was reinforced days later when she took us by the hand to lead us on the long trek to the railroad overpass a few miles from our home to peer over the edge to watch a train draped with a flag pass under our feet. President John F. Kennedy was dead!  While at the time my sister and I had no idea whether or not he was a good president (for to a child, all presidents are good), one thing we knew for sure, something vanished from people's eyes which has yet to return - American innocence.
As we reflect on this snap-shot of innocence lost, we wonder where it all began - that is, the overwhelming common-man devotion which inspired many to "Ask not what your country can do for you...".  When did the admiration of the crowd begin? Was it when he was proclaimed a
WWII hero as the Captain of PT-109
, or did it spring-forth from his impact as a Massachusetts Representative with
his first political election
victory? While it may be hard to sort out how he had become so beloved, one thing is certain: a split-second in time along a Dallas street changed everything.
Feel free to share your "memory" of November 22, 1963.
To commemorate this historic moment (November 22, 1963), we've assembled a host of "assassination-report" newspapers from all over the country. They are viewable at:
JFK Assassination
.
November 15, 2013 by TimHughes · Leave a Comment
Always in the search for the most dramatic front page on the John F. Kennedy assassination, this issue of: "
The Michigan Daily--Extra
" of  Ann Arbor, Nov. 22, 1963 (see below) just might "take the cake".  Have you seen a better front page? Feel free to share.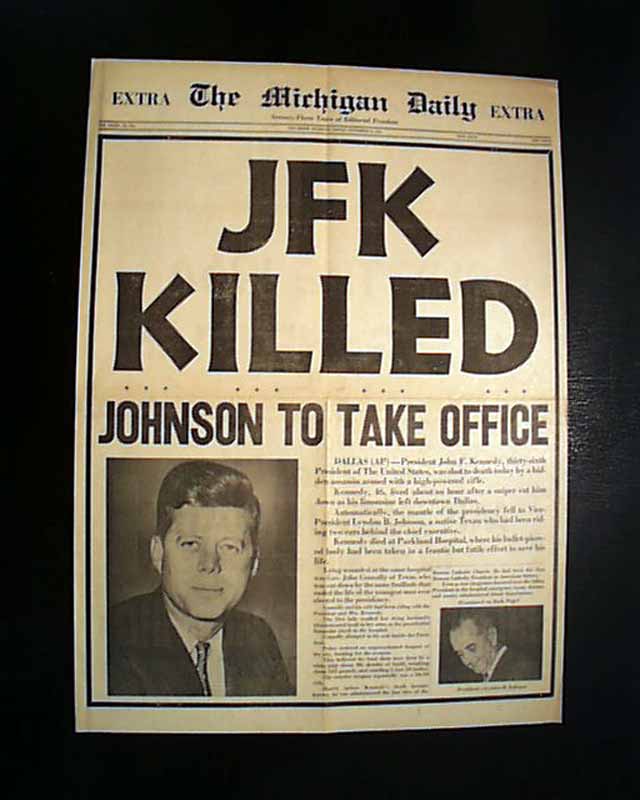 November 11, 2013 by TimHughes · 1 Comment
Although newspapers reporting JFK's assassination were saved by many, one issue which would have no reason to be saved, yet offers some interesting content relating to the assassination, is the "
Dallas Morning News
" of November 22, 1963. Although it was the day he was assassinated, being a morning newspaper it obviously has no mention of the horrible event, but rather is focused on Kennedy's visit to the city. The headline reads: "
Storm of Political Controversy Swirls Around Kennedy on Visit
".  At the bottom of the front page is a map of the: "Presidential Motorcade Route". It also includes the controversial full page notice by the: "The American Fact-Finding Committee" which is very critical of President Kennedy (see photos). This has become a rather well-know--and much desired--report in a period newspaper. Also of curious interest--and only to be found in a Dallas newspaper--are two inconspicuous advertisements to be found on facing pages inside. One is for the 'Texas" movie theater where Lee Harvey Oswald was arrested (trivia: he was watching the movie "War Is Hell": see photo) and the facing page has an advertisement for the "Carousel", the night club owned & operated by Jack Ruby (see). Because this issue had no reason to be saved, it is very rare today despite offering some great content relating to John F. Kennedy.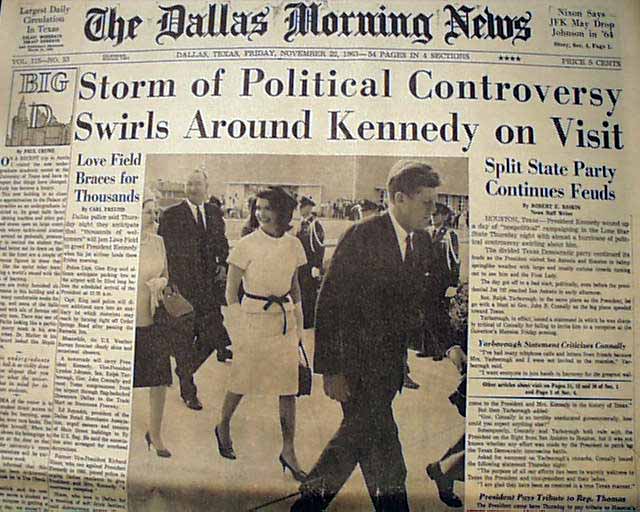 November 8, 2013 by TimHughes · 1 Comment
The "New York Journal American" newspaper of Nov. 22, 1963 did this "Extra" edition reporting Kennedy's assassination. Making this issue a bit of a curiosity is the photo which accompanies the headline, as it shows a smiling Lyndon B. Johnson, a laughing Mrs. Johnson, and a smiling Jackie Kennedy. The photo was almost assuredly planned to accompany another story about their visit to Dallas but that edition was interrupted to quickly produce this "Extra" with the breaking news of the assassination. The photo was not replaced in the haste of getting the edition on the streets, producing this rather bizarre photo/headline combination which gives the appearance of a joyful reaction to the news that JFK had been assassinated.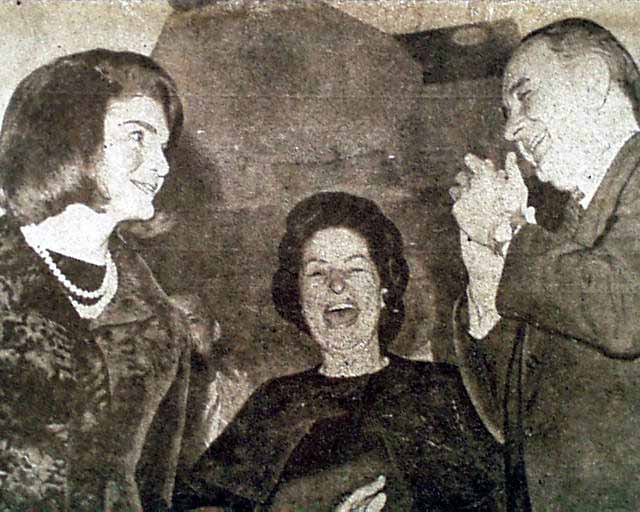 October 28, 2013 by TimHughes · Leave a Comment
The photo shows the report in the December 2, 1864 issue of "
The Liberator
" of Lincoln's very famous & heart-felt letter to a woman who lost five sons in the Civil War. A very sobering report which gives one a small sense of the horror of war not just on the battlefield, but at home as well. This letter has been praised by many as among Lincoln's best works of writing, along with the Gettysburg Address and second inaugural address.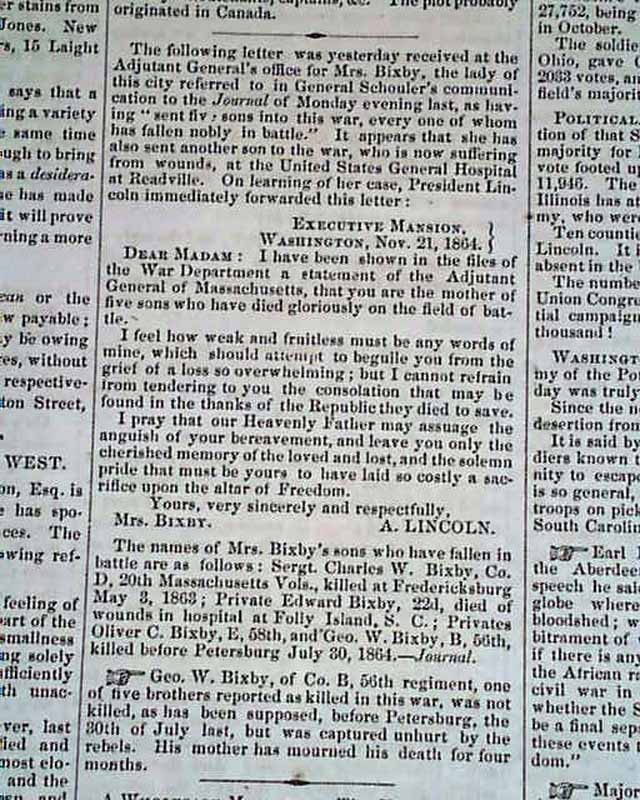 October 14, 2013 by TimHughes · Leave a Comment
One of the benefits of collecting notable newspapers is not only the joy of finding an historically significant report--like Washington's proclamation announcing the formal end of hostilities with England--but appreciating the eloquence of our leaders of years past.  With all our modern intelligence & computer-enabled resources at our fingertips, it seems like the simple skill of writing has been lost with our generation. The referenced event was recently discovered in the "
Pennsylvania Journal & Weekly Advertiser
" newspaper of
April 30, 1783
. Page two contains this very historic report, but of equal fascination is the wording of the document. He congratulates the Army, noting that those who have performed the
"...meanest office..."
have participated in a great drama
"...on the stage of human affairs...For these are the men who ought to be considered as the pride and boast of the American Army; And, who crowned with well earned laurels, may soon withdraw from the field of Glory, to the more tranquil walks of civil life...Nothing now remains but for the actors of this mighty Scene to preserve a perfect, unvarying, consistency of character through the very last act; to close the Drama with applause; and to retire from the Military Theatre with the same approbation of Angels and men which have crowned all their former virtuous actions."
There is evidence of Washington's less formal and more pedestrian side as well as he ends the document with:
"An extra ration of liquor to be issued to every man tomorrow, to drink Perpetual Peace, Independence and Happiness to the United States of America."
See this
hyperlink
for the full text (or the text of the actual newspaper below).
What a thrill to find such a document which has rested on our shelves for many years just waiting to be discovered.
What a thrill to be involved in such a fascinating hobby.
October 11, 2013 by GuyHeilenman · 1 Comment
From time to time collector friends pass along to us their suggestions as to how to best store or frame newspapers. The most recent such suggestion involved framing the newspapers while still within their archival storage folder. The following images show the technique:
Thanks E.O. for your contribution to the collecting community. Other related previous posts include:
September 30, 2013 by TimHughes · 2 Comments
In the world of collectables,
early newspapers
by no means rank among the most well-known of hobbies. In fact most would be surprised that it even is a hobby.  Who knows anyone who collects early newspapers? That was exactly my thought nearly 40 years ago. Having been a coin collector since I was a kid, I knew that hobby well. I knew it well enough to recognize that no bargains could be had for the truly rare coins. Coin collecting was, and is, a well exploited hobby. The number of serious collectors must run in the hundreds of thousands with a proportionate number of dealers who make a living selling coins. So as a youngster with only grass-cutting money in my pocket, it didn't take long to become frustrated when trying to find the last few desirable coins to fill out a set. I simply could not afford them. Everyone knew they were rare, and with more people wanting them than inventory allowed, prices were beyond my reach. I liked collecting and I wanted a hobby that dealt with history. Holding a coin minted during the time when Lincoln was President, or when Indian battles were still raging on the Plains, intrigued me. I felt like I was touching history. But I needed a collectable that was yet to be exploited. One which few people were involved in.  More importantly, one where I could hope to amass a reasonably nice collection without breaking the bank.
So it was by accident that while browsing through a local flea market that I came across a Philadelphia
newspaper
from 1846. I was intrigued, not only by the price--$3—but by what I would get. Quickly my mind ran through the host of various coins from 1846 which would require more than ten times the price tag, and what do you get but a hunk of medal with a date & an image of a dead President? A coin could be fully examined in seconds. But this 1846 newspaper would take half an hour to absorb.  So $3 exchanged hands and the newspaper was mine. Handling this newspaper was better than touching history. Yes, someone in 1846 held this newspaper in their hands, just like coins of the era, but
this collectable actually CONTAINED history
. News of the day, including events of the Mexican-American War, were within its four pages. Political reports from the term of James K. Polk were scattered throughout. Even the advertisements were fascinating. I was hooked. The coin collection went on a shelf and I pursued whatever 
old newspaper
I could find. It didn't take long to discover a whole new world of collectables. Better yet, because so few people were collecting old newspapers prices seemed such a bargain compared to what coins or stamps or any other collectable with similar rarity would cost. I was convinced I got in on the ground floor. As the years passed my hobby turned into a business catering to a niche market. At best I would suspect there are less than 2000 serious collectors of
rare newspapers
. Compare that number to the world of stamps, coins, books, or autographs, which hundreds of thousands consider their hobby.
A hobby still yet to be discovered by the collecting world, prices remain attractive for the most modest of budgets. Consider that a genuine New York Times in very nice condition from 1863 with front page Civil War reports sells for less than $30. Or consider that a genuine London Gazette from 1680—a 330+ year
old newspaper
—is available for under $50. Of course content certainly drives interest and price so a newspaper reporting the Battle of Gettysburg can exceed $500, while the same in a Confederate title (much more rare) could be triple the price. But still, genuine issues covering the War of 1812 sell for $25; newspapers with Indian battles are under $35; issues with baseball reports from the 1880's can be had for $25; newspapers from during the administration of George Washington for $45. Is there a hobby where genuine items of comparable vintage are at comparable prices? Certainly not.
Rare newspaper
collecting is a fascinating world which awaits any historical hobbyist. Whatever event or era in history intrigues, newspapers covered those events.  From the Great Plague of London in 1666, to reports of pirates Blackbeard and Capt. Kidd, to the French & Indian War, the Revolutionary War, the Lewis & Clark Expedition, the Texas War for Independence, every presidential election & inauguration (and death), the outlaws of the West—you name it. Newspapers exist which document those occurrences and every other transforming event in American & world history. Don't just touch history with your hobby. Read history from the very day it was reported. You, too, will be hooked on a hobby you never knew existed.