December 19, 2022 by Laura Heilenman · Leave a Comment
As we come to the end of 2022 and consider both the good and the bad… the peaceful and the tumultuous… the triumphant and the tragic, we may be harboring some of the same thoughts and sentiments as many of our fellow "Americans" from 1773.
As they gathered around their fireplaces at the close of the year, and read an article in the CONNECTICUT JOURNAL & NEW HAVEN POST-BOY for the day datelined December 23rd, there is no doubt their reflections took them back to the dark and cold night of December 16, 1773, while snow lay round about, of the match which ignited a powder keg lighting up the entire world – what we now refer to as the Boston Tea Party. Tumultuous may be an understatement for their year-end ponderings.
Perhaps not the same thoughts, but "felt" oppression from those in position of power are rarely long endured.
December 24, 2021 by Laura Heilenman · Leave a Comment
I'm sure we have all received Christmas gifts we will never forget.  For Mary and Joseph, many can guess what theirs would have been.  I know, Christ didn't really come on Christmas (that is, on December 25th), however, for many of us, since that sacred night, we do think of Him as the best Christmas gift of all. Ironically my only son was born on Christmas day, and coincidently (or perhaps not), although his name (Joshua) was chosen months before his birth, his name is the Hebrew version of Jesus. What an amazing Christmas gift he was (and continues to be) for those who know him.
Today, as I was scanning through Christmas-themed newspapers, an event caught my eye which I would also classify as one of the top 5 Christmas gifts of all time – at least for those residing in America.  On March 27, 1777, THE LONDON CHRONICLE printed a report of Washington's crossing of the Delaware on Christmas Day, 1776, and the ensuing surprise attack upon the British & Hessian garrison on the banks of Trenton, New Jersey. Washington took almost 1000 prisoners while suffering only 6 casualties. This victory was a major morale booster for the revolutionary cause and began a string of American successes against the British which would culminate with the surrender of Cornwallis at Yorktown and the signing of a treaty of peace shortly thereafter.  Truth, Justice and the American Way…  Merry Christmas to all!!!
March 4, 2021 by TimHughes · 2 Comments
As newspaper collectors we relish the opportunity to find newspaper accounts of the intriguing moments in American–if not world–history.
But many events simply did not make it to print.
An account of the pealing of the Liberty Bell in 1776, a detailed account of Washington's crossing of the Delaware, Nathan Hale's boast 'I only regret I have but one life to lose for my country', and Patrick Henry's bold pronouncement 'Give me liberty or give me death!' are but a few.
Accounts of Paul Revere's midnight ride rank among them. In our 45 years in the hobby we can recall only two newspapers having but a very brief reference to the ride. It was not until Longfellow's poem 'Paul Revere's Ride', written in 1860, did the world become familiar with the daring and patriotic mission.
We recently discovered a fascinating nugget on Revere's ride.
A 1795 issue of the Boston newspaper Columbian Centinel (December 5, 1795) has a supportive letter from when Paul Revere was running for the vacated post of Town Treasurer. The writer makes rather derailed reference to the event in 1775, far more detailed than any account previously found despite being 20 years after it happened. See the photo for the full report.
Such little gems, typically buried inconspicuously among the political reports, advertisements, and varied notices of the day, are what thrill those in the search of notable events in history.
November 27, 2019 by Stephanie Williams · Leave a Comment
Sometimes rabbit trails lead to revised destinations – particularly those that meander through the annals of history.  This week is a big deal on the US calendar because of colonists and survival and a heritage of gratitude…and I am a person full of thanks this year, as I have been much of my life.
I obtained permission from Guy to be a bit personal in my post, which he graciously granted, but a communication with a favorite collector in NYC derailed my reflection.  Ms. P told me about Evacuation Day, which commemorated the rousting of the British troops from their occupation of New York City following this nation's fight for independence from England.  I had never heard of the liberation of NYC, let alone the celebrations that occurred annually until Lincoln's Thanksgiving Proclamation co-opted the seasonal celebrations.  To be honest, I had never considered the duration of conflict following the 1776 declaration.  Anyway, this information came to light in a peripheral way, and the collector who brought it to our attention, attended this year's anniversary hoopla in the city that was liberated.
It's a privilege to learn from the staff here, as well as those who are ordering papers.  The collecting community is made up of a broad spectrum of interest and study, and I get to glean from the riches that move through the Rare and Early Newspapers archives.
I am thankful for the people who envisioned the United States of America — this great experiment.  I am thankful for those who kept their convictions through a long, wearying stretch of conflict, and I am thankful for families and communities who continued to manage the stuff of life through the political upheaval.
If you have some time over the upcoming holiday, our catalog is much more fascinating than any Black Friday special.  Whether you find the perfect gift for yourself or another, the time spent perusing the pages is a treat all by itself.
Cheers!
July 4, 2019 by Stephanie Williams · Leave a Comment
It's hard to put into words all I learned last week, other than conclude (again) I work in an amazing place. Distinct events blurred together as we completed the regular tasks of a pre-catalog release week, simultaneous with the receipt of eleven pallets of a new title.
As I know the least, I am the least helpful in this bulk intake process. Everyone else has done it before – making space where none seems apparent. So I stayed out of the way, fielding phone, email and web orders to the best of my ability.

This week, however, marks the Fourth of the July, and I took the opportunity to look at some surrounding details of 1776 through the real time lens of reported news.
The Sons of Liberty met under the Liberty Tree. It's not an American fable; I read the notice calling for attendance and providing an alternate location in case of overflowing turnout. People staked fortune and life to sign the Declaration of Independence, and Philadelphia papers published their names alongside that document. Paul Revere was a working man who bought advertisements in The Massachusetts Centinel to draw more customers into his silver shop. Somehow, the risk of this bid for colonial freedom becomes more meaningful as I consider the sacrificial participation required from everyday people who had plenty to occupy them in their own private lives. Regular folks became significant because they stepped up when there was every reason to keep their heads down.
Today I am thinking about the farmers and shopkeepers, the printers and the writers who looked beyond immediate concerns to take a stand for the implications on centuries to come. Surely these are some for whom the words resounded, "When in the course of human events it becomes necessary…"  I won't pontificate aloud, but there are so many contrasts to the perspective I readily adopt within my plush and easy American life.
Fresh perspective on the human story feeds the impulse: the more I find out, the more I want to know.  But the disconcerting truth is that the more I search, the more versions I find.  The best course of action just might be to head back into the annals and read it for myself…
February 23, 2017 by TimHughes · Leave a Comment
Political cartoons are ever-present in our world today. It would be difficult to find a daily or weekly publication today without at least one. And they have been around for a long time–perhaps longer than you might think.
There was the occasional political cartoon in 18th century magazines, only a few of which are American-themed, and fewer still can be found as most have been removed years ago. Although we have had a few in years past, we recently purchased not only a very nice one, but one from a title difficult to find in today's world of collecting.
The November, 1776 issue of "The London Magazine: Or, Gentleman's Monthly Intelligencer", not to be confused with the more common "Gentleman's Magazine". A full page plate in the issue has a very political cartoon themed on the Revolutionary War, captioned: "News From America, or the Patriots in the Dumps." and shows Lord North standing on a platform holding a letter announcing successful campaigns by the British troops in America. A distraught woman, 'America', holding a liberty cap, sits at the base of the platform. Others present react to the news. There are several websites concerning this political cartoon, one of which can be seen here.
September 22, 2016 by GuyHeilenman · Leave a Comment
Collectible Revolutionary War Era Newspapers
"History is never more fascinating than when it's read from the day it was first reported."
First-hand Accounts of the American Revolution
What is now American history was once current news. Revolutionary War newspapers produced daily reports mentioning political leaders such as George Washington, Thomas Jefferson, Benjamin Franklin, John Adams, John Hancock, plus military leaders (both American & British) including Gates, Gage, Carleton, Howe, Clinton, John Paul Jones, Burgoyne, and the infamous traitor, Benedict Arnold, along with other noteworthy names, such as Paul Revere and Thomas Paine.
Follow The Stuggle Against Tyranny
We offer an opportunity to own complete, genuine newspapers from the era of America's founding fathers. Read first-hand battle reports from including Lexington & Concord, Bunker Hill, Saratoga, Ticonderoga, and Valley Forge. Immerse yourself in significant political events, such as the Declaration of Independence, the "Causes and Necessity for Taking Up Arms," Articles of Confederation, the Stamp Act, and other historical happenings. Read of soldiers protecting the liberty of their families; the British taking over our prized cities of Boston, Philadelphia, and New York; and the struggle of the 13 colonies as they fought to be freed from the tyranny of British rule and taxation.
The Relationship Between Great Britain and the Colonies
It's always interesting to get a glimpse into how the British newspapers reported news about "her charter colonies in America." The London Chronicle published some terrific content on that topic in April 1774, and another article about taxing the American colonies containing the quote: "Might not America, under tax masters thus interested in their oppression, be deemed in a state of abject slavery?"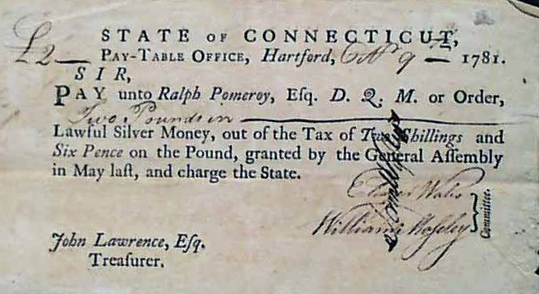 Hold History in Your Hands
It comes as a surprise to many that newspapers from the Revolutionary War that are 200-plus years-old are available for purchase, and are reasonable priced and well preserved. The reason that 18th century newspapers have held up so well is mostly because they were printed on durable rag linen. Rag linen was a common type of paper that was made from pulping linen rags often from ship sails or clothing.
September 15, 2016 by GuyHeilenman · Leave a Comment
Collectible 1600s & 1700s Newspapers
"History is never more fascinating than when it's read from the day it was first reported."
It might not be your first thought, but newspapers from the 1600s and 1700s are very similar content-wise to modern newspapers. Early newspapers contained reports on wars, natural disasters, listed items for sale, and published death notices. Sound familiar? Newspaper content hasn't changed drastically in 300-plus years. It is interesting to read accounts from this era and realize how similar we modern folk are to our ancestors. It seems that people at their core are mostly the same, and to this day, want to read news covering similar topics. That being said, some aspects of newspapers definitely have changed.
What has changed are the dimensions (smaller then, larger now), the number of pages (fewer then), paper quality (higher quality rag linen then), and the format. Newspapers of this period typically had an inflexible format, meaning that if page three was dedicated to foreign news, even if the most amazing foreign event occurred, it would appear on page three, not page one—period.
Due to the time it would take to typeset and print an issue, breaking news of major events would often be printed on a separate sheet called an "Extra" or an "Extraordinary" that was delivered with the daily issue or sometimes was not distributed until the following day.
Much more can be said regarding newspapers from the 1600's and 1700's, but for now, please enjoy the Rare Newspapers dedicated page dedicated to original and historic issues from this era:
August 29, 2016 by GuyHeilenman · Leave a Comment
An oldie, but a goodie…
The following post was originally published in 2008:
For a collector of historic American documents as printed in period newspapers a printing of the "Articles of Confederation" would be a very significant issue. With much credit to Wikipedia, the creation & importance of this document provides some fascinating reading:
The Articles of Confederation was the governing constitution of the alliance of thirteen independent and sovereign states known as the "United States of America." The Articles' ratification, proposed in 1777, was completed in 1781, legally uniting the states by agreement into the "United States of America" as a union with a confederation government. Under the Articles (and the succeeding Constitution) the states retained sovereignty over all governmental functions not specifically deputed to the central government.
The last draft of the Articles was written in the summer of 1777 and adopted by the Second Continental Congress on November 15, 1777 in York, Pennsylvania after a year of debate. The Articles set the rules for operations of the "United States" confederation. The confederation was capable of making war, negotiating diplomatic agreements, and resolving issues regarding the western territories; it could not mint coins (each state had its own currency) nor could it borrow money, whether inside or outside the United States. An important element of the Articles was that Article XIII stipulated that "their provisions shall be inviolably observed by every state" and "the Union shall be perpetual".
The Articles were created by the chosen representatives of the states in the Second Continental Congress out of a perceived need to have "a plan of confederacy for securing the freedom, sovereignty, and independence of the United States." Although serving a crucial role in the victory in the American Revolutionary War, a group of "federalists" felt that the Articles lacked provisions for a sufficiently effective government. The key criticism by those who favored a more powerful central state (the federalists) was that the government lacked taxing authority; it had to request funds from the states. Another criticism of the Articles was that they did not strike the right balance between large and small states in the legislative decision making process. Due to its one-state, one-vote structure, the larger states were expected to contribute more but had only one vote. The Articles were replaced by the United States Constitution when created in 1787.
Our issue of the Pennsylvania Ledger dated March 11, 1778 contains the complete printing of the Articles of Confederation. The many photos will allow you to enjoy the significance of the newspaper and to appreciate how those who held this actual edition some 230 years ago might have felt knowing the independent colonies were joining together for a common cause–to not only provide a foundation for a united country which might some day–hopefully–become a world player, but for more immediate purposes, to survive the incursions of the British during the ongoing Revolutionary War. In 1778 no one knew how either effort might turn out.
Enjoy the issue!
November 19, 2015 by GuyHeilenman · Leave a Comment
While reports of the events surrounding the skirmish at Lexington & Concord (1775) are few and far between, due to their undisputed importance, authentic newspapers with first-hand accounts are highly prized. A current archaeological effort in and around the area are sure to only increase public interest. The following article brings to light some of the recent finds:
Archaeologists uncover secrets of historic Revolutionary War battle site