Since we are in the midst of the 150 anniversary of the Civil War, we thought some might enjoy exploring the mention of thanksgiving (holiday and otherwise) within CW era issues arranged in chronological order.  The issues may be viewed at:
"Four score and seven years ago..."
150 years ago this month, President Abraham Lincoln delivered what we now consider to be one of the greatest speeches of all time. Interestingly enough,
since 5 different manuscripts exist
, there is some disagreement amongst historians concerning what he actually said. Might original newspapers of the day with eye witness accounts provide the answer? If the speech had been long we probably wouldn't have a high degree of confidence in the newspaper reporters' accounts, but the brevity of the speech certainly increases the probability of an accurate transcription. Original reports may not have the definitive answer to this question, but they certainly provide reasonable evidence regarding what was actually spoken. Once again,
"History is never more fascinating than when it is read from the day it was first reported.
"
Over the past 10 years we (RareNewspapers.com) have put together a series of videos designed to help educate novices about the hobby of collecting historic newspapers.  While some may be a smidge old (compared to today's high-tech standards), the information within is still pertinent. Pick a topic of interest, turn up the volume, and enjoy our perspective on the collectible.
Last week we explored:
"What were those living 150 years ago reading about in the newspapers during the last week of August (1863)"
.  The response was very positive. We hope you enjoyed the trip back in time.  Today we thought we'd look ahead into the past by assembling a similar, by longer chronological list of authentic newspapers from the entire month of September, 1863.  Similar to last week,  the following link will take you to authentic newspapers that were held by those whose loved ones were fighting to realize their greatest convictions - whether it was to set slaves free, preserve state's rights over federal dominance, to protect house and home, or another noble cause. The issues have been arranged in chronological order. Enjoy your visit back to this incredibly formative time in American history:
Authentic Newspapers (September, 1863)
What were those living 150 years ago reading about in the newspapers during the last week of August? The following link will take you to authentic newspapers that were held by those whose loved ones were fighting to realize their greatest convictions - whether it was to set slaves free, preserve state's rights over federal dominance, to protect house and home, or another noble cause. The issues have been arranged in chronological order. Enjoy your visit back to this incredibly formative time in American history:
Authentic Newspapers (8/24/1863 - 8/31/1863)
Hyperloop
transportation system is an idea that was actually conceived in 1867, and received enough attention at that time that a model of the "Pneumatic Railway" system, as displayed at the American Institute in New York City, appeared on the front page of the
October 19, 1867 issue
of "Harper's Weekly". Once again the old adage and Biblical verse  "there is nothing new under the sun" is proven to be true. Every new idea seems to have some sort of precedent or echo from the past.
When most think of newspapers, while flashy headlines and occasional dramatic images may come to mind, for the most part small black text on pale newsprint is what is imagined. However, there was a time when the images printed within newspapers verged on the cusp of being considered art. Woodcuts prints of the mid-19th century and the early color images are still highly sought after for framing. While the former typically receive all of the attention, we've recently put together a Pinterest board showing a number of wonderful prints which appeared in newspapers from 1850-1875. Please enjoy:
Decorative Prints [1850-1875]
One of the passions held by many is
sports
, and each season provides a new opportunity to cheer on one's favorite teams as they follow their efforts through to a hopeful championship. It is not coincidence that "fan" is a diminutive form of the word "fanatic". The hobby of collecting early newspaper adds an opportunity to broaden support for a  team by including an historical perspective possible only through all this hobby has to offer.
Baseball
,
football
,
basketball
,
tennis
,
golf
,
horse racing
,
soccer
, and on and on. You name the sport and reports can be found in newspapers going back to the very beginning of the sport, or the beginning of newspapers. We once offered a
newspaper from Springfield
, Massachusetts—where basketball was founded—reporting the very first public game ever played. It is the holy grail of newspaper reports on basketball, and now resides in the archives of the Library of Congress. Similar gem items can be found for other sports as well. If a report cannot be found on the very beginning days of a sport, finding reports as old as possible is a quest which never ends. Baseball traces its history back to 1839 (although exactly when & how it was founded is up for some discussion) so finding a newspaper with a bonafide baseball report as close to this year is a worthy goal. We have some
issues back to 1855
on our website, and game reports become more frequent
during
and
just after
the Civil War.
But with baseball it's often the golden era that attracts the most attention, from when
Babe Ruth
,
Lou Gehrig
and other standouts from the 1920's and 1930's were making headlines. Just following Ruth's standout career can create a formidable collection, from early mention of him in the majors (how about 1914?), his first Major League game appearance, his first home run, a report of him being sold to the
Yankees
, and then his stellar career as a home run record-setter. All were reported in newspapers. And there was a host of notable ball players from a generation before,  including
Nap Lajoie
,
Branch Rickey
,
Henry Chadwick
,
Honus Wagner
,
Walter Johnson
,
Ty Cobb
,
Joe Jackson
, &
Christy Mathewson
to name a few. In fact baseball had its own daily newspaper from the 1880's titled the "
Official Record
" which chronicled nothing but baseball reports of the day. Illustrations of baseball players are a special treat and add a graphic & displayable dimension to any collection. The popular illustrated newspaper "
Harper's Weekly
" (and other well-know illustrated issues of the day) had many issues which featured half page or full page
baseball prints
, as well as a few doublepage centerfolds and front page prints which are particularly desirable. There are some ancillary items which are intriguing, several found in the scientific-themed periodical "
Scientific American
", which featured a new electric scoreboard dating back to the 1800's, and a
novel invention of a "mechanical baseball pitcher". There are baseball reports of
Jim Thorpe
, who, although was more famous for his
Olympic
and football prowess, was a notable baseball player as well. Newspapers with reports involving
Jesse Owens
are equally noteworthy. And just a focus on
World Series
games would result in a sizable collection, with the goal of owning the championship report for every World Series from 1903 to the present. The "
Black Sox
" scandal of 1919, which involved members of the Chicago White Sox team being accused of throwing the Series, made headline reports for the next two years as the case was investigated and brought to a painful conclusion. Although the most collectible of sports, baseball is by no means the only. Football reports became common in the 1890's and into the early 20
th
century. Again, "
Harper's Weekly
" did much to provide a graphic account of the sport, with both illustrations and photos of players and action, showcasing the minimal amount of protection that was worn in comparison to what's found in the game today. Collecting by team makes for even more focused collection. Among the more popular would have to be the Yankees in baseball, and
Notre Dame
in collegiate football. But any team name for any sport can be
searched out of our website, whether it be
collegiate football
, the
NFL
, or nearly any other sport you can think of. Even something as obscure as
pre-1800 boxing reports
and
ballooning
can be found within collectible newspapers. Give it a try. With golf it was
Bobby Jones
who gave the sport some prominence with his accomplishments which culminated in the "triple crown" victory, after which he left the sport to pursue a movie career. But again "
Harper's Weekly
" put many golf themed prints in its pages, several done by noted artist
A.B. Frost
, which make for displayable items for any golf enthusiast. Tennis was another sport which made the pages of "
Harper's Weekly
" and those that are framed make great display items for any den. Track and field, bowling, bicycling, curling, fishing (with prints by 
A.B. Frost
and
Frederic Remington
), hunting, sailing (including the
America's Cup
), skiing, automobile racing, archery, and even surfing are a portion of a lengthy list of
sporting events found in newspapers
of the day. Whatever sport you follow and whatever the era, the world of rare & early newspapers has much to offer. Add an historical dimension to your hobby. There is much from which to choose.
Edinburgh Evening Courant of June 17, 1776
reporting on American soldiers:
"…Their uniform is a dark grey coarse linen frock, which covers the whole body...with the words, 'Death or Liberty'
marked in large red letters on the right sleeve; and many of them are so enthusiastic as to have them marked with their own blood...".
This report is almost lost on page 3 yet its message is very telling of the spirit which caused the Americans to win the war against a world power despite insurmountable odds. Some reports are fascinating by their bias. A Richmond newspaper's (
Daily Examiner for July 13, 1863
) reporting on the
Battle of Gettysburg
notes:
"...The Confederates did not gain a victory, neither did the enemy. He succeeded in defending himself & we failed in some portions of an attack...We killed more of the enemy than we lost; we took very many more prisoners than lost. The Confederate army did not leave the enemy until it had tried every link of his armour…"
Another newspaper notes:
"
..Information, certainly authentic, is in the hands of the Government, which leaves no doubt of the safety & triumph of the noble army. General Lee was victorious in all the combats which have taken place. He has been engaged with the whole force of the United States & has broken its backbone...",
Perhaps the most extraordinary example of optimism appeared in the Richmond Examiner of July 25:
"…The result was not a defeat, it was not a loss; it was only not a victory...It was little else than a disappointment of extraordinary expectations...".
What a precious statement as an example of Confederate optimism. Other little gems were very prophetic in their reporting, particularly when read with an historic perspective. A Scottish newspaper from 1775 (
EDINBURGH EVENING COURANT, October 7, 1775
) sensed a lasting war with America as it reflected on the Battle of Bunker:
"…The mischiefs which have already arisen & the greater calamities which are threatened from the unnatural war excited in America...It is impossible we can see, without the utmost alarm, preparations making for the prosecution of an expensive & ruinous war with our own Colonies...".
Some can be very recent, like the New York Times comment on rookie Mickey Mantle in 1951 (
NYT, April 5, 1951
):
"...Mantle, who gives every promise of developing into an outstanding baseball star, was ordered to report to his draft board next Wednesday..."
An editorial comment in the
Army & Navy Journal of November 28, 1863
, just after the Gettysburg Address opined:
"…
a dedicatory speech by President Lincoln, which we give in full, as decidedly the best feature of the occasion, as well as one of the most felicitous utterances of its author." How true.
Some were prophetic even when the reports were simply wrong, like the
Illustrated American article
of 1898 reporting on
"A New Flying Machine That Flies"
--five years before the Wright brothers--when it said:
"...It is impossible to imagine without terror the day when these mechanical birds, these flying apparitions, will be able to rain upon armies, hostile towns and escalating parties most deadly and most destructive explosives..."
. How true it would become. There can be much to be found in newspapers beyond the headline. What a thrill it is to discover such hidden gems; reports that have escaped hundreds of years of history only to rediscovered with new-found relevance today. Such are just some of the joys of collecting early newspapers.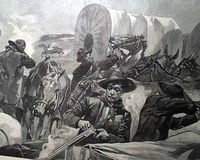 Few eras of American history have been romanticized as the 
Post-Civil War 19th Century
.  For those who grew up in the 1950's & 1960's, television had more than its fair share of Western-themed shows. And the "
Wild West
" was a common feature on the silver screen as well. Not only can one capture a flavor of that time when the American frontier was pushing further West, but actual historical events can be read as captured in newspapers of the day, when the events happened. This is the intrigue of collecting rare and historic newspapers. From the moment the
Civil War
ended, the national focus was on the lands west of the Mississippi. It was common to find reports, even in newspapers from the big cities of the East, of skirmishes with Indians on the Great Plains and elsewhere. The Custer Massacre perhaps ranking as the most notable, but reports can be found on the Battle of Wounded Knee, Captain Jack and the Modoc Indian War, reports of Geronimo, Sitting Bull, the Apaches and others. Newspapers are a great resource for those wishing to explore/collect
Native American history
. And what about
Outlaws & Gunfights
? Stage coach robbery reports are not an uncommonly found in newspapers from the 1870's and 1880's, and train robberies and bank robberies could be found scattered throughout newspapers of this period as well. It was a time when some of the more famous—and infamous--names of American history could be found in newspapers, including Jesse James and his gang, Billy the Kid, Wyatt Earp (yes, there are newspaper reports of the Gunfight at the O.K. Corral), the Dalton Gang, Younger brothers, Robert Ford, Buffalo Bill, Jim Bridger, Vasquez, Doc Holliday, Kit Carson,  Lizzie Borden, and on and on. Although "
Jack the Ripper
" was a name from London crime history his deeds made headlines on this side of the Atlantic as well. Reports of their deeds are not fictionalized; they are the events as reported in newspaper accounts of the day.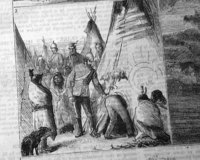 Some the famous towns of the
Old West
had their own newspapers and can be purchased for anyone's collection, including titles from
Tombstone
,
Leavenworth
,
Deadwood
,
Tucson
,
Reno
,
San Francisco
,
Leadville
,
Carson City
,  
Denver
,
Salt Lake City
, and many more. Although crime reports were common, there is so much more in newspapers from this era. Politics certainly found their way into newspapers on a daily basis. 
Ulysses S. Grant
and
James Garfield
were perhaps the most notable Presidents of the era, and reports on the latter's assassination are commonly found.  Science and innovation were the focus of the famous title "
Scientific American
" which began in 1845 and still publishes today. Within its pages were many reports on
Thomas Edison
,
Alexander Graham Bell
and their inventive work, plus illustrations of the creations of many of the devices and improvements we still enjoy today. Many were first unveiled in Philadelphia's
Centennial Exposition
of 1876 and the
Columbian Exposition
at Chicago in 1893. It was a time when
Brigham Young
and the
Mormons
were venturing west, ultimately to settle in the Salt Lake City Valley.
P.T. Barnum
was making news with his circus, and
Frederick Douglass
&
Booker T. Washington
were coming to national prominence as spokesmen for the newly emancipated slaves. The Chicago Fire & the Johnstown Flood were but two disasters which changed the American landscape and graphic accounts were more brutal in the 19
th
century then they are today.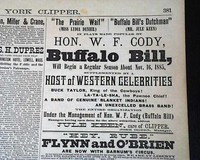 As is the case with present-day newspapers,
sporting reports
were typically found, with baseball, football, tennis and golf gaining widespread popularity as diversions for not just the wealthy but for everyone. As you see the
post-Civil War
era was very rich in history. And I only touched on a few of the highlights. Newspapers of the era reported not just the events & names we know of through history books, but captured the mundane events of daily existence which provide a fascinating flavor of life in America when the wealth & prestige of the United States was emerging upon the world landscape. A world awaits the collector who delves into this fascinating era of American history.