December 9, 2019 by GuyHeilenman · Leave a Comment
As those of us at Rare & Early Newspapers have been saying for over 4 decades, "History is never more fascinating than when it's read from the day it was first reported." Another collector whole-heartily agrees as he has used his collection of historic newspapers as the foundation for his latest book: "Strangers & Natives: A Newspaper Narrative of Early Jewish America 1734 -1869". Amazon describes this latest release as follows:
Strangers and Natives: A Newspaper Narrative of Early Jewish America, 1734 – 1869 focuses on the daily life and customs of the Jewish community and the Jewish people; the formation of Jewish congregations and organizations; and the involvement of Jews in education, literature, journalism, politics, the marketplace, the military, and history itself. While there are numerous historical accounts of early American Jewry quoting documents, diaries and memoirs, this is the first that uses periodicals from that time period. Using scans of the original newsprint, most from the author s own extensive collection, Strangers and Natives displays the actual written words – the first blush of history – in visual form.
The book can be purchased through Amazon through the link above. Thanks Ron.
Another author, among others, took on a similar newspaper-rooted effort which is also quite intriguing: "Reporting the Revolutionary War: Before It Was History, It Was News"
December 6, 2019 by Stephanie Williams · Leave a Comment
At the start of this week, I was a bit hard-pressed to think of something new I learned.  Winter dramatically closed the Thanksgiving celebrations in our part of the world, and I spent two days trying to determine the best window for travel within two storm systems.  Consequently, I arrived halfway through the day Monday and have been scrambling to catch up with the December crush of orders ever since.  Yesterday I decided that this was a good time to reflect on all the things that have become old hat to me, and how much I enjoy the rhythm of this world of old newspapers and the folks that value and collect them.  However, the end of the day brought home a new lesson.
A quick search of the internet archive yields a total of 1,355 works that are about Harriet Tubman.  Many titles are children's books, by which young people have learned of Tubman's many missions to liberate somewhere between 70 and 300 slaves, with heroic disregard for her own precarious freedom.  Her name is closely associated with the Underground Railroad, and she is credited with the altered route into Canada in response to the Fugitive Slave Law of 1850.
And yet.
This week we discovered a report of her death in "The Omaha Bee" for March 11, 1913, out of Nebraska.  It is outrageously brief, and bewilderingly sparse in its acknowledgement of the North American 1800's "Moses".
The following is what Tim wrote for an upcoming catalog listing:
Page 3 has a somewhat inconspicuous report on the near death of the famed Harriet Tubman.
The report is headed: "Aged Negress Friend Of Abraham Lincoln Dying" and reads: "Harriett Tubman, a colored woman 95 years old, who is said to be a friend of Abraham Lincoln and Secretary of State William H. Seward, and who was associated with John Brown in anti-slavery work, is dying here of pneumonia."
A curiously brief report giving her extraordinary life. A notable that of the many volumes of newspapers in our inventory this is the only report of her death (or nearly so) that we could find.
The new thing I learned this week is that a newspaper can only report on things to which the editorial staff is paying attention, or finding noteworthy.  This seems more than a bit disconcerting, but then again I may have had too many Thanksgiving treats.
November 27, 2019 by Stephanie Williams · Leave a Comment
Sometimes rabbit trails lead to revised destinations – particularly those that meander through the annals of history.  This week is a big deal on the US calendar because of colonists and survival and a heritage of gratitude…and I am a person full of thanks this year, as I have been much of my life.
I obtained permission from Guy to be a bit personal in my post, which he graciously granted, but a communication with a favorite collector in NYC derailed my reflection.  Ms. P told me about Evacuation Day, which commemorated the rousting of the British troops from their occupation of New York City following this nation's fight for independence from England.  I had never heard of the liberation of NYC, let alone the celebrations that occurred annually until Lincoln's Thanksgiving Proclamation co-opted the seasonal celebrations.  To be honest, I had never considered the duration of conflict following the 1776 declaration.  Anyway, this information came to light in a peripheral way, and the collector who brought it to our attention, attended this year's anniversary hoopla in the city that was liberated.
It's a privilege to learn from the staff here, as well as those who are ordering papers.  The collecting community is made up of a broad spectrum of interest and study, and I get to glean from the riches that move through the Rare and Early Newspapers archives.
I am thankful for the people who envisioned the United States of America — this great experiment.  I am thankful for those who kept their convictions through a long, wearying stretch of conflict, and I am thankful for families and communities who continued to manage the stuff of life through the political upheaval.
If you have some time over the upcoming holiday, our catalog is much more fascinating than any Black Friday special.  Whether you find the perfect gift for yourself or another, the time spent perusing the pages is a treat all by itself.
Cheers!
November 18, 2019 by GuyHeilenman · Leave a Comment
In 1934 Bonnie penned what most believe to be her last poem: "The Story of Bonnie and Clyde", which appeared in newspapers throughout the country shortly after their deaths. The uncanny foretelling of their fate would capture the imagination of many, and help transform them into legendary figures – a fantasy she had held since her teenage years. Although the poem appeared in quite a few newspapers, few can be found. However, we recently came across a Chicago Daily Tribune dated May 25, 1934 which printed the poem on the day of their funeral. Enjoy.
November 4, 2019 by GuyHeilenman · Leave a Comment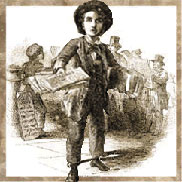 Catalog 288
(for November) is now available. This latest offering of authentic newspapers
is comprised of more than 300 new items, a selection which includes:
a complete printing of The Declaration of Independence, George Washington is elected President, a first report of the Great London Fire, a terrific & displayable Abe Lincoln centerfold, the full text of the Continental Association (in a Virginia newspaper), the Coronation of the King & Queen (in a London newspaper)
, and more.
The following links are designed to help you explore this latest edition of our catalog:
Don't forget about this month's DISCOUNTED ISSUES.
(The links above will redirect to the latest catalog in approx. 30 days, upon which time it will update to the most recent catalog.)
November 1, 2019 by Stephanie Williams · Leave a Comment
This week I discovered another section of the archives previously unexplored — actually, I didn't even realize it was there.
The walls in these connected buildings are shelved from floor to ceiling, as are the aisles and corridors.  Inside those rigid 15′ dividers are movable racks that provide another layer of coordinates for filing archival folders of old and rare newspapers.  It was here, highlighted by the angle of the tag, that I saw the title and date of voices for abolition.  The Liberator  issues that are housed here go as late as 1865, but I was interested in the ones that preceded the Emancipation Proclamation. What was being written and discussed by this publication from the "Anti-Slavery Office" in Boston in 1859?  What was the tone prior to that April bombardment that marked the start of the Civil War?
The rag paper is full-sized ("folio", in fact) and consists of four pages, mostly devoted to telling the stories of injustice and accounts that should provoke outrage.  Headed by an illustration intricately representing people divided into groups based on the color of their skin, a banner curves along the bottom proclaiming, "THOU SHALT LOVE THY NEIGHBOR AS THYSELF" while a sign above a wooden structure crowded with human beings advertises, "Slaves, Horses & Other Cattle In Lots To Suit Purchase."  I feel the effectiveness of the graphics, of the pleading tone in the "Letter to Southern Ladies" and the headline which queries, "Shall Massachusetts Be Slave-Hunting Soil?"  But what surprises me the most in this new acquaintance was the attitude toward the forerunner of Abraham Lincoln.  A full front-page column is headed "PRESIDENTIAL FALSIFICATIONS", and pulls no punches in its criticism of James Buchanan's avoidance of the situation with the Free State Men of Kansas and the powerful politicians whose support of Slavery  led to an effort summarized with, "The Missourians openly exulted in the sure prospect they had of making Kansas a slave state, in spite of the Free State men."
I am looking forward to delving into the dates that discuss the events that followed — in all the permutations and compromises and regrets and triumphs.  And I can't help but wonder how much of a change anyone could have honestly expected after such a long period of such passionate division.
October 1, 2019 by GuyHeilenman · Leave a Comment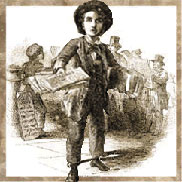 Catalog 287
(for October) is now available. This latest offering of authentic newspapers
is comprised of nearly 300 new items, a selection which includes:
the famous "Dewey Defeats Truman" newspaper, a rare Civil War camp newspaper, the "Corinth Chanticleer" from Mississippi, a Broadside "Extra" on the capture of Jeff Davis, a great Battle of Gettysburg newspaper, a Confederate broadsheet "Extra" from Georgia
, and more.
The following links are designed to help you explore this latest edition of our catalog:
Don't forget about this month's DISCOUNTED ISSUES.
(The links above will redirect to the latest catalog in approx. 30 days, upon which time it will update to the most recent catalog.)
September 27, 2019 by Stephanie Williams · Leave a Comment
This week as I was pulling some Gentleman's Magazines to fill online catalog gaps, I hovered over an issue prior to searching within the computer system.  It was dated July 1776, and I took a minute to let that soak in.  I am regularly awestruck at handling all these papers, but particularly anything from such an important, pivotal year and month in American history.  Actually, I suppose it was significant to world history as well.
This is not a museum, however, but a place of business and conscience compelled me to limit my sighing to less than a minute before turning to the keyboard and pulling up the listing for this title and date.  And, as I read the opening lines of the description, I felt again the great privilege I have to be here.
"It is rare to find newspapers or magazines with the magical date of 1776, let alone 'July, 1776'.  Here is one."
These paragraphs are such valuable tools for searching as well as learning.  While Timothy Hughes Rare and Early Newspapers can boast 44 years in existence as a business, the depth of knowledge of history and its significance that is applied to filtering through the millions of papers in order to present each one goes far beyond a mere business listing.  And the one that filled my screen only served to deepen my wonder at this treasure trove chronicling the earliest days of this country.
The first article contains 3 pages of text on events in America, including: "Proceedings of the American Colonists since the Passing the Boston Port Bill" with various reports, one stating that: "…the main army of the United Colonies has changed its situation; and that the head-quarters are now at New-York, where Gen. Washington has already taken up his residence…".  A proclamation issued by Congress concerning a redress of the grievances of the colonies says in part: "Therefore, Resolved, that it be recommended to the respective Assemblies and Conventions of the United Colonies, where no government sufficient to…their affairs has been…established, to adopt such a government…", signed in type: John Hancock. Perhaps the most significant report is one mentioning the convention at Williamsburgh containing an important resolve (see) passed by the delegates which reads in part: "…That the delegates appointed to represent this colony…be instructed to propose to that…body to declare the united colonies free and independent…and that they give the assent of this colony to such declaration …..
I remember in my first days here, wondering if I would be required to wear gloves when handling these issues.  My query was shrugged off, but I have been asked the same by friends and acquaintances when I talk about my job.  We are used to seeing important things enclosed and protected behind glass and velvet ropes.  But these papers were made to be read, and passed around so the news could spread.  The older ones are often in better condition than the ones from the past few decades.  Still, they are individually protected within folders, as much to keep the edges safe and protected as to shield from light and other environmental contaminants.  I like that the storage options  we use are the same as those we offer to our collecting community.  Even though the crew here is much more seasoned than I, there is an unspoken acknowledgement that this is really amazing stuff, and I am not the only one that gets a bit awestruck…
September 22, 2019 by GuyHeilenman · Leave a Comment
As we were searching through our issues from 1941 looking for new WWII content, to our great dismay we discovered a article on page 3 of the San Francisco Chronicle dated November 15th headed:  "Goebbels Tells Germans How To Hate Jews", which was followed by his ten "reasons" to hate them. There are some who wish to ignore and/or deny the existence of the hatred which ran rampant during this time in world history, but thanks to the S.F. Chronicle, they put it in print:
August 8, 2019 by GuyHeilenman · Leave a Comment
The best headlines need no commentary. Such is the case with the HERALD EXAMINER, Los Angeles, August 28, 1963: reporting on the March which ended with Dr. Martin Luther King, Jr's historic, "I have a dream…" speech: "THE GREAT MARCH At Least 200,000"