October 20, 2016 by GuyHeilenman · Leave a Comment

Email This Post |
Print This Post
As both collectors and sellers of historic newspapers, we (Rare Newspapers) often wonder what happens with many of the issues which pass through our hands. We know some have been given to Presidents, well-known authors, and various public figures throughout the world. Equally rewarding are those which end up in the hands of those whom either love history or have a personal connection with the issue's content. Many are found in museums for all to see, yet others a likely stored away in boxes for protection and many never again see the light of day. Regardless of their final resting place, we derive a certain degree of satisfaction in knowing we play a part in preserving history in written form. With these thoughts as a backdrop…
We recently became aware of how one issue has been put to use (see image). Feel free to explore:
BOSTON SEMI-WEEKLY ADVERTISER, Sept. 20, 1856
If you liked this post, you may also enjoy...
October 17, 2016 by The Traveler · Leave a Comment

Email This Post |
Print This Post
I traveled to Boston today by the way of the Independent Chronicle dated October 14, 1816. I found "By His Excellency John Brooks, Governor of the Commonwealth of Massachusetts, A Proclamation, for a day of Public Thanksgiving and Prayer." had been proclaimed. This was to be held on the Thursday, November 28.
Also found was an article entitled "Sabbath Laws" in which Judge Putnam "…repealed all former provisions upon the subject whether by statue or common law; that no act of labour, therefore, upon that day are lawful, except in cases of necessity or charity; and that prosecutions upon the statute are not within the exception…". Too bad we cannot go back to those days…
~The Traveler
If you liked this post, you may also enjoy...
October 14, 2016 by GuyHeilenman · 2 Comments

Email This Post |
Print This Post
We are frequently asked to appraise final editions of newspaper titles which have gone defunct. Sadly, much like the specific publications themselves, collectors rarely find these final editions to be
attractive. Some might suggest the lack of interest in current newspapers (in general) might have a negative impact on the hobby of collecting historic newspapers, but our experience has shown no such correlation. Alternately, the decline in readership of current titles and the corresponding abundance of newspaper publications going out of business seems to be directly proportional to the ease and speed for which information can be had at a minimal (if any) cost. In most instances, by the time a newspaper hits a subscriber's doorstep, much of the news is already outdated. One journalist of such a "final edition" had their own thoughts on the matter, and interestingly enough, whether you agree or disagree with his bitter-pill-tainted analysis, some of the social issues mentioned seem as appropriate for today as they did when the article was written in 1978. The article may be read in full at: Chicago Daily News, March 4, 1978 (see images 4-10).
If you liked this post, you may also enjoy...
October 10, 2016 by TimHughes · Leave a Comment

Email This Post |
Print This Post
The controversy over medical marijuana is nothing new in attempts to circumvent the law for outlawed drugs. Shortly after Prohibition became the law of the land in 1919, the "New York Times" reported in its Oct. 26, 1921 issue: "Beer As Medicine In Nine States Only" "New Treasury Regulations Inoperative in States Having Local Prohibition" "Thinks People of Nation Will Object When They See Drug Stores Handling Booze". The article begins: "The brewers have several hurdles yet to make before medical beer is a reality…" with much more.
If you liked this post, you may also enjoy...
October 6, 2016 by The Traveler · Leave a Comment

Email This Post |
Print This Post
Today I journeyed to London by the way of The London Chronicle dated October 4, 1766. I found a short article stating that they write from Senegal "… there have been lately upwards of two hundred French trading ships on the coast of Africa; — which was a principal cause of the price of slaves being so high, the Goree Merchants having contracted to supply the Spanish West India settlements with negroes."
In Cambridge, the last Monday was the day that the new Mayor for the succeeding year was to be sworn into office. However, he was currently in North America on his Majesty's service. Consequently with not appearing, no mayor was sworn in for the next year and the late mayor will continue to until another is chosen and sworn in. The name of the late mayor? Mr. Alderman Weales, but it certainly looks close enough to "weasles" now doesn't it??
~The Traveler
If you liked this post, you may also enjoy...
October 3, 2016 by GuyHeilenman · Leave a Comment

Email This Post |
Print This Post
What news was reported in the month of October – 50, 100, 150, 200, and 250 years ago (1966, 1916, 1866, 1816, 1766)? Such a walk back through time via the eyes of those who read the daily and weekly newspapers of the period can be quite revealing. This is why we often say, "History is never more fascinating than when it's read from the day it was first reported." The following links will take you back in time to show the available newspapers from the Rare & Early newspapers website. There's no need to buy a thing. Simply enjoy the stroll.
October:

If you liked this post, you may also enjoy...
September 29, 2016 by GuyHeilenman · Leave a Comment

Email This Post |
Print This Post
Collectible Civil War Era Newspapers
"History is never more fascinating than when it's read from the day it was first reported."
Records of a Nation in Turmoil
In the 1860s, Americans' interest in the Civil War, and its collateral effects, caused a spike in demand for news reports. These were days of heightened concern, and newspapers were one of the few resources that people were able to rely upon for war news.
Aside from specific war news, Civil War newspapers also reported on citizens' reactions to how the war was shaping the American economy and politics, and opinions about slavery.
Reading an authentic Civil War newspaper and holding the original print paper between your fingers will transport you to the frontlines of battle, and provide a glimpse into the psyche of Civil War-era citizens, politicians, and soldiers.
Original Civil War newspapers are genuine pieces of American history a collector or anyone interested in American history must have.
Harper's Weekly
Harper's Weekly was one of the most popular newspapers during the Civil War. Although its base was in New York, its moderate stance on slavery (pre-war) was seen as a way not to upset the newspaper's Southern readership. However, once the Civil War began, President Lincoln and the Union received Harper's complete loyalty and support.
As the war went on, the many illustrations and prints from Thomas Nast and Winslow Homer provided a vivid visual account of the battlefields, the people, and the bloodshed—"I'm hoping next week's edition will show scenes of the battle of Fort Sumter in Charleston Harbor. I've read all about it, now I want to see it!" – A Harper's Weekly reader in 1861. Another Harper's reader noted, "I look forward to the end of the month and seeing just what transpired at Charleston."
The illustrations and prints from Harper's Weekly remain striking in both their detail and artistry. We have several noteworthy issues of Harper's Weekly in our inventory.
Civil War People & Generals
The Southern States' call for secession from the Union grew louder after the election of Abraham Lincoln in 1860. A disagreement between President Lincoln and Confederate leader Jefferson Davis over control of Fort Sumter led to overwhelming demand for war. Many men began enlisting for military service shortly after the battle of Fort Sumter.
Our vast inventory of genuine, historic Civil War newspapers highlight the efforts of military heroes from the North and the South that we have all come to know, including Ulysses S. Grant, George McClellan, Robert E. Lee, George Meade, "Stonewall" Jackson, William T. Sherman, and more.
Significant Civil War Battles & Events
Battle reports were common, including struggles at Fort Sumter, Bull Run, Manassas, Antietam, Shiloh, Gettysburg, Chickamauga, Vicksburg, Fredericksburg, Richmond, and so much more.
We have newspapers covering the first shots at Charleston Harbor to the final surrender at Appomattox, plus the Lincoln assassination.

Southern Illustrated News
The Southern Illustrated News was to the Confederacy what Harper's Weekly was to the Union. Based in Richmond, Virginia, Southern Illustrated News had a rather ornate masthead and its front pages regularly featured portraits of notable Confederate figures, such as Robert E. Lee, "Stonewall" Jackson, and John S. Mosby. Southern Illustrated remains one of the most sought-after Civil War-era titles in the collecting hobby to date. Visit our Southern Illustrated Pinterest board to view several interesting portraits.

Reporting the Civil War
Before the start of the war, there were 3,725 newspapers in the United States. American newspapers accounted for one-third of all newspapers printed in the world. Most of them were weeklies. At the time, standards for what constituted sound, thorough, and responsible journalism did not exist on the eve of the war, according to Ford Risley, a Civil War journalism expert and head of the Department of Journalism at Penn State University.
Newspapers printed news dispatches, editorials, illustrations, maps, and various other tidbits, such as President Lincoln's famous letter to Mrs. Bixley "…to have laid so costly a sacrifice upon the altar of freedom." At times, the dispatches were entirely hearsay and wildly inaccurate, such as this series of short reports from the Daily Journal of Wilmington, NC or this report from the New York Tribune stating that Stonewall Jackson was "Dead Again."
The Reporters
Reporters were a diverse group. Some had previous experience, but many reporters were lawyers, teachers, clerks, bookkeepers, and ministers. Their levels of education ranged from Ivy-league educated to only basic schooling.
Civil War reporters faced many difficulties, among them uncooperative and unreliable sources, difficulties with dispatching reports back to their newspapers, and even death. One correspondent closed a story with "Your readers must pardon a short letter. No man can write in a happy vein or style while minnie [sic] balls are flying uncomfortably close to his head." Needless to say, conditions for Civil War reporters were not safe or ideal. More on how reporters lived and worked can be found here.

Unique Printing and Reporting Conditions
After the Union won the Battle of Memphis in June 1862, the Memphis Daily took to the road and became known as the Moving Appeal. During just a four-year period, this newspaper published in nine different cities.
A truly one-of-a-kind newspaper was "printed on board Steamer Des Moines" on blue-lined ledger paper in 1864. This issue also contains a letter written by a soldier to his wife. Letters from soldier correspondence frequently contained glorified accounts of battlefield glory meant to inspire confidence in the readers back home. Occasionally, letters from soldiers had reliable news and insights.
—————————–
Much more can be said regarding newspapers from the Civil War, but for now, please enjoy the Rare Newspapers dedicated page dedicated to original and historic issues from this era:
If you liked this post, you may also enjoy...
September 26, 2016 by TimHughes · Leave a Comment

Email This Post |
Print This Post
While the most significant feature of the "St. Louis Daily Globe" of February 2, 1875 is a report regarding Frank and Jesse James, the front page has a curious report headed: "A Peculiar Bill" concerning the need to create nonsmoking cars which would: "…afford relief to a great many ladies who are annoyed by cigar smoke, and other evils arising from the use of tobacco by gentlemen…" (see image).
If you liked this post, you may also enjoy...
September 22, 2016 by GuyHeilenman · Leave a Comment

Email This Post |
Print This Post
Collectible Revolutionary War Era Newspapers
"History is never more fascinating than when it's read from the day it was first reported."
First-hand Accounts of the American Revolution
What is now American history was once current news. Revolutionary War newspapers produced daily reports mentioning political leaders such as George Washington, Thomas Jefferson, Benjamin Franklin, John Adams, John Hancock, plus military leaders (both American & British) including Gates, Gage, Carleton, Howe, Clinton, John Paul Jones, Burgoyne, and the infamous traitor, Benedict Arnold, along with other noteworthy names, such as Paul Revere and Thomas Paine.
Follow The Stuggle Against Tyranny
We offer an opportunity to own complete, genuine newspapers from the era of America's founding fathers. Read first-hand battle reports from including Lexington & Concord, Bunker Hill, Saratoga, Ticonderoga, and Valley Forge. Immerse yourself in significant political events, such as the Declaration of Independence, the "Causes and Necessity for Taking Up Arms," Articles of Confederation, the Stamp Act, and other historical happenings. Read of soldiers protecting the liberty of their families; the British taking over our prized cities of Boston, Philadelphia, and New York; and the struggle of the 13 colonies as they fought to be freed from the tyranny of British rule and taxation.
The Relationship Between Great Britain and the Colonies
It's always interesting to get a glimpse into how the British newspapers reported news about "her charter colonies in America." The London Chronicle published some terrific content on that topic in April 1774, and another article about taxing the American colonies containing the quote: "Might not America, under tax masters thus interested in their oppression, be deemed in a state of abject slavery?"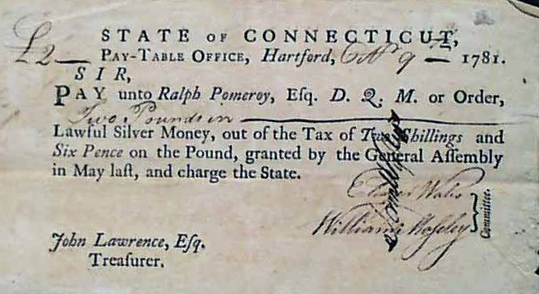 Hold History in Your Hands
It comes as a surprise to many that newspapers from the Revolutionary War that are 200-plus years-old are available for purchase, and are reasonable priced and well preserved. The reason that 18th century newspapers have held up so well is mostly because they were printed on durable rag linen. Rag linen was a common type of paper that was made from pulping linen rags often from ship sails or clothing.
If you liked this post, you may also enjoy...
September 19, 2016 by The Traveler · Leave a Comment

Email This Post |
Print This Post
Today my journey took me to London, England, by the means of The Post Boy dated September 20, 1716. There I found the Ottoman-Venetian War was going strong with little relief for the Turks. Even their truce request of a couple hours in order to bury dead had been denied. Then only to be faced with coming into
battle with nails and iron and iron spikes being hidden in the sand and planks at the Communication Bridge which lamed their horses and then to be fired upon by cannon and small shot, killing more men.
I found an interesting article on the back page. "…Last Wednesday night, a Man being at the Gallows, about to be hang'd, was pardon'd; and the Friday following, another being just ready to be turn'd off, the Duchess of Berry pass'd by that Place to the Opera, and ask'd what was the Matter. Being told, she order'd the Lieutenant-Criminal to deferr Execution, while she went back, and interceded for him to the Duke-Regent. Having obtain'd his Pardon, she sent one of her Pages with it; whereupon, the Cord was cut from about his Neck, and he with much ado brought down the ladder…"
~The Traveler
If you liked this post, you may also enjoy...