January 15, 2021 by GuyHeilenman · Leave a Comment

Email This Post |
Print This Post
Monthly Newsletter ~ Rare & Early Newspapers
Welcome to the September 2020 edition of our monthly newsletter. This month we'd like to bring your attention to the following:
Approximately 150 historic newspapers have been discounted by 50%. The prices shown reflect the discount. Included are:  Thomas Nast Santa illustrations, 19th century western Colorado, assassination of Jack "Machine Gun" McGurn, the Rosenbergs found guilty, Babe Ruth's last homerun as a Yankee, Nadia Comaneci scores a perfect 10, Bing Crosby's death, and more.
Since Catalog 302 went to print we've added approximately 50 additional items. Some of the topics/issues include: a mid-1700's map of Eastern Canada, Convicts shipped off to America and Oglethorpe before the founding Georgia in the same issue, several different rare Confederate newspapers, George Washington rejects an honor and the delegates to the Constitutional Convention in the same American issue, a Philip Burke caricature of Donald Trump, and more.
Speaking of the catalog, some links which you may find useful include:
Items which have been listed on our website within the last 30 days.
Timothy Hughes Rare & Early Newspapers . . .
           . . . History's Newsstand
"…desiring to conduct ourselves honorably in all things." Hebrews 13:18b
See what's happening on our social sites
If you liked this post, you may also enjoy...
January 11, 2021 by GuyHeilenman · Leave a Comment

Email This Post |
Print This Post
We recently discovered a heart wrenching account of a slave mother's attempted escape with her child on an inside page of a New York Tribune dated January 29, 1863. Editorializing on my part will not do it justice. It is accounts like this one, which were part of everyday life for many who were living in bondage, is a continual reminder that I will never be able to comprehend what it's like to walk in the tattered shoes of a slave.
If you liked this post, you may also enjoy...
January 7, 2021 by GuyHeilenman · Leave a Comment

Email This Post |
Print This Post
This forum has often been used to highlight one of the unique benefits of the hobby of collecting Rare & Early newspapers – that is, collecting a newspaper for one purpose, only to later find a more precious item hidden within its pages. Such is the case with the Harper's Weekly for September 29, 1866. For 40+ years we offered this issue with a spotlight on a variety of the interesting illustrations found within its 16 pages. However, we recently discovered yet another hidden gem: an article accompanying the popular print: "Burning of the California Clipper 'Hornet'". What's so special about this uncredited article? It was written by Mark Twain – making it the first time an article written by him received national attention. What a find!
If you happen to be one of the lucky one's to have purchased this issue without knowledge of the Mark Twain contribution, you now possess an issue of significantly greater notoriety (and therefore value) than what you previously had thought. Good for you.
If you liked this post, you may also enjoy...
January 4, 2021 by GuyHeilenman · Leave a Comment

Email This Post |
Print This Post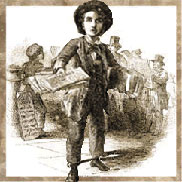 Catalog 302
(for January) is now available. This latest offering of authentic newspapers
is comprised of more than 300 new items, a selection which includes:
a very graphic issue on the sinking of the Titanic, a 'Tombstone Epitaph' (the most famous newspaper in the West), a Honolulu newspaper on Pearl Harbor: the more rare "2nd Extra", the surrender of Lee to Grant at Appomattox, an American map: creating the Mason Dixon Line, Washington's state-of-the-union address
, and more.
The following links are designed to help you explore this latest edition of our catalog:
Don't forget about this month's DISCOUNTED ISSUES.
The links above will redirect to the latest catalog in approx. 30 days,
upon which time it will update to the most recent catalog.
If you liked this post, you may also enjoy...
December 31, 2020 by GuyHeilenman · Leave a Comment

Email This Post |
Print This Post
Overall, 1923 was a pretty good year. However, even a decent year has its share of troubles. A few examples from 1923 include:
The Rosewood massacre, the eruption of Mount Etna, the unexpected death of the popular President Warren G. Harding, Gustav Stresemann being named Chancellor of Germany resulting in policies which led to hyperinflation crushing the German economy (paving the way for Hitler's rise, the Great Kanto earthquake devastates Tokyo and Yokohama killing an estimated 142,807 people, 640 structures a burned to the ground in Berkley (CA), Adolf Hitler is arrested for his leading role in the Beer Hall Putsch greatly increasing his popularity among those who want to see change, the Gleno Dam (in Italy) bursts killing hundreds, multiple competing factions in China align themselves with the Communist Party – greatly strengthening their influence – and eventual dominance, Prohibition reigns, the largest peace-time U.S. Naval disaster (to-date) occurs off the coast near Santa Barbara (the Honda Point disaster), and more. Although somewhat under the radar, a number of world events took place during 1923 which, upon looking in the rear view mirror, helped pave the way for Communism in China, Nazism in Germany, and the severely ramped up conflict in the Middle East.
Yes, even a good year can have its share of warts. AND then, there's 2020… Was it worse than the years impacted by the Spanish Flu epidemic, WW1, WW2, any of the Great plagues, the death and destruction brought by Atilla the Hun – to name a few? This doesn't diminish the impact of the pandemic which defined much of 2020; rather, it's intention was to merely put it in perspective (if possible).
Speaking of perspective…
A few days ago the front page of a Rotogravure Section of a Detroit News for December 30, 1923 caught my eye. It was a great reminder that there are times when it's simply best to look to the future with child-like faith. Happy New Year!
If you liked this post, you may also enjoy...
December 28, 2020 by GuyHeilenman · Leave a Comment

Email This Post |
Print This Post
As we were searching the Calendar section of a Los Angles Times, July 10, 1977 for a full-page ad for an upcoming ELP concert to be held at the Long Beach Arena, we came across another full-page ad for the newly released movie, "Star Wars". While such ads are desirable when found in a Los Angeles Times (due to the Hollywood connection), what caught our attention was the text of the ad which, instead of just having "STAR WARS", had "STAR WARS NOW". Upon investigation we learned that the original STAR Wars was quickly edited soon after it was decided to convert the stand alone movie into a trilogy. Several fans of Star Wars had posted frustration in their inability to obtain the original-release version of the movie. This made me wonder if the odd title in the ad ("STAR WARS NOW") is/was related to this change. If anyone has more information in regards to this version of the ad, we'd love to know (guy@rarenewspapers.com). Thanks.
If you liked this post, you may also enjoy...
December 24, 2020 by GuyHeilenman · Leave a Comment

Email This Post |
Print This Post
Merry Christmas. A few weeks ago I asked our staff to submit one of their favorite Christmas-themed prints from our website. Their selections were quite varied. If you have a personal favorite from RareNewspapers.com, feel free to share.
Without commentary, the staff's selections are shown below.
Merry Christmas!
Oh, and the rest of us selected one for the staff member who did not submit their favorite:
If you liked this post, you may also enjoy...
December 21, 2020 by TimHughes · Leave a Comment

Email This Post |
Print This Post
One of the advantages of reading a newspaper with fascinating reports from long ago is the ability to investigate and see how the "event" came to a conclusion.
Such is a case with a Detroit newspaper dated six days after the Titanic's sinking which had a front page photo of the: " 'Orphans Of The Titanic:' Parents Gone and Even Names Unknown", the caption noting in part that the: "…two little orphans, who were found clasped in each others' arms in one of the lifeboats…thought to be the children of an unknown…French couple…The little ones speak only French…all efforts to establish their identity have so far failed…".
And there the story ends for readers of that April 21, 1912 issue of the Detroit News-Tribune. One wonders what became of the unfortunate children.
Well, they were part of an intriguing story with a good ending.
This link has the details, but in short, the children's father absconded from France with the boys after losing custody of them in a divorce settlement. The father died on the Titanic, and photos of the boys in newspapers were identified by the mother in France, who would soon be reunited with them.
Did you ever read a news report from  a century ago and wonder how it finished out? The internet makes it possible to find out!
If you liked this post, you may also enjoy...
December 17, 2020 by GuyHeilenman · Leave a Comment

Email This Post |
Print This Post
Earlier this year Timothy Hughes Rare & Early Newspapers offered free issues of 200-year-old Niles' Registers with a request for collectors to let us know if they found interesting, historical or unusual content within the issue they received. Below is the 1st installment of their "finds". Enjoy.
Collector L.D.  from New Jersey –
"Niles' Weekly Register" – April 1, 1820.
Located on the front page.
Well I can't say that I'm an expert on 1820s vernacular, I read this article from the edition I received and it seems (more than) a bit odd. "Covering the country with smiles" sounds like something that would've been said in today's way of speaking, but not something that would've been said 200 years ago. Thoughts?
Collector J.T. from Georgia –
"Niles' Weekly Register" – November 11, 1820.
In the "Foreign Articles" section Page 15 of 16.
Interesting find – News of the suicide of the first and last King of Haiti.
"HAYTI"
"King Henry has committed suicide by blowing out his brains. One account says that he did the deed in July, and that the event was kept secret to secure the succession of his son; and another that it happened about the 1st of October. But it seems certain that he is dead. He had been struck with a paralytic, and no longer able to command his troops, they became mutinous, and revolted at St. Marks – he ordered five regiments to march and punish the insurgents — they refused, and then his kingship made his exit. A body of 6000 troops……. etc."
Wikipedia History reports that, "His son and heir was assassinated 10 days later."
For historical references see: https://m.youtube.com/watch?v=q7lfSjjMNU8
and
https://www.britannica.com/biography/Henry-Christophe "… He built the famous Citadelle Laferrière, a fortress south of his capital at Cap-Haïtien. In August 1820 he suffered a paralytic stroke. When his condition was learned, revolts broke out. In despair over his failure to pacify the country, he shot himself at Sans-Souci palace (the citadel and palace were designated UNESCO World Heritage sites in 1982), and his kingdom became part of the Haitian republic in 1821. …"
Also:  https://en.wikipedia.org/wiki/Henri_Christophe
If you liked this post, you may also enjoy...
December 14, 2020 by TimHughes · Leave a Comment

Email This Post |
Print This Post
Finding the earliest mention of notable people in period newspapers, long before they would become national figures, is a quest of many. Such nuggets–when found–can become treasured pieces for any collection.
We recently discovered what, by our research, is the earliest letter signed by Lincoln to appear in a newspaper. The "New York Weekly Tribune" of July 8, 1848 printed a letter signed A. Lincoln from when he was a representative from Illinois in the national legislature (see photos).In our 44 years of experience this is the earliest we have encountered. One would think letters may have appeared in his local Springfield, Illinois newspaper but lacking the holdings to do such research we can only speculate.
Are any collectors out there aware of an earlier published letter signed by Lincoln? Let the collecting world know!
If you liked this post, you may also enjoy...