January 17, 2020 by Stephanie Williams · Leave a Comment

Email This Post |
Print This Post
This week I made two different forays into a subject I only visited once before — The Wild West.  Thankfully, when you are dealing with a forty-four year old company that specializes in items printed hundreds of years ago, twelve months is not a long time.  And that is good for me, because even when I tally up the number of days I have been here at Rare & Early Newspapers I still feel like a novice.  Today I had back-to-back victories using the organizational system efficiently.  Harper's Weekly from 1912 is not in the front warehouse (designated "W" on location maps) with issues published through the end of the 19th Century, but in the annex ("A") along the right wall, almost to the very end.  Better still, as I confidently strode through the front building with an inward chuckle over my early bumbling efforts to determine what happened after December 30, 1899, I recalled the clipboard hanging in that area.  Rather than maneuver the lift across four rows and down a 15′ column in order to ascend to the appropriate decade, I checked the sheet.  There, recorded after exhausting all potential volume locations, was the notation, "August 17, 1912 — no cc".  So, a disappointing answer for the collector inquiring, but a resounding victory for me as the entire search took a total of three minutes.
Every time I can locate an issue someone is seeking, I feel victorious. But the worst thing is spending a lot of time (which is always needed elsewhere) without having anything to show for it.  Today's glance at the inventory tally reminded me that even a negative result can be useful, if not to me then surely to someone else.  Anyway, I am finally reaching the stage where I am wasting less time when I head into the back in search of whatever someone has called, emailed, written or web queried about.  In theory, the more time I save, the more I have to search out another Titanic issue (665700) for the collector in Germany or a Jay Gould cover portrait for the fellow in Minnesota.
And, for those of you who continue to read these posts, I will always make time to follow up on your requests.  I might even write about them…
If you liked this post, you may also enjoy...
January 13, 2020 by GuyHeilenman · Leave a Comment

Email This Post |
Print This Post
Walk with us back through time to see what noteworthy, historic and collectible events occurred during the month of January. In so doing, we hope you'll agree: "History is never more fascinating than when it's read from the day it was first reported."
If you liked this post, you may also enjoy...
January 9, 2020 by GuyHeilenman · Leave a Comment

Email This Post |
Print This Post
We recently came across a New York Times dated November 12, 1954 which told of the closing of Ellis Island, and included a large photo of the last group of immigrants to take the oath as new citizens (see below). If you've never visited this historic landmark, it is a moving experience – certainly worth the trip.
If you liked this post, you may also enjoy...
January 7, 2020 by GuyHeilenman · Leave a Comment

Email This Post |
Print This Post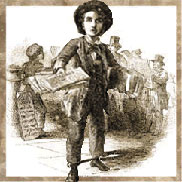 Catalog 290
(for January is now available. This latest offering of authentic newspapers
is comprised of more than 300 new items, a selection which includes:
the trial & execution of Captain Kidd, Cornwallis surrenders at Yorktown, an American almanac with a rare Revolutionary War battle print, a San Francisco newspaper on the San Francisco earthquake, a rare British "newsbook" from 1642 (first we've offered), a great account of the Battle of Bunker Hill
, and more.
The following links are designed to help you explore this latest edition of our catalog:
Don't forget about this month's DISCOUNTED ISSUES.
(The links above will redirect to the latest catalog in approx. 30 days, upon which time it will update to the most recent catalog.)
If you liked this post, you may also enjoy...
January 3, 2020 by Stephanie Williams · Leave a Comment

Email This Post |
Print This Post
Recently, a collector asked me to verify the presence of a continuing report within the Gazette of the United States – the Davila Discourse, which discusses political implications of a republican form of government, as perceived by John Adams in the early days of the young country.  Mr. K offered the information that the section title printed within the sub-heading was not accurate, but a misidentification on the part of the publisher.  Instead, he referenced an outside scholarly source to identify the sequence of text.
My son was old enough during the 2000 presidential election to be fascinated with the process.  At his request, his grandmother kept every newspaper from the week before, through the many days following that strange Tuesday in this nation's history.  Most notable in his collection, however, is the issue that proclaimed Al Gore as the winner.  This week I began thinking about the erroneous publication of "news" at historically crucial times.
Various reports of death have been "grossly exaggerated" – in fact, Wikipedia has alphabetically indexed 14 pages of such premature obituaries.  In the Rare and Early Newspaper world one of the most well-known gaffes is the Chicago Tribune "Dewey Defeats Truman".  As I am new and just learning of these,  I am appalled to find yet another winding road away from the details I am supposed to be taking care of during my working day.
Ultimately, a thing is not true just because it appeared in print.  However, an editorial error can be quickly identified by reviewing the publishing context.  Those of this community who have a more seasoned perspective might enjoy sharing some favorite errors with me via this blog, in case an opportunity arises to do a little wandering in my second year…
If you liked this post, you may also enjoy...
December 31, 2019 by GuyHeilenman · Leave a Comment

Email This Post |
Print This Post
If you liked this post, you may also enjoy...
December 26, 2019 by GuyHeilenman · Leave a Comment

Email This Post |
Print This Post
If you liked this post, you may also enjoy...
December 24, 2019 by GuyHeilenman · Leave a Comment

Email This Post |
Print This Post
Earlier this year I came across a December 21, 1850 issue of Household Words – a publication "conducted" by Charles Dickens, which actually contained an original work by him titled "A CHRISTMAS TREE." Although this was his publication, the majority of the contributions within were typically written by others. While perusing the issue I came across a set of Christmas-themed poems which stirred my heart. Hopefully you will also find them moving. Enjoy.
If you liked this post, you may also enjoy...
December 21, 2019 by Stephanie Williams · Leave a Comment

Email This Post |
Print This Post
As this is the first gift ordering season I have experienced in the Rare Newspaper world, there is much I have learned recently. However, I am on a personal quest to keep the bustle of the season from obscuring the spiritual value of these days. It is the third week of Advent on the Christian calendar and my morning reflections are on Joy. I appreciate the preceding meditations have been on Hope and Peace, because without them Joy might feel a bit contrived, at least to me.
My good intentions, however, usually don't survive the details of life. Into all the elevated mindset about to be swept away by the Monday morning deluge of business activity, came an anchoring phone call. The gentleman was seeking information about an issue out of Honolulu, dated December 7th. It is one of the most available reprints as there were three versions in addition to the original. This fellow was mostly interested in telling the story of his newlywed mother who followed her spouse out to Hawaii in 1941, where he was stationed on a naval destroyer in Pearl Harbor. He told how his mom took a job in the shipyard so she could stay, and her birthday was unexpectedly marked by sirens and smoke. This woman, who wouldn't open gifts until her husband returned days later, was blessed to spend more than seventy more years with him.
It's a beautiful story, and it encompasses much of the mindset of WWII. The newspaper headlines surrounding those days are larger-than-life to me, standing decades later. But the people who responded with extraordinary courage and forbearance and loyalty and perseverance were ordinary men and women who put their concerns aside for something greater than immediate comfort or convenience or even personal safety. And the reports, columns, psa's and advertisements of the time only serve to bring that point home.
Anyway, Hope comes before Peace which comes before Joy.
And then comes Love.
The following poem by Christina Rossetti, eventually titled "Christmastide" was published in 1885:
Love came down at Christmas,
Love all lovely, Love Divine,
Love was born at Christmas,
Star and Angels gave the sign.
Worship we the Godhead,
Love Incarnate, Love Divine,
Worship we our Jesus,
But wherewith for sacred sign?
Love shall be our token,
Love be yours and love be mine,
Love to God and all men,
Love for plea and gift and sign.
Merry Christmas and Happy Holidays to all.
If you liked this post, you may also enjoy...
December 13, 2019 by Stephanie Williams · Leave a Comment

Email This Post |
Print This Post
This week I deepened my acquaintance with Brigham and Gregory.  Guy had introduced me a couple weeks ago following his absence from the office.  While he was away Gregory was urgently needed, and I could not help, uninitiated as I was.  Almost immediately upon his return, Guy rectified that situation, but days and days have passed since, without a deepening of our acquaintanceship.  Today, however, I casually asked how often the Pennsylvania Gazette was published.  And this time it was Tim who walked me to the most Ancient Oracle of Newspaper Publishing – Brigham.  His expertise, it seems, ends in 1890.  But, in the event I ever despair of pertinent cataloging beyond that point, Gregory has the more recent hundred years covered.
So thoroughly were these two scholars made known to me, I have not done any internet research but am glad to recite all the bits and pieces I have gathered.
Long before computer databases, Mr. Brigham compiled the definitive, "History and Bibliography" of existing American publications.  Organized alphabetically by state, and then further broken down by individual city, each entry describes the titles published (with chronologically ordered permutations) and then the known physical location of any issues.  My collector, seeking a Pennsylvania Gazette from 1792, might have found the impact of the Stamp Act a strange side note, as this was one of the publications that sought to circumvent the tariff by removing its title and modifying format to a broadsheet.  Then again, his concern could be for the changing of the editorial board or ownership, as Benjamin Franklin issues are more popular requests.  Scarcity of collections impacts value — and a title held by only one institution is certainly more precious.
The last names of these two compilers appealed to me — as they are in that classification of surnames acceptable as firsts.  However, buried within the publisher's thanks to all who helped with the massive project are a few lines addressed to the Library of Congress, for the office space provided for "Miss Gregory and her staff."  Surprised by the gender of the pronoun, I dug a bit more and found Winifred Gregory listed as the editor.
I like these new experts — and I like the balance of scholarship.  Furthermore, I fully intend to deepen this acquaintance with Brigham and Gregory.
In fact, I expect we will become good friends.
If you liked this post, you may also enjoy...