September 23, 2013 by GuyHeilenman · Leave a Comment
Over the past 10 years we (RareNewspapers.com) have put together a series of videos designed to help educate novices about the hobby of collecting historic newspapers.  While some may be a smidge old (compared to today's high-tech standards), the information within is still pertinent. Pick a topic of interest, turn up the volume, and enjoy our perspective on the collectible.
June 10, 2013 by TimHughes · Leave a Comment
One of the passions held by many is
sports
, and each season provides a new opportunity to cheer on one's favorite teams as they follow their efforts through to a hopeful championship. It is not coincidence that "fan" is a diminutive form of the word "fanatic". The hobby of collecting early newspaper adds an opportunity to broaden support for a  team by including an historical perspective possible only through all this hobby has to offer.
Baseball
,
football
,
basketball
,
tennis
,
golf
,
horse racing
,
soccer
, and on and on. You name the sport and reports can be found in newspapers going back to the very beginning of the sport, or the beginning of newspapers. We once offered a
newspaper from Springfield
, Massachusetts—where basketball was founded—reporting the very first public game ever played. It is the holy grail of newspaper reports on basketball, and now resides in the archives of the Library of Congress. Similar gem items can be found for other sports as well. If a report cannot be found on the very beginning days of a sport, finding reports as old as possible is a quest which never ends. Baseball traces its history back to 1839 (although exactly when & how it was founded is up for some discussion) so finding a newspaper with a bonafide baseball report as close to this year is a worthy goal. We have some
issues back to 1855
on our website, and game reports become more frequent
during
and
just after
the Civil War.
But with baseball it's often the golden era that attracts the most attention, from when
Babe Ruth
,
Lou Gehrig
and other standouts from the 1920's and 1930's were making headlines. Just following Ruth's standout career can create a formidable collection, from early mention of him in the majors (how about 1914?), his first Major League game appearance, his first home run, a report of him being sold to the
Yankees
, and then his stellar career as a home run record-setter. All were reported in newspapers. And there was a host of notable ball players from a generation before,  including
Nap Lajoie
,
Branch Rickey
,
Henry Chadwick
,
Honus Wagner
,
Walter Johnson
,
Ty Cobb
,
Joe Jackson
, &
Christy Mathewson
to name a few. In fact baseball had its own daily newspaper from the 1880's titled the "
Official Record
" which chronicled nothing but baseball reports of the day. Illustrations of baseball players are a special treat and add a graphic & displayable dimension to any collection. The popular illustrated newspaper "
Harper's Weekly
" (and other well-know illustrated issues of the day) had many issues which featured half page or full page
baseball prints
, as well as a few doublepage centerfolds and front page prints which are particularly desirable. There are some ancillary items which are intriguing, several found in the scientific-themed periodical "
Scientific American
", which featured a new electric scoreboard dating back to the 1800's, and a
novel invention of a "mechanical baseball pitcher". There are baseball reports of
Jim Thorpe
, who, although was more famous for his
Olympic
and football prowess, was a notable baseball player as well. Newspapers with reports involving
Jesse Owens
are equally noteworthy. And just a focus on
World Series
games would result in a sizable collection, with the goal of owning the championship report for every World Series from 1903 to the present. The "
Black Sox
" scandal of 1919, which involved members of the Chicago White Sox team being accused of throwing the Series, made headline reports for the next two years as the case was investigated and brought to a painful conclusion. Although the most collectible of sports, baseball is by no means the only. Football reports became common in the 1890's and into the early 20
th
century. Again, "
Harper's Weekly
" did much to provide a graphic account of the sport, with both illustrations and photos of players and action, showcasing the minimal amount of protection that was worn in comparison to what's found in the game today. Collecting by team makes for even more focused collection. Among the more popular would have to be the Yankees in baseball, and
Notre Dame
in collegiate football. But any team name for any sport can be
searched out of our website, whether it be
collegiate football
, the
NFL
, or nearly any other sport you can think of. Even something as obscure as
pre-1800 boxing reports
and
ballooning
can be found within collectible newspapers. Give it a try. With golf it was
Bobby Jones
who gave the sport some prominence with his accomplishments which culminated in the "triple crown" victory, after which he left the sport to pursue a movie career. But again "
Harper's Weekly
" put many golf themed prints in its pages, several done by noted artist
A.B. Frost
, which make for displayable items for any golf enthusiast. Tennis was another sport which made the pages of "
Harper's Weekly
" and those that are framed make great display items for any den. Track and field, bowling, bicycling, curling, fishing (with prints by 
A.B. Frost
and
Frederic Remington
), hunting, sailing (including the
America's Cup
), skiing, automobile racing, archery, and even surfing are a portion of a lengthy list of
sporting events found in newspapers
of the day. Whatever sport you follow and whatever the era, the world of rare & early newspapers has much to offer. Add an historical dimension to your hobby. There is much from which to choose.
May 27, 2013 by TimHughes · Leave a Comment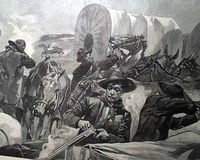 Few eras of American history have been romanticized as the 
Post-Civil War 19th Century
.  For those who grew up in the 1950's & 1960's, television had more than its fair share of Western-themed shows. And the "
Wild West
" was a common feature on the silver screen as well. Not only can one capture a flavor of that time when the American frontier was pushing further West, but actual historical events can be read as captured in newspapers of the day, when the events happened. This is the intrigue of collecting rare and historic newspapers. From the moment the
Civil War
ended, the national focus was on the lands west of the Mississippi. It was common to find reports, even in newspapers from the big cities of the East, of skirmishes with Indians on the Great Plains and elsewhere. The Custer Massacre perhaps ranking as the most notable, but reports can be found on the Battle of Wounded Knee, Captain Jack and the Modoc Indian War, reports of Geronimo, Sitting Bull, the Apaches and others. Newspapers are a great resource for those wishing to explore/collect
Native American history
. And what about
Outlaws & Gunfights
? Stage coach robbery reports are not an uncommonly found in newspapers from the 1870's and 1880's, and train robberies and bank robberies could be found scattered throughout newspapers of this period as well. It was a time when some of the more famous—and infamous--names of American history could be found in newspapers, including Jesse James and his gang, Billy the Kid, Wyatt Earp (yes, there are newspaper reports of the Gunfight at the O.K. Corral), the Dalton Gang, Younger brothers, Robert Ford, Buffalo Bill, Jim Bridger, Vasquez, Doc Holliday, Kit Carson,  Lizzie Borden, and on and on. Although "
Jack the Ripper
" was a name from London crime history his deeds made headlines on this side of the Atlantic as well. Reports of their deeds are not fictionalized; they are the events as reported in newspaper accounts of the day.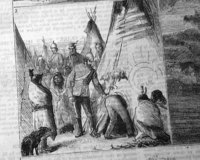 Some the famous towns of the
Old West
had their own newspapers and can be purchased for anyone's collection, including titles from
Tombstone
,
Leavenworth
,
Deadwood
,
Tucson
,
Reno
,
San Francisco
,
Leadville
,
Carson City
,  
Denver
,
Salt Lake City
, and many more. Although crime reports were common, there is so much more in newspapers from this era. Politics certainly found their way into newspapers on a daily basis. 
Ulysses S. Grant
and
James Garfield
were perhaps the most notable Presidents of the era, and reports on the latter's assassination are commonly found.  Science and innovation were the focus of the famous title "
Scientific American
" which began in 1845 and still publishes today. Within its pages were many reports on
Thomas Edison
,
Alexander Graham Bell
and their inventive work, plus illustrations of the creations of many of the devices and improvements we still enjoy today. Many were first unveiled in Philadelphia's
Centennial Exposition
of 1876 and the
Columbian Exposition
at Chicago in 1893. It was a time when
Brigham Young
and the
Mormons
were venturing west, ultimately to settle in the Salt Lake City Valley.
P.T. Barnum
was making news with his circus, and
Frederick Douglass
&
Booker T. Washington
were coming to national prominence as spokesmen for the newly emancipated slaves. The Chicago Fire & the Johnstown Flood were but two disasters which changed the American landscape and graphic accounts were more brutal in the 19
th
century then they are today.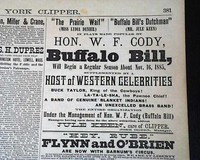 As is the case with present-day newspapers,
sporting reports
were typically found, with baseball, football, tennis and golf gaining widespread popularity as diversions for not just the wealthy but for everyone. As you see the
post-Civil War
era was very rich in history. And I only touched on a few of the highlights. Newspapers of the era reported not just the events & names we know of through history books, but captured the mundane events of daily existence which provide a fascinating flavor of life in America when the wealth & prestige of the United States was emerging upon the world landscape. A world awaits the collector who delves into this fascinating era of American history.
May 24, 2013 by TimHughes · Leave a Comment
This advertisement for the "Beauty" Bower cigar, found in the
Daily Free Press, June 3, 1881
, from Bodie, California doesn't seem to hold true to its name. If this is what the smokers looked like "after", I'd hate to see the "before". I wonder if 19th century travelers to the region where confronted with signs stating, "Beware of non-smokers!".
March 15, 2013 by TimHughes · 3 Comments
As is true with any historical event or founding of an institution, collectors of historical newspapers strive for the earliest reports possible. The
Declaration of Independence
first appeared in a newspaper on July 6, 1776, and that issue commands a six figure price much higher than printings of the document in other newspapers of later dates
(such as the British Gentleman's Magazine from August, 1776). Battle reports from the
Revolutionary War
are most coveted when in newspapers dated as close to the battle as possible. With the widespread use of the telegraph just before the
Civil War
, timeliness became less of an issue, as events would typically be found in the next day's edition of newspapers regardless of how distance the printing press was from the event. With institutions, societies & organizations the collector strives for the earliest reports on their creation. Reports from the
Continental Congress
, the
Constitutional Convention
, the creation of military academy at
West Point
, the first
baseball
game mention, are just a few examples of icons of present-day societies which collectors like to find in newspaper reports dated as early as possible. Such is true with development of the Church of Jesus Christ of Latter-Day Saints, or the
Mormons
. Formally organized in upstate New York in 1829 accounts from that year or 1830 would rank among the most desired. Our earliest account was found in the 'Christian Intelligencer" issue of February 4, 1831. As was typical with reporting of the day, bias, discrimination and prejudice were rampant within the newspaper pages, with the publisher's mind-set not encumbered by political correctness. This early report notes that:
"...the career of some fanatical individuals, who pretend to work miracles and to preach a new gospel. They profess to have discovered somewhere in New York a new revelation, hidden under a stone, which enables them to work miracles...a delusion and phrenzy with which these individual have wrought up the public mind...something like 500 adherents who follow those ignorant and deluded men with the same submission that sheep are led to slaughter..."
. This intriguing report was likely the first its subscribers learned of this new religious movement,and with a current membership of over 14 million, this report dates to when just 500 were followers.
A slightly later report in the popular '
Niles' Weekly Register
' newspaper from Baltimore,
July 16, 1831
, shows a similar  bias & prejudice:
"...that certain knaves, pretending to have found some holy writings hidden under a stone...started a new religion! The leaders make bold pretensions and assert a gift to work miracles...now said to amount to 1,000 souls...some of whom...no doubt believe in all things that are told them...
" and more. Newspaper accounts found in the 1831-1835 period were very few and remain among the most desired among collectors. By the time the leader
Joseph Smith
and the
Mormons
moved from Kirtland, Ohio, to Missouri and then
Nauvoo
, Illinois by 1839, reports in newspapers became more numerous, as their travels were often made dangerous by the suspicious locals who didn't want them in their vicinity. An interesting and desired collection of
Mormon-related newspapers
would include period reports of their movement westward, from New York to Ohio to Missouri to Illinois and ultimately to their own state of "
Deseret
" in the present-day state of Utah.  With their arrival in 1847,
Utah
was not only not a state, it was not even a territorial possession. It was part of Mexico, but with the
Treaty of Guadalupe Hidalgo
which ended the
Mexican War
in 1848, it became a territory of the United States, and the disputes between the Mormons and the federal government would be legendary, the
Mountain Meadows Massacre
being among the most publicized. In additional to federal battles, disputes within their organization were quick to make the newspapers, and the practice of plural marriage did not set well with the typical Judeo-Christian ethic of the day.
Typical of religious movements of the 19th century, the
Mormons
published several of their own periodicals, among the earliest and occasionally available being 'Times & Seasons' done during their turbulent stay in
Nauvoo
, Illinois. Within its pages was the  report of the killing of founder and leader
Joseph Smith
. Other titles which occasionally surface for collectors are 'The Latter-Day Saints' '
Millennial Star
', the 'Gospel Reflector', and some three years after their arrival at Salt Lake City they set up the '
Deseret News
' in 1850, which was the first first newspaper to be published in  present-day Utah, some 46 years before it would become a state. The fascinating and troublesome history of the
Mormons
and their trek across the frontier of America is now part & parcel of American history. Finding reports in newspapers from when they happened makes for an interesting segment of any rare newspaper collection.
March 8, 2013 by TimHughes · Leave a Comment
Few eras in the broad range of American history have the appeal as that of the "
Wild West
", a romanticized period following the end of the
Civil War
thru the  end of the 19th century. It was a time when America was healing from the wounds of war and the adventurous were pushing the American boundary further West. It was the
1849
California
Gold Rush
which sparked interest. Now with the war over, new adventures were sought by many. Those of the Baby Boom generation grew up on western movies and
cowboy & Indian
television shows. Even
Disney's
hugely popular Mickey Mouse Club and the newly minted Disneyland had the
Wild West
as a popular theme. What we remember are battles with
Native Americans
,
saloon
brawls,
gunfights
, and a multitude of other events which seem to define the era. And to the delight of collectors, all are found in newspapers from the
Old West
. Geographically our "
Old West
" definition would be any from west of the Mississippi. Some 25 years ago we were fortunate enough to purchase a sizable collection of
Old West
newspapers which were deaccessioned from the Bancroft Library, including many titles which existed only there, then only in
our inventory. With some regret many have long since sold out, but most remain available. Ways of collecting this era are many. Some might pursue one of as many different titles as are available. Content is a lesser concern; they just want one of everything. Some might collect one from every state from before the 20th century. Many states would be easily found but others can be challenging, particularly
Arizona
,
New Mexico
& perhaps
Idaho
. Others might be more specific and collect only titles from before statehood, typically known as "territorial newspapers" (note:
Arizona
&
New Mexico
joined the Union in 1912 so early 20th century issues are "territorial"). Again, many can be easily found while others are more of a challenge.
California
became a state in 1850 (interesting how quickly Congress can act when a pile of gold is found in the backyard) and the number of titles which existed in the Golden State before 1850 were very few. For the best of collections, finding an early issue of the first newspaper to publish in each state can be a special challenge. But of course this is the fun  of collecting. Then there is a larger segment of collectors who pursue content, whether it be the iconic events of the
Old West
such as
Custer's
Massacre, Killing of
Jesse James
, the gunfight at the
O.K. Corral
, capture of
Sitting Bull
, or just mundane reports of iconic events such as skirmishes with
Indians
, barroom brawls,
bank & railroad robberies
, and general reports of lawlessness. Yes, they are all found in
Western
newspapers of the day, and the search can be exciting. As a subset of an Old West collection  is
Mormon
content, as the story of the Church of Jesus Christ of Latter-Day Saints is part & parcel of the westward expansion. Many titles from
Salt Lake City
are available and contain a wealth of
Mormon
content from shortly after their settlement in
Utah
. Another subset
might be popular Western towns. Yes, 19th century newspapers are available from
Tombstone
,
Sacramento
,
Deadwood City
,
Tucson
,
Albuquerque
,
San Francisco
,
Laramie
,
Reno
,
Los Angeles
,
San Diego
,
Leavenworth
, and on and on. Of special intrigue is finding newspapers from ghost towns.
Bodie
, California is a great example of a once booming
mining town
which is currently a California State Park and popular ghost town attraction. Many of our titles from Northern California are from towns which are today a fraction of their size in the 19th century. The world of
Old West
collecting is endless, and to the surprise of many prices for most newspapers of the era are unexpectedly low. Explore this interesting era of American history and discover a new facet of collecting!
March 1, 2013 by TimHughes · Leave a Comment
Thomas Nast
ranks as one of  the most successful, powerful, and prolific artists of the 19th century, and is a name linked closely to one of the most successful, powerful, and prolific newspapers of the 19th century. Through their successes, both
Nast
and
Harper's Weekly
gained sufficient power to influence American politics in the second half of the 19th century and help shape the political climate of America during the industrial revolution.
Thomas Nast
was German born, moving to America in 1846. Skilled as an artist, he first went to work for
Frank Leslie's Illustrated Newspaper
in 1859, but within 3 years he began working for its competitor, Harper's Weekly. His work continued to appear in Harper's thru 1886. It was a symbiotic relationship for the two. Circulation of Harper's Weekly grew as
Nast
drawings were found in more and more of its pages, and
Nast
's notoriety and popularity grew in large part to the increased circulation of Harper's Weekly.
Nast
's powerful pen in support of the prosecution of the Civil War was honored by
President Lincoln
when he called Nast
"our best recruiting sergeant"
. With original artwork by
Thomas Nast
commanding prices far beyond the pocketbooks of most collectors, prints found in Harper's--and only in Harper's--remain a popular way to assemble a collection of this famed artist's work at relatively low prices given the current availability of genuine issues. For today's collector, interest in
Nast
falls into three categories: 1) His portrayal of battles & events of the
Civil  War
, which often featured human interest themes & the effect of the war on those back home, remain as some of the best and most heart-felt scenes of the Civil War. Daily newspapers only provided written text; Harper's Weekly and the prints of
Thomas Nast
provided a visual representation of the reality of war. 2) Perhaps most noticed as a
political cartoonist
, his work did much to expose the graft and corruption of William "Boss"
Tweed
, the powerful
Tammany Hall
political machine of New York City. In fact it was a
Nast
cartoon which caused Tweed to be arrested following his escape from jail and flight to Spain. A customs official recognized him from his many appearances in "Harper's Weekly".
Nast
has been credited with doing much to cause elections of all in the hands of those he supported (Grant's two Presidencies), and cause to fail those he disliked.
It was
Nast
who created the caricatures of the Democratic
donkey
and the Republican
elephant
to represent those parties, political icons which remain to this day. Desired among collectors are the first donkey to appear in the pages of Harper's Weekly (
January 15, 1870
) and the first elephant to appear (
November 7, 1874
), as well as the first time they appeared together (
December 27, 1879
). All three command premium prices due to their desirability, but collectors are encouraged by the inexpensive prices for other genuine issues of Harper's which include
Nast
illustrations of both. 3) Santa Claus prints. It is Thomas Nast who is credited with creating the modern version of
Santa Claus
, the jolly, rosy-cheeked, rotund purveyor of gifts in the uniform as we know him today. Nast's first Santa Claus to appear in Harper's Weekly was titled "Santa Claus in Camp" from during the Civil War, appearing on the front page of the
January 3, 1863
issue. Yet it is the
January 1, 1881
issue which has the Santa Claus centerfold which still appears in many Christmas advertisements and is perhaps his most famous rendition. There are many issues of Harper's Weekly which have
Santa Claus
prints, all very desired among collectors. True to any symbiotic relationship, with Nast leaving Harper's Weekly at the  end of 1886, he lost his forum to reach the masses, and in losing
Nast
, Harper's Weekly lost its political importance.
Nast
continued his work in other publications, none being very successful, until his death in 1902 to yellow fever. Harper's Weekly never regained its success from the
Nast
years, and it ultimately ceased publication in 1916. Harper's Weekly issues with
Nast
prints are very displayable, particularly those which feature
Nast
images on the front page, or notable icons such as popular politicians,
Santa Claus
,
Uncle Sam
and
Abraham Lincoln
. A very famous Nast cartoon featuring
Lincoln
is the  "Long Abraham Lincoln A Little Longer" cartoon which is in the
November 26, 1864
issue, signifying his successful second Presidential election. All issues offered by Hughes Rare & Early Newspapers are genuine & complete in 16 pages, save for a few described otherwise. In many cases two or three
Nast
prints appear in one issue.
November 21, 2012 by GuyHeilenman · Leave a Comment
This Thanksgiving, why not take the family on a historically "Pinteresting"walk through a survey of Thanksgiving Proclamations made at key moments in American History?
Happy Thanksgiving!
November 1, 2012 by TimHughes · Leave a Comment
"Newspapers that shaped the world..."
Some of the better & more fascinating items found in old newspapers are not the most historic or significant, but rather the casual appearance of seemingly innocuous reports which excite collecting interest beyond the historic headline or dramatic presentation which are the more usual draw. Much of what intrigues collectors can be lost within the body of reports, yet they tell a story of their own, such as the patriotic fervor of some colonist during the Revolutionary War.  I recall an issue of the Edinburgh Evening Courant of June, 1776 reporting on American soldiers:
"…Their uniform is a dark grey coarse linen frock, which covers the whole body...with the words, 'Death or Liberty' marked in large red letters on the right sleeve; and many of them are so enthusiastic as to have them marked with their own blood...".
This report is almost lost on page 3 yet its message is very telling of the spirit which caused the Americans to win the war against a world power despite insurmountable odds. Some reports are fascinating by their bias. A Richmond newspaper of July, 1863 reporting on the Battle of Gettysburg notes:
"...The Confederates did not gain a victory, neither did the enemy. He succeeded in defending himself & we failed in some portions of an attack...We killed more of the enemy than we lost; we took very many more prisoners than lost. The Confederate army did not leave the enemy until it had tried every link of his armour…"
Another newspaper notes: "
..Information, certainly authentic, is in the hands of the Government, which leaves no doubt of the safety & triumph of the noble army. General Lee was victorious in all the combats which have taken place. He has been engaged with the whole force of the United States & has broken its backbone...",
Perhaps the most extraordinary example of optimism appeared in the Richmond Examiner of July 25:
"…The result was not a defeat, it was not a loss; it was only not a victory...It was little else than a disappointment of extraordinary expectations...".
What a precious statement as an example of Confederate optimism. Other little gems were very prophetic in their reporting, particularly when read with an historic perspective. A Scottish newspaper from 1775 sensed a lasting war with America as it reflected on the Battle of Bunker:
"…The mischiefs which have already arisen & the greater calamities which are threatened from the unnatural war excited in America...It is impossible we can see, without the utmost alarm, preparations making for the prosecution of an expensive & ruinous war with our own Colonies...".
Some can be very recent, like the New York Times comment on rookie Mickey Mantle in 1951:
"...Mantle, who gives every promise of developing into an outstanding baseball star, was ordered to report to his draft board next Wednesday..."
An editorial comment in the Army & Navy Journal just after the Gettysburg Address opined: "…
a dedicatory speech by President Lincoln, which we give in full, as decidedly the best feature of the occasion, as well as one of the most felicitous utterances of its author." How true.
Some were prophetic even when the reports were simply wrong, like the Illustrated American article of 1898 reporting on "A New Flying Machine That Flies"--five years before the Wright brothers--when it said:
"...It is impossible to imagine without terror the day when these mechanical birds, these flying apparitions, will be able to rain upon armies, hostile towns and escalating parties most deadly and most destructive explosives..."
. How true it would become. There can be much to be found in newspapers beyond the headline. What a thrill it is to discover such hidden gems; reports that have escaped hundreds of years of history only to rediscovered with new-found relevance today. Such are just some of the joys of collecting early newspapers. Please enjoy: 
"Newspapers that shaped the world..."
October 24, 2012 by GuyHeilenman · Leave a Comment
Each month Timothy Hughes Rare & Early Newspapers releases a catalog containing a new set of historic and collectible newspapers (1600′s through 20th century). However, on November 1, 2012, at 12:01 AM ET, the special edition, "Newspapers that changed the world…" will be released. Whether you already collect newspapers, or desire to simply view a sampling of what the hobby has to offer, check back for this special occasion:
Prior to November 1, 2012 and after November 30, 2012, the link below will take you to the most recent offerings of Timothy Hughes Rare & Early Newspapers... History's Newsstand! During the month of November it will take you to the special release catalog, "Newspapers that changed the world".