November 18, 2019 by GuyHeilenman · Leave a Comment
In 1934 Bonnie penned what most believe to be her last poem: "The Story of Bonnie and Clyde", which appeared in newspapers throughout the country shortly after their deaths. The uncanny foretelling of their fate would capture the imagination of many, and help transform them into legendary figures – a fantasy she had held since her teenage years. Although the poem appeared in quite a few newspapers, few can be found. However, we recently came across a Chicago Daily Tribune dated May 25, 1934 which printed the poem on the day of their funeral. Enjoy.
November 11, 2019 by GuyHeilenman · Leave a Comment
Bob Dylan returned from a nearly eight-year break from touring by teaming up with The Band for a 40-concert, 21-city tour – which was kicked off at the Chicago Stadium. As the crowd waited for the concert to begin many wondered whether he would return to his stripped-down, acoustic-forward style, or his amped up, electric-infused experiment – a style which he, to the chagrin of many of his devoted followers, had introduced at the *Newport Music Festival in 1965.  After such a long absence, which Dylan would show up? One thing was certain, although he had received considerable criticism for his change in style, what they were about to hear would be pure Bob Dylan – according to his own terms.  The Village Voice out of Greenwich Village, NY, wrote a nice review in their issue dated January 10, 1974: "Most Likely He'll Go His Way."
Forty concerts within a 2-month span! Were you there?
*Prior to his touring hiatus, Bob Dylan began experimenting with playing Folk Music infused with electric instruments. This uncommon practice began with his concert at the 1965 Newport Music Festival and continued for approximately 2 years. While many of the songs were familiar, their sound was unlike anything they had previous heard. In the end, although others had tried a similar style, he made it popular and once again solidified his reputation as a pioneer in music.
November 7, 2019 by GuyHeilenman · Leave a Comment
Anyone in the past 100+ years who has visited Niagara Falls could not help but notice a structure, a mere 3 football-fields upstream, which seems precariously out of place – yet, the word precarious is far from the appropriate descriptive. Truth is, for 100+ years, this iron eye-sore – now refereed to "The Niagara Scow", has not budged – until now. Due to recent heavy rains, what was thought to be a permanent fixture in the Niagara landscape has reminded us that nothing lasts forever – faith, hope, and love excepted. 🙂
One of the many pleasures of collecting rare newspapers is the ability to grab a current-events story such as this, and run back into time to explore its roots. We did just this in regards to the Niagara Scow, and we found a report in a New York Times dated August 7, 1918. Whereas the issue itself can be viewed/purchased on eBay, the entire text of the article is available on our website. Enjoy.
November 4, 2019 by GuyHeilenman · Leave a Comment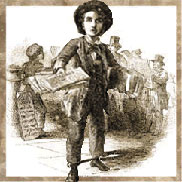 Catalog 288
(for November) is now available. This latest offering of authentic newspapers
is comprised of more than 300 new items, a selection which includes:
a complete printing of The Declaration of Independence, George Washington is elected President, a first report of the Great London Fire, a terrific & displayable Abe Lincoln centerfold, the full text of the Continental Association (in a Virginia newspaper), the Coronation of the King & Queen (in a London newspaper)
, and more.
The following links are designed to help you explore this latest edition of our catalog:
Don't forget about this month's DISCOUNTED ISSUES.
(The links above will redirect to the latest catalog in approx. 30 days, upon which time it will update to the most recent catalog.)
October 25, 2019 by Stephanie Williams · Leave a Comment
Sometimes I think that the constant hum of political discourse is unique to our time.  Certainly, the tone is billed as uniquely vitriolic – in stark contrast to the bucolic days of yore.  Except, I keep uncovering these eviscerating denouncements of a certain elected leader, or particular view, or specific cause, or controversial vote – with all the surrounding discussion and debate.  The only difference I can see is that a certain level of pride seemed to stamp each public statement – as if a political position was strengthened by dissent.  These days, nearly as much time is spent disassociating from one's words as in the pontificating.
Adding a second distinguishing feature, this week I discovered the satirical  Puck – begun in Germany and published in America in 1877.  Interestingly, the founder collaborated with the renowned Leslie's Illustrated prior to making the transition.  Headed with the Shakespearean character's wry commentary, "What fools these mortals be," the clever magazine takes the tone of an outside, slightly mocking, observer.
The one I selected for perusal deals with the Justice System on the cover, and New York's participation in the World Fair of 1839.  A brief glance at the latter conveys a fairy tale worthy, beautifully colored double page centerfold that on closer inspection mocks the greed associated with the exposition and its participants.
It's an elevated tone, when compared with the shrill modern volume on television and radio.  Somehow, satire is more palatable to me — a velvet glove of watercolor illustration covering the iron fist of debate in a place where freedom of speech was so highly esteemed that it was almost an art form.
October 18, 2019 by Stephanie Williams · Leave a Comment
Today's post is a bit harried because Guy was away for a few days.  There is nothing like his absence to bring home to me how much I still have left to learn.  Thankfully, he has returned and no one was irrevocably distressed by my continued ineptitude — which was blatantly apparent without his buffering.
That said, I juggled as successfully as I could, and in the process found a sphere of knowledge of which I have somehow remained ignorant.  The covers of Harper's Weekly publications are often pen and ink constructions that are balanced and aesthetically appealing.  Many collectors purchase these to frame and subsequently decorate walls and offices.  An issue from 1859 passed under my gaze while fulfilling a request that had been paired with a name unfamiliar to me.  The collector was searching for Garibaldi reports.  As I was completely unfamiliar with the name, my shipping room buddy brought the June 18, 1859 Harper's to my desk before commencing his painstaking shipping process.
Clearly, I have been missing out.  This "famous Italian patriot whose exploits on the slopes of the Alps are at present in every one's mouth" was featured on the full front page, and continued onto one inside column.  His visage is coldly angular, and his narrowed eyes appeared to find me across the length of my desk.  My reaction must have been noteworthy, because an hour or so later Mike brought me a different date for that same title.  "This artist had a kinder interpretation," he said as he carefully placed another Garibaldi side by side with the first.  And, the difference was so pronounced I spent a bit of time looking for the minute changes that dramatically influenced the whole.
Then I thought of all the people who search out issues containing Lincoln portraits, or a date among the seemingly unending eight years of Teddy Roosevelt covers.  How funny it is to realize that our collective views of historically foundational people have been based on the interpretation of artists!  Based on the shape of Joseph G.'s eyes, I suspect that some of them had a distinct bias that has unconsciously colored our perspective.
Even with my reasoning braced against my imagination, I find the introductory paragraph to the report does nothing to soften the aggressive life chosen by this commander.  "Joseph Garibaldi is the type of gallant soldier of fortune, to whom the excitement of war is a necessity; but when his country's opportunity arrives, is never found wanting among her defenders."
October 14, 2019 by GuyHeilenman · Leave a Comment
You may have really got them going, but did they get you going enough to get you to go to their 1981 concert at Madison Square Garden? The Kinks, who are considered by many as one of the most influential British rock groups of the 1960's, as of 1981 were still selling out at some of the biggest and greatest venues of the day. The full-page ad below, printed in The Village Voice dated September 9-15, 1981 (for the week of September 8th), is for their October 3rd concert at Madison Square Garden. Were you there? If so, feel free to share your family-friendly memories. Just as an FYI – Three of the four original members, and all who are living, are still playing concerts as of 2019.
October 7, 2019 by GuyHeilenman · Leave a Comment
Typically, the day after a MLB team is defeated in the World Series, an acknowledgement along with a few humble, congratulatory remarks are the focus of the losing team's hometown newspaper. However, after the New York Yankees eliminated the St. Louis Cardinals in the 1941 World Series, the St.Louis Post-Dispatch decided to ignore decorum and instead, predicted that the following year, the Cards would return to defeat the Yankees in the 1942 World Series? How do we know they made such a bold prediction? They put it in print – and, Nostradamus would  have been proud. The following year both teams returned to the World Series, and the Cards defeated the Yankees in only five games.
October 4, 2019 by GuyHeilenman · 2 Comments
Unless you grew up in the Philadelphia – New York City corridor, you may not recognize the name, but he certainly made his mark on American culture in general, and the Philly region in particular. Famed merchant, marketing pioneer, founder of one of the first major department stores, U.S. Post Master General, notable Christian philanthropist, and more, his name was recognized throughout the world in the mid-to-late 19th century. Until its closing, the Wanamaker Building was a frequent destination for most who visited Philadelphia, especially during the Christmas Season. Some of his more-famous quotes include: "People who cannot find time for recreation are obliged sooner or later to find time for illness." "People who cannot find time for recreation are obliged sooner or later to find time for illness." "Half the money I spend on advertising is wasted; the trouble is, I don't know which half."

As was reported in the December 12, 1922 issue of The Bethlehem Times, John Wanamaker met his Maker on the same day as this report. While his influence lives on through such simple things as "the price tag" (on products), his name is slowly succumbing to that which befalls us all. Still, those of us who know of his contributions appreciate his impact on society, and have fond memories of his Christmas Light Show and one of the most amazing pipe organs in the world. Thanks John.
Update from a comment posted as a follow-up to this post: "It is true that Wanamaker department store is closed, but since then, the building has housed two other department stores, Hecht's and Macy's. Both companies have continued the Christmas light and organ traditions. Macy's, the current owner, even funded a multi-million dollar restoration to the light show. Going to Wanamaker's at Christmas is still a yearly tradition that my family enjoys, and many a Philadelphian still "meet at the eagle," on a daily basis." Thanks Bill (see posted reply)
October 1, 2019 by GuyHeilenman · Leave a Comment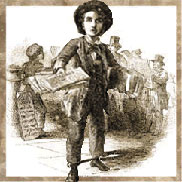 Catalog 287
(for October) is now available. This latest offering of authentic newspapers
is comprised of nearly 300 new items, a selection which includes:
the famous "Dewey Defeats Truman" newspaper, a rare Civil War camp newspaper, the "Corinth Chanticleer" from Mississippi, a Broadside "Extra" on the capture of Jeff Davis, a great Battle of Gettysburg newspaper, a Confederate broadsheet "Extra" from Georgia
, and more.
The following links are designed to help you explore this latest edition of our catalog:
Don't forget about this month's DISCOUNTED ISSUES.
(The links above will redirect to the latest catalog in approx. 30 days, upon which time it will update to the most recent catalog.)