November 18, 2013 by GuyHeilenman · Leave a Comment
Fifty years ago this week my older sister and I came in from carving Matchbox-car-sized roads through the previously well-manicured turf of our backyard to find our mother staring at the semi-snowy, partially visible screen of our black and white television with tears streaming down her face.  Not being prone to such outward displays of emotion, her anguish screamed to us that something tragic had happened.  This moment was emblazoned in our minds for life... and was reinforced days later when she took us by the hand to lead us on the long trek to the railroad overpass a few miles from our home to peer over the edge to watch a train draped with a flag pass under our feet. President John F. Kennedy was dead!  While at the time my sister and I had no idea whether or not he was a good president (for to a child, all presidents are good), one thing we knew for sure, something vanished from people's eyes which has yet to return - American innocence.
As we reflect on this snap-shot of innocence lost, we wonder where it all began - that is, the overwhelming common-man devotion which inspired many to "Ask not what your country can do for you...".  When did the admiration of the crowd begin? Was it when he was proclaimed a
WWII hero as the Captain of PT-109
, or did it spring-forth from his impact as a Massachusetts Representative with
his first political election
victory? While it may be hard to sort out how he had become so beloved, one thing is certain: a split-second in time along a Dallas street changed everything.
Feel free to share your "memory" of November 22, 1963.
To commemorate this historic moment (November 22, 1963), we've assembled a host of "assassination-report" newspapers from all over the country. They are viewable at:
JFK Assassination
.
October 28, 2013 by TimHughes · Leave a Comment
The photo shows the report in the December 2, 1864 issue of "
The Liberator
" of Lincoln's very famous & heart-felt letter to a woman who lost five sons in the Civil War. A very sobering report which gives one a small sense of the horror of war not just on the battlefield, but at home as well. This letter has been praised by many as among Lincoln's best works of writing, along with the Gettysburg Address and second inaugural address.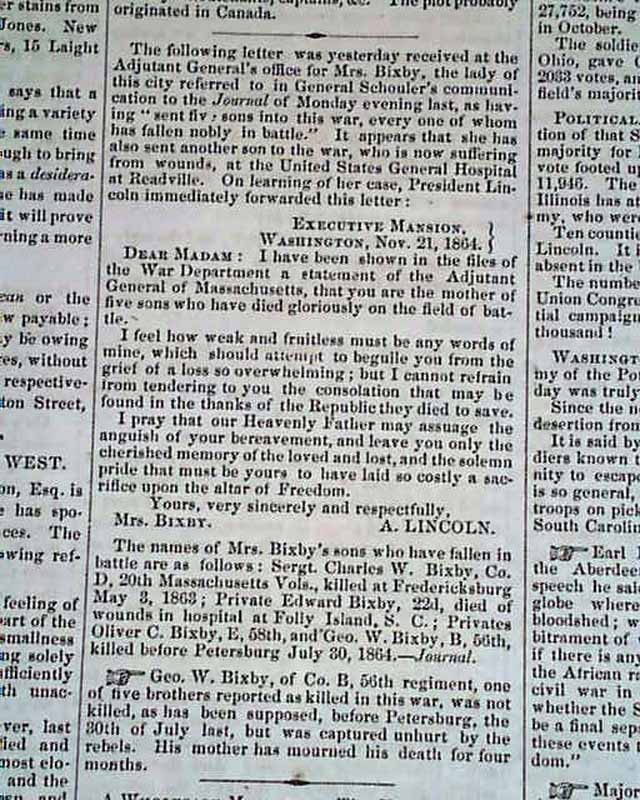 September 30, 2013 by TimHughes · 2 Comments
In the world of collectables,
early newspapers
by no means rank among the most well-known of hobbies. In fact most would be surprised that it even is a hobby.  Who knows anyone who collects early newspapers? That was exactly my thought nearly 40 years ago. Having been a coin collector since I was a kid, I knew that hobby well. I knew it well enough to recognize that no bargains could be had for the truly rare coins. Coin collecting was, and is, a well exploited hobby. The number of serious collectors must run in the hundreds of thousands with a proportionate number of dealers who make a living selling coins. So as a youngster with only grass-cutting money in my pocket, it didn't take long to become frustrated when trying to find the last few desirable coins to fill out a set. I simply could not afford them. Everyone knew they were rare, and with more people wanting them than inventory allowed, prices were beyond my reach. I liked collecting and I wanted a hobby that dealt with history. Holding a coin minted during the time when Lincoln was President, or when Indian battles were still raging on the Plains, intrigued me. I felt like I was touching history. But I needed a collectable that was yet to be exploited. One which few people were involved in.  More importantly, one where I could hope to amass a reasonably nice collection without breaking the bank.
So it was by accident that while browsing through a local flea market that I came across a Philadelphia
newspaper
from 1846. I was intrigued, not only by the price--$3—but by what I would get. Quickly my mind ran through the host of various coins from 1846 which would require more than ten times the price tag, and what do you get but a hunk of medal with a date & an image of a dead President? A coin could be fully examined in seconds. But this 1846 newspaper would take half an hour to absorb.  So $3 exchanged hands and the newspaper was mine. Handling this newspaper was better than touching history. Yes, someone in 1846 held this newspaper in their hands, just like coins of the era, but
this collectable actually CONTAINED history
. News of the day, including events of the Mexican-American War, were within its four pages. Political reports from the term of James K. Polk were scattered throughout. Even the advertisements were fascinating. I was hooked. The coin collection went on a shelf and I pursued whatever 
old newspaper
I could find. It didn't take long to discover a whole new world of collectables. Better yet, because so few people were collecting old newspapers prices seemed such a bargain compared to what coins or stamps or any other collectable with similar rarity would cost. I was convinced I got in on the ground floor. As the years passed my hobby turned into a business catering to a niche market. At best I would suspect there are less than 2000 serious collectors of
rare newspapers
. Compare that number to the world of stamps, coins, books, or autographs, which hundreds of thousands consider their hobby.
A hobby still yet to be discovered by the collecting world, prices remain attractive for the most modest of budgets. Consider that a genuine New York Times in very nice condition from 1863 with front page Civil War reports sells for less than $30. Or consider that a genuine London Gazette from 1680—a 330+ year
old newspaper
—is available for under $50. Of course content certainly drives interest and price so a newspaper reporting the Battle of Gettysburg can exceed $500, while the same in a Confederate title (much more rare) could be triple the price. But still, genuine issues covering the War of 1812 sell for $25; newspapers with Indian battles are under $35; issues with baseball reports from the 1880's can be had for $25; newspapers from during the administration of George Washington for $45. Is there a hobby where genuine items of comparable vintage are at comparable prices? Certainly not.
Rare newspaper
collecting is a fascinating world which awaits any historical hobbyist. Whatever event or era in history intrigues, newspapers covered those events.  From the Great Plague of London in 1666, to reports of pirates Blackbeard and Capt. Kidd, to the French & Indian War, the Revolutionary War, the Lewis & Clark Expedition, the Texas War for Independence, every presidential election & inauguration (and death), the outlaws of the West—you name it. Newspapers exist which document those occurrences and every other transforming event in American & world history. Don't just touch history with your hobby. Read history from the very day it was reported. You, too, will be hooked on a hobby you never knew existed.
September 23, 2013 by GuyHeilenman · Leave a Comment
Over the past 10 years we (RareNewspapers.com) have put together a series of videos designed to help educate novices about the hobby of collecting historic newspapers.  While some may be a smidge old (compared to today's high-tech standards), the information within is still pertinent. Pick a topic of interest, turn up the volume, and enjoy our perspective on the collectible.
August 30, 2013 by GuyHeilenman · Leave a Comment
Last week we explored:
"What were those living 150 years ago reading about in the newspapers during the last week of August (1863)"
.  The response was very positive. We hope you enjoyed the trip back in time.  Today we thought we'd look ahead into the past by assembling a similar, by longer chronological list of authentic newspapers from the entire month of September, 1863.  Similar to last week,  the following link will take you to authentic newspapers that were held by those whose loved ones were fighting to realize their greatest convictions - whether it was to set slaves free, preserve state's rights over federal dominance, to protect house and home, or another noble cause. The issues have been arranged in chronological order. Enjoy your visit back to this incredibly formative time in American history:
Authentic Newspapers (September, 1863)
May 31, 2013 by GuyHeilenman · Leave a Comment
One of the greatest challenges when it comes to gift-giving is what to purchase for someone in their 50's-90's+ that is both unique and meaningful.  While we at
Rare Newspapers
specialize in offering historic newspapers from the
1600's
,
1700's
, and
1800's
, we also offer
Birthday Newspapers
- issues from
the day someone was born. A recent note from a purchaser of such a gift warmed our hearts. Thanks to R.M. for allowing us to share his response:
I just wanted to tell you all that this weekend I gave my Grandmother her 90th birthday gift -  a NYT from May 14th 1923.   Attached are two pictures.She was thrilled with the gift and my family was as well. Discussions are already underway over which great grandchild will inherit the paper :).

I'm not a collector, so I have no idea what the paper is worth, but I couldn't believe the paper was only $42. No one really knew what to expect - some people told me 'You know it's just going to be a reproduction that looks old' or 'Don't be surprised if it's just the front page', well - they were wrong. I've already suggested this gift idea to several friends and will continue to recommend your service, I'm sure at some time in the future I'll need a gift this unique again. Thanks again!

Original newspapers for the "
Day You Were Born
" do make wonderful gifts.
April 29, 2013 by TimHughes · 1 Comment
Could there be a period in American history which fascinates and intrigues more than the
Civil War
? As we celebrate the 150
th
anniversary of the battle between the North and the South, collecting interest in genuine newspapers which reported the news as it was happening, remains strong among the relatively small number of
rare newspaper
collectors. Any visit to a
Civil War
collector's show will give evidence to the high prices of genuine memorabilia, from guns to uniforms to every bit and scrap of war-related material a collector might desire. But newspapers remain a very welcomed low-priced option, perhaps largely because they have yet to be discovered by majority of
Civil War
collectors. But that has always been the case with this hobby, regardless of the time period.
Rare newspaper
have always remained relatively unknown in the world of historical collectables—a reality which continues to amaze—but its consequence has provided one of the benefits of those who enjoy the hobby: low prices. Across the entire spectrum of collectables, be they coins, stamps, furniture, books, autographs, toys—you name it--items of comparable age to newspapers are much higher than newspapers. And what a world is available to the
Civil War
collector who discovers rare newspapers. You name the battle or political event that  happened from
1861
to
1865
and it will be found in a newspaper of the day. And this hobby allows a collection to showcase not just the events of the war but the lead-up to the conflict between the states, as the issue of
slavery
and the troubling relationship between the Northern and Southern states making news for more than a decade before the outbreak of war. From the
Battle of Fort  Sumter
to the
assassination of Abraham Lincoln
, a collector can create a notable collection of newspapers as large or small as their budget will allow. Some might focus on the
top ten most significant battles of the Civil War
(
see previous post
) and include newspapers with accounts of
Fort  Sumter
,
First and Second Bull Run (Manassas)
,
Hampton Roads
(the
Monitor vs. the Merrimac
),
Shiloh (Pittsburg Landing)
, capture of New Orleans,
Antietam
,
Gettysburg
,
Vicksburg
,
Chickamauga
, fall of Atlanta, Savannah and Richmond as well as the surrender of General Lee to U.S. Grant. Wikipedia offers an excellent and very inclusive list of all the
battles of the Civil War
which can be used as a checklist for the collector seeking the most notable events of the war. Typically daily newspapers have war reports on the front page with additional news on inside pages as well, and a select few included graphics. The "
New York Times
", "
New York Tribune
" "
New York Herald
" and the "
Philadelphia Inquirer
" are—in my opinion—the "big 4" titles of the war, as they more than most printed
Civil War maps
and other war-related graphics on their front pages. Such issues remain favorites for framing and display. Not to be overlooked are the political events and speeches which were perhaps more significant than the battles, including the
election
and
inauguration
of
Abraham Lincoln
, the
Emancipation Proclamation
and the
Gettysburg Address
. All events appeared in newspapers within a day of their happening. Yet another area of focus for various collectors is the gathering of contemporary reports surrounding certain historic figures such as
Abraham Lincoln
,
Robert E. Lee
,
Ulysses S. Grant
,
"Stonewall" Jackson
,
George Meade
,
James Longstreet
,
William Sherman
,
Jefferson Davis
,
Ambrose Burnside
,
Nathan B. Forrest
,
Colonel Robert Shaw
,
John Hunt Morgan (and his raiders)
, to name a few.  Textbooks simply cannot capture the essence of these noteworthy individuals in the same way newspapers can. Some collectors might focus on the
Civil War
from the 
Confederate
perspective as newspapers from the Southern state are available, albeit more rare, and offer an interesting perspective on the events  of the war. Issues from
Richmond
, the capital of the
Confederacy
, offer some of the best coverage of the war as all news eventually found its way to
Richmond
. And the editorials offer fascinating reading in the "
Daily Richmond Examiner
" or the "
Daily Dispatch
". Charleston
newspapers also offer great coverage, after all the war began in its harbor. The "
Charleston Daily Courier
" was one of the best, and one of but a few Southern newspapers which printed in the masthead "
Confederate States of America
".  Venturing beyond the more "common" of the
Confederate titles
, newspapers from other states are available, a few of the more accessible being the
"Daily Progress"
(from Raleigh) and the "
Louisville Daily Courier
" from Kentucky. The "
Daily Memphis Appeal
" is an intriguing title, as during its
Civil War
history it was chased by the Yankees out of Memphis and published in 8 other 
Confederate
cities before succumbing in the final weeks of the
Civil War
. A "
Confederate
" newspaper from the North might seem like a oxymoron, but "
The Crisis
" from Columbus, Ohio, was an intriguing newspaper by a copperhead publisher who was very much opposed to  the
Lincoln
administration and strongly supported the
Confederate
effort believing that
slavery
could not be prohibited by law. One cannot mention newspapers of the
Civil War
without discussing "
Harper's Weekly
", the illustrated newspaper which put all the action, drama and cruelty of war into the homes of every American.  For the first  time, citizens were able to see what their leaders looked like, as an abundance of portraits of the
Civil War
officers appeared throughout the war years, not to mention the great wealth of battle scenes and city views not found elsewhere during the Civil War. Not to be outdone by the Yankees, the Confederates created their own version of "
Harper's Weekly
", titled the "
Southern Illustrated News
" published in Richmond, but it was a poor imitation at best. It's lack of success resulted in a considerably smaller circulation and obviously more rare title for collectors today. Whatever your interest in the
Civil War
, collectible newspapers have much to offer. With prices relatively low for 150 year old items and containing virtually every event which happened during that fascinating era, a notable collection can be amassed which can be enjoyed and admired without breaking the bank. A fascinating world awaits those who discover this interesting collectible.
March 28, 2013 by TimHughes · Leave a Comment
I would argue that beyond the
Civil War
, the era of American history which evokes the most interest among our collectors is unquestionably the
Revolutionary War
. With a cast of characters who still rank among the most memorable in history—
Washington
,
Adams
,
Hancock
,
Jefferson
,
Henry
,
Franklin
,
Paine
, and more—and a plot, which if it were not true history would serve as an excellent screenplay for an exciting movie—an oppressed, energized people seek to break free from the reigns of oppression and dominance from abroad—it is easy to see how the events of the
Revolutionary War
continue to intrigue and offer a foundation upon which to reflect as today's world grapples with many of the same issues despite the 230+ years which distance us from those notable events. And what could be better than experiencing those events just as those who lived through them? Newspapers offer that opportunity. Genuine issues, once held and read by those who lived through those turbulent days before being relegated to the back shelves of libraries, are now part of the inventory of
Hughes Rare & Early Newspapers
. And at prices which might surprise many (
see Revolutionary War issues for $60 and under
), as a hobby which is relatively unknown to the collecting world has yet to cause demand and scarcity to drive prices beyond the means of the average collector. Of course, there are still many that fall into the category of what we refer to as, "
The Best of the Best - Revolutionary War Edition
". Of significance is that British titles, which offer excellent coverage of all American events given their role in attempting to placate the demands of the Americans while maintaining control of their
colonies
, allow ownership of battle reports of the war for under $100, with
some very notable events in the $200-$300 range. American newspapers remain among the most desired but their scarcity is reflected in their prices. With a collection of the "
Pennsylvania Evening Post
" which included the
Declaration of Independence
bringing $600,000 in auction recently, it would amaze many that the same document is available in London's
"Gentleman's Magazine" issue of August, 1776
(took news 3-4 weeks to traverse the Atlantic) for under $4,000. Other disproportionate prices between British and American newspapers entice many to gravitate to the British titles while prices and availability remain attractive. The "
London Chronicle
" is one of the better British titles in reporting the
Revolutionary War
. From the Battle of
Lexington and Concord
, to
Bunker Hill
,
Battle of New York
,
Saratoga
, Washington crossing the Delaware, treason of
Benedict Arnold
,
Guilford Court House,
to
Cornwallis
' surrender at
Yorktown
, this  newspaper offers coverage which equals the American newspaper accounts. In fact many British reports were taken verbatim from American newspapers. Of equal quality in report news of the day was the "
Edinburgh Evening Courant
" from Scotland as I have found all events of the Revolutionary War to be reported in this title as well. Other UK titles which covered the war include "
The Glocester Journal
", "
Aris's Birmingham Gazette
", the "
Edinburgh Advertiser
" and the "
Glasgow Mercury
" to name a few. But perhaps the best and most available title of the Revolutionary War period would be the "
Gentleman's Magazine
" from London, it having a long printing history from 1731 to the 20
th
century so it encompasses not just the Revolutionary War in great detail by the  entire scope of American history. As an added treat  this title typically included one of more plates within each issue, which included maps as well. And during the years of the
Revolutionary War
were found many maps of American
colonies
, battle sites as well as large foldout maps showing the entire scope of the united colonies at that time. The
maps
alone have found a keen interest among collectors, separate from the issues in which they were stored for over 200 years. As is true with the British titles mentioned, "
Gentleman's
" included all notable events and documents, including the
Articles of Confederation
, the Causes and Necessity For Taking Up Arms, all major battles of the war thru the treaty between
Washington
and
Cornwallis
, and even the document by
King George III
which officially ended the war. And all the major names of the war from both the British and American sides have found their way into the pages of "
Gentleman's Magazine
".
American titles are available as well. Some of the more rare would be those from the South which are virtually impossible to find, and when they do surface their prices are beyond the means of most collectors. Some of the more commonly found titles would be the "
Pennsylvania Evening Post
" from Philadelphia, the "
Pennsylvania Ledger
" "
Boston Gazette
" (which featured an engraving by
Paul Revere
in the masthead), "
The Pennsylvania Gazette
" and "
Pennsylvania Packet
" among others. And dipping back a few years before the outbreak of the war, when tensions were building with much evidence in the newspapers of the day, the "
Pennsylvania Chronicle
" and the "
Boston Chronicle
" offer excellent insight into events of the day from the years 1767-1769 for under $200 for most issues. Regardless of your interest in the
Revolutionary War
, whether it be the famous names that came to prominence, the battles of the war, or a focus on a singular event or locality, genuine newspapers of the day are available for the collector. It is a hobby with limitless possibilities, and offers a unique opportunity to literally hold history in your hands.
March 25, 2013 by TimHughes · Leave a Comment
A genuine collectible, over 300 years old, for
$60 or less
. Is there a field of collecting today which has items of such age-- in nice condition--for $60? The hobby of collecting rare & historic newspapers likely sits at the top of what must
be a very short list. And such prices, along with tremendous availability of titles & content, are part of the intrigue of this fascinating hobby which remains unknown to almost everyone. And this, in large part, is the reason prices are outrageously low in comparison to the relative rarity of other collectibles.  While issues do run the gamut price-wise from
newsbooks
(at the upper end) to
coffeehouse newspapers
(typically at the lower end), it is a fascinating field for the historical hobbyist on a budget (
$20 and under
). The '
London Gazette
' is the world's oldest continually published newspaper, having begun in 1665 and is still publishing today. With such historical depth you would expect to find virtually every major event in world history within its pages, and you would be right.
The Great Plague
and
Great London Fire
,
William Penn
being granted land in the New World, the death of noted pirate
Captain Kidd
, the battles of the
French & Indian War
and
Revolutionary War
and so much more are found in not only this title but other newspapers of the era. First reports of such notable events can sell in the thousands of dollars, but an interesting facet of this hobby is that follow-up reports of a few days later can fall well within the comfort level  of the average collector. Both age and graphic appeal come together in the London '
Post-Boy
' newspaper, with issues from the 1718-1725 period featuring two ornate engravings in the masthead in addition to a very decorative first letter of the text. Add to this the relative small size of this single sheet newspaper and you have a terrific item for display for under $55. With American newspapers not beginning until the first decade of the 18th century (one title was published in 1690 but lasted just one day), and most American newspapers through the
Revolutionary War
being very rare, British titles are an excellent source for collecting all the notable events not only in American history, but in world history as well. And the reporting was often extensive, for remember that the
colonies
were part of Great Britain through 1776. The '
London Chronicle
' was a popular British newspaper which documented amongst its pages virtually all American events since its founding during the
French & Indian War
. Yet another periodical, the '
Gentleman's Magazine
', is an
excellent source for period reports of American events since its beginning in 1731, and one of its features was the printing of maps of all corners of the globe, many of which show North America and specific colonies. From James Oglethorpe's settling the
colony
of Georgia, to
Ben Franklin's
famous kite experiment, installation of the Liberty Bell, the enactment & repeal of the hated Stamp Act, all events of the
Revolutionary War
, to the mutiny on the Bounty & so much more, the '
Gentleman's Magazine
' offers a terrific repository of American and world history at very affordable prices. Plus, there are reports of Colonel
George Washington
from 1754 when he was just 22 years old and relatively unknown, and for the music buffs there are works by
the composers
Hayden, Handel, and death reports of Mozart and Beethoven within its pages. The early battles of
Napoleon
& other European reports are logically found in this title as well. While American newspapers of the
Revolutionary War
and before are generally pricey, ranging in the $400 - $1000+ range, two notable exceptions exist being the '
Boston Chronicle
' and the '
Pennsylvania Chronicle
', both from the 1768-1769 years. Because their circulation was widespread they are among the more commonly held colonial titles by institutions, & consequently come on the market when libraries convert from hard copy to microfilm or digital. They detail the entire spectrum of American life from just before the
Revolutionary War
while providing an interesting perspective on American politics during those critical years. Complete, genuine issues are typically available for under $200. American newspapers from after the
American Revolution
become more available and at dramatically lower prices while still containing a wealth of notable content on the founding years of the federal government. The '
Pennsylvania Packet
' of
Philadelphia
was one of the more successful titles, and was the very first to print the
Constitution of the United States
. While that issue, September 19, 1787, ranks well into six figures,
dates surrounding it are typically found in the $45 - $80 range and offer a  perspective of life in the city where and when the
Constitution
was being created. The '
Columbian Centinel
' from
Boston
was perhaps the most successful title in 18
th
century America and its pages document the complete scope of America politics and life from 1785 thru
Washington's election
and
inauguration
to his
death
just weeks before the end of the century. Other 18
th
century American titles which are within the budgets of even the most modest collectors are the '
Connecticut Courant
', '
Dunlap's American Daily Advertiser
', '
Gazette of the United States
', the '
Massachusetts Spy
', and '
The Herald, A Gazette For The Country
' and others. Nice issues from the formative years of the federal government can be had for under $50 each. While first reports of the most historic events of the
17
th
and
18
th
centuries will always command top dollar among the most  savvy of collectors, the hobby of collecting rare newspapers offers a tremendous wealth of issues at surprisingly low prices, while at the same time offering fascinating content on life only known to others through history books. And this hobby is one that offers the entire  spectrum of political, economic, and social history to every collector. What other hobby can make that claim? But perhaps most importantly, this hobby let's you hold—quite literally—history in your hands.
March 15, 2013 by TimHughes · 3 Comments
As is true with any historical event or founding of an institution, collectors of historical newspapers strive for the earliest reports possible. The
Declaration of Independence
first appeared in a newspaper on July 6, 1776, and that issue commands a six figure price much higher than printings of the document in other newspapers of later dates
(such as the British Gentleman's Magazine from August, 1776). Battle reports from the
Revolutionary War
are most coveted when in newspapers dated as close to the battle as possible. With the widespread use of the telegraph just before the
Civil War
, timeliness became less of an issue, as events would typically be found in the next day's edition of newspapers regardless of how distance the printing press was from the event. With institutions, societies & organizations the collector strives for the earliest reports on their creation. Reports from the
Continental Congress
, the
Constitutional Convention
, the creation of military academy at
West Point
, the first
baseball
game mention, are just a few examples of icons of present-day societies which collectors like to find in newspaper reports dated as early as possible. Such is true with development of the Church of Jesus Christ of Latter-Day Saints, or the
Mormons
. Formally organized in upstate New York in 1829 accounts from that year or 1830 would rank among the most desired. Our earliest account was found in the 'Christian Intelligencer" issue of February 4, 1831. As was typical with reporting of the day, bias, discrimination and prejudice were rampant within the newspaper pages, with the publisher's mind-set not encumbered by political correctness. This early report notes that:
"...the career of some fanatical individuals, who pretend to work miracles and to preach a new gospel. They profess to have discovered somewhere in New York a new revelation, hidden under a stone, which enables them to work miracles...a delusion and phrenzy with which these individual have wrought up the public mind...something like 500 adherents who follow those ignorant and deluded men with the same submission that sheep are led to slaughter..."
. This intriguing report was likely the first its subscribers learned of this new religious movement,and with a current membership of over 14 million, this report dates to when just 500 were followers.
A slightly later report in the popular '
Niles' Weekly Register
' newspaper from Baltimore,
July 16, 1831
, shows a similar  bias & prejudice:
"...that certain knaves, pretending to have found some holy writings hidden under a stone...started a new religion! The leaders make bold pretensions and assert a gift to work miracles...now said to amount to 1,000 souls...some of whom...no doubt believe in all things that are told them...
" and more. Newspaper accounts found in the 1831-1835 period were very few and remain among the most desired among collectors. By the time the leader
Joseph Smith
and the
Mormons
moved from Kirtland, Ohio, to Missouri and then
Nauvoo
, Illinois by 1839, reports in newspapers became more numerous, as their travels were often made dangerous by the suspicious locals who didn't want them in their vicinity. An interesting and desired collection of
Mormon-related newspapers
would include period reports of their movement westward, from New York to Ohio to Missouri to Illinois and ultimately to their own state of "
Deseret
" in the present-day state of Utah.  With their arrival in 1847,
Utah
was not only not a state, it was not even a territorial possession. It was part of Mexico, but with the
Treaty of Guadalupe Hidalgo
which ended the
Mexican War
in 1848, it became a territory of the United States, and the disputes between the Mormons and the federal government would be legendary, the
Mountain Meadows Massacre
being among the most publicized. In additional to federal battles, disputes within their organization were quick to make the newspapers, and the practice of plural marriage did not set well with the typical Judeo-Christian ethic of the day.
Typical of religious movements of the 19th century, the
Mormons
published several of their own periodicals, among the earliest and occasionally available being 'Times & Seasons' done during their turbulent stay in
Nauvoo
, Illinois. Within its pages was the  report of the killing of founder and leader
Joseph Smith
. Other titles which occasionally surface for collectors are 'The Latter-Day Saints' '
Millennial Star
', the 'Gospel Reflector', and some three years after their arrival at Salt Lake City they set up the '
Deseret News
' in 1850, which was the first first newspaper to be published in  present-day Utah, some 46 years before it would become a state. The fascinating and troublesome history of the
Mormons
and their trek across the frontier of America is now part & parcel of American history. Finding reports in newspapers from when they happened makes for an interesting segment of any rare newspaper collection.