January 24, 2020 by Stephanie Williams · Leave a Comment
History's Newsstand/ Rare & Early Newspapers has a well-deserved reputation for excellence and integrity; and procedures and processes are regularly evaluated to incorporate the highest quality systems available.  Our website is undergoing some upgrades, most of which will be indiscernible to the average collector/follower.  But in order to be certain things will indeed remain in order, I have been given the assignment to spend some time logging in and out and creating orders from an objective perspective.
As such, I have perused our web inventory – reading through descriptions and looking at photographs.  I have completed numerous purchases the budget of my reality would never allow.  And it has been great fun.
I learned two notable things.  The first is that our website is an amazing tool to navigate the extraordinary inventory here.  I searched date, title, topic, item number with successful outcomes.  But most interesting to me was the list available by clicking the orange oval button "View All Categories".  This index of more than sixty topics, while not exhaustive, is a fabulous research resource.  For those who regularly meander through online topics and items of interest, I encourage the home page of Rare Newspapers as a springboard for many happy hours of informative browsing.
As a second point of interest, I tagged the strangest report I encountered in my wanderings.  It seems some of the earliest plastic surgery occurred in India and included rhinoplasty (although not identified as such).  Through three separate avenues I arrived at the same description from The Gentleman's Magazine, published in London, October of 1794.
Included is a fascinating–and extremely early–account of what we would call plastic surgery, being a letter from the East Indies which notes in part: "…the following very curious, and, in Europe, I believe, unknown chirugical [archaic spelling of 'surgery'] operation which has long been practiced in India with success; namely affixing a new nose on a man's face…" followed by the various details. Accompanying this is a full page plate of it, with 5 images (see).
Ironically, all these features and items are available on our website in its current state.  I just hadn't taken the time to look.
Have you?
January 17, 2020 by Stephanie Williams · Leave a Comment
This week I made two different forays into a subject I only visited once before — The Wild West.  Thankfully, when you are dealing with a forty-four year old company that specializes in items printed hundreds of years ago, twelve months is not a long time.  And that is good for me, because even when I tally up the number of days I have been here at Rare & Early Newspapers I still feel like a novice.  Today I had back-to-back victories using the organizational system efficiently.  Harper's Weekly from 1912 is not in the front warehouse (designated "W" on location maps) with issues published through the end of the 19th Century, but in the annex ("A") along the right wall, almost to the very end.  Better still, as I confidently strode through the front building with an inward chuckle over my early bumbling efforts to determine what happened after December 30, 1899, I recalled the clipboard hanging in that area.  Rather than maneuver the lift across four rows and down a 15′ column in order to ascend to the appropriate decade, I checked the sheet.  There, recorded after exhausting all potential volume locations, was the notation, "August 17, 1912 — no cc".  So, a disappointing answer for the collector inquiring, but a resounding victory for me as the entire search took a total of three minutes.
Every time I can locate an issue someone is seeking, I feel victorious. But the worst thing is spending a lot of time (which is always needed elsewhere) without having anything to show for it.  Today's glance at the inventory tally reminded me that even a negative result can be useful, if not to me then surely to someone else.  Anyway, I am finally reaching the stage where I am wasting less time when I head into the back in search of whatever someone has called, emailed, written or web queried about.  In theory, the more time I save, the more I have to search out another Titanic issue (665700) for the collector in Germany or a Jay Gould cover portrait for the fellow in Minnesota.
And, for those of you who continue to read these posts, I will always make time to follow up on your requests.  I might even write about them…
January 13, 2020 by GuyHeilenman · Leave a Comment
Walk with us back through time to see what noteworthy, historic and collectible events occurred during the month of January. In so doing, we hope you'll agree: "History is never more fascinating than when it's read from the day it was first reported."
January 7, 2020 by GuyHeilenman · Leave a Comment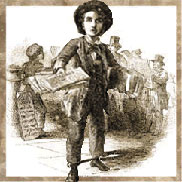 Catalog 290
(for January is now available. This latest offering of authentic newspapers
is comprised of more than 300 new items, a selection which includes:
the trial & execution of Captain Kidd, Cornwallis surrenders at Yorktown, an American almanac with a rare Revolutionary War battle print, a San Francisco newspaper on the San Francisco earthquake, a rare British "newsbook" from 1642 (first we've offered), a great account of the Battle of Bunker Hill
, and more.
The following links are designed to help you explore this latest edition of our catalog:
Don't forget about this month's DISCOUNTED ISSUES.
(The links above will redirect to the latest catalog in approx. 30 days, upon which time it will update to the most recent catalog.)
December 24, 2019 by GuyHeilenman · Leave a Comment
Earlier this year I came across a December 21, 1850 issue of Household Words – a publication "conducted" by Charles Dickens, which actually contained an original work by him titled "A CHRISTMAS TREE." Although this was his publication, the majority of the contributions within were typically written by others. While perusing the issue I came across a set of Christmas-themed poems which stirred my heart. Hopefully you will also find them moving. Enjoy.
December 6, 2019 by Stephanie Williams · Leave a Comment
At the start of this week, I was a bit hard-pressed to think of something new I learned.  Winter dramatically closed the Thanksgiving celebrations in our part of the world, and I spent two days trying to determine the best window for travel within two storm systems.  Consequently, I arrived halfway through the day Monday and have been scrambling to catch up with the December crush of orders ever since.  Yesterday I decided that this was a good time to reflect on all the things that have become old hat to me, and how much I enjoy the rhythm of this world of old newspapers and the folks that value and collect them.  However, the end of the day brought home a new lesson.
A quick search of the internet archive yields a total of 1,355 works that are about Harriet Tubman.  Many titles are children's books, by which young people have learned of Tubman's many missions to liberate somewhere between 70 and 300 slaves, with heroic disregard for her own precarious freedom.  Her name is closely associated with the Underground Railroad, and she is credited with the altered route into Canada in response to the Fugitive Slave Law of 1850.
And yet.
This week we discovered a report of her death in "The Omaha Bee" for March 11, 1913, out of Nebraska.  It is outrageously brief, and bewilderingly sparse in its acknowledgement of the North American 1800's "Moses".
The following is what Tim wrote for an upcoming catalog listing:
Page 3 has a somewhat inconspicuous report on the near death of the famed Harriet Tubman.
The report is headed: "Aged Negress Friend Of Abraham Lincoln Dying" and reads: "Harriett Tubman, a colored woman 95 years old, who is said to be a friend of Abraham Lincoln and Secretary of State William H. Seward, and who was associated with John Brown in anti-slavery work, is dying here of pneumonia."
A curiously brief report giving her extraordinary life. A notable that of the many volumes of newspapers in our inventory this is the only report of her death (or nearly so) that we could find.
The new thing I learned this week is that a newspaper can only report on things to which the editorial staff is paying attention, or finding noteworthy.  This seems more than a bit disconcerting, but then again I may have had too many Thanksgiving treats.
November 27, 2019 by Stephanie Williams · Leave a Comment
Sometimes rabbit trails lead to revised destinations – particularly those that meander through the annals of history.  This week is a big deal on the US calendar because of colonists and survival and a heritage of gratitude…and I am a person full of thanks this year, as I have been much of my life.
I obtained permission from Guy to be a bit personal in my post, which he graciously granted, but a communication with a favorite collector in NYC derailed my reflection.  Ms. P told me about Evacuation Day, which commemorated the rousting of the British troops from their occupation of New York City following this nation's fight for independence from England.  I had never heard of the liberation of NYC, let alone the celebrations that occurred annually until Lincoln's Thanksgiving Proclamation co-opted the seasonal celebrations.  To be honest, I had never considered the duration of conflict following the 1776 declaration.  Anyway, this information came to light in a peripheral way, and the collector who brought it to our attention, attended this year's anniversary hoopla in the city that was liberated.
It's a privilege to learn from the staff here, as well as those who are ordering papers.  The collecting community is made up of a broad spectrum of interest and study, and I get to glean from the riches that move through the Rare and Early Newspapers archives.
I am thankful for the people who envisioned the United States of America — this great experiment.  I am thankful for those who kept their convictions through a long, wearying stretch of conflict, and I am thankful for families and communities who continued to manage the stuff of life through the political upheaval.
If you have some time over the upcoming holiday, our catalog is much more fascinating than any Black Friday special.  Whether you find the perfect gift for yourself or another, the time spent perusing the pages is a treat all by itself.
Cheers!
November 11, 2019 by GuyHeilenman · Leave a Comment
Bob Dylan returned from a nearly eight-year break from touring by teaming up with The Band for a 40-concert, 21-city tour – which was kicked off at the Chicago Stadium. As the crowd waited for the concert to begin many wondered whether he would return to his stripped-down, acoustic-forward style, or his amped up, electric-infused experiment – a style which he, to the chagrin of many of his devoted followers, had introduced at the *Newport Music Festival in 1965.  After such a long absence, which Dylan would show up? One thing was certain, although he had received considerable criticism for his change in style, what they were about to hear would be pure Bob Dylan – according to his own terms.  The Village Voice out of Greenwich Village, NY, wrote a nice review in their issue dated January 10, 1974: "Most Likely He'll Go His Way."
Forty concerts within a 2-month span! Were you there?
*Prior to his touring hiatus, Bob Dylan began experimenting with playing Folk Music infused with electric instruments. This uncommon practice began with his concert at the 1965 Newport Music Festival and continued for approximately 2 years. While many of the songs were familiar, their sound was unlike anything they had previous heard. In the end, although others had tried a similar style, he made it popular and once again solidified his reputation as a pioneer in music.
November 4, 2019 by GuyHeilenman · Leave a Comment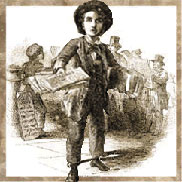 Catalog 288
(for November) is now available. This latest offering of authentic newspapers
is comprised of more than 300 new items, a selection which includes:
a complete printing of The Declaration of Independence, George Washington is elected President, a first report of the Great London Fire, a terrific & displayable Abe Lincoln centerfold, the full text of the Continental Association (in a Virginia newspaper), the Coronation of the King & Queen (in a London newspaper)
, and more.
The following links are designed to help you explore this latest edition of our catalog:
Don't forget about this month's DISCOUNTED ISSUES.
(The links above will redirect to the latest catalog in approx. 30 days, upon which time it will update to the most recent catalog.)
November 1, 2019 by Stephanie Williams · Leave a Comment
This week I discovered another section of the archives previously unexplored — actually, I didn't even realize it was there.
The walls in these connected buildings are shelved from floor to ceiling, as are the aisles and corridors.  Inside those rigid 15′ dividers are movable racks that provide another layer of coordinates for filing archival folders of old and rare newspapers.  It was here, highlighted by the angle of the tag, that I saw the title and date of voices for abolition.  The Liberator  issues that are housed here go as late as 1865, but I was interested in the ones that preceded the Emancipation Proclamation. What was being written and discussed by this publication from the "Anti-Slavery Office" in Boston in 1859?  What was the tone prior to that April bombardment that marked the start of the Civil War?
The rag paper is full-sized ("folio", in fact) and consists of four pages, mostly devoted to telling the stories of injustice and accounts that should provoke outrage.  Headed by an illustration intricately representing people divided into groups based on the color of their skin, a banner curves along the bottom proclaiming, "THOU SHALT LOVE THY NEIGHBOR AS THYSELF" while a sign above a wooden structure crowded with human beings advertises, "Slaves, Horses & Other Cattle In Lots To Suit Purchase."  I feel the effectiveness of the graphics, of the pleading tone in the "Letter to Southern Ladies" and the headline which queries, "Shall Massachusetts Be Slave-Hunting Soil?"  But what surprises me the most in this new acquaintance was the attitude toward the forerunner of Abraham Lincoln.  A full front-page column is headed "PRESIDENTIAL FALSIFICATIONS", and pulls no punches in its criticism of James Buchanan's avoidance of the situation with the Free State Men of Kansas and the powerful politicians whose support of Slavery  led to an effort summarized with, "The Missourians openly exulted in the sure prospect they had of making Kansas a slave state, in spite of the Free State men."
I am looking forward to delving into the dates that discuss the events that followed — in all the permutations and compromises and regrets and triumphs.  And I can't help but wonder how much of a change anyone could have honestly expected after such a long period of such passionate division.