September 16, 2019 by GuyHeilenman · Leave a Comment
Price being equal, would you typically choose a tangible gift, or an experience? Why do I ask?
Context: My wife and I have been blessed with 6 children. As each approached the end of their high school education, we offered each of them a sizeable (to us – the parents of a large family with only one of us working outside the home) amount of money as a graduation gift, or its equivalent in cost to go on a trip of their own creation. Two of them opted for the $$$ to put toward items they wanted (at the time), while the other four each elected to go on a trip. Many years later, as we all reflect back on the "gifts", those who chose the "experience" are pleased they did – and have vivid fond memories, and the others struggle to remember what it was they had purchased. The reality is, "things" are typically for the moment, and have short life-spans, whereas memories are for a lifetime.
It is with this in mind we embark on a new, experiential series of posts: "Where you there?" Our hope is that in so doing, those of you who were present will be flooded with good memories of your experience. To kick things off…
On September 13, 1980, Elton John performed a free concert in Central Park, New York. To this day, it remains one of the top ten most-highly attended musical events held in Central Park. Were you there? The ad below was printed in the September 9th, 1980 (f0r the 10th-16th) issue of The Village Voice. Feel free to share your family-friendly memories.
September 13, 2019 by Stephanie Williams · Leave a Comment
Even eight months into my first year here, I still have important job skills to acquire. This week Guy introduced me to The Weekly Register, also known as the Niles' Weekly Register. He actually didn't provide much of an introduction as there was new inventory to pick up, but he mentioned the title and left me to find my way to the back wall of the annex.
Before I started the metaphorical digging in, I tried to get my bearings first by looking into the background of this publication that stretched from 1811 until 1848. Our own item description mentions "significant coverage of the War of 1812", so I extracted an issue from the title year, settling on December 5, 1812. Just below the town and date, a centered, italicized quote from Virgil's "The Aeneid" assured me I would appreciate this new acquaintance.
Forsan et haec olim meminisse juvabit, "Maybe someday you will rejoice to recall even this." I wonder if it was intended to bolster the staff or the new country. At any rate, the printing address on the following line is a cheery thing. "Printed and published by H. Niles, South-st. next door to the Merchants' Coffee House".
The issue I borrowed from the racks covers the legislatures of New Hampshire, New York, New Jersey and North Carolina, where (if the reports are accurate) the members were busily balancing affairs of their individual states with decisions concerning the authority of the president to call out a state's militia. I was struck by the measured, pragmatic way one William Plumer attempted to persuade the governing body of New Hampshire.  My pile of recommended reading for current politicians is growing taller every day.
A list of the "excellent toasts drank at New York, in commemoration of the evacuation of that city by the British" lauds the particular prowess of American sloops of war and the late Captain Jones, resting "on the bosom of the Atlantic."
There is a four page section devoted to "Events of the War" packed with locations of ships, letters from various regiments, descriptions of force strength, and even a transcription of a Brigadier-General's stirring call to arms.
"Rewards and honors await the brave. Infamy and contempt are reserved for cowards.
Companions in arms! — You came to vanquish a valiant foe. I know the choice you will make. Come on, my heroes!"
I can't help but think that if we continued to work at bringing forth great words we might encourage heroic ideals in a culture so untethered to traditions of excellence in speech and conduct. Then again, I am only seeing the parts of 1812 that made it into print.
Anyway, if you don't know The Weekly Register, I hope you too have opportunity to become acquainted.  It has certainly been my pleasure.
August 29, 2019 by Stephanie Williams · Leave a Comment
It's probably obvious by now that histories of people are the most intriguing aspect of life to me and it helps me when I enter into the customer service aspect of this job. Each longtime collector, or birthday dabbler, or train-of-thought/rabbit trail follower (I made that term up) is led or driven by his or her own tale. And I am privileged to hear about the whys and wherefores of the quests.
This week I worked with an Earth Science teacher who has been collecting early records of hurricanes, tidal surges and solar eclipses with an intensity I can't help but appreciate, even though I could barely follow his pontificating. It makes me happy that he is teaching, and I hope his enthusiasm is contagious to at least one of the jaded high schoolers trudging through the eleventh grade of our system of education. A writer in Manhattan checked in five times this week, and added titles that were absolutely vital to the history she is compiling and I have a mental image of scraps of paper covered in scribbles from which she cross checks and matches our latest catalog offerings. Her exclamations of delight are always tinged with the "I really shouldn't…" tone that most dieters adopt.
Preferences aside, details really matter in this job. Enthusiasm over stories within a volume cannot excuse my neglect to mark the proper location for return. With thirty-one rows of interior shelving that is fifteen feet high and thirty feet long, a misfiled collection may never be found again, however valuable the issues or concentrated the search. Similarly, folks who ordered a hundred times don't appreciate a letter that welcomes them as a new collector, and our six-digit item codes can't have a single transposition without becoming wrong. By this error, I did not locate a New York Tribune from the Civil War period but a Scientific American from January 24, 1891. Tracing my mistake to the original point at which I veered from the straight and narrow path of accuracy, I ended up sitting down to a cup of tea and a technical description of the "Electrical Base Ball Bulletin." It caught my eye because we are located in "The Birthplace of Little League" and host the annual World Series every August. As with the Science instructor, the technical jargon jumbles me a bit so I cannot begin to comprehend how the contraption worked. However, the description is clearly an invention of Mr. S. D. Mott of Passaic, New Jersey from 129 years ago, that was possibly the precursor to the system for the modern scoreboard display.
So, there you have it.
In the world of Rare and Early Newspapers, even a wrong turn (in a timely fashion) can land me in a place I learn something new.
August 15, 2019 by GuyHeilenman · Leave a Comment
There has rarely (if ever) been someone who has walked through our archives of historic newspapers and not been overwhelmed by the history that courses through the premises, but what is uncommon is to have such an individual become a member of our staff. Unlike many things that initially overwhelm or amaze us but soon lose their wonderment, if you love history, there are enough hidden treasures buried deep within our stacks to create excitement and appreciation for a lifetime. It was with this unique opportunity in mind we decided to have Stephanie Williams, our new office manager, chronicle her "learning curve" through a series of ongoing posts titled, "I'm New Here…". Now that she has eclipsed the six-month mark, we thought it might be nice to assemble the posts into one easy-to-access location. Please enjoy her initial 6-month trek.
(Also, Stephanie was on vacation so we thought it was a good time to create this chronology.)
August 9, 2019 by Stephanie Williams · Leave a Comment
I began this post with a completely different musing on the world of collecting.  However, one hundred and twenty words into it I received a query concerning the content of an issue posted on one of the web market places.  After my research concluded, I cleared my page to begin again.
We had a 1927 New York Times listed for sale, and the request was to verify whether or not a name was mentioned within the feature story.  And so, for the first time ever, I read about the USS S-4, a submarine that was rammed by a Coast Guard ship off of Massachusetts on December 17th.  Of the forty on board, six crew members survived long enough to signal their location.  For three days the divers heard sounds of life; then the tapping ceased.  One of the rescue team almost lost his life attempting to attach an air hose to the cavity in which the small group had huddled.  His buddy eventually received a medal for saving him.
It is horrible to follow the words of hope and heroic blow-by-blow efforts as diver after diver took a dangerous shift in the turbulence, spurred by the Morse signals from the submarine, "Is there any hope?"  Finally, reluctantly, the tragic designation was issued, "lost with all hands."
If I read the historical bits correctly, it took three months to raise the sub, which ("who" to all those in the habit of employing the feminine pronoun for a ship) was utilized for another five years following the disaster.  My contact today was looking for the name of his grandfather among the divers who battled weather and odds in the hours following the crash.  And he is there.  The name I was commissioned to seek is nestled within the sentence, "First diver to the scene was ______________"  For a full column the radioed conversations from command to scene are reported word-by-word.  These were clearly the exchanges of men determined to save their fellow men, at great cost and against reasonable hope.  And my imagination had me within that family, hearing bits and pieces of this epic event through the years.  Perhaps he never talked about it at all.  Either way, the very words spoken as one diver worked through the obstacles are here on the pages within an issue that we will carefully package and ship out to his grandson.
For me, this personal narrative embedded within a national tragedy eclipsed every other treasure found in a week packed with collectors seeking titles spanning from Virginia Gazettes to Village Voices.
I just had to share.
July 22, 2019 by GuyHeilenman · Leave a Comment
Each month the staff of Timothy Hughes Rare & Early Newspapers sends out a newsletter to our members which includes special offers, discounts, alerts to new inventory, and information related to the rare newspaper collectible.
The July, 2019 newsletter:
Welcome to the July 2019 edition of our monthly
newsletter
. Just to let you know, we're having a blast. One of the joys of the hobby is coming across new content and/or new titles. As you can imagine, after more than 40 years of collecting and selling, such inventory does not come our way very often. However, a few weeks ago we took in a several-decade run of The Village Voice, Greenwich Village, New York – the actual issues held (until now) by the publisher. Over the next year you will begin to see noteworthy issues listed within our catalogs, but the following are a few which have already caught our attention – the first two referencing the last public performance by Janis Joplin:
If there are other events, advertisements, reviews, and/or articles within back issues of The Village Voice in which you might have interest, please let us know. We'll be happy to check to see if we have what you are looking for – and if so, send you a quote.
Other Items to Consider…
Catalog 284
A number of items were added to our catalog since it went to print, including a nice set of 18th century items from America. The links below will take you to various portions of the catalog:
Newly Discounted Items
Over 150 items have just been discounted by 50% through August 15th. The prices reflect the discount. Please enjoy:
Newly Discounted Items
History's Newsstand
Although a number of new posts have been made on our blog since last month's
newsletter
, the following four are perhaps my favorites:
Newly Discovered/Listed Items
Thanks for collecting with us.
Sincerely,
Guy Heilenman & The Rare & Early Newspapers Team
July 15, 2019 by The Traveler · Leave a Comment
Back in January I traveled to Norwich, New York via the Chenango Telegraph of January 7, 1919, where I found a three line headline "Col. Theodore Roosevelt Is Dead At His Home at Sagamore Hill."  "The news that Col. Theodore Roosevelt is dead was received at this office at 5:30 o'clock Monday morning… The ex-president died at his home at Sagamore Hill at 4 o'clock this morning…"
Besides his presidency, Teddy is probably most known for his Rough-Riders in the Spanish-American War while serving in Cuba.
~The Traveler
July 9, 2019 by The Traveler · Leave a Comment
Nearly a year ago I journeyed to New York City by the means of the Scientific American, dated August 19, 1868, where I found the "Hanlon's Patent Improved Velocipede". "Within a few months the vehicle known as the velocipede has received an unusual degree of attention, especially in Paris, it having become in that city a very fashionable and favorite means of locomotion. To be sure the rider 'works his passage,' but the labor is less than that of walking, the time required to traverse a certain distance is not so much, while the exercise of the muscles is an healthful and invigorating. A few years ago, these vehicles were used merely as playthings for children, and it is only lately that their capabilities have been understood and acknowledged. Practice with these machines have been carried so far that offers of competitive trials of speed between them and horses on the race course have been made…"
I'm glad that they don't make them that way any longer!
~The Traveler
July 2, 2019 by GuyHeilenman · Leave a Comment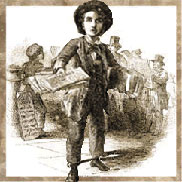 Catalog 284
(for July) is now available. This latest offering of authentic newspapers
is comprised of nearly 300 new items, a selection which includes:
a Pennsylvania Journal with the segmented snake cartoon, a Williamsburg (VA) newspaper on the Gunpowder Plot, Lincoln's assassination (in a Washington, D.C. newspaper), the famous Honolulu Star Bulletin reporting the Pearl Harbor attack, the capture of Ethan Allen, an issue with the "Beardless" Lincoln print on the front page
, and more.
The following links are designed to help you explore this latest edition of our catalog:
Don't forget about this month's DISCOUNTED ISSUES.
(The links above will redirect to the latest catalog in approx. 30 days, upon which time it will update to the most recent catalog.)
June 14, 2019 by Stephanie Williams · 2 Comments
This week I learned to back up my data files with more diligence. I also learned that I shouldn't boast of finishing a task early, as I am liable to then fall far behind (particularly if I don't save my work).
Most importantly, I learned that we don't know what we don't know, and we can't learn it until we know something.

As I was immersed in the newspaper coverage of significant dates in American History, I found that my vague idea of the Civil War as being somewhere around 1862 kept me from understanding the significance of Lincoln's assassination within the timetable of the war of brother-against-brother. The great conflict was in the mopping-up stage; Grant had definitively beaten the Confederate troops. And President Abraham Lincoln, the man who took up the burden of holding together the Union, was shot in a theater where he was out for what was termed by one report as "an evening of respite".  It's suddenly more tragic, and those long lines formed by a mourning populace seem so reasonable a response by a shocked nation.
Over the weekend, the relative of a Timothy Hughes Rare and Early Newspapers employee was touring the facility and paused over text running down the right margin of the cover of a small periodical from the 1920's. "You know who that is," she asserted. We didn't. We thought it was an issue about the game of hockey, positing the question whether it would or would not last in the United States.
It turns out the featured author of the issue was one Rose Wilder Lane, the woman who penned the tales told by her mother of pioneering days in what eventually came to be called The Little House on the Prairie series. An accomplished writer and reporter, many of her short stories were published in Harper's Bazaar and Saturday Evening Post.  When Rose was in her seventies, she traveled to Vietnam in order to provide a female perspective on the war for the readership of Woman's Day Magazine. And I learned all of this because someone who knew a bit, put together pieces and asked a question.
Juxtaposed with this whole journey following strands of the known into discovery of the unknown, was an overheard discussion about the lack of liberal arts education received by the up-and-coming generation. In an era of information available by voice command, almost everything that can be known is, theoretically, accessible. But how will any of us know the questions to ask if we don't have a base of knowledge from which to begin?    A narrow foundation must by its very nature constrict the breadth of potential growth.
Anyway, this is a great place for contemplation of deep things.  And, since I lost my first draft, I have the opportunity to contemplate the same subject for the second time.  🙂
By the way, the Liberty Magazines are nifty compilations somewhat in the vein of the later Reader's Digest, packed with advertisements and helpful hints right beside news of the day.