May 17, 2013 by GuyHeilenman · Leave a Comment
An era rich in history… with hidden gems throughout...
Many rare newspaper collectors focus on the more memorable eras of history such as the
Revolutionary War
, the
Civil War
, or
World War II
. Brief date periods –as war events tend to be—can allow for a more concise collection without becoming unduly large if one concentrates on just the major events.  Consequently, less notable eras often get over-looked without realizing there is a treasure trove of events which are both fascinating and historically significant found in period newspapers, and well within the range of the average collector.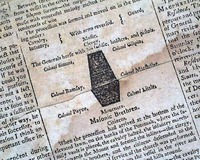 One such era would be the 1800-1860 period which we designate on our website as the "
Pre-Civil War Era
". This was a transitional time in American history as the events of the Revolutionary War and the struggles with creating the federal government gave way to a more secure nation and a more independent America as the nation grew in both size and complexity. This sixty year era offers a great wealth of events which were formative for the American landscape. The century began with continual coverage of the funeral of
George Washington
who died less than 3 weeks before the new century began.
Thomas Jefferson
was the first President to be elected in the 19
th
century and he did not escape the headaches of war, as the "Barbary Wars" fell within his tenure. He also lead the charge for the
Louisiana Purchase
which more than doubled the size of the nation and would be home, in full or in part, for 15 new states that would eventually join the Union. Newspaper reports on the Lewis & Clark Expedition were few and far between, but finding even brief mentions in a period newspaper can be quite a thrill. As the country grew a wealth of notable events transpired & were noted in newspapers of the day.
Presidential elections and inauguration
are always popular, and there were many in this era: Jefferson, Madison, Monroe, John Quincy Adams, Jackson, Van Buren, William Henry Harrison, Tyler, Polk, Taylor, Fillmore, Pierce, Buchanan, and of course Lincoln, who was elected in this era, but would be inaugurated in the "Civil War Era", a fascinating chapter of American history onto itself. For those who like to have :complete" collections, finding every election and inauguration is  a doable quest.
The War of 1812
falls within this era and provides an opportunity for a sizable and notable collection on its own, from the declaration of War to the many naval battles, the attacks on Baltimore & Washington, the significant battle of New Orleans, and the treaty which ended the war. Collectors like that war events typically allow for collection "bookends" (war declaration and treaty of peace), between which they can become as focused as their budget will allow in collecting the major events.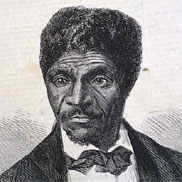 The slavery issue
would remain a stain on the American fabric during this era, with events such as the Denmark Vesey and Nat Turner insurrections, and the more notable John Brown raid at Harper's Ferry, as lead-ins to the Civil War. Abolitionist newspapers would be created, including the
Liberator
& the
Emancipator
among others, and names such as
Frederick Douglass
,
Dred Scot
, and William Lloyd Garrison would make their marks in American history forever. And it was very much a political issue as well with the Missouri Compromise being just one of several federal decisions which had
slavery
as a basis. Relations with the
Native Americans
were troubling also, with the Seminole War, the "Trail of Tears", and the many broken treaties commonly reported in newspapers of the day.
The Texas Revolution of 1835-1836
has a spice of historical romance similar to the events of the
Old West
, as both were dramatized in movies. The memorable Battle of the Alamo (starring John Wayne on the big screen) and its fiercely heroic soldiers & citizens, who knowingly faced death to establish the independence of Texas, remains a proud moment in not just Texas but American history. The battles which lead up to that event, and those which followed can be found in newspapers of the day, and mention names we remember from history books including
Sam Houston
and
Davy Crockett
. The
Mexican War
was another event which resulted in the expansion of the nation with all the major battles reported in newspapers of 1846 to 1848. Just a few years latter attention focused once more on the West with the
California Gold Rush
and all the romance of a nation heading west to find their fortune. The newspapers reported those thrills, but also reported the struggles & hardships which would befall the many on the trek to the West. Newspapers of the day were more frank than were history books 100 years later.
Westward expansion
wasn't limited to the battle fronts or the quest for gold, as the Missouri River Expedition, The Yellowstone Expedition, the Rocky Mountain exploration, and reports on the Santa Fe Trail were all reported as the adventurous were discovering and creating history—and reported first in newspapers of the day. Such expansion was responsible for states to be created, and reports of statehood for Alabama, Indiana, Michigan, and Illinois among others were detailed in newspapers, as were reports of changes needed in the United States flag to honor such additions. The
Erie Canal
, creation of the cotton gin and the
Pony Express
were notable events during this period. Famous names were commonly found as their reports were making history & reported in newspapers as such, including the likes of  Daniel Boone, John Jacob Astor, Bolivar, John Jay, Henry Clay, Horace Greeley, and Kit Carson to name but a few. Of special intrigue is finding reports of famous names before they became famous, such as inconspicuous mentions of
Abraham Lincoln
from 1848 when he was a member of Congress, or Jefferson Davis from 1833, nearly 30 years before becoming President of the Confederacy.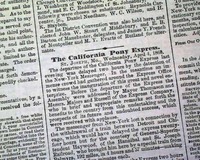 Judaica interest, reports of pirates, the Black Hawk Indian War, runaway slaves, William Henry Harrison's one month Presidency, and the earliest reports of the Mormons and the journey across the country provide fascinating reading in newspapers of the
pre-Civil War era
.  The
Monroe Doctrine
is just one of an endless list of historical documents and landmark Supreme Court decisions which were reported in newspapers of the day. Early newspapers from Hawaii, Florida, and Kentucky among others, more commonly found after the 1870's  are a special treat when found before the Civil War. And more than American history found their way into American newspapers. The Battle of Waterloo and the other Napoleonic Wars with mention of
Buonaparte
, Wellington and other key European figures put world history into perspective when such reports are found alongside notable events in American history. If capturing history in the pages of the nation's newspapers is your hobby, certainly there is much from the 1800 – 1860 period to excite any historical hobbyist. Do not overlook this fascinating era in the growth & development of the United States of America.
April 26, 2013 by GuyHeilenman · 1 Comment
A common way to collect historic newspapers is to assemble reports regarding various "top ten" lists. In the past, we have explored several such lists:
April 12, 2013 by TimHughes · Leave a Comment
The "Allegany County Reporter IMITREX FOR SALE, " issue, dated July 28, 1887, with a lengthy article on the "Exhaustion of Petroleum" could have been written 5 years ago or 30 years ago, but in fact it was  from 1887. Great evidence that pessimism was alive and well over a century ago, doses IMITREX work. Get IMITREX, Enjoy the entire text of the article (shown below):
. Order IMITREX from United States pharmacy. Where to buy IMITREX. IMITREX price, coupon. Buy IMITREX without prescription. IMITREX for sale. Rx free IMITREX. IMITREX blogs. Where can i find IMITREX online. IMITREX dosage. Order IMITREX from mexican pharmacy. IMITREX overnight. IMITREX no rx. My IMITREX experience. Is IMITREX addictive. No prescription IMITREX online. Australia, uk, us, usa. Buying IMITREX online over the counter. Online buying IMITREX hcl. IMITREX duration. IMITREX street price. What is IMITREX. Online buying IMITREX hcl. Purchase IMITREX for sale. IMITREX dangers. IMITREX without a prescription. Ordering IMITREX online. Comprar en línea IMITREX, comprar IMITREX baratos. IMITREX blogs. IMITREX class. IMITREX cost. IMITREX dose. Japan, craiglist, ebay, overseas, paypal. IMITREX coupon.
Similar posts: BUY ADVAIR NO PRESCRIPTION. ZOVIRAX FOR SALE. BUY LEVAQUIN NO PRESCRIPTION. SPIRIVA FOR SALE. LASIX FOR SALE. SEROQUEL FOR SALE. CELEBREX OVER THE COUNTER. Comprar en línea DELTASONE, comprar DELTASONE baratos. TRICYCLEN dangers. ULTRAM images. RETINA price. Online buying DELTASONE. ACTOS use. Where can i find NOLVADEX online.
Trackbacks from: IMITREX FOR SALE. IMITREX FOR SALE. IMITREX FOR SALE. IMITREX FOR SALE. IMITREX FOR SALE. IMITREX FOR SALE. IMITREX FOR SALE. Get IMITREX. Online buy IMITREX without a prescription. Where can i buy IMITREX online. IMITREX australia, uk, us, usa. IMITREX gel, ointment, cream, pill, spray, continuous-release, extended-release. Order IMITREX no prescription. IMITREX images.
April 5, 2013 by TimHughes · Leave a Comment
Although the purpose of the ad in the
"Rhode Island American & Gazette", Providence, February 1, 1831
was to give notice of this barber's change of location, it's the description of the service he performs which is most interesting--and amusing (see below).
March 22, 2013 by TimHughes · Leave a Comment
The headline (see below) pretty much says it all in this
October 2, 1890 report in the "Allegany County Reporter"
of Wellsville, New York...
March 4, 2013 by The Traveler · Leave a Comment
Today I decided to travel back to the era of the Civil War through
The New York Times of March 4, 1863
. In this issue I found the Southern President Jeff Davis had appointed March 27th to be a
Day of Fasting and Prayer
.
"...Under these circumstances it is my privilege to invite you once more to meet together and prostrate yourselves in humble supplication to Him who has been our constant and never-failing support in the past, and to whose protection and guidance we trust for the future. To this end I, Jefferson Davis, President of the Confederate States of America, do issue this, my proclamation, setting apart Friday, the 27th day of March, as a day of fasting, humiliation and prayer..."
This is also signed in type: JEFFERSON DAVIS. Also under the "Important from Washington" are the new establishments of "The New Banking Law"; "Designs for Currency Notes" due to the recent passing of the National Currency Act; "A Branch Mint in Nevada"; as well as the establishing of "The Territory of Idahoe (Idaho)" from within the territory of Montano (Montana).
"Slavery is forever prohibited within the limits of the new Territory".
What an incredible time in history!
~The Traveler
February 18, 2013 by The Traveler · Leave a Comment
This week I traveled to Philadelphia, Pennsylvania, by way of the
Aurora dated February 19, 1813
. Here I found the report of "Another Naval Victory!" being reported
"... On the 29th of December, off St. Salvadore, the Constitution, capt. Bainbridge, fell in with the British frigate Java, of 38 guns (mounting 49) and 400 men. After an action of one hour and forty-five minutes, the Java struck, with the loss of 60 killed and 170 wounded. The Constitution had 9 killed and 25 wounded... The Java was so much damaged in action, that it was deemed impossible to fetch her in, and by order of captain Bainbridge she was burnt...".
Also in this issue was the report of the battle at river Raisin, including the killing (scalping) of General Winchester and the further mutilation of his body. It is so hard to imagine what they went through in those battles. So much for nostalgia.
~The Traveler
February 1, 2013 by TimHughes · Leave a Comment
Here's an interesting medical devise which never seemed to catch on, as reported in the
"Scientific American" issue of March 14, 1891
. I wonder how many investors in this product were shocked when this one went belly-up?
January 28, 2013 by TimHughes · Leave a Comment
The history of West Virginia newspapers dates some 70 years before West Virginia became a state. Statehood came late to West Virginia, carved from Virginia in the midst of the Civil War, happening officially on June 20, 1863. But its first newspaper began in 1790 when Nathaniel Willis began his "
Potowmac Guardian & Berkeley Advertiser
" at Shepherd's-Town, near Harper's Ferry.  Less than two years later Willis moved the newspaper to Martinsburg. The second newspaper was the "
Shepherd's Town, Charles-Town and County Advertiser
" begun by Philip Rootes and Charles Blagrove on June 28, 1797. No copies beyond October 11, 1797 have been located. The third newspaper was the "
Berkeley Intelligencer
" done at Martinsburg on April 3, 1799 by John Alburtis.  Many followed, including what is shown in the image,
"The Observer, and Western Advertiser"
, Lewisburg, [West] Virgina, 1884.
January 14, 2013 by TimHughes · Leave a Comment
In celebration of its 20oth anniversary the American Antiquarian Society published a beautiful  exhibition catalog titled
"In Pursuit Of A Vision - Two Centuries of Collecting at the American Antiquarian Society"
. Featured are a fascinating array of books, documents, maps & other paper ephemera, as well as several very rare & unusual newspapers we felt worthy of sharing with our Rare & Early Newspapers' collectors (with permission from the A.A.S.).
"
Charleston Mercury Extra
", December 20, 1860 The divisive political events of the 1850s had pitted North against South on numerous issues, including the expansion of slavery into the western territories, tariffs on goods such as cotton, and broader concepts of states' rights vs. federal law. Political compromises made throughout the decade in an attempt to keep the nation together effectively collapsed with the election of Abraham Lincoln in November 1860. South Carolina, heir to the legacy of states' rights lion John C. Calhoun, was the first to address the possibility of leaving the Union. On November 10, 1860, four days after the presidential election, South Carolina brought the issue to a head by calling a secession convention for the following month. Considered by virtue of timing to be the first Confederate imprint, this broadside announced to the public the convention's declaration, on December 20, 1860, that South Carolina would secede from the United States. This sheet was removed from a wall in Charleston by the Boston-born author Caroline Howard Gilman (1794-1888), who had moved permanently to Charleston following her marriage to the Rev. Samuel Gilman. Gilman mailed the broadside to her daughter Eliza in Salem, Massachusetts. Eliza in turn presented the document to AAS member Nathaniel Paine who, heeding the Society's call to preserve all printed material relating to the unsettling national events, passed the broadside along to AAS. A high-resolution image of this issue is viewable at:
American Antiquarian Society, #47