July 10, 2020 by GuyHeilenman · Leave a Comment

Email This Post |
Print This Post
We all have a tendency to view things through a lens of our own creation – and the internet and social media – both which customize our "news" to our liking, only help refine our "news" into that which reinforces our worldview. In the end, honest, open dialogue – once the fabric of our public discourse, is reduced to mere noise falling upon deadened ears. Truth is, all Republicans… all Democrats… all Libertarians… all those who disagree with our point of view are not uneducated, haters, bigots and/or evil. Republicans do not "own" patriotism, and Democrats do not possess the mantle of black-American advocacy. How do we know? Back in 1862, The New York Tribune dated March 14, 1862 put it in print:
If you liked this post, you may also enjoy...
July 6, 2020 by Stephanie Williams · Leave a Comment

Email This Post |
Print This Post
While working on a different topic, I came across a derogatory reference to California gold, which started me thinking of how little I know concerning that period in American history.  I was born into the Information Age so there is no reason for me to remain in ignorance; the world wide web is packed with timelines and maps and diary excerpts.  Since I work in a place that houses many original pieces concerning every era since the first colonists arrived, I decided to begin my research on the Rare Newspapers site.
By merely typing "Gold Rush" in the search bar, I accessed 122 titles.  As an experiment I only used the items and listing descriptions to obtain an overall working knowledge, and for entertainment purposes I thought it might be interesting to summarize my findings.
Modifying my results to an issue date sort, and beginning with the oldest first, I found the following attached to a paper dated September 28, 1848:
Page 3 has a lengthy article: "The Gold Region of California" which is from the very early period of the Gold Rush. It is mostly taken up with two letters from the gold fields, introduced with: "It would seem from late accounts that California is afflicted with some rich gold mines. The people there have been seized with madness on the subject & are abandoning the ordinary pursuits of life for the sake of hunting gold…"
Listings for publications from October, November and December of that year bear similar accounts and tell of the growing numbers of those involved.  By January of 1849 the tone becomes cautionary:
Page 2 has: "California" which warns those thinking of heading to the gold fields to be very careful: "…large number of persons making preparations to proceed to El Dorado…will be obliged to undergo much suffering before reaching their wished-for haven & many will perhaps die on the passage…" with more. Also a short bit: "Death at the Gold Regions".
Reading through all the write-ups I felt a bit more sure of my historical bearings when I encountered a familiar name that was not in this instance attached to a favorite brand of coffee (Pike's Peak).
THE WASHINGTON UNION, Washington, D.C., August 29, 1858
* Pike's Peak gold discovered
* Cherry Creek
* Start of Colorado gold rush
A page 2 report headed "Newly Discovered Gold Mines" says: "Monsieur Borden and company have arrived in Kansas City, from Pike's Peak, Nebraska Territory. He reports newly discovered mines. He brought with him several ounces of gold, and confirms the existence of gold mines on Cherry Creek, branch south Platte; latitude 39"
It seems I have barely scratched the surface…
If you liked this post, you may also enjoy...
July 3, 2020 by GuyHeilenman · Leave a Comment

Email This Post |
Print This Post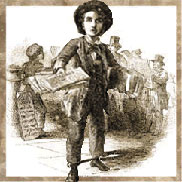 Catalog 296
(for July) is now available. This latest offering of authentic newspapers
is comprised of more than 300 new items, a selection which includes:
the Declaration of Independence (1776), the Sinking of the Titanic, the Killing of John Dillinger (in a Chicago newspaper), the Battle of Bunker Hill, the first Corvette is manufactured (report in a Detroit newspaper), an 1845 newspaper from Honolulu)
, and more.
The following links are designed to help you explore this latest edition of our catalog:
Don't forget about this month's DISCOUNTED ISSUES.
The links above will redirect to the latest catalog in approx. 30 days,
upon which time it will update to the most recent catalog.
If you liked this post, you may also enjoy...
June 29, 2020 by Stephanie Williams · Leave a Comment

Email This Post |
Print This Post
An 1862 series of issues from The Scientific American highlights farm equipment week after week.  There are new inventions in the shape of plows, seed distributors and devices for shelling beans.  Beyond agriculture, there are articles on engraving with electricity, followed by a detailed report of a boiler explosion.  When I sat down with a stack of dates for the purpose of compiling this post, I lost track of an hour and a half of my life, poring through the smorgasbord of offered information.  The
regular feature "Patent Claims" describes patents issued and rejected, while the American prizes won at the London World's Fair applaud the successful application of those successful inventions.  Finally, there are consistent complaints about the delinquency of the U. S. Patent Office.
However, I particularly appreciated the note from the editor in the issue dated November 22, 1862.  The heading reads, "An Important Crisis in the History of Newspaper Publishing."  It describes the impact of the Civil War and the cotton supply on the printing industry, and serves as a reminder that large disasters and challenges within a nation have far-reaching effects on priorities and resources — often at an intensely personal level.
"This is a time of severe trial to all newspaper and book publishers; and the prosperity — yes, the very business existence — of may of them is suspended upon a slender thread.  That hitherto great national blessing, cheap literature, is likely for the present to receive a severe shock, and possibly its death-blow…The war now being waged for our priceless national heritage is working sad mischief to the newspaper interest.  A heavy tax is laid upon white paper…Paper-makers will not and cannot, prudently, enter into contracts to supply publishers.  They will only sell from week to week at their own prices; and, as usual, spectators are busy in getting a hold of every article that goes into the manufacture of paper, with a view to still further enhance the price."
In contrast to the challenges of today, we can look at this warning in hindsight.  Munn & Company, Editors and Proprietors successfully navigated the economic upheaval, and "The Scientific American" is still being printed today.  However, the quality of an issue from the 19th century is definitely superior…
If you liked this post, you may also enjoy...
June 26, 2020 by GuyHeilenman · Leave a Comment

Email This Post |
Print This Post
The following is the next installment of our series in which we post the "stories" graciously submitted by our collecting friends during the pandemic of 2020.
About 27 years ago I bought my first vintage newspaper about Galveston, the article published in a new York newspaper dated 1817 was a letter written in 1816 from Galveztown [Galveston], a person from the Mina Expedition writing to someone back east about the state of affairs in the
expedition, possibly a spy sent from Boston where the expedition started out, courtesy of the Simpson's auction House conducting an auction at then Eibands, a close department store in downtown Galveston.  A year later I was able to help co-found The Laffite Society. Two years later after much renovation I was asked to open an Antique store in the same location.  Fast forward about 25 years I managed to collect about 70 News papers with articles thanks to help of Timothy Hughes, about the French in Texas and the infamous Jean Laffite, hero of the battle of New Orleans.
After Hurricane Ike, I decided that My collection was at risk in my home so I offered it for sale to a Houston Collector with a Museum, He later moved the Bryan Museum to Galveston Texas. I regret having to sell my collection but know it is in a much better location and will survive long after I have gone.
I could give many examples of what I learned from the articles that the Laffite Society may not be privy to and the additional articles of the period that aided in other research and enhanced my knowledge of my Art Collection and general interest.
I have based many speaking engagements on what is stated in the newspaper articles and now being asked to be filmed for my knowledge of the Laffite saga, I owe a lot to what I found in 'The Nonus Collection'.  So when the Musical, 'Lonely and Lost, the Legend of Laffite', is finally produced, just know that the newspapers of yesteryear have had a great influence on it, as have articles related to Hamilton!
As additional "stories" are posted they will be available at: MY COLLECTING STORY. We did this many years ago as well – and their posts are also included.
If you liked this post, you may also enjoy...
June 22, 2020 by GuyHeilenman · Leave a Comment

Email This Post |
Print This Post
Monthly Newsletter ~ Rare & Early Newspapers
Welcome to the June 2020 edition of our monthly newsletter. With so much to talk about, let's jump right in:
Nearly 140 items have been newly discounted by 50% through July 16th. The prices shown already reflect the discount. Topics include: Thurgood Marshall is appointed to the Supreme Court, Omaha wins Kentucky Derby (1935), Fatty Arbuckle death (1933), the Flight 537 airplane disaster, Amelia Earhart officially declared dead, and more.
Since Catalog 295 went to print we've added nearly 50 additional items. Some of the topics/issues include: Battle of Lake Champlain (1776), Death of William Clark of "Lewis & Clark" fame, a letter written aboard a slave ship, John Adams' State of the Union Address (1798), the first successful magazine in the country (1744), Abraham Lincoln's funeral, "Jack the Ripper" (report in a London newspaper), and more.
Four Interesting Items on eBay
Speaking of the catalog, some links which you may find useful include:
A sampling of some of the recent posts on the History's Newsstand blog include:
Items which have been listed on our website within the last 30 days.
Timothy Hughes Rare & Early Newspapers . . .
           . . . History's Newsstand
"…desiring to conduct ourselves honorably in all things." Hebrews 13:18b
See what's happening on our social sites
If you liked this post, you may also enjoy...
June 15, 2020 by Stephanie Williams · Leave a Comment

Email This Post |
Print This Post
Bound volumes are masterful displays of a subscriber's esteem for the published word.  Not only aesthetically pleasing, they are effective methods of preserving printed pages from more than 200 years ago.  I am quite partial to the untrimmed collections with ruffled edges wrapped into a stack and placed between two decorative covers.  As most collectors are not seeking entire volume, individual dates are disbound before being sent out.  Each extraction leaves a gap, and, consequently, all sorts of misshapen profiles neatly array our shelves.
Today I pulled an untouched volume of The Gentleman's Magazine that chronicled an entire year, and spent some time just scanning the page headings.  And stopped, quite decidedly, when I read, "Obituary, with Anecdotes, of Remarkable Persons".  Like a w
ander through an old cemetery, there is something appealing about reviewing the names of these people of note, as well as the few words allotted to them at the close of their lives.   Who made the cut, and was worth a mention?  What chosen phrase summarized the extraordinary essence of a human being and his or her impact on the world around them for the span of their days?  Some epitaphs perfectly illustrate "damned with faint praise" and others kindle a more noble flame within those who have time to amend their mark.  Either way, the vocabulary and turn of the phrase most definitely eclipse my tone and word choice, so I will let those loftier pens speak for themselves.
In Gloucester-place, Mary-la-Bonne, in her 32d year, Helen, wife of H.T. Hardacre, esq. the original proprietor of "The British Neptune," leaving a young and numerous family.
At her brother-in-law's house, in Russell-square, aged 50, Mrs. Elizabeth Trelawny, wife of Capt. T. Adjutant of the Bedforeshire Regiment of Militia.  She was esteemed in the earlier part of her life as particularly handsome; and Time had been uncommonly kind in making his progress on her countenance with forbearance.
In his 47th year, having enjoyed his title only two years and a half, Peter-Isaac Thellusson, Baron Rendlesham, of Rendlesham.  He was on a shooting party at Gosfield with Louis XVIII, the Earl of Chatham, and other Nobles, when he suddenly fell from his horse, and expired.
I couldn't help smile at the section that immediately preceded this: "Additions and Corrections to former Obituaries," but that's an excursion for another day.
If you liked this post, you may also enjoy...
June 12, 2020 by GuyHeilenman · Leave a Comment

Email This Post |
Print This Post
Below we continue our series in which we post the "stories" graciously submitted by our collecting friends during the pandemic of 2020.
When we were kids my dad gave my older brother Some old paper money preserved between pieces of glass from colonial days and an old facsimile copy of a newspaper from the day that Lincoln was shot. It made a big impression on me. So when I started collecting old newspapers for the book it was that newspaper that inspired me to start a collection of my own. I remember how I felt when I picked it up and looked at it and realized that people of the time were reading these words that they were holding this paper and seeing the news for themselves. You could hear them saying how they felt about what was going on. And so not too long ago I made a point of going through your online catalog looking for some of these old Lincoln newspapers. I spent hours and days pouring over these and picking out from all those that were published on that day. I look for papers that were poignant or well illustrated or published in towns near where earlier generations of my family had lived. I looked for illustrations that showed the American spirit the way people felt at time and the events of the day. I wanted to find the illustration of John Wilkes Booth leaping to the stage from Lincoln Sparks at Ford theater. I wanted to show him laying in state. I wanted to show the crowds lining the railroad tracks as his train with his coffin Road by. I wanted to show those allegorical illustrations that show the country in the morning. But most of all, I wanted to show future generations of my family a paper that might've been the one that our own ancestors would've read that day. I was collecting all of this to make a record of the world that my family had lived in here in North America since
the early 1600s. I wanted to future generations to know the story of what it took to build the life we now enjoy. I wanted them to see the uncertainties We faced, the tasks that were set for us as events as unfolded And the choices we made.
The other day I was watching some old movies in honor of Easter and Passover and among them was the 10 Commandments. At the end of the movie Moses is told by God that he is not going to be crossing the river Jordan. He was not going on with the people here the lead to the new land. The story of Lincoln's death is much the same. He had brought us through the Civil War and set down for all time on a document that ended slavery and freed a people. And then when peace was only moments away, he died and did not cross over into that time with the rest of us. I'm trying to remember at the moment whether or not FDR died before peace was declared at the end of World War II. He had brought us through the great depression, the dust bowl and World War II. And then there's Martin Luther King and his " I have a dream " speech that was so prophetic. None of these men crossed over into the peace that they saw coming and into the land that they had envisioned and fought for — but they saw it on the horizon.
And so I am going on collecting these papers. I'm showing that events are not as simple as they are written in the history books we read in school. I'm showing the dialogue in the arguments that went on before decisions were made. I'm trying to show that not all people took the same side and then each had their own arguments and their own point of view. They chose their own paths and fought for them. And now when my family closes the book I plan to leave for them to read I want them to choose for themselves a path that will take him into the future. They may not cross over into the future is that they plan but I want them to think about the course and make a choice.
As additional "stories" are posted they will be available at: MY COLLECTING STORY. We did this many years ago as well – and their posts are also included.
If you liked this post, you may also enjoy...
June 8, 2020 by Stephanie Williams · Leave a Comment

Email This Post |
Print This Post
These past few months have been characterized by intense focus.  I wonder if we are all concentrating fiercely on the task at hand, since everything else seems a bit too immense.  Whatever the reason, I have thoroughly immersed myself in systematically working through volumes of titles in search of particular dates of interest as if this is the most important job in the world.  Since publications in view are from the 1800's, I am glimpsing snippets of similarities and of differences to our modern era.
While shelving Harper's New Monthly Magazine, I read the following:
"Harper's Magazine has now reached the close of its Tenth Volume.  During the five years of its existence, its prosperity has been constant and uninterrupted.  It has not been checked even by the disaster which fell upon the establishment of the Publishers, or by the period of general depression from which the country is now emerging."
I didn't know about this time of economic difficulty that Wikipedia describes as "lasting [from the Great Panic of 1837] until the Great Panic of 1857."  From where we stand it is easy to lose a historical perspective, but the December 1854 issue — sandwiched between two economic trials — provides that opportunity.  The editor's note at the front claims the magazine even flourished through the difficulties.  At 144 pages, with 64 illustrations, this Harper's devotes the first two-thirds to literary offerings ranging from an account of Napoleon's exile to an installment of fiction by William Makepiece Thackeray.  Following that are an extensive listing entitled "Monthly Record of Current Events", three categories of editorials (Editor's Table, Editor's Easy Chair, and Editor's Drawer), two pages of political cartoons, and the illustrated hoops and flounces that comprise those "Fashions for December." This is a comfortable compilation that seems to provide a wealth of distracting entertainment that was as surely craved then as it is now, situated alongside a factual depiction of the nation and world.
From the current events section I extracted a nugget of reporting that mirrors modern newscasts.
"It may be stated generally, however, in reference to all of them, that partisan divisions have been less rigid than usual — that old party lines have been broken down."
Somehow, shared disaster still seems to have that unifying effect.
If you liked this post, you may also enjoy...
June 5, 2020 by GuyHeilenman · Leave a Comment

Email This Post |
Print This Post
Below we continue our series in which we post the "stories" graciously submitted by our collecting friends during the pandemic of 2020.
Some years ago, maybe fifteen, I purchased a London Chronicle newspaper from Timothy Hughes newspapers. This was mainly for the fun of having an old newspaper from 'the old country'. I have purchased quite a few since then and actually got round to reading some for the fascinating items that the contain. One such item concerns the creation of the chronometer by John Harrison in the 1700s. I had seen his chronometers displayed at the observatory in Greenwich, produced by Harrison in response to Queen Anne's contest offering a huge reward for a successful timepiece but I could not find out for certain if Harrison was ever paid by the British Government.
LONDON CHRONICLE, London, 1765. Volume XVIII from Saturday, November 2 to Tuesday, November 5, 1765. Contains, on page 436, A Copy of the Certificate of the Commissioners of the Longitude … relating to Mr John Harrison's Time Keeper, authorizing the payment to him of the 7,500 pounds, less the 2,500 already paid out. According to Wiki, Harrison received 8750 pounds in 1773 when he was 80 years of age but the "official award (from year 12 of Queen Anne's reign) of 7,500 pounds was never given to anyone". Dava Sobel in her wonderful book Longitude (London, Fourth Estate, 1995) says that Harrison's son, William, sought the king's intervention (George III) resulting in a payment to John Harrison of 8,750 pounds in June 1773, noting that 'this amount nearly totaled the remainder of the prize due to him, but that it was a bounty awarded by the benevolence of Parliament – in spite of the Board of Longitude, instead of from it.' Elsewhere, I have read that his son received this after his father's death but I cannot recall in which newspaper (one in my collection, I think). This seems to set my questions to rest. It would appear that he was and he wasn't, depending on how you look at it! He received the cash but not the 'prize'.
Making the effort to read the newspapers is extremely rewarding but not without it's difficulties. Some of the older papers, before 1700 are not so easy, especially those using 'old English' but it is very rewarding to plunge into the atmosphere created by 'on the spot reporting'. Some of the items are quite extensive and take a while to plough through. I recently came across the item shown below:
The Supplement for the Year 1793 (to The Gentleman's Magazine), London, includes on page 1208 an extract of a letter written by an Officer of the Agamemnon of 64 guns, Captain Horatio Nelson, and dated at Tunis, November 8, 1793 (see below). I have had this item for several years and only just spent some time (during this pandemic) reading it properly. I have hundreds yet to scrutinize! Perhaps I will find something that leads to a great historical revelation, or perhaps I will just enjoy reading about history from the pens of people who lived that history!
As additional "stories" are posted they will be available at: MY COLLECTING STORY. We did this many years ago as well – and their posts are also included.
If you liked this post, you may also enjoy...