October 14, 2019 by GuyHeilenman · Leave a Comment

Email This Post |
Print This Post
You may have really got them going, but did they get you going enough to get you to go to their 1981 concert at Madison Square Garden? The Kinks, who are considered by many as one of the most influential British rock groups of the 1960's, as of 1981 were still selling out at some of the biggest and greatest venues of the day. The full-page ad below, printed in The Village Voice dated September 9-15, 1981 (for the week of September 8th), is for their October 3rd concert at Madison Square Garden. Were you there? If so, feel free to share your family-friendly memories. Just as an FYI – Three of the four original members, and all who are living, are still playing concerts as of 2019.
If you liked this post, you may also enjoy...
October 11, 2019 by Stephanie Williams · Leave a Comment

Email This Post |
Print This Post
This week, while pulling issues that contain Emily Dickinson death notices, I read about the first public appearance of Dr. Oliver Wendell Holmes and also the institution of the Income Tax.  As this was in 1886, I was surprised at the latter.  Actually, I was surprised to see so many famous names and events in just a ten day span within that May.  Oscar Wilde was hosting parties, Chicago was caught up in the Haymarket affair, and Coca-Cola was invented by a pharmacist.  The rabbit trail I chose to follow (after investigating this whole Federal Income Tax thing that has historically been attributed to Woodrow Wilson's presidency almost thirty years later) began with the following words to the Editor of the New York Times:  "Mr. Putnam's remarks on the impropriety of republishing [Washington] Irving's works in their unrevised form, have but one fault; they are not strong enough."
It is Autumn with a capital "A" in the northeast United States where, flanked by hilly vistas of multi-hued splendor, every street corner proclaims this the month of Hallowe'en.  Washington Irving, author of the famous ghost story "The Legend of Sleepy Hollow", could easily have been one of the serialized authors featured in the 1869 "Saturday Night" issues I have been pulling for a Philadelphia area collector.  And October is definitely the time of year in which strange, extraordinary and macabre stories would have provided thrilling weekend entertainment to a 19th century culture blessedly devoid of electronic clamor.
I didn't know about Irving's first published work, or the misinformation campaign to hype interest prior to the release of A History of New York.  I read about his "Knickerbocker" alter ego whose fictitious disappearance sparked a national following.  This moniker influenced sports teams, architectural structures, social groups, and even a toy company.  To this day, a resident of Manhattan is a Knickerbocker — nicknamed after a man who never was.
So, I am thankful for the censure that drew my attention away from the tax tables and the following words of "THE NEW INTERNAL REVENUE LAW. Topics of Interest to Everybody":
Among these the Tax and Tariff laws are prominent, possessing an interest for every one, inasmuch as they most sensibly affect the cost of living, enhancing the prices of everything we eat, drink, or wear, adding to the value of articles of both necessity and luxury.  The Tax law especially appeals directly to our pockets; and we find that a share of our profits from manufacturing any article, as well as a proportion of the income which we annually receive, is due to the Government.
I would much rather consider impropriety of a literary kind.
If you liked this post, you may also enjoy...
October 7, 2019 by GuyHeilenman · Leave a Comment

Email This Post |
Print This Post
Typically, the day after a MLB team is defeated in the World Series, an acknowledgement along with a few humble, congratulatory remarks are the focus of the losing team's hometown newspaper. However, after the New York Yankees eliminated the St. Louis Cardinals in the 1941 World Series, the St.Louis Post-Dispatch decided to ignore decorum and instead, predicted that the following year, the Cards would return to defeat the Yankees in the 1942 World Series? How do we know they made such a bold prediction? They put it in print – and, Nostradamus would  have been proud. The following year both teams returned to the World Series, and the Cards defeated the Yankees in only five games.
If you liked this post, you may also enjoy...
October 4, 2019 by GuyHeilenman · 2 Comments

Email This Post |
Print This Post
Unless you grew up in the Philadelphia – New York City corridor, you may not recognize the name, but he certainly made his mark on American culture in general, and the Philly region in particular. Famed merchant, marketing pioneer, founder of one of the first major department stores, U.S. Post Master General, notable Christian philanthropist, and more, his name was recognized throughout the world in the mid-to-late 19th century. Until its closing, the Wanamaker Building was a frequent destination for most who visited Philadelphia, especially during the Christmas Season. Some of his more-famous quotes include: "People who cannot find time for recreation are obliged sooner or later to find time for illness." "People who cannot find time for recreation are obliged sooner or later to find time for illness." "Half the money I spend on advertising is wasted; the trouble is, I don't know which half."

As was reported in the December 12, 1922 issue of The Bethlehem Times, John Wanamaker met his Maker on the same day as this report. While his influence lives on through such simple things as "the price tag" (on products), his name is slowly succumbing to that which befalls us all. Still, those of us who know of his contributions appreciate his impact on society, and have fond memories of his Christmas Light Show and one of the most amazing pipe organs in the world. Thanks John.
Update from a comment posted as a follow-up to this post: "It is true that Wanamaker department store is closed, but since then, the building has housed two other department stores, Hecht's and Macy's. Both companies have continued the Christmas light and organ traditions. Macy's, the current owner, even funded a multi-million dollar restoration to the light show. Going to Wanamaker's at Christmas is still a yearly tradition that my family enjoys, and many a Philadelphian still "meet at the eagle," on a daily basis." Thanks Bill (see posted reply)
If you liked this post, you may also enjoy...
October 1, 2019 by GuyHeilenman · Leave a Comment

Email This Post |
Print This Post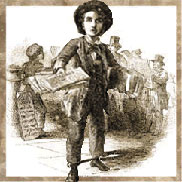 Catalog 287
(for October) is now available. This latest offering of authentic newspapers
is comprised of nearly 300 new items, a selection which includes:
the famous "Dewey Defeats Truman" newspaper, a rare Civil War camp newspaper, the "Corinth Chanticleer" from Mississippi, a Broadside "Extra" on the capture of Jeff Davis, a great Battle of Gettysburg newspaper, a Confederate broadsheet "Extra" from Georgia
, and more.
The following links are designed to help you explore this latest edition of our catalog:
Don't forget about this month's DISCOUNTED ISSUES.
(The links above will redirect to the latest catalog in approx. 30 days, upon which time it will update to the most recent catalog.)
If you liked this post, you may also enjoy...
September 27, 2019 by Stephanie Williams · Leave a Comment

Email This Post |
Print This Post
This week as I was pulling some Gentleman's Magazines to fill online catalog gaps, I hovered over an issue prior to searching within the computer system.  It was dated July 1776, and I took a minute to let that soak in.  I am regularly awestruck at handling all these papers, but particularly anything from such an important, pivotal year and month in American history.  Actually, I suppose it was significant to world history as well.
This is not a museum, however, but a place of business and conscience compelled me to limit my sighing to less than a minute before turning to the keyboard and pulling up the listing for this title and date.  And, as I read the opening lines of the description, I felt again the great privilege I have to be here.
"It is rare to find newspapers or magazines with the magical date of 1776, let alone 'July, 1776'.  Here is one."
These paragraphs are such valuable tools for searching as well as learning.  While Timothy Hughes Rare and Early Newspapers can boast 44 years in existence as a business, the depth of knowledge of history and its significance that is applied to filtering through the millions of papers in order to present each one goes far beyond a mere business listing.  And the one that filled my screen only served to deepen my wonder at this treasure trove chronicling the earliest days of this country.
The first article contains 3 pages of text on events in America, including: "Proceedings of the American Colonists since the Passing the Boston Port Bill" with various reports, one stating that: "…the main army of the United Colonies has changed its situation; and that the head-quarters are now at New-York, where Gen. Washington has already taken up his residence…".  A proclamation issued by Congress concerning a redress of the grievances of the colonies says in part: "Therefore, Resolved, that it be recommended to the respective Assemblies and Conventions of the United Colonies, where no government sufficient to…their affairs has been…established, to adopt such a government…", signed in type: John Hancock. Perhaps the most significant report is one mentioning the convention at Williamsburgh containing an important resolve (see) passed by the delegates which reads in part: "…That the delegates appointed to represent this colony…be instructed to propose to that…body to declare the united colonies free and independent…and that they give the assent of this colony to such declaration …..
I remember in my first days here, wondering if I would be required to wear gloves when handling these issues.  My query was shrugged off, but I have been asked the same by friends and acquaintances when I talk about my job.  We are used to seeing important things enclosed and protected behind glass and velvet ropes.  But these papers were made to be read, and passed around so the news could spread.  The older ones are often in better condition than the ones from the past few decades.  Still, they are individually protected within folders, as much to keep the edges safe and protected as to shield from light and other environmental contaminants.  I like that the storage options  we use are the same as those we offer to our collecting community.  Even though the crew here is much more seasoned than I, there is an unspoken acknowledgement that this is really amazing stuff, and I am not the only one that gets a bit awestruck…
If you liked this post, you may also enjoy...
September 22, 2019 by GuyHeilenman · Leave a Comment

Email This Post |
Print This Post
As we were searching through our issues from 1941 looking for new WWII content, to our great dismay we discovered a article on page 3 of the San Francisco Chronicle dated November 15th headed:  "Goebbels Tells Germans How To Hate Jews", which was followed by his ten "reasons" to hate them. There are some who wish to ignore and/or deny the existence of the hatred which ran rampant during this time in world history, but thanks to the S.F. Chronicle, they put it in print:
If you liked this post, you may also enjoy...
September 20, 2019 by Stephanie Williams · 1 Comment

Email This Post |
Print This Post
Newspapers were bound into volumes throughout the years for a variety of reasons.  My favorite is that the owner of a large house would send off the papers that had been delivered, ironed, and read throughout the course of a year.  A book binder would glue and sew them together, and they would be returned to the home's library, to be
arranged with all the other years, and thus mark the history within which great homes and great families were housed.
Breaking a volume of bound issues goes against the grain for someone like me.  Perhaps the remembered library hush of early childhood imprinted an aura of solemnity to the world of books; perhaps the shadowed mystery of pre-reading years conjures the aroma that is akin to sacred things.  The most likely reason, however, is reflected in the lifetime acquisitions boxed in spare spaces, despite overflowing shelves in every room.  I like books.  And my forays into the back are exercises in willpower if I am headed toward All the Year Round, Household Words, Atlantic Monthly, Harper's Weekly or Scribner's Monthly – which are liberally laden with serialized stories from beloved authors.
This week, in a search for details surrounding a Harlem rabble-rouser, I found an article headed "BRITAIN AMERICANIZED, CHESTERTON CONTENDS", followed by, "He says Existence of Nation Is Being Altered by American Economic Pressure".  The opening words confirmed my hope that these were indeed opinions offered by the great writer of The Man Who Would Be Thursday, the Father Brown Mysteries, and seventy other titles.  Many American readers, such as myself, have relished the literary works of this sharp-witted, kind-hearted lay cleric of the early 1900's.
The affection, it seems, was not mutual.
"Speaking last night at the Delphian Coterie dinner, G.K. Chesterton declared that English habit and life, the look of the English town and the whole tone of English existence are being altered by the economic and commercial pressure of America.  He said that if the Kaiser had occupied London with the Prussian Army he could not more completely have denationalized the English nation and city.  'While I object most violently to the Americanization of England,' he said, "I have no objection to the Americanization of America.  Most Americans I have known I have liked, but I have like them most when I have known them in America.  Let us approach all international criticism with a good deal of what our fathers called Christian humility.  What Americans call it I do not know because I do not think they ever met it.'"
And, with that, I have nothing more to say.
If you liked this post, you may also enjoy...
September 16, 2019 by GuyHeilenman · Leave a Comment

Email This Post |
Print This Post
Price being equal, would you typically choose a tangible gift, or an experience? Why do I ask?
Context: My wife and I have been blessed with 6 children. As each approached the end of their high school education, we offered each of them a sizeable (to us – the parents of a large family with only one of us working outside the home) amount of money as a graduation gift, or its equivalent in cost to go on a trip of their own creation. Two of them opted for the $$$ to put toward items they wanted (at the time), while the other four each elected to go on a trip. Many years later, as we all reflect back on the "gifts", those who chose the "experience" are pleased they did – and have vivid fond memories, and the others struggle to remember what it was they had purchased. The reality is, "things" are typically for the moment, and have short life-spans, whereas memories are for a lifetime.
It is with this in mind we embark on a new, experiential series of posts: "Where you there?" Our hope is that in so doing, those of you who were present will be flooded with good memories of your experience. To kick things off…
On September 13, 1980, Elton John performed a free concert in Central Park, New York. To this day, it remains one of the top ten most-highly attended musical events held in Central Park. Were you there? The ad below was printed in the September 9th, 1980 (f0r the 10th-16th) issue of The Village Voice. Feel free to share your family-friendly memories.
If you liked this post, you may also enjoy...
September 13, 2019 by Stephanie Williams · Leave a Comment

Email This Post |
Print This Post
Even eight months into my first year here, I still have important job skills to acquire. This week Guy introduced me to The Weekly Register, also known as the Niles' Weekly Register. He actually didn't provide much of an introduction as there was new inventory to pick up, but he mentioned the title and left me to find my way to the back wall of the annex.
Before I started the metaphorical digging in, I tried to get my bearings first by looking into the background of this publication that stretched from 1811 until 1848. Our own item description mentions "significant coverage of the War of 1812", so I extracted an issue from the title year, settling on December 5, 1812. Just below the town and date, a centered, italicized quote from Virgil's "The Aeneid" assured me I would appreciate this new acquaintance.
Forsan et haec olim meminisse juvabit, "Maybe someday you will rejoice to recall even this." I wonder if it was intended to bolster the staff or the new country. At any rate, the printing address on the following line is a cheery thing. "Printed and published by H. Niles, South-st. next door to the Merchants' Coffee House".
The issue I borrowed from the racks covers the legislatures of New Hampshire, New York, New Jersey and North Carolina, where (if the reports are accurate) the members were busily balancing affairs of their individual states with decisions concerning the authority of the president to call out a state's militia. I was struck by the measured, pragmatic way one William Plumer attempted to persuade the governing body of New Hampshire.  My pile of recommended reading for current politicians is growing taller every day.
A list of the "excellent toasts drank at New York, in commemoration of the evacuation of that city by the British" lauds the particular prowess of American sloops of war and the late Captain Jones, resting "on the bosom of the Atlantic."
There is a four page section devoted to "Events of the War" packed with locations of ships, letters from various regiments, descriptions of force strength, and even a transcription of a Brigadier-General's stirring call to arms.
"Rewards and honors await the brave. Infamy and contempt are reserved for cowards.
Companions in arms! — You came to vanquish a valiant foe. I know the choice you will make. Come on, my heroes!"
I can't help but think that if we continued to work at bringing forth great words we might encourage heroic ideals in a culture so untethered to traditions of excellence in speech and conduct. Then again, I am only seeing the parts of 1812 that made it into print.
Anyway, if you don't know The Weekly Register, I hope you too have opportunity to become acquainted.  It has certainly been my pleasure.
If you liked this post, you may also enjoy...