March 19, 2018 by The Traveler · Leave a Comment
I traveled today to Springfield, Massachusetts, by the way of The Springfield Republican dated March 17, 1968. I found that Robert Kennedy was the star of the New York City's St. Patrick's Day parade. "The spotlight was supposed to be on St. Patrick but it was presidential candidate Robert F. Kennedy who stole the show Saturday. He turned the annual St. Patrick's Day parade up Fifth Avenue into his first campaign appearance… pinned two "Bobby" buttons to his label and moved in with 125,000 real and adopted Irishmen marching in the parade…"
In less than three months, Bobby would be assassinated by Sirhan Sirhan while in California following winning a major victory there.
~The Traveler
March 16, 2018 by GuyHeilenman · Leave a Comment
Each month the staff of Timothy Hughes Rare & Early Newspapers sends out a newsletter to our members which includes special offers, discounts, alerts to new inventory, and information related to the rare newspaper collectible.
The March, 2018 newsletter:
Welcome to the March edition of our member's newsletter. This month we have a new set of issues being offered at a discount (50% off), an early look at an extremely rare hand-written Confederate camp newspaper, an offer for a free issue, and links to our most recent posts. Please enjoy.
Free Issue
– Through March 31st, while supplies last, we are offering a free issue (only pay S&H – which could be free) of the Gentleman's Magazine dated from 1819 to 1839. We have up to 25 issues to offer. Please, only one per customer:
The Gentleman's Magazine (free)
A Handwritten Confederate Camp Newspaper – We've recently acquired an extremely rare newspaper:
The Stonewall Register
Catalog 268
– Enjoy the remaining items from our latest catalog of historic newspapers.
Recent Listings
– Over 700 items have been listed within the last 20 days, many of which will never appear in catalogs. They may be viewed at:
Recent Listings
History's Newsstand Blog
– Some of the recent posts include: "Great Headlines Speak For Themselves… Malcolm X assassinated," "March thru time (50, 100, 150, 200, & 250 years ago) – 2018 edition," "The Traveler… impeachment begins," "Who's Who in Newspapers? Joseph A. Turner edition," "The Traveler… Notre Dame hires a new coach, but didn't get his name right," and more. These and more may be viewed at
History's Newsstand Blog
Thanks for collecting with us.
Sincerely,
Guy & The Rare & Early Newspapers Team
March 12, 2018 by The Traveler · 2 Comments
The best headlines need no commentary. Such is the case with the LOS ANGELES TIMES, February 22, 1965: "MALCOLM X GUNNED DOWN"…
March 8, 2018 by GuyHeilenman · Leave a Comment
What news was reported in the month of March – 50, 100, 150, 200, and 250 years ago (1968, 1918, 1868, 1818, 1768)? Such a walk back through time via the eyes of those who read the daily and weekly newspapers of the period can be quite revealing. This is why we often say, "History is never more fascinating than when it's read from the day it was first reported." The following links will take you back in time to show the available newspapers from the Rare & Early newspapers website. There's no need to buy a thing. Simply enjoy the stroll.
March:

March 5, 2018 by The Traveler · Leave a Comment
Today's journeys took me to Madison, Wisconsin, by the means of the Wisconsin State Journal dated March 6, 1868.  There I found the headline "IMPEACHMENT." "Opening of the High Court of Impeachment by Chief Justice Chase." "… At 1 o'clock precisely, Chief Justice Chase appeared at the door of the Senate Chamber, …Acting Vice President Wade then said: 'The Senate will suspend business for the purpose of proceeding to the consideration of the impeachment of the president of the United States.' … The Chief Justice said: 'I am here for the purpose of joining with you in forming a Court for the Court of Impeachment. I am now ready to take the usual oath to the Chief Justice…"
This was the opening day for the three month long impeachment trial of President Andrew Johnson.
~The Traveler
March 1, 2018 by GuyHeilenman · Leave a Comment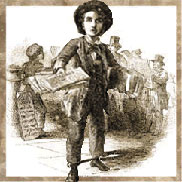 Rare Newspapers' monthly offering of collectible newspapers, Catalog 268, is now available. This latest collection of authentic newspapers is comprised of nearly 350 new items. Some of the noteworthy content includes: the desired New York Times reporting Lincoln's assassination, Causes & Necessity of Taking Up Arms, Winslow Homer's famous 'Snap The Whip", Battle of Lexington & Concord, a great 1757 map of the French & Indian War, the Battle of the Alamo, and more.
To view the above key issues and a whole lot more, go to: Catalog 268

(The catalog links shown above will redirect to the latest catalog in approximately 30 days, upon which time it will update to the most recent catalog.)
February 23, 2018 by GuyHeilenman · Leave a Comment
The 4th installment of Who's Who in Newspapers:
George Washington, Benjamin Franklin, Alexander Hamilton… Babe Ruth, Jesse Owens, Vince Lombardi… John Wayne, James Dean, Katharine Hepburn – these individuals, among many, are easily recognizable. However, there are quite a few historical figures who, while having adorned the pages of many a newspaper, are far from household names. Such is the case with Joseph A Turner. Who is he? What was he known for? When did he live?
Mr. Turner just happens to be the publisher of what is believed to be the only Confederate newspaper printed/published on a Southern Plantation: The Countryman. He was the owner of Turnwold Plantation, located about 9 miles from Eatonton, Georgia – of Chick-fil-A, J.C.H. (see below), and The Color Purple fame.
As if this distinction were not enough, he took on Joel Chandler Harris – the eventual famed author of the Uncle Remus, Br'er Rabbit, and Br'er Fox stories, as an apprentice at the age of 14 – and trained him to serve as the typesetter for the newspaper.
Whenever we post an installment of "Who's Who in Newspapers," we typically provide a link to a chronological listing of newspapers which have information regarding the notable person in question. In this case, however, the newspapers are extremely rare, and while we do (at the time of this post) have a handful of issues, in this instance our link simply goes to a sample issue of this title:
.
February 19, 2018 by The Traveler · Leave a Comment
I journeyed today to New York City via The New York Times of February 21, 1918. I found a small but significant report "New Notre Dame Coach". "Knut [sic] K. Rockne has been appointed to succeed Jesse C. Harper as director of athletics at Notre Dame… Rockne's work as assistant coach won for him the new position… The new coach will assume his duties in June".
Knute is regarded as one of the greatest coaches in college football history. His career was cut short when he died in a plane crash on March 31, 1931 at the age of 43.
~The Traveler
February 12, 2018 by The Traveler · Leave a Comment
The best headlines need no commentary. Such is the case with the LOS ANGELES TIMES, California, August 6, 1962: "MARILYN MONROE FOUND DEAD"
February 8, 2018 by The Traveler · Leave a Comment
Yesterday I traveled to Baltimore, Maryland, by the means of the Niles' Register dated February 7, 1818. There I found an exchange of letters between Caleb Strong, the Governor of Massachusetts, and President Monroe pertaining to payment for militia called out during the war but withheld from the control of the national government. "…A few weeks since, agreeably to the request of general Dearborn, I detached eleven hundred militia for three months, for the defence of our coast… I will thank you , sir, to consult with the president, and inform me whether the expenses, thus necessarily incurred for our protection, will be ultimately reimbursed to this state by the general government;…"  The reply was "… Any aid which the state of Massachusetts may afford to the United States to meet these expenditures, will be cheerfully received, and applied to the payment and support of the militia of that state in the service of the United States. It will be proper that the money thus advanced should be deposited in some bank in Boston, at hat the disbursement of it may be made under the authority of the government of the United States as in similar cases elsewhere. Credit will be given to the state for such advance and the amount be considered as a loan to the United States…"
~The Traveler