May 6, 2019 by GuyHeilenman · Leave a Comment
"Equal Rights" – Within the United States, it is easy to think the struggle for equality based on race, gender and/or socioeconomic status was, and in certain areas continues to be, one placed on the shoulders of only Blacks and Women. However, it doesn't take too much digging to see this was not the case. I was reminded of this reality when I recently came across a December 19, 1818 issue of the Niles'  Weekly Register. Therein I found a heading titled "Maryland legislature," which included in part, "…A committee was appointed to bring in a bill to extend the same civil privileges to persons professing the Jewish religion as are enjoyed by those of any other religious sect…".

As a bit of history, In 1776 Maryland's constitution safely protected "…all persons professing the Christian religion…" yet said nothing at all for those of other beliefs. It was a fact not widely known among other Americans that in the State of Maryland, and in Maryland alone, a citizen professing the Jewish religion could not hold any office, civil or military. In 1797 Solomon Etting, Baltimore leader and representative Jewish figure, along with other prominent Jews petitioned the Maryland Assembly to address this prejudicial issue and secure equal rights for Jews. The petition was well received but ultimately rejected. Year after year as it was presented and turned down new advocates were enlisted including influential Gentiles. In 1818 Judge H. M. Brackenridge and others began a vigorous battle to right this wrong. The legislation ultimately to be known as "The Jew Bill" was enfranchised in 1825 and confirmed the following year. This change, along with a series of others, helped motivate many Jewish citizens to participate, from a position of privilege, in the early suffrage movement.
Regarding State and National Constitutions… Our fore(parents) may not have gotten everything right, but thankfully, in most cases, they had the foresight to created peaceful paths for change. Peaceful progress, using the proper channels the framers built within these founding documents, may take entirely too long, but staying within the given bounds has served us well over time. There is, and will likely always be much to be done, but we live in a marvelous land of progress. Let's never let the need for pruning and continued growth ever cause us to hack away at the roots.
May 3, 2019 by Stephanie Williams · Leave a Comment
This week I learned a bit more about major stories that were not covered by news outlets, as well as events and people for whom fame was achieved through failure.
Lindbergh's flight and the details of his life were a big deal in the world of newspapers. Like Amelia Earhart, many chronicles exist of the events leading up to and including his famous flight path. And those are very popular issues with experienced and novice collectors alike. I enjoy the perspective through the eyes of the reporters of the time – and all of the details on which they chose to focus.
Interestingly, Lindbergh's renowned success was rivaled by the widely reported failure of Douglas "Wrong Way" Corrigan, who flew to Ireland instead of the return trip to California he had logged in his flight plan. Further research suggests that Corrigan had been denied permission for that "accidental flight" multiple times. My personal opinion is heavily influenced by the photographs I could find which certainly seem to portray the grin of a fellow intent on breaking at least a few rules.
Papers that cover the Chicago Fire of 1871 describe the destruction, the casualties, and even the investigation into Mrs. O'Leary, whose cow is the stuff of campfire songs. The latter made me laugh, as I have always assumed it to be a fictitious rhyme. However, it becomes oddly real when a full column asserts Mr. O'Leary's adamant claim that the cow was not his, but his wife's, and he was sleeping at the time of the fire.
Strangely, there is little popular knowledge of fire that burned Peshtigo, Wisconsin, and much of the surrounding area on the same day. It far surpassed the damage to Chicago and is potentially the "deadliest fire in American history". Two papers, "Peshtigo Times" and the "Green Bay Advocate" appear to have covered it, but the 1500-2500 deaths so far eclipse the three hundred or so that perished in Chicago I am perplexed by the scant notice.
What makes a story newsworthy? In this day of the "24-hour news cycle", I relish this week's pause to consider that "truth" has always been in the hands of the publishing houses. Since earliest printings, someone has decided what to tell the general public. The best thing about accessing old newspapers is that each reader can at least verify what was being reported, rather than relying on a current interpretation or paraphrase.
Aldous Huxley said, "Facts don't cease to exist because they are ignored." But what about the facts that no one knows?
April 30, 2019 by GuyHeilenman · Leave a Comment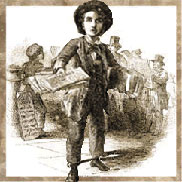 Catalog 282
(for May) is now available. This latest offering of authentic newspapers
is comprised of over 300 new items, a selection which includes:
a set of "National Intelligencers" on the Dred Scott Case, Washington's inaugural (with an eye-witness account), a 1775 "Virginia Gazette" from Williamsburg, the very rare "Daily Rebel" from Chattanooga, a Broadside "Extra" announcing Lincoln's assassination, a 1755 "Maryland Gazette" (quite rare)
, and more.
The following links are designed to help you explore this latest edition of our catalog:
Don't forget about this month's DISCOUNTED ISSUES.
(The catalog links above will redirect to the latest catalog in approx. 30 days, upon which time it will update to the most recent catalog.)
April 23, 2019 by GuyHeilenman · Leave a Comment
Overusing words and phrases is not merely a 21st century phenomenon. In 1937, Wilfred J. Funk, renowned author, poet, lexicographer, and publisher, took a pause from his responsibilities as the President of Funk and Wagnalls to formulate a list of the "most overworked words." While Howard Hughes, Amelia Earhart, Adolf Hitler and Seabiscuit were capturing the headlines, the publishers of the Springfield Union (MA) managed to find a bit of front page print-space to post his list in their March 27, 1937 issue. Enjoy.
April 19, 2019 by Stephanie Williams · 1 Comment
Since my entries are personal perspective, and this is a significant week in the Christian calendar, my post carries a tinge of my own religious convictions.  Please skip reading if such things offend you.  After today I'll endeavor to quash my worldview until a similar time next year…
There are newspapers inventoried in this facility that are so old they preceded the term, and are referred to by those in the know as a newsbook or a "coronto".  At least, that is my sketchy understanding.  This week I am thinking about things that have survived generations, inventions, wars and cosmic changes.  The listing that caught my eye was a title from 1629, banned in 1632 –but then given special license to continue six years later.  Wikipedia says, "In 1638 they were granted a patent from King Charles I for the publication of news and history, in return for a £10 annual donation toward the upkeep of St. Paul's Cathedral…"  And, of course, I wanted to see this for myself.  The small volume sold in 2015, just days after it was made available, but I was able to find a German newsbook from 1607 that I could look at. It wasn't in a vault, but neatly cataloged and filed with all the other items in the seventeenth century inventory.  There are so many treasures, I suppose a vault would have to be the size of a warehouse — which indeed it is.  AUSSFUHRLICHER BERICHT was accessible, and I was able to pull the folder, open it on a surface, and even lift the clear archival cover in order to take a photograph without the obstruction of a reflected glare.  Not many people have the privilege of holding a publication that is over four hundred years old, and I know myself to be ridiculously undeserving.
But this week Paris has superimposed itself on my mental wanderings.  As for much of the western world, images of flames engulfing an icon that has stood for eight hundred years are incomprehensible.  At a certain point old things seem to become everlasting.  Particularly, stone cathedrals are expected to survive history itself.  Invasion, famine, revolution and disease have moved around that block work for nearly a millennium.  But we have records here at History's Newsstand of many seemingly immovable things that have eventually yielded, and those accounts are interspersed with all the common themes of humanity that seem unhampered by the passage of time.
This is the week that Notre Dame burned.  It is also the week before Easter — the darkness and mourning of "Good Friday" so closely  followed by the joyful resurrection of Easter Sunday.
There is destruction and devastation, but there is also redemption.  It's the common cycle of the accounts told within these pages of history that are so neatly sorted, labeled, and shelved for retrieval.   Obituaries and birth announcements.  Demolitions and groundbreakings.  Political structures that rise and fall, and new ones that rise again.
"A time to every purpose under heaven."
Brokenness and healing.
April 12, 2019 by GuyHeilenman · Leave a Comment
The Springfield Union (MA), dated March 10, 1937, has the complete text of Franklin D. Roosevelt's Fireside Chat in which he defends his rationale for "packing" the Supreme Court. As we stand at the brink of perhaps yet another similar moment in American political history, it is timely to consider his thinking – in his own words, and thanks to the editors of The Springfield Union, they put it in print. Enjoy.
April 8, 2019 by GuyHeilenman · Leave a Comment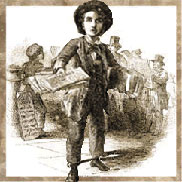 Catalog 281
(for April) is now available. This latest offering of authentic newspapers
is comprised of over 300 new items, a selection which includes:
a Virginia newspaper with the Suffolk Resolves, the Fugitive Slave Act (in a Washington, D.C. newspaper), a Butter & Bourne newsbook from 1632, a Great Stock Market Crash issue of the New York Times, the famous "Dewey Defeats Truman" headline, a Great Battle of Gettysburg report
, and more.
The following links are designed to help you explore this latest edition of our catalog:
Don't forget about this month's DISCOUNTED ISSUES.
(The catalog links above will redirect to the latest catalog in approx. 30 days, upon which time it will update to the most recent catalog.)
April 5, 2019 by Stephanie Williams · 2 Comments
Perhaps the most significant thing I have learned in my weeks here is that I don't know much.  And, as that sinks in I feel an urgency to get to work, because there is so much lost ground to cover!  Even if Time stopped right now, it's too late to catch up on the designations within mechanics, medicine, entertainment, science, culture, and everything else.  Yet, I am optimistic of gaining a bit of yardage as I spend my days
surrounded by thin slices of information, accumulated at such quantities that facts could be (by someone math-minded) measured in cubic feet.
"What kinds of things are collectors searching?"  That was my early question, and I see now how gracious everyone was with their oft-repeated, non-committal replies.
People are looking for issues concerning as varied a range of topics or content as there are human beings. Early motorcycle polo matches had me perched fifteen feet skyward, balancing five volumes — each of which is half my height and wider than I can put my arms around.  The issue I was seeking had some key content of wide appeal:  Capone and his gang.
Mobsters are popular.  So are serial killers and crime sprees.  I skipped right over the portions of The Devil in the White City that dealt with the monster Henry Howard Holmes, and was instead caught up in the achievements of the human mind as exhibited in the Chicago World Fair.  Here in our annals we have issues of Scientific American that feature Thomas Edison's inventions, as well as multiple innovations of the 19th century — some of which were presented at that 1893 event!  My mental censorship was so complete that I forgot  the gruesome killings described in Erik Larson's book altogether.  But many people, for a myriad of reasons, are fascinated by details of historical mayhem.  Bonnie and Clyde, John Dillinger and Jesse James' headlines still hold mass appeal.
But in this case, the Detroit Free Press of 1928 contained something more valuable to some than the headline "Capone Pal Slain".  The back page photograph of a group from Yonkers was the treasure I unearthed for a research request.  Scheduled to ship today, that paper will replace a photocopy in a transportation museum — which seems a very appropriate destination for a Michigan publication.
Motorcycles, motion pictures, mobsters, and murder…those are a few things that interest collectors, and after this week things of which I now know a very little bit more.
Post Script:  And, as I was reminded by email, there is a world to observe beyond the "m" words — including last week's glance at suffrage.  -SRW
March 29, 2019 by Stephanie Williams · Leave a Comment
This week I decided to spend some of my hard-earned money on an old (& rare) publication.  I'd already processed searches for sports figures and jazz singers and mobsters and indentured servants — so many interests that whizzed past me as I was busy with phone calls and emails and web orders.  The only way I could think to appease my conscience about taking a pause to look around a little bit for myself was to become a customer.  There is an entire collection — shelves of bound volumes — of publications by women.  I want to dig through and "see what's what", as my grandmother always said.  But that would probably take more research time just orientating myself than I feel easy about spending.  Still, that inclination narrowed the scope of this first quest a bit, and a search through notable dates in history led me to the NYC women's suffrage march of 1912.
"THE REMARKABLE DEMONSTRATION IN NEW YORK LAST WEEK WHEN 15,000 WOMEN OF ALL STATIONS IN LIFE MARCHED THROUGH THE STREETS OF THE METROPOLIS TO EXPRESS THEIR DEMAND FOR THE VOTE".  The headline itself seems shocked by the occurrence, with subsequent captions numbering the onlookers at 500,000.  It's a grand photo spread highlighting the oldest, the youngest, and crediting 619 men with "heroically joining their womenfolk upon the march."  This is the purchase for me.
The Women's Suffrage movement is just one of the stories for justice and equality well documented through historic publications.  Whether an account of invention, discovery, narrative or relationship, these papers are jam-packed with the details of the human experience.  Sometimes there is an encouraging perspective of what we've learned and how we've grown.  One hundred years after the push began, the 19th Amendment granted women the right to vote.  But, this week I also found an eyewitness account of mob riots in Baltimore — including casualty listings — from  1812.  Evidently, much remains to be learned.
My selection (Harper's Weekly, May 11, 1912) was on the very top shelf, stacked tightly and bound into a volume with Titanic events and many illustrations of William Taft.  I chose an issue with a damaged front cover since I am not very interested in then Chairman of the House Judiciary Committee "…whose proposed amendment to the Constitution will limit the President's tenure of office to one term of six years."
The cover price of 10 cents doesn't hold, but since the average age-expectancy has drastically increased as well, it's a modest expenditure.  Taking it home with me, opening it up, and dawdling over the columns as much as I like, seems an indulgent treat.  I might even ask the shipping department if they will package it for me…
March 26, 2019 by GuyHeilenman · Leave a Comment
You may already know U.S. elections and inaugurations have always fascinated citizens of the United States – which is probably typical throughout the world, but Did You Know the reporting of these historic moments within newspapers has traditionally been quite extensive, with most issues containing multiple articles surrounding these events – often including the entire text of the winner's election and inauguration speeches? Many of these are available through our regular website, RareNewspapers.com. We've arranged these in chronological order for readers/explorers to enjoy: Inaugurations and Elections