March 8, 2019 by Stephanie Williams · Leave a Comment
I had begun to think that interest in my little contribution to this blog was waning enough that I would be able to slip right past the post in which I had promised to elucidate my multiple disasters.
Most of the veteran collectors ask for Guy, and yesterday I had to answer that Guy was not available, could I possibly be of any help?  Just before I completed a phone call with Mr. W., he asked me (in the classic gentlemanly manner of many from the southwestern states) for a preview.  Of my calamities.
And so, with a nod toward Arizona, I am sitting down to recount a few of my more unfortunate escapades.  I have called the same person with the same information twice, and neglected ever calling an important other. Through the first ten days I went fuzzy every time I needed to pull a title and date because I couldn't even begin to locate the identifiers amidst all the fancy, scrolly banner headings. But many such moments were never known to any of the rare newspaper community because the group of people here at Timothy Hughes is absolutely splendid, and they countered most of them before anyone even noticed. I sent the skylift up to the shelf under the roofline, lowered it, maneuvered the 20' row and parked. I was back at my desk before someone casually reminded me that the unwieldy volume had to be returned to the same location. Friday I answered the phone, forgot the business name, and then just began to laugh — because what else could I do?  It's hard to be new, but it's downright ironic in a place so full of old things. Surely the papers yield evidence that I am not, by far, alone in my muddles.
Still, the most colossal so far — including my omission of eBay tracking numbers, which potentially plummeted our heretofore stellar ratings — was the rare paper that I sold to two different people. In case you were wondering, there was only one. We didn't have a second issue anywhere in the roughly 12,000 searchable square feet. I don't know enough to help with the hunt, but everyone capable tried any space or collection that could possibly contain this gem. And, remarkably, they looked at me with something akin to regret when each location had been exhausted. Somehow, to their chagrin, they had not saved me from my own folly.
Mercifully, the fellow that I had previously introduced to the paper (I  used the word "stunning" as I described it to him) was very gracious when I called.  But in all sincerity, while I seldom make the same error too many times, I am working to meld all this newness into the well-oiled machine that is Timothy Hughes Rare & Early Newspapers …without excessive further ado.
So, if Guy isn't available, one of these days I really will be able to help.
March 4, 2019 by GuyHeilenman · Leave a Comment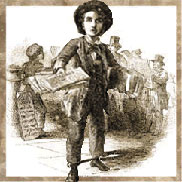 Catalog 280
(for March) is now available. This latest offering of authentic newspapers
is comprised of over 300 new items, a selection which includes:
a 'Boston News-Letter' (1740), a 'Virginia Gazette' from Williamsburg (1775), a first report of Lincoln's assassination, a San Francisco newspaper on the 1906 earthquake, a great slave ship print from 1860, a rare Civil War magazine: 'Soldier's Casket'
, and more.
The following links are designed to help you explore this latest edition of our catalog:
Don't forget about this month's DISCOUNTED ISSUES.
(The catalog links above will redirect to the latest catalog in approx. 30 days, upon which time it will update to the most recent catalog.)
March 1, 2019 by Stephanie Williams · 2 Comments
These last few days have been highlighted by fascinating rare newspaper excursions that touched on Johnny Appleseed and hot air balloons and genealogy searches and gold ink newspaper editions and even "mourning rules" (a post-worthy ramble in itself).  As this week closes, I find myself musing on all things literary.
I recall my first encounter with Walt Whitman's poetry as being somewhat controversial.  Compiling an anthology for a sixth grade project I stumbled across "Song of Myself" and laboriously copied it out onto its own page — carefully fitting text to margins and indents that defined, despite lackluster rhyme or rhythm scheme.  Abruptly, I was the focus of adults pontificating on the perils of the modern age and the coming doom symbolized by artists throwing off established norms and strictures.  In college, I was perplexed to find that Whitman wrote his grieving "Lilacs" four months after the eloquently detailed sixteen hundred mile funeral procession for Abraham Lincoln.  From all the squawking, I had assumed the poet lived in my time, or my parents' time — not contemporaneously with the sixteenth president.  I'm keen on Frost and Dickinson and Oliver and all the greats, but Whitman broke the lingering nursery rhyme cadence of Robert Louis Stevenson with a clear voice of plain-speaking, beauty filled, heartwrenching truth.  And so, with ten minutes of unscheduled time this week, I delved into the directories of perhaps the largest Civil War newspaper collection in the world, to see what we might have within our archives.  Three years after Lincoln's assassination, the popular New York Herald was the first to publish the words  "…to all cut off before their time, Possess'd by some great spirit of fire Quenched by an early death."   It is signed in block type, "WALT WHITMAN".  And, yesterday, I held it in my very own 21st century hands, looking at this poem irreverently  sandwiched between complaints against Kansas senators and the connection of the Minneapolis/Montreal railroad.  In 1888 Walt Whitman's words were taken at face value, distinct from any of the acclamation or aspersion that would come with the passage of time.  Reading them, this way, is a little bit like traveling back two hundred years to look at things from a completely different view.  Many of you who call or email or write or browse online in search of particular subjects, dates and people are reaching for the insight from the immediate context of newsprint columns, to hear what was once merely words in print, chronicling the events of the day.
At any rate, no one can live by poetry alone, so next Friday I am honor bound to tell you of one or two colossal mistakes I have made, and balance this week's ponderous tone with a humorous tale or two.  Things around here are often funny and deep — a little bit like those old, modern poets.
February 25, 2019 by GuyHeilenman · Leave a Comment
Few nations can boast of a peaceful trek from being a slave state (at least in part) to the enslaved people-group holding the highest position in the very land that had once enslaved their ancestors. Whereas there is still much work to be done, the United States' governmental structure allows, and even promotes such progress. Since much of these historic events were put in print, the link below is able to provide a chronology of many of the highlights of this amazing, albeit bumpy road. Since the link only provides a snapshot of each issue's content, in order to view the related coverage you may need to click on the item number of several in order to view the item's full description.
Note: While perusing the issues shown in the link above, one might wonder why a link to a chronology of "Black Americana" issues includes those from outside the United States. Answer? Life rarely happens in a vacuum – and this is equally true with the trek shown above. Both the related tragedies, atrocities,  and eventual progress which transpired outside the U.S. were often foundational in the thinking of those within. As a result, they have been included.
February 22, 2019 by Stephanie Williams · 5 Comments
For the next day and a half I've been left in charge of a small portion of things in the Rare and Early Newspapers world, which must mean I'm learning something.  Still, I am going to rattle off this week's post between all the responsibilities as I am fiercely resolved to not let anyone down.  If you're disappointed with my submission, please check in again next Friday when I have a little more time to reflect.  But I do want to take a momentary glance at this recent week before it is forgotten in the next discovery.
Requests for birthday papers are a regular occurrence here, and it's a good excuse to go hunting in the racks, exploring the mazes of columns and rows.  To me, the best thing about searching for these issues is that they frequently hold a hitherto unknown element that increases the value beyond "a regular NYT from 1959".  However, I am learning that content is in the eye of the beholder.  Yesterday I climbed and crouched (and crawled at one point) pulling every volume that might still contain the specified date.  When at last I laid it flat on one of the twenty(?) portable viewing surfaces, I felt a surge of confidence that I had found something exceptional and I cornered the closest newspaper veteran to verify my discovery.  "Winston Churchill," I pronounced, "shaking hands with Harry Truman, on the front page above the fold.  Is that special content?"
It turns out that it was not.  It turns out Churchill and Truman were "getting together like that all the time."  Those were the very words used to burst my bubble and I couldn't help wondering a bit about these giants of recent history — one with an abrupt ascension to the highest office in the land, and the other whose stirring oratory inspired hope in hopeless times — who were nevertheless real people with routines and commonplace interactions and details of living, even as they went about setting their mark on everything that came after.  Newspapers are crammed to bursting with so many important people, so many consequential events and so many seemingly insignificant things, as well.   Regular treasure hunters already know this; the novices might just discover it in a birthday paper.  At any rate, this week I learned that there are at least two quests involved when I head out into the rows, coordinates in hand: the thing I know I am looking for, and the thing I didn't expect to find.
I hope today you uncover a bit of treasure yourself.
February 18, 2019 by GuyHeilenman · Leave a Comment
The following snapshot comes from the  Chicago Sunday Tribune, January 13, 1946. Does Apple pay Dick Tracy's estate royalties?
February 15, 2019 by Stephanie Williams · 10 Comments
It's a daunting world — Rare & Early Newspapers — and at first it can feel like being in a foreign country, overhearing a few words that sound familiar in a vague sort of way.  At least, that's my sense.  But I suspect it appeared that way to many collectors at the beginning.  With that in mind, my plan is to share some of my observations, discoveries and even mistakes over the coming weeks, months and years as I learn to navigate this universe of newsprint.  If you have never even held an old paper, much less thought to purchase one, perhaps my adventures will pique your own interest and you'll find yourself browsing the titles and descriptions of the details of life in a bygone era.  Having "met" a few of you veteran collectors and scholars, I suspect you might enjoy a little reminder of the early days when you turned that first purchase over in your hand, skimmed the columns, and then settled in for a read.
I began and then discarded multiple versions of this initial post — there's no way to convey the immensity of standing in a treasure trove that is more than three times my height, wider than my house, and filled with papers.  Without moving my feet I can examine the headlines from Harper's, published every Saturday in the first half of 1869.  1869.  That is not a misprint!  The proper title is "Harper's Weekly", subtitled "A Journal of Civilization".   It is astounding that one hundred and fifty years after these rolled off the printing press, were cut and bundled and delivered to 100,000 people living in a completely different world (regardless of our shared geographical location), I am able to hold an original issue in my hands.  It's a rag paper, so the pages can be turned without any fear of damaging it.  I verified this before opening an issue; gloves aren't even required.  The details of manners and battles and grocers and treasury debt emerge and bring the inevitable conclusion.  Life in a different time –even with dramatically changed fashions, altered lifestyles, and varied circumstances– is still life.  Civilization is after all the story of people.  Sometimes it's seen in broad strokes, sometimes in classified advertisements.  I found the following in an 1861 publication, "When families send for 'Lea & Perrin's Worcestershire Sauce', observe if it is the genuine JOHN DUNCAN & SONS…"   I am amazed the condiment has been around so long (and wonder, who was making fake Lea & Perrin's Worcestershire Sauce?).  Others might be more interested in the 15″ map of Major-General McClellan's Operations Along The Potomac.
Anyway, the Harper's Weeklies section is a good place to stand and introduce myself and tell you I am privileged to be here.  Please check in and see the "progress" part of my experience.  Also, tell me what I should look for if you've been around a while.  And if you're new, feel free to ask any questions.  If I don't have the answer (which is likely, as I am new here) I have recently met some brilliant people who probably do.
Stephanie
December 20, 2018 by GuyHeilenman · Leave a Comment
Question: What do you get when you cross The Chicago Tribune with "The Crime of the Century"?
The Chicago Tribune, self-described as "The World's Greatest Newspaper," earned a reputation for having dramatic, timely headlines. In this regards, they are perhaps 2nd to none. However, they are also well-known for what may very well be the greatest mistake in front-page headline news: "DEWEY DEFEATS TRUMAN." While certainly the most recognized, it was not the Chicago Tribune's 1st major faux pa. Approximately 16 years earlier, in an effort to be at the forefront of breaking news in regards to "The Crime of the Century," they printed the dramatic headline: "REPORT 'LINDY BABY HOME'." Sadly this would prove to be a false, unsubstantiated report (aka, "fake news") – as the Lindbergh baby would be found dead a little more than a month later. It sure goes to show how even the "best of the best" can make mistakes – a good lesson in humility for all of us.
December 13, 2018 by GuyHeilenman · Leave a Comment
The following snapshot comes from The New York Times dated December 14, 1918. This week marks the 100th anniversary of Woodrow Wilson becoming the 1st U.S. President to walk the shores of Europe while still in office. It is hard to believe it took 1  1/4 centuries for this to occur.
December 10, 2018 by GuyHeilenman · Leave a Comment
The following snapshot comes from The Chicago Daily Tribune dated November 21, 1928. If only they knew what was to come in less than a year, perhaps many would not have counted their chickens before they hatched.