November 1, 2016 by GuyHeilenman · Leave a Comment
Catalog 252 is now available. This latest offering of authentic newspapers is comprised of more than 350 new items. Some of the noteworthy content includes: Zenger's New York Weekly Journal from 1734, King of England declares war against the American colonies, the Oxford Gazette from 1665, the Gettysburg Address in a military newspaper, Washington's Farewell Address, a Map of the Battle of Long Island from 1776, and more. Key items which include the remaining items from the above may be viewed at: Noteworthy Catalog 252
Whereas the entire catalog is shown at Catalog 252, the following links are intended to aid in quickly finding items from the catalog based on era:
1500-1799 (full view OR quick-scan "compact" view)
1800-1899 (full view OR quick-scan "compact" view)
1900-2015 (full view OR quick-scan "compact" view)
To view items from both the current and the previous catalog, go to: Combined Catalogs
October 3, 2016 by GuyHeilenman · Leave a Comment
September 22, 2016 by GuyHeilenman · Leave a Comment
Collectible Revolutionary War Era Newspapers
"History is never more fascinating than when it's read from the day it was first reported."
First-hand Accounts of the American Revolution
What is now American history was once current news. Revolutionary War newspapers produced daily reports mentioning political leaders such as George Washington, Thomas Jefferson, Benjamin Franklin, John Adams, John Hancock, plus military leaders (both American & British) including Gates, Gage, Carleton, Howe, Clinton, John Paul Jones, Burgoyne, and the infamous traitor, Benedict Arnold, along with other noteworthy names, such as Paul Revere and Thomas Paine.
Follow The Stuggle Against Tyranny
We offer an opportunity to own complete, genuine newspapers from the era of America's founding fathers. Read first-hand battle reports from including Lexington & Concord, Bunker Hill, Saratoga, Ticonderoga, and Valley Forge. Immerse yourself in significant political events, such as the Declaration of Independence, the "Causes and Necessity for Taking Up Arms," Articles of Confederation, the Stamp Act, and other historical happenings. Read of soldiers protecting the liberty of their families; the British taking over our prized cities of Boston, Philadelphia, and New York; and the struggle of the 13 colonies as they fought to be freed from the tyranny of British rule and taxation.
The Relationship Between Great Britain and the Colonies
It's always interesting to get a glimpse into how the British newspapers reported news about "her charter colonies in America." The London Chronicle published some terrific content on that topic in April 1774, and another article about taxing the American colonies containing the quote: "Might not America, under tax masters thus interested in their oppression, be deemed in a state of abject slavery?"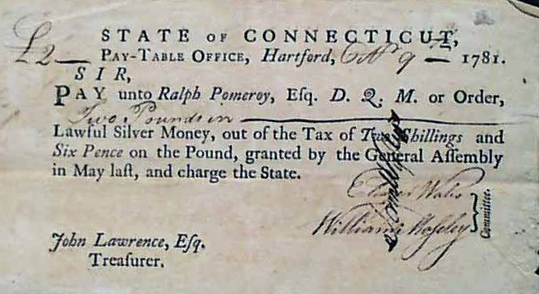 Hold History in Your Hands
It comes as a surprise to many that newspapers from the Revolutionary War that are 200-plus years-old are available for purchase, and are reasonable priced and well preserved. The reason that 18th century newspapers have held up so well is mostly because they were printed on durable rag linen. Rag linen was a common type of paper that was made from pulping linen rags often from ship sails or clothing.
September 8, 2016 by GuyHeilenman · Leave a Comment
Catalog 250 is now available. This latest offering of authentic newspapers is comprised of nearly 350 new items. Some of the noteworthy content includes: a printing of the Constitution of the United States, an issue of The Royal Gazette from Charleston (1782), a 1659 newsbook we've never offered before, Winslow Homer's famous "Snap The Ship", an issue with the British response to the Declaration of Independence, coverage of Cornwallis surrenders at Yorktown, and more. Key items which include the remaining items from the above may be viewed at: Noteworthy Catalog 250
Whereas the entire catalog is shown at Catalog 250, the following links are intended to aid in quickly finding items from the catalog based on era:
• 1500-1799 (full view OR quick-scan "compact" view)
• 1800-1899 (full view OR quick-scan "compact" view)
• 1900-2015 (full view OR quick-scan "compact" view)
To view items from both the current and the previous catalog, go to: Combined Catalogs
September 1, 2016 by GuyHeilenman · Leave a Comment
August 4, 2016 by GuyHeilenman · Leave a Comment
November 9, 2015 by TimHughes · Leave a Comment
"Newsbooks" from Europe, those small pamphlet-looking periodicals which were the predecessors of today's newspapers, have always been difficult to find. But rarely have we had a more intriguing issue than one recently added to our inventory, and its the back story which makes it interesting.
Rather than one, we have secured  two issues of the "Mecurius Aulicus"newsbook, both of the same date, "The five and thirtieth Weeke" of 1643, one the "regular" Oxford edition, the other the secretly-printed and exceedingly rare London edition.
This newsbook was created because of the English Civil War during the early 1640's, as a means for the Royalist faction supporting King Charles I to promote their views in Parliament-held London.  It was published in Oxford, the stronghold of Charles I at the time. Any person or any publication promoting the cause of Charles I would not have been welcomed in London.  It was a short-lived publication which began to lose support from 1644 onward as the Royalist losses on the battlefield continued. This Oxford newsbook found it more & more difficult to obtain current news and issues became badly delayed. It finally ceased publication in 1645.
But an intriguing article in Wikipedia adds an interesting tidbit to the history of this publication: "…The Mercurius Aulicus was printed in Oxford, which was at this time the Royalist capital…then smuggled into London where it was sold by local women, often at heavily inflated prices. It was also reprinted on occasion–albeit not necessarily accurately–by local sympathizers in London…".
So as we see, there was also a  secretly-printed edition done in London, with print runs which had to be  exceedingly low. On the rare occasion we have had the opportunity to offer an issue of the Mercurius Aulicus it has always been the Oxford edition. Never have we seen a London edition. Until now.
The photos show the complete text of not only the "regular" Oxford edition but the very rare London edition as well. Comparing the two gives evidence to some subtle differences between them (embellishment at top of front page is different; heading type sizes are different; embellished first letter of ftpg. is different; dated headings on inside pages are different, etc.) Although I am struck but the considerable similarity between the two issues given they were printed on different presses in different cities, put side-by-side several differences are very evident.
Not only is this London edition very rare, but we were fortunate enough to secure the Oxford edition of the same date as well. If ever a pair of same-date newsbooks deserve to be kept together, here it is. A fascinating pair from an intriguing period in British history—and in newspaper history as well.
September 17, 2015 by TimHughes · Leave a Comment
Richard Robinson was a long-time collector of historic newspapers, having begun at the age of 10 in the mid-1940's & continuing  to add to his collection until his passing earlier this year. He was one of a small number of serious
newspaper collectors from that era.
Having grown up in Beverly Hills, California, it is not surprising that a majority of his issues were from the Los Angeles area. Fortunately both the "Herald Express" and the "Examiner" typically used large, "screaming" headlines desired by collectors today. Although he had some issues from the 18th and 19th centuries, the lion's share of his collection was made up with those from the era in which lived. How great it would have been to add to a collection reports on the end of World War II and later by simply paying the 10 cent price at the newsstand!
This front page article in the Feb. 26, 1952 issue of the "Beverly Hills Bulletin" shows him as a 12 year old student when his collection included some 1000 newspapers. At the time of his passing the number had to have grown to 50,000 or more.
In a correspondence with him many years ago I recall him stating that he never paid more than $5 for any newspaper in his collection. Many were simply given to him. He noted as one of his prize editions the famous "Chicago  Daily Tribune" with the "Dewey Defeats Truman" headline, which the Tribune offered to buy back from him for $25. He refused.
September 1, 2015 by GuyHeilenman · Leave a Comment
August 10, 2015 by TimHughes · Leave a Comment
Timothy Hughes Rare & Early Newspapers' focus: The American Antiquarian Society
In celebration of its 20oth anniversary the American Antiquarian Society published a beautiful  exhibition catalog titled "In Pursuit Of A Vision – Two Centuries of Collecting at the American Antiquarian Society". Featured are a fascinating array of books, documents, maps & other paper ephemera, as well as several very rare & unusual newspapers we felt worthy of sharing with our collectors (with permission from the A.A.S.).
180. "Le Bijou", Cincinnati, Ohio, September, 1879
A hobby practiced especially by teenagers, amateur journalism exploded in popularity in the United States following the invention of an inexpensive table-top printing press in 1867. During the 1870s and 1880s, thousands of amateur newspapers were published and liberally exchanged with other amateur journalists around the country. Because of the circumstances under which they were produced, amateur newspapers are becoming of increasing interest to historians, and AAS actively adds to its large collection.
One of the most interesting amateur newspapers at AAS is Le Bijou, edited and published by Herbert A. Clark (ca. 1860-ca. 1924). A great-grandson of Lewis and Clark Expedition leader William Clark, Herbert was born into one of Cincinnati's leading African-American families. His father Peter, an associate of Frederick Douglass, was politically active and instrumental in establishing free public schools for Ohio African-Americans. Le Bijou is notable for its prominent and forthright and advocacy of civil rights, a fight carried over to the Amateur Press Association, which in 1879 elected Clark it's third vice-president over the heated objections of its Southern members. Many withdrew, forming in its stead the secret Amateur Anti-Negro Admission Association. Clark delightedly reported on the controversy in the pages of Le Bijou, which he published from 1878 to 1880. He then moved on to a career as a journalist and publisher of African-American newspapers.