September 22, 2016 by GuyHeilenman · Leave a Comment
Collectible Revolutionary War Era Newspapers
"History is never more fascinating than when it's read from the day it was first reported."
First-hand Accounts of the American Revolution
What is now American history was once current news. Revolutionary War newspapers produced daily reports mentioning political leaders such as George Washington, Thomas Jefferson, Benjamin Franklin, John Adams, John Hancock, plus military leaders (both American & British) including Gates, Gage, Carleton, Howe, Clinton, John Paul Jones, Burgoyne, and the infamous traitor, Benedict Arnold, along with other noteworthy names, such as Paul Revere and Thomas Paine.
Follow The Stuggle Against Tyranny
We offer an opportunity to own complete, genuine newspapers from the era of America's founding fathers. Read first-hand battle reports from including Lexington & Concord, Bunker Hill, Saratoga, Ticonderoga, and Valley Forge. Immerse yourself in significant political events, such as the Declaration of Independence, the "Causes and Necessity for Taking Up Arms," Articles of Confederation, the Stamp Act, and other historical happenings. Read of soldiers protecting the liberty of their families; the British taking over our prized cities of Boston, Philadelphia, and New York; and the struggle of the 13 colonies as they fought to be freed from the tyranny of British rule and taxation.
The Relationship Between Great Britain and the Colonies
It's always interesting to get a glimpse into how the British newspapers reported news about "her charter colonies in America." The London Chronicle published some terrific content on that topic in April 1774, and another article about taxing the American colonies containing the quote: "Might not America, under tax masters thus interested in their oppression, be deemed in a state of abject slavery?"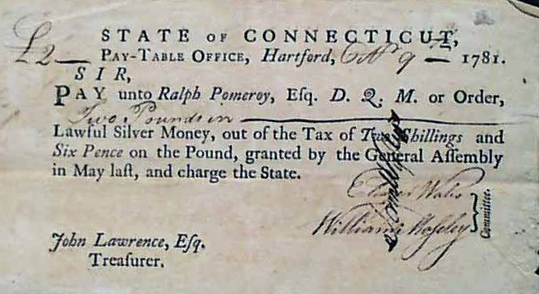 Hold History in Your Hands
It comes as a surprise to many that newspapers from the Revolutionary War that are 200-plus years-old are available for purchase, and are reasonable priced and well preserved. The reason that 18th century newspapers have held up so well is mostly because they were printed on durable rag linen. Rag linen was a common type of paper that was made from pulping linen rags often from ship sails or clothing.
September 15, 2016 by GuyHeilenman · Leave a Comment
Collectible 1600s & 1700s Newspapers
"History is never more fascinating than when it's read from the day it was first reported."
It might not be your first thought, but newspapers from the 1600s and 1700s are very similar content-wise to modern newspapers. Early newspapers contained reports on wars, natural disasters, listed items for sale, and published death notices. Sound familiar? Newspaper content hasn't changed drastically in 300-plus years. It is interesting to read accounts from this era and realize how similar we modern folk are to our ancestors. It seems that people at their core are mostly the same, and to this day, want to read news covering similar topics. That being said, some aspects of newspapers definitely have changed.
What has changed are the dimensions (smaller then, larger now), the number of pages (fewer then), paper quality (higher quality rag linen then), and the format. Newspapers of this period typically had an inflexible format, meaning that if page three was dedicated to foreign news, even if the most amazing foreign event occurred, it would appear on page three, not page one—period.
Due to the time it would take to typeset and print an issue, breaking news of major events would often be printed on a separate sheet called an "Extra" or an "Extraordinary" that was delivered with the daily issue or sometimes was not distributed until the following day.
Much more can be said regarding newspapers from the 1600's and 1700's, but for now, please enjoy the Rare Newspapers dedicated page dedicated to original and historic issues from this era:
September 12, 2016 by TimHughes · 2 Comments
The history of the origin of the name of the "Baby Ruth" candy bar by the Curtis Candy Company is interesting, brought to light recently with our finding the "Frank Leslie's Illustrated" issue of Jan. 5, 1893.  The full front page is an illustration captioned: "Baby Ruth and Her Mother" being the child of President Grover Cleveland. This is the person for whom the "Baby Ruth" candy bar was named, not Babe Ruth the famous baseball star as was popularly though. And the story behind the name is interesting.
In Chicago in 1921 Otto Schnering had a turnaround plan for his Curtis Candy Company. He reformulated his "Kandy Kake" brand confection—a conglomeration of milk chocolate, peanuts and a pudding center "richer than marshmallow, fluffier than nougat, better than either of them"—into a chocolate-covered candy bar with peanuts, caramel and nougat. Along with the new recipe came a new name—Baby Ruth. At first glance, it seemed clear that Schnering had taken advantage of the home run king's well-known name and tweaked it by one letter in order to avoid paying the "Sultan of Swat" any royalties.
Perhaps because of its perceived connection to the Yankee slugger, Baby Ruth was a big success. By 1926, sales of the candy bar totaled $1 million a month, and the company's candy-making facilities were the largest of their kind in the world.
In 1926, Ruth decided to enter the candy business himself and licensed his name to the George H. Ruth Candy Company, which sought to register "Ruth's Home Run Candy" with the U.S. Patent and Trademark Office. Wrappers showed a head shot of a smiling Ruth in his uniform along with the note "Babe Ruth's Own Candy." The Curtiss Candy Company sued for copyright infringement and claimed that the candy bar had not been named after the baseball star, but Ruth Cleveland, eldest daughter of President Grover Cleveland. The explanation seemed odd given that the girl nicknamed "Baby Ruth" by the press had been born in 1891, three decades before the introduction of the candy bar. By 1921, not only was she not a baby, she wasn't even alive, having died of diphtheria in 1904. Newspapers and the American public paid close attention to "Baby Ruth" after her father returned to the White House in 1893 for his second presidential term, but the Clevelands fiercely protected their daughter's privacy and refused repeated requests by American newspapers to take her photograph. Few Americans ever knew what "Baby Ruth" looked like. By 1921, Babe Ruth was a household name while "Baby Ruth," who died 17 years beforehand, was an historical footnote. (credit www.history.com)
Given the above, it is curious that this image of Baby Ruth Cleveland appeared on the front page of this very popular illustrated newspaper. Perhaps it is the only image of her in a newspaper.
September 8, 2016 by GuyHeilenman · Leave a Comment
Catalog 250 is now available. This latest offering of authentic newspapers is comprised of nearly 350 new items. Some of the noteworthy content includes: a printing of the Constitution of the United States, an issue of The Royal Gazette from Charleston (1782), a 1659 newsbook we've never offered before, Winslow Homer's famous "Snap The Ship", an issue with the British response to the Declaration of Independence, coverage of Cornwallis surrenders at Yorktown, and more. Key items which include the remaining items from the above may be viewed at: Noteworthy Catalog 250
Whereas the entire catalog is shown at Catalog 250, the following links are intended to aid in quickly finding items from the catalog based on era:
• 1500-1799 (full view OR quick-scan "compact" view)
• 1800-1899 (full view OR quick-scan "compact" view)
• 1900-2015 (full view OR quick-scan "compact" view)
To view items from both the current and the previous catalog, go to: Combined Catalogs
August 29, 2016 by GuyHeilenman · Leave a Comment
An oldie, but a goodie…
The following post was originally published in 2008:
For a collector of historic American documents as printed in period newspapers a printing of the "Articles of Confederation" would be a very significant issue. With much credit to Wikipedia, the creation & importance of this document provides some fascinating reading:
The Articles of Confederation was the governing constitution of the alliance of thirteen independent and sovereign states known as the "United States of America." The Articles' ratification, proposed in 1777, was completed in 1781, legally uniting the states by agreement into the "United States of America" as a union with a confederation government. Under the Articles (and the succeeding Constitution) the states retained sovereignty over all governmental functions not specifically deputed to the central government.
The last draft of the Articles was written in the summer of 1777 and adopted by the Second Continental Congress on November 15, 1777 in York, Pennsylvania after a year of debate. The Articles set the rules for operations of the "United States" confederation. The confederation was capable of making war, negotiating diplomatic agreements, and resolving issues regarding the western territories; it could not mint coins (each state had its own currency) nor could it borrow money, whether inside or outside the United States. An important element of the Articles was that Article XIII stipulated that "their provisions shall be inviolably observed by every state" and "the Union shall be perpetual".
The Articles were created by the chosen representatives of the states in the Second Continental Congress out of a perceived need to have "a plan of confederacy for securing the freedom, sovereignty, and independence of the United States." Although serving a crucial role in the victory in the American Revolutionary War, a group of "federalists" felt that the Articles lacked provisions for a sufficiently effective government. The key criticism by those who favored a more powerful central state (the federalists) was that the government lacked taxing authority; it had to request funds from the states. Another criticism of the Articles was that they did not strike the right balance between large and small states in the legislative decision making process. Due to its one-state, one-vote structure, the larger states were expected to contribute more but had only one vote. The Articles were replaced by the United States Constitution when created in 1787.
Our issue of the Pennsylvania Ledger dated March 11, 1778 contains the complete printing of the Articles of Confederation. The many photos will allow you to enjoy the significance of the newspaper and to appreciate how those who held this actual edition some 230 years ago might have felt knowing the independent colonies were joining together for a common cause–to not only provide a foundation for a united country which might some day–hopefully–become a world player, but for more immediate purposes, to survive the incursions of the British during the ongoing Revolutionary War. In 1778 no one knew how either effort might turn out.
Enjoy the issue!
August 11, 2016 by The Traveler · 2 Comments
The best headlines need no commentary. Such is the case with the NEW YORK AMERICAN, May 7, 1937: "HINDENBURG EXPLODES AT LAKEHURST; 35 DEAD":
August 8, 2016 by TimHughes · Leave a Comment
In celebration of its 20oth anniversary the American Antiquarian Society published a beautiful  exhibition catalog titled "In Pursuit Of A Vision – Two Centuries of Collecting at the American Antiquarian Society". Featured are a fascinating array of books, documents, maps & other paper ephemera, as well as several very rare & unusual newspapers we felt worthy of sharing with our collectors (with permission from the A.A.S.).
181. "The Kentucky Spy and Porcupine Quill", Frankfort, Kentucky, January 25, 1849
In recent years AAS has actively collected issues of pre-1877 American manuscript periodicals. These handwritten examples mimic printed periodicals in format and content, containing stories, news, and advertisements. Sometimes they were produced by individuals, serving as the manuscript equivalent of amateur newspapers, and sometimes they were issued by small groups. Others were produced as an activity of a school or lyceum.
AAS has held manuscript periodicals since the nineteenth century; but because these were long shelved alongside printed periodicals, they were easily overlooked. In the 1990s AAS staff began to pull them together into a separate collection, in the process discovering not only how many titles were already at AAS, but also the frequency with which they were produced. As it became apparent that the more specimens AAS had, the more they collectively revealed about early American scribal culture, AAS began to seek them actively. The collection now numbers more than sixty titles.
One of the more unusual is "The Kentucky Spy and Porcupine Quill." The masthead claims that it is "Devoted to the science of matrimony, union, wedlock and the ladies." However, the chief story, entitled "Wonderful rumpus in the town of Irvine," is a fictional account, humorous in tone, of a revolt by 5,000 heavily armed slaves which in the story turns out to be a hoax. The editor and contributor(s) are unnamed.
August 4, 2016 by GuyHeilenman · Leave a Comment
What news was reported in the month of August – 50, 100, 150, 200, and 250 years ago (1966, 1916, 1866, 1816, 1766)? Such a walk back through time via the eyes of those who read the daily and weekly newspapers of the period can be quite revealing. This is why we often say, "History is never more fascinating than when it's read from the day it was first reported." The following links will take you back in time to show the available newspapers from the Rare & Early newspapers website. There's no need to buy a thing. Simply enjoy the stroll.
August:

July 28, 2016 by GuyHeilenman · Leave a Comment
TRUE: The Nazis inflicted unspeakable atrocities on millions upon millions of people.
TRUE: Most of the world was shocked as details of the horrors were revealed after the war.
FALSE: The Nazis' agenda was a deep-kept secret.
FALSE: Remaining silent and/or turning a blind eye to evil makes it go away.
How could the Hitler-orchestrated holocaust have happened without the world's knowledge? Since the end of WWII many have distanced themselves from complicity due to inaction. Nations and individuals both often declare they had no idea such atrocities were taking place – stating evidence of Adolph Hitler's extreme intentions were kept under wraps. However, truth be told, the entire world was not unaware of Hitler's desire and willingness to do whatever it took to create a so-called "pure" race. Articles regarding his agenda reached American newspapers as far back as the early 1930's.
This point was recently brought to our attention as we were perusing the New York Times for December 8, 1931. There we found a front page report with the two-column heading: "Nazis' Would Assure Nordic Dominance, Sterilize Some Races, Ban Miscegenation", with considerable details to follow. Perhaps the world didn't realize the extent of the horrors that were occurring, but this article, as well as a score of others, certainly should not have gone unnoticed.
This certainly begs the question: "Are similar atrocities happening today? Are other mass-forms of oppression, brutality, or worse taking place within our reach? We can look away, but a verse from the Bible reminds us: "Remember, it is sin to know what you ought to do and then not do it (James 4:17)." We may put our head in the sand, but we are not without excuse. Hopefully the truth regarding our past mistakes will spur us to proper action today.
July 25, 2016 by TimHughes · Leave a Comment
Although not a poetry aficionado, I am aware that "Leaves Of Grass" by Walt Whitman is considered a seminal work in 19th century literature. So when I stumbled across a small article on page 7 of a New York Tribune issue dated Oct. 10, 1855 I took a moment to read it. Most of the report is taken up with a letter signed in type: R. W. Emerson, so my interest was piqued.
After a number of Google searches I discovered this report to be much more significant that I might have thought.
Although considered highly controversial during his era, "Leaves of Grass" has infiltrated popular culture & been recognized as one of the central works of American poetry. As such, the article is interesting, mentioning in part: "…call the attention of our readers to this original & striking collection of poems, by Mr. Whitman…could not avoid noticing certain faults which seemed to us to be prominent in the work. The following opinion, from a distinguished source, views the matter from a more positive and less critical stand-point:…" and what follows is the famous letter by Ralph Waldo Emerson–who inspired this work by Whitman–in which he comments: "…I find it the most extraordinary piece of wit and wisdom America has yet contributed…I am very happy in reading it, as great power makes us happy…" and even more, signed in type: R. W. Emerson. This original letter is in the Library of Congress.
This letter's appearance in the Tribune would seem to be the only newspaper printing of the time, as records indicate that the: "…letter to Whitman from Ralph Waldo Emerson, 21 July, 1855 is among the most famous letters ever written to an aspiring writer…Without asking Emerson's permission, Whitman gave this private letter to Charles Dana [managing editor of the New York Tribune] for publication in the New York Tribune on October, 1855." (see this hyperlink).