Announcing: Catalog #311 (for October, 2021) is now available…
October 1, 2021 by GuyHeilenman

Email This Post |
Print This Post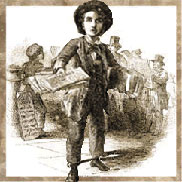 Catalog 311
(for October) is now available. This latest offering of authentic newspapers
is comprised of more than 350 new items, a selection which includes:
the Articles of Confederation, a nice account of Lincoln's assassination, a graphic issue on the sinking of the Titanic, George Washington is elected President, Winslow Homer's famous 'Snap The Whip', Washington crosses the Delaware, an issue almost entirely devoted to the Lincoln assassination (with a print of Booth), the first newspaper published in Alaska (with Seward's speech to the citizens of Sitka), an issue with the iconic Uncle Sam print, a Civil War broadside, the famous Hamilton and Burr duel, the creation of the United States Marine Corps, nice content on Lewis & Clark
, and more.
The following links are designed to help you explore this latest edition of our catalog:
Don't forget about this month's DISCOUNTED ISSUES.
The links above will redirect to the latest catalog in approx. 30 days,
upon which time it will update to the most recent catalog.
If you liked this post, you may also enjoy...
Comments