September 10, 2018 by GuyHeilenman · Leave a Comment
Many are familiar with the Panama Canal and its profound impact on international trade and travel, however, few are aware of the great cost paid – in effort, dollars, and loss of life, in order to bring it to fruition. Still, after decades of suffocating labor, the canal opened in 1914. Trivia buffs may know of the Alexandre La Valley (a floating crane) – which became the first self-propelled vessel to pass from one end to the other , and others are able to recall the United States steamship, Ancon, as being the first large vessel to make the trip.
Trivia Challenge: What about the impact of the canal on military interests? While the intention of the canal was one of peace, which country has the distinction of being the first to have one of its warships pass through the canal? After you've made your best guess, go to the August 18, 1914 Boston Evening Transcript to see if any of you are correct. If so, feel free to brag about your knowledge by contacting me through e-mail. Good luck. To-date, "0" people have guessed correctly.
September 7, 2018 by GuyHeilenman · Leave a Comment
September 3, 2018 by The Traveler · Leave a Comment
Today I journeyed to New York City by way of The New York Times dated September 1, 1918, where I found that the Boston Red Sox had won the American League Pennant. "The Two Rival Managers & Their Shock Troops Primed for the World' Series Clash This Week." "Boston clinched the American League pennant by winning the first game of today's double header from Philadelphia, 6 to 1, with Ruth holding the visitors to three hits… (Babe) Ruth's all around play, including his terrific double to deep centre field, which just missed entering the bleachers, was the feature of the first game."
Babe Ruth would end up being traded to the New York Yankees in December, 1919, in a very controversial trade. This would also be the last World's Series that the Red Sox would win until 2004, sometimes dubbed "The Curse of the Bambino."
~The Traveler
August 31, 2018 by GuyHeilenman · Leave a Comment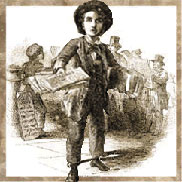 August 23, 2018 by GuyHeilenman · Leave a Comment
The 6th installment of Who's Who in Newspapers:
George Washington, Benjamin Franklin, Alexander Hamilton… Babe Ruth, Jesse Owens, Vince Lombardi… John Wayne, James Dean, Katharine Hepburn – these individuals, among many, are easily recognizable. However, there are quite a few historical figures who, while having adorned the pages of many a newspaper, are far from household names, or, if they are, their connection with historic newspapers might be a bit of a surprise. Such is the case with Karl Marx. While his name is well-known, few are aware he was a foreign correspondent for the New York Tribune before his name became synonymous with socialism and communism.
Feel free to peruse the following chronological list of newspapers to explore his articles, and a few others which were written about him:
August 13, 2018 by GuyHeilenman · Leave a Comment
We recently came across an article in The Farview Echo (an interesting title in and of itself) which caught our attention. It certainly causes one to ponder how many other nursery rhymes and children's songs have roots in historical facts and/or events. Apparently Ring Around the Rosie (Ring a Ring o' Roses) is not the only such ditty with a past. Enjoy.
August 9, 2018 by GuyHeilenman · Leave a Comment
August 2, 2018 by GuyHeilenman · Leave a Comment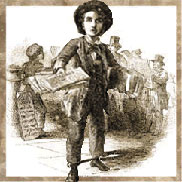 July 30, 2018 by The Traveler · Leave a Comment
Earlier this month I journeyed to New York City by the way of The New York Times of July 15, 1968. There I found "Aaron Clouts No. 500 as Braves Top Giants, 4-2".  "Hank Aaron became the eighth player in major leagues to hit 500 home runs as his three-run wallop in the third inning sparked the Atlanta Braves to a 4-2 victory today over the San Francisco Giants… In the exclusive 500 group are Babe Ruth, who holds the record of 714; Willie Mays, 577; Jimmie Foxx; 534; Mickey Mantle, 529; Ted Williams, 521; Eddie Mathews, 512, and Mel Ott, 511… Aaron, however, still expects to have two or three good years, and most baseball experts predict that he will go over the 600-homer mark…"
On April 8, 1974, Hank Aaron would break Babe Ruth's record when he hit home-run number 715 and hit his final home-run, number 755, on July 20, 1976.
~The Traveler
July 23, 2018 by GuyHeilenman · Leave a Comment