November 28, 2013 by GuyHeilenman · Leave a Comment
Since we are in the midst of the 150 anniversary of the Civil War, we thought some might enjoy exploring the mention of thanksgiving (holiday and otherwise) within CW era issues arranged in chronological order.  The issues may be viewed at:
Thanksgiving through the Civil War
Happy Thanksgiving!
Guy Heilenman
November 25, 2013 by GuyHeilenman · 1 Comment
Fifty years ago today scores of Americans awoke in their William Levitt-style home (or similar), slipped on their robe and slippers, and headed out to their front drive to pick up the morning paper. Within moments they were sipping their cup of coffee as they opened their newspaper to discover that Lee Harvey Oswald, the destroyer of American innocence, had been shot and killed. While the spontaneous emotional reaction of many may have betrayed their parent's Biblically-charged rearing that two wrongs don't make a right, somehow this morning's news never found a way to fill the hole left by the events of just a few days prior – the assassination of JFK… their beloved president. This event was captured well on the front page of the same newspaper which had brought horrific news on November 23, 1963:  Lee Harvey Oswald Shot & Killed
Perhaps someday we'll know the truth behind all that occurred during this infamous week in American history.
November 22, 2013 by The Traveler · Leave a Comment
This week I traveled to Dallas, Texas, via The Dallas Morning News (November 23, 1963). There I found the headline that saddened this great nation, "Kennedy Slain On Dallas Street". One article headline reads "Gray clouds went away – Day Began as Auspiciously As Any in Kennedy's Career" but at half past noon, lives would be forever changed when the first shot from the book depository rang out.
I was in first grade when this occurred, and still remember our custodian, Ralph, knocking on our window and telling my teacher, Miss Snyder, that the President had just been shot. He was on the way to the flagpole to lower it to half mast. Some events will stay vividly with you for a lifetime.
~The Traveler
AS a sidebar… Over the years various lists have circulated comparing Abraham Lincoln and John F. Kennedy. The response to the uncanny similarities provided by Snopes is worth reading:  Snopes on Lincoln/Kennedy Comparison
November 19, 2013 by GuyHeilenman · 1 Comment
"Four score and seven years ago…"
150 years ago this month, President Abraham Lincoln delivered what we now consider to be one of the greatest speeches of all time. Interestingly enough, since 5 different manuscripts exist, there is some disagreement amongst historians concerning what he actually said. Might original newspapers of the day with eye witness accounts provide the answer? If the speech had been long we probably wouldn't have a high degree of confidence in the newspaper reporters' accounts, but the brevity of the speech certainly increases the probability of an accurate transcription. Original reports may not have the definitive answer to this question, but they certainly provide reasonable evidence regarding what was actually spoken. Once again, "History is never more fascinating than when it is read from the day it was first reported."
View Authentic Newspapers with Gettysburg Address Coverage
November 18, 2013 by GuyHeilenman · Leave a Comment
Fifty years ago this week my older sister and I came in from carving Matchbox-car-sized roads through the previously well-manicured turf of our backyard to find our mother staring at the semi-snowy, partially visible screen of our black and white television with tears streaming down her face.  Not being prone to such outward displays of emotion, her anguish screamed to us that something tragic had happened.  This moment was emblazoned in our minds for life… and was reinforced days later when she took us by the hand to lead us on the long trek to the railroad overpass a few miles from our home to peer over the edge to watch a train draped with a flag pass under our feet. President John F. Kennedy was dead!  While at the time my sister and I had no idea whether or not he was a good president (for to a child, all presidents are good), one thing we knew for sure, something vanished from people's eyes which has yet to return – American innocence.
As we reflect on this snap-shot of innocence lost, we wonder where it all began – that is, the overwhelming common-man devotion which inspired many to "Ask not what your country can do for you…".  When did the admiration of the crowd begin? Was it when he was proclaimed a WWII hero as the Captain of PT-109, or did it spring-forth from his impact as a Massachusetts Representative with his first political election victory? While it may be hard to sort out how he had become so beloved, one thing is certain: a split-second in time along a Dallas street changed everything.
Feel free to share your "memory" of November 22, 1963.
To commemorate this historic moment (November 22, 1963), we've assembled a host of "assassination-report" newspapers from all over the country. They are viewable at: JFK Assassination.
November 15, 2013 by TimHughes · Leave a Comment
Always in the search for the most dramatic front page on the John F. Kennedy assassination, this issue of: "The Michigan Daily–Extra" of  Ann Arbor, Nov. 22, 1963 (see below) just might "take the cake".  Have you seen a better front page? Feel free to share.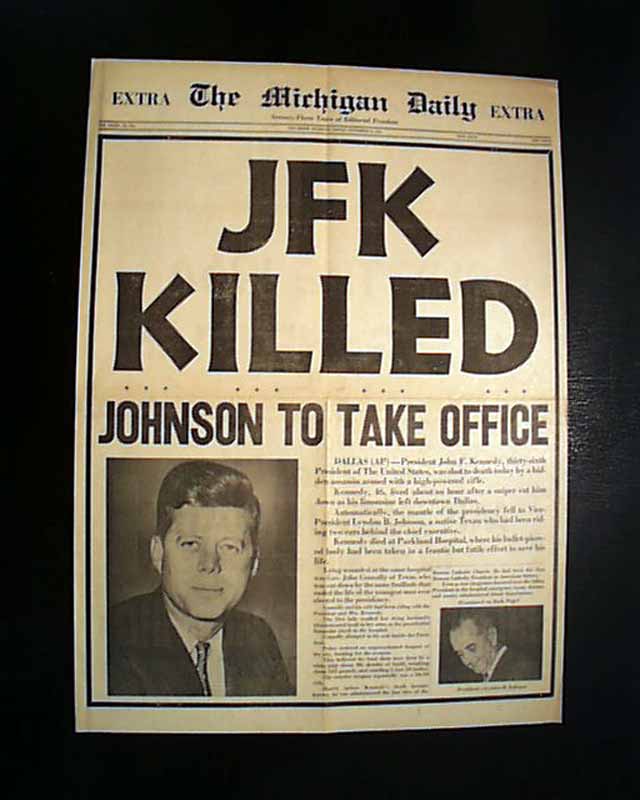 November 11, 2013 by TimHughes · 1 Comment
Although newspapers reporting JFK's assassination were saved by many, one issue which would have no reason to be saved, yet offers some interesting content relating to the assassination, is the "Dallas Morning News" of November 22, 1963. Although it was the day he was assassinated, being a morning newspaper it obviously has no mention of the horrible event, but rather is focused on Kennedy's visit to the city.
The headline reads: "Storm of Political Controversy Swirls Around Kennedy on Visit".  At the bottom of the front page is a map of the: "Presidential Motorcade Route". It also includes the controversial full page notice by the: "The American Fact-Finding Committee" which is very critical of President Kennedy (see photos). This has become a rather well-know–and much desired–report in a period newspaper.
Also of curious interest–and only to be found in a Dallas newspaper–are two inconspicuous advertisements to be found on facing pages inside. One is for the 'Texas" movie theater where Lee Harvey Oswald was arrested (trivia: he was watching the movie "War Is Hell": see photo) and the facing page has an advertisement for the "Carousel", the night club owned & operated by Jack Ruby (see).
Because this issue had no reason to be saved, it is very rare today despite offering some great content relating to John F. Kennedy.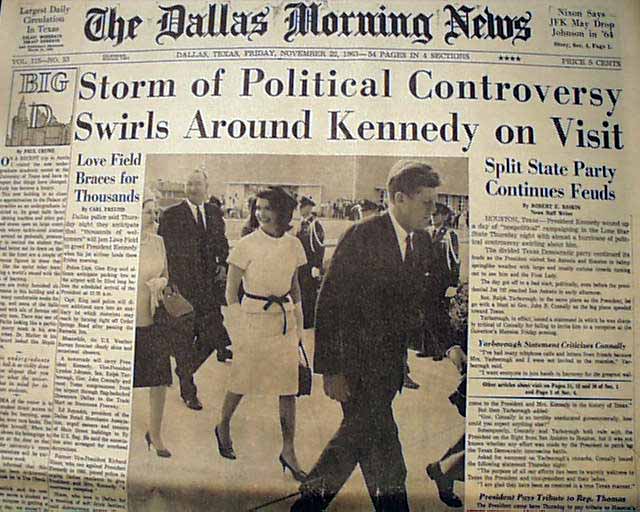 November 8, 2013 by TimHughes · 1 Comment
The "New York Journal American" newspaper of Nov. 22, 1963 did this "Extra" edition reporting Kennedy's assassination. Making this issue a bit of a curiosity is the photo which accompanies the headline, as it shows a smiling Lyndon B. Johnson, a laughing Mrs. Johnson, and a smiling Jackie Kennedy. The photo was almost assuredly planned to accompany another story about their visit to Dallas but that edition was interrupted to quickly produce this "Extra" with the breaking news of the assassination. The photo was not replaced in the haste of getting the edition on the streets, producing this rather bizarre photo/headline combination which gives the appearance of a joyful reaction to the news that JFK had been assassinated.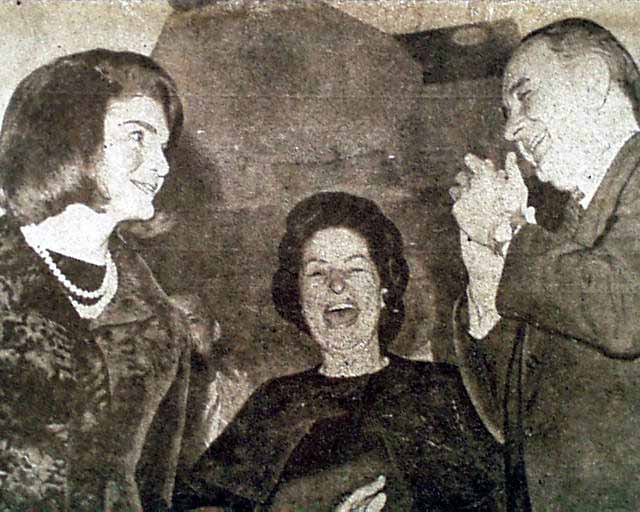 November 4, 2013 by The Traveler · 1 Comment
Today's journey took me to Washington, D.C. via the Daily National Intelligencer (November 4, 1863). There I found an article advertising a new theatre tragedy at Ford's
Theatre entitled "The Robbers" written by a German author. What is most intriguing is find that a cast member that they are applauding is the son of Junius Brutus Booth, John Wilkes Booth "…probably as good an interpreter of its interpreter of its many intricate and difficult portions as could be desired…  Mr. Booth will, as a matter of course, appear as Claude Melnotte, a character which he is admirably suited to sustain, both by personal and mental gifts… those desirous of witnessing the honest and sincere efforts of an aspiring young actor in all of the best acting tragedies should make their arrangements accordingly."
It is hard to image his following appearance on April 14, 1865…
~The Traveler