The newspaper rarely saved…
November 11, 2013 by TimHughes

Email This Post |
Print This Post
Although newspapers reporting JFK's assassination were saved by many, one issue which would have no reason to be saved, yet offers some interesting content relating to the assassination, is the "Dallas Morning News" of November 22, 1963. Although it was the day he was assassinated, being a morning newspaper it obviously has no mention of the horrible event, but rather is focused on Kennedy's visit to the city.
The headline reads: "Storm of Political Controversy Swirls Around Kennedy on Visit".  At the bottom of the front page is a map of the: "Presidential Motorcade Route". It also includes the controversial full page notice by the: "The American Fact-Finding Committee" which is very critical of President Kennedy (see photos). This has become a rather well-know–and much desired–report in a period newspaper.
Also of curious interest–and only to be found in a Dallas newspaper–are two inconspicuous advertisements to be found on facing pages inside. One is for the 'Texas" movie theater where Lee Harvey Oswald was arrested (trivia: he was watching the movie "War Is Hell": see photo) and the facing page has an advertisement for the "Carousel", the night club owned & operated by Jack Ruby (see).
Because this issue had no reason to be saved, it is very rare today despite offering some great content relating to John F. Kennedy.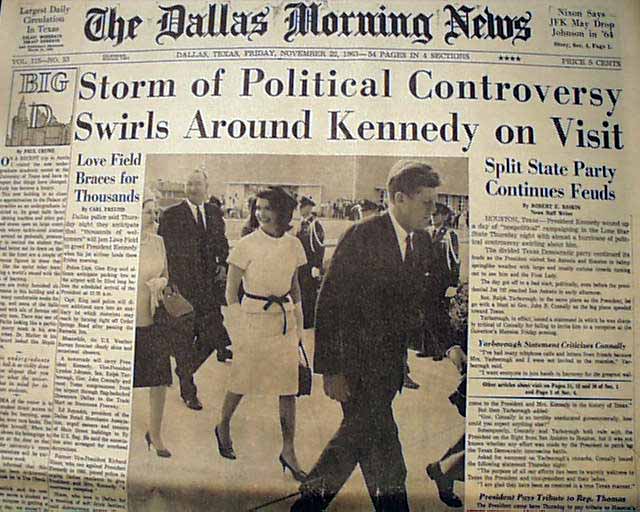 If you liked this post, you may also enjoy...
Comments