October 23, 2017 by TimHughes · Leave a Comment
It seems the polarizing of day's media is greater than ever, but it is certainly nothing new under the sun. Practically since the creation of the first newspaper political opinion was a focus the publisher, supporting or opposing the efforts of those in power. And as popular as we view Abraham Lincoln today (he consistently ranks among the top three in scholarly polls) he was not liked by all during his time in office.
"The World" newspaper from New York City was the leading democratic organ at the time, while Lincoln was a Republican. In their issue of March 6, 1865 which reported his inauguration & inaugural address the editorial page contained at least two biting commentaries.  One includes in part: "It is with a blush of shame and wounded price, as American citizens, that we lay before our readers to-day the inaugural address of President Lincoln…But we cannot hide the dishonor done to the country we love by withholding these documents from publication…The pity of it…that the life of this Chief Magistrate should be made precious to us by the thought that he at least excludes from the most august station in the land the person who defiled our chief council chamber on Saturday with the spewings of a drunken boor…".
The other can be seen in the photos.
July 24, 2017 by TimHughes · Leave a Comment
The "Boston Daily Courier" of May 19, 1864, contains a fascinating sidebar in American history, the printing of a "fake" Lincoln Proclamation which appeared in two New York newspapers but was ultimately determined to be bogus. The "proclamation" is prefaced with a cautioning statement: "The document which made its appearance yesterday, purporting to be a proclamation of President Lincoln, is copied for the information of our readers:", then the full text (see below).
This was a scheme by Joseph Howard, a newspaper journalist and a bit of a prankster throughout his career. Howard and an acquaintance had hoped to make a profit on declining gold prices if news from the front was bad. They acquired the stationery and other items necessary to make it look as if a story had come in on the wires to the headquarters of the Associated Press of New York, the clearing house for official wire stories coming from Washington. They forged the Proclamation from the president, which called for the drafting of an additional 400,000 soldiers, obvious evidence the war wasn't going well. It was delivered to the offices of various New Your newspapers. Only two actually published the story but it caused such that Howard was arrested two days after the story appeared and placed in Prison. He was released on Lincoln's personal order on August 24, 1864.
November 26, 2014 by GuyHeilenman · Leave a Comment
As Thanksgiving rapidly approaches, one is compelled by the overwhelming blessings so many of us experience on a daily basis to consider things for which we are thankful, but often overlook. One such gratitude-producing individual for me is Abraham Lincoln. Was he a perfect man? No. Have many of his flaws been white-washed from history? Yes (I'm counting on the same treatment). However, this does not negate the truth that in my eyes, he was a man for "such a time" as his was. I've always appreciated his writing (whether it be from his own pen or another's makes no difference to me). One of my favorites is:
"I do the very best I know how – the very best I can; and I mean to keep doing so until the end. If the end brings me out all right, then what is said against me won't matter. If the end brings me out wrong, then ten Angles swearing I was right would make no difference at all." Abraham Lincoln
We should all have such strength of conviction in regards to our actions under fire.
A short time ago I came across a letter from him which was printed in a National Intelligencer dated January 27, 1865 that may rival the above. It is his response to a letter received from him from Eliza Gurney, the wife of a recently departed friend. The full text is viewable via the image shown below, with the transcribed text to follow.
Executive Mansion,
Washington, September 4, 1864.
Eliza P. Gurney.
My esteemed friend.
I have not forgotten–probably never shall forget–the very impressive occasion when yourself and friends visited me on a Sabbath forenoon two years ago. Nor has your kind letter, written nearly a year later, ever been forgotten. In all, it has been your purpose to strengthen my reliance on God. I am much indebted to the good Christian people of the country for their constant prayers and consolations; and to no one of them, more than to yourself. The purposes of the Almighty are perfect, and must prevail, though we erring mortals may fail to accurately perceive them in advance. We hoped for a happy termination of this terrible war long before this; but God knows best, and has ruled otherwise. We shall yet acknowledge His wisdom and our own error therein. Meanwhile we must work earnestly in the best light He gives us, trusting that so working still conduces to the great ends He ordains. Surely He intends some great good to follow this mighty convulsion, which no mortal could make, and no mortal could stay.
Your people–the Friends–have had, and are having, a very great trial. On principle, and faith, opposed to both war and oppression, they can only practically oppose oppression by war. In this hard dilemma, some have chosen one horn, and some the other. For those appealing to me on conscientious grounds, I have done, and shall do, the best I could and can, in my own conscience, under my oath to the law. That you believe this I doubt not; and believing it, I shall still receive, for our country and myself, your earnest prayers to our Father in heaven.
Your sincere friend,
A. Lincoln.
So, what are you thankful for?
February 3, 2014 by The Traveler · Leave a Comment
I traveled today to New York City by way of The New York Times dated February 1, 1864. There I found that President Lincoln had just "Ordered, that a draft for five hundred thousand men, to serve for three years or during the war, be made on the 10th day of March next, for the
military service of the Untied States, crediting and deducting therefrom so many as may have been enlisted or drafted into the service prior to the 1st day of March, and not heretofore credited." This is signed in type: ABRAHAM LINCOLN.
Also in the issue is an article with the heading "The Death Bandage of Gen. Walker". "…Lieutenant Drennon… brings with him, hermetically inclosed in glass, the bandage which covered the eye of Gen. William Walker, when he was shot at Truxillo, Honduras…. 'Remnant of the bandage which encircled the brow of Gen. William Walker, who having honorably capitulated to Norvell Salmon, Commander of H.B.M. steamship of war Icarus, was treacherously surrendered to the Honduras authorities, and by the executed on the 12th September, 1860, in the town of Truxillo. Posterity will do justice to their memories. The victim will be deplored while the traitor will be execrated.'  The bandage is thick with gore, full of bullet holes, and is partially burned — the file of executioners standing so close that the discharges set fire to it…" This was to be presented to General Walker's father who resided in Nashville, Tennessee. What an item to be presented with to remember your son…
~The Traveler
November 19, 2013 by GuyHeilenman · 1 Comment
"Four score and seven years ago…"
150 years ago this month, President Abraham Lincoln delivered what we now consider to be one of the greatest speeches of all time. Interestingly enough, since 5 different manuscripts exist, there is some disagreement amongst historians concerning what he actually said. Might original newspapers of the day with eye witness accounts provide the answer? If the speech had been long we probably wouldn't have a high degree of confidence in the newspaper reporters' accounts, but the brevity of the speech certainly increases the probability of an accurate transcription. Original reports may not have the definitive answer to this question, but they certainly provide reasonable evidence regarding what was actually spoken. Once again, "History is never more fascinating than when it is read from the day it was first reported."
View Authentic Newspapers with Gettysburg Address Coverage
October 28, 2013 by TimHughes · Leave a Comment
The photo shows the report in the December 2, 1864 issue of "The Liberator" of Lincoln's very famous & heart-felt letter to a woman who lost five sons in the Civil War. A very sobering report which gives one a small sense of the horror of war not just on the battlefield, but at home as well. This letter has been praised by many as among Lincoln's best works of writing, along with the Gettysburg Address and second inaugural address.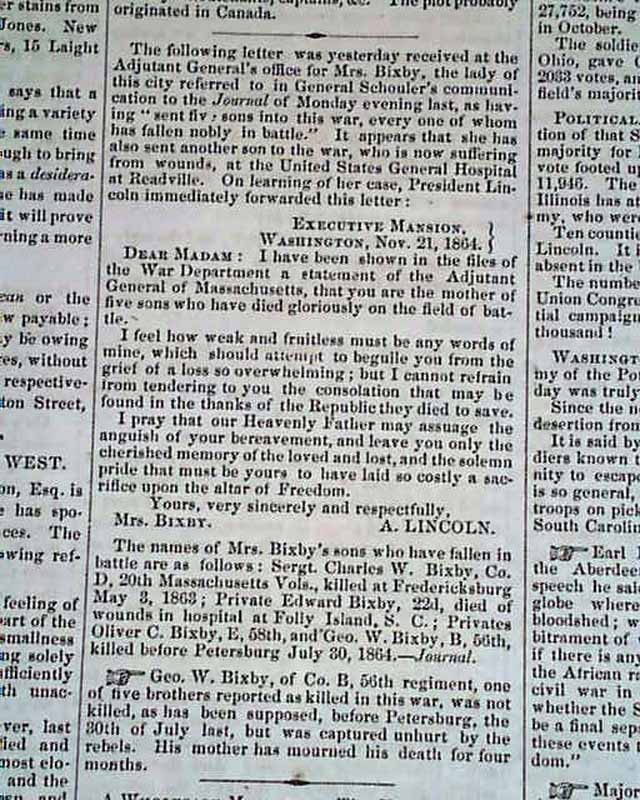 September 9, 2013 by TimHughes · Leave a Comment
The character of Abraham Lincoln, which has made him arguably the best President of the United States, has been the subject of many books. One bit of evidence can be found in the September 5, 1863 issue of the "Army & Navy Journal" which contains a famous letter to General U.S. Grant (see below).
In this remarkable letter, President Abraham Lincoln congratulates General Grant for an important victory — the capture of Vicksburg, Mississippi, on July 4, 1863. Lincoln differed with Grant about how to handle the campaign, but when Grant pursued his own strategy successfully, Lincoln frankly admitted that Grant was right.
August 2, 2013 by TimHughes · Leave a Comment
The June 5, 1860 issue of the "New York Tribune"  has two testimonials as to the character of Abraham Lincoln, to be the Republican nomination for President in the up-coming election. The second report is by the Honorable George Ashmun and offers some interesting comments. Also, "The Daily Delta" from New Orleans, issue of Feb. 27, 1861 has an equally back-handed "compliment" on the appearance of Lincoln (see below), noting he: "…is not handsome by a great many degrees,but he has not that hideous, ugly look which his portraits give him…":
July 29, 2013 by GuyHeilenman · Leave a Comment
There is no doubt Abraham Lincoln is one of the most beloved historical figures of all time. Similar to how Robert E. Lee is respected by "Yankees", as time goes by Abe Lincoln also seems to garner mutual appreciation. Once seen as polarizing, he is now credited with opposite – preserving unity. To what can we
credit the change in how he was/is viewed?  Perhaps it was his address at Gettysburg or our post-Civil War hindsight which appreciates (or at least acknowledges) the end result – that we remain a united nation.  However, one danger in turning a flesh-and-blood human being into an icon is that we lose perspective on the conflicted realities the people of this era were facing.  We also tend to eliminate anything about such individuals which may present them in a light which bristles against how we perceive them. Doing so marginalizes the issues they were grappling with and minimizes the complexities surrounding change. It is with this in mind we invite you to explore another side of Abraham Lincoln – as he discusses his views on what to do about the slave issue. The best way to take this journey is to read his thoughts via the images provided through the link to the Liberator of August 22, 1862: Abraham Lincoln on African Colonization
January 30, 2012 by TimHughes · Leave a Comment
The November 4, 1863 issue of the "Daily National Intelligencer" contains a curious and ironic bit of reporting, page 2 containing a lengthy report on the appearance of the distinguished son of Junius Brutus Booth–John Wilkes–at the new Ford's Theatre in Washington. The next column contains an innocuous letter signed in type by the President: A. Lincoln.
The facing page includes an advertisement for "Ford's New Theatre!" noting the appearance for the: "…first and only time…the distinguished tragedian, MR. J. WLKES BOOTH in Schiller's great master piece, the Robbers…".
Of course no one could have suspected the tragic connection between these two famous names which appeared on the same page in the same newspaper, some one and one-half years before fate would find their names on the same page once again: