February 28, 2014 by GuyHeilenman · Leave a Comment
Many collectors are quite familiar with Harry Rinker's nationally syndicated radio talk show, "Watcha Got?". Harry recently interviewed Tim regarding the Rare Newspapers collectible. Please enjoy the interview at (click on the audio mp3 button):  Watcha Got?
Note: The interview lasts about 15 minutes and begins at the 28:50 time marker (just slide the bar to this point). Better yet, enjoy Harry's entire broadcast. 🙂
February 24, 2014 by GuyHeilenman · Leave a Comment
I absolutely love this collectible!
We had in our possession for a number of years an original issue of the Frederick Douglass' Paper, dated March 17, 1854. It certainly was a grand paper – it being a continuation of Douglass' North Star. However, while the notoriety of the title was well-established and the angst of slavery oozed throughout, it was a 21st century movie which infused new life into it's weary 150+ year-old raglinen pages.
A collector recently went to see the theatrical adaptation of "Twelve Years a Slave – The Memoir of Solomon Northup", and was moved to visit the Rare & Early Newspapers' website to see if we had newspapers with his mention. Searches for his name were unsuccessful – but this collector was not to be deterred. Having previously viewed the Frederick Douglass' Paper in question, he took the next step and began to go over the corresponding images with a fine-tooth comb. Success. The newspaper was not only noteworthy for its editor and rarity, but it also had an article on the front page with mention of Solomon Northrup (see below). Fantastic.
Like I said, I love this collectible!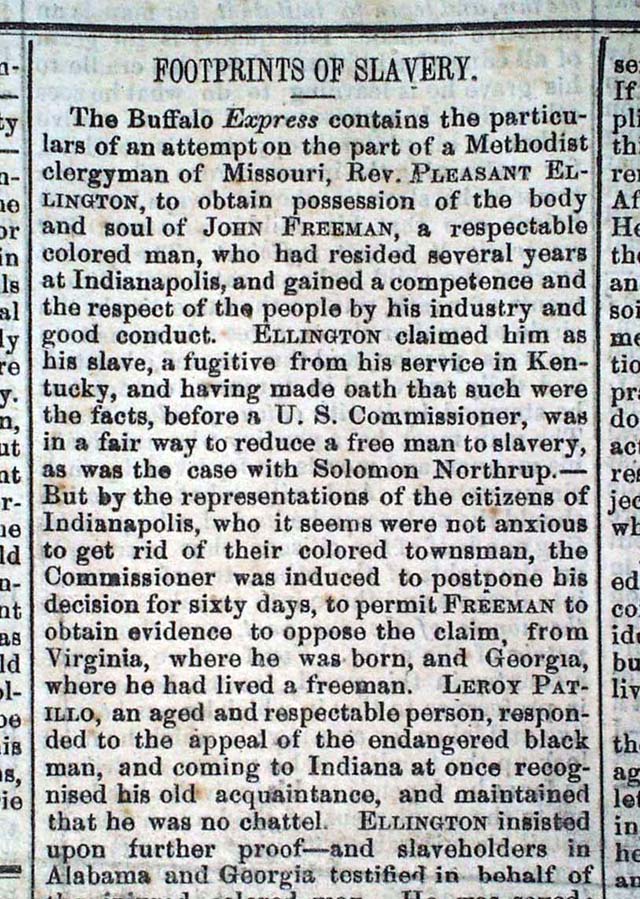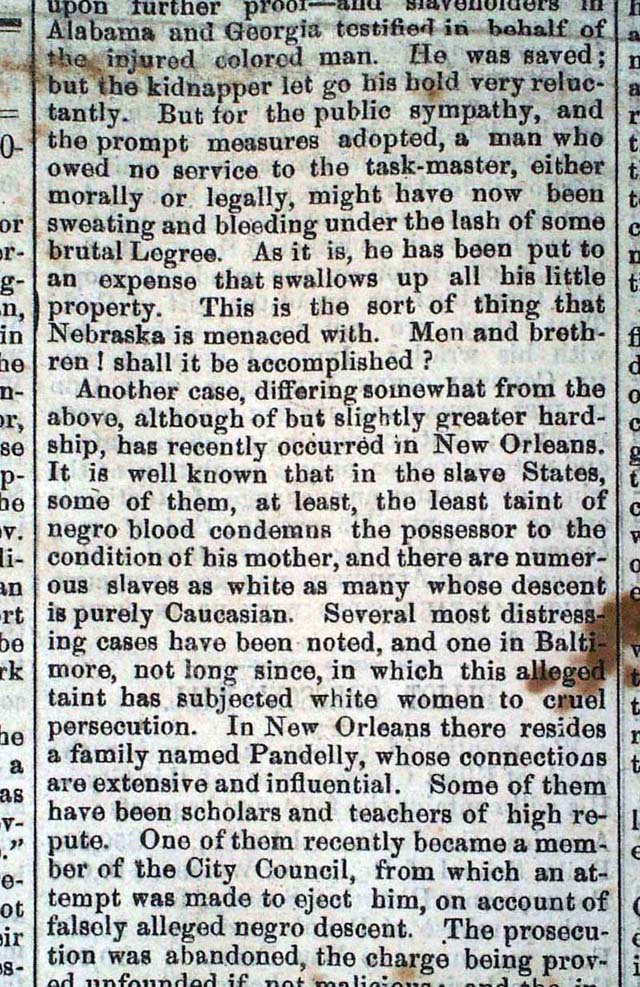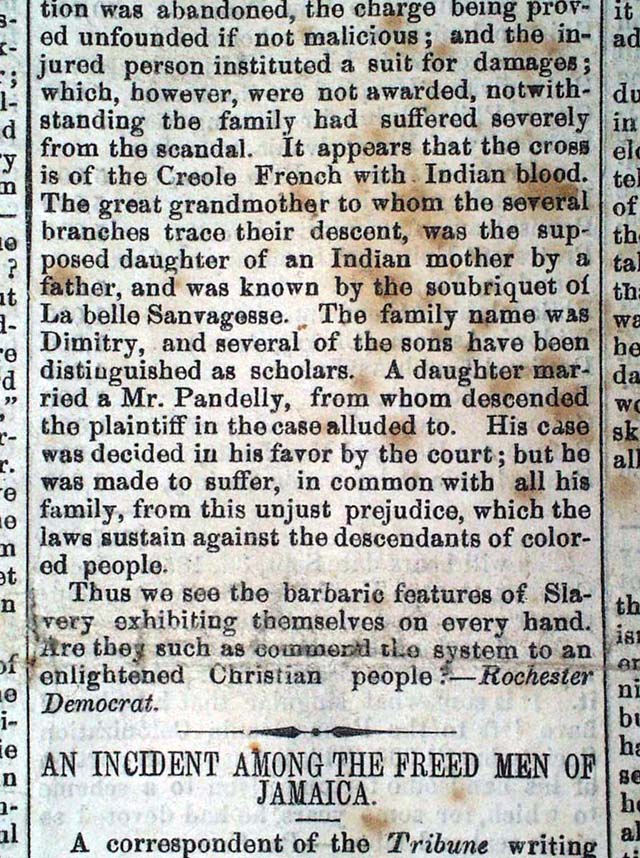 February 21, 2014 by GuyHeilenman · 3 Comments
Today marks the end of an era – decades of dedication and love from one of the most cheerful and faithful members of our Rare & Early Newspapers team. At the ripe young age of 87, Gerald Hughes, the father of our founder, Timothy Hughes, will hang up his folder making tools to spend more time at home with his wife, Lois.
His history with our office/warehouse goes far beyond the founding of the company, as he literally built the office portion of our building back in 1960 when he owned a band saw filing business. And it was extra storage space in that building that allowed Tim to make his first sizable purchase in the 1970's. With warehouse additions built  in later decades, all of the wood shelving which holds our considerable inventory was built by Jerry, and his mechanical ingenuity has been a blessing in solving the many unique challenges our business has encountered through the years.
Thank you Jerry! You will be greatly missed.
With All Our Love,
Guy, Doreen, Brian, Tim, Mike, Josh, Sarah, & Rebekah
February 17, 2014 by The Traveler · Leave a Comment
Today I traveled back to London, England, by the way of The London Chronicle: or, Universal Evening Post dated February 18, 1764. There I found an interesting article on "The manner of catching Bears at Kamtschatka" (see photo below) which is a peninsula in Russia Far East. Although that article itself is quite interesting in the manner of how to catch these animals, the introduction is even more fascinating. "Bears and wolves are so numerous, that they fill the woods and fields like cattle; the bears in summer, and the wolves in winter. The bears of Kamtschatka are neither large nor fierce, and never fall upon people, unless they find them asleep; and then they seldom kill any outright, but most commonly tear the scalp from the back part of the head; and, when fiercer than ordinary, tear off some of the fleshy parts, but never eat them… It is remarked here that the bears never hurt women; but, in the summer, go about with them like tame animals, especially when they gather berries. Sometimes, indeed, the bears eat up the berries which the women have gathered, and this is the only injury they do them…"
Another article is of a death of a "…woman that went by the name of John Chivy. She dressed always in man's apparel, and passed for a man; and notwithstanding she had been married upwards of 20 years, her sex never discovered till her death…".
The following article caught my attention. "Among the sundry fashionable routs or clubs, that are held in town, that of the Blacks or Negro servants is not the least. On Wednesday night last, no less than fifty-seven of them, men and women, supped, drank, and entertained themselves… till four in the morning. No Whites were allowed to be present, for all the performers were Blacks." The closing sentence made me ponder as to its meaning. I welcome your thoughts and explanations as well.
~ The Traveler
February 13, 2014 by GuyHeilenman · Leave a Comment
"I love you!" Why is this so hard to say to those whom we love? The old adage goes that when I seasoned relic from the mid-20th century school of cold-knocks  was asked why he never tells his wife he loves her, he replied, "I told her I loved her the day we married. If anything changes I'll let her know."  While a bit humorous, one can't help but hear the sad sound of little-girl dreams gone unrealized. Valentine's Day has certainly served its role in helping to remind us to say the things that often go unsaid. Chocolates, flowers, and cards are great tokens of our love, but they pale in comparison to the very words themselves: I love you!
The following historic newspapers, like the February 16, 1861 issue of Harper's Weekly (shown to the right), provide a chronological look through time at how the holiday has been viewed:  Newspapers with Valentine's Day coverage.
February 7, 2014 by GuyHeilenman · Leave a Comment
It seems that with every election or inauguration I get asked about the collectability of such newspapers, so I thought I might share my thoughts with you, and encourage you to do the same.
As for pure collectability, sure, election and inauguration issues are collectible because they document a very important part of American history and the democratic process. The smooth transfer of power from one person or administration to another does not come easily to many countries today. And to be able to add such historic issues to a collection for 50 cents or a buck is a great opportunity.
But I suspect the real interest of many who inquire about the collectability (of Barrack Obama election and inauguration issues) is the potential for such issues to increase in value. My opinion is, in general, no. They will not increase much in value in years to come. Now I'm speaking of "recent" history, say the last 30 years or so. I feel the public has become very collector-focused the last several decades, and many, many "historic" newspapers have been set aside in attics and drawers only to be found by their children many years later.
For a newspaper to appreciate dramatically in value I believe it requires several things: 1) Historic content. Yes, elections and inaugurations are historic; 2) Rarity. No, elections and inaugurations of the past 30 years are not rare because they were hoarded in large quantities and will always be relatively common; and 3) Something unique or dramatic. A "screaming" headline in tall, bold letters, or a cleverly worded headline, or something else which makes the issue unusual.
Supposedly the New York Times printed an extra one million issues of its January 21 inauguration issue, and I suspect most of them will be hoarded in quantity. The Washington Post printed a much larger quantity than normal, but they didn't comment on the exact quantity. I'm sure it was sizable, and many of those issues will be hoarded. All this means that 20 years from now issues will be showing up on eBay (or its equivalent at that time) and anywhere else people might try to sell collectibles. With millions of such newspapers in the marketplace will the values get higher and higher? I doubt it.
Issues which tend to increase in value are those which were NOT saved. Most major headlines pre-World War II have appreciated nicely in value because they were not hoarded in quantities. I just don't think the American public was collector-conscience then, so consequently they are genuinely rare in additional to being historic. And add a huge headline or terrific graphic and you have the potential for a very desirable newspaper; one which has appreciated nicely in value.
As an interesting side note, I understand that the New York Post printed a special afternoon inauguration edition on January 20. Given that most major newspapers are morning publications, coverage of the inaugural proceedings would be in their September 21 issue. But the Post had coverage in their January 20 issue, the same day as the election. A friend, stopping by a newsstand in New York city bought several issues of the Times of January 21 and noted a stack of other issues in the back. Inquiring what they were he was told it was the Post of the 20th, "…but they came in too late to be sold on the newsstand, so they will be returned. We can't sell a day old newspaper…" the friend promptly purchased them all. I'd be curious to hear how many of the January 20 afternoon edition were actually sold on the streets and not returned for destruction. Perhaps that edition will have a real rarity component.
But don't let this deter you from collecting historic events of the last 30 years and events yet to come. One of the great aspects of this hobby is the ability to assemble a great collection of truly historic newspapers at a nominal cost–at the newsstand price if you are lucky.
What are your thoughts?
Note: The Times News (out of Lehighton, PA) interviewed Tim concerning this topic. The article may be accessed at: http://www.tnonline.com/about
—————
*The Fall of 2013 marked the 5th anniversary of the History's Newsstand Blog by Timothy Hughes Rare & Early Newspapers. We are grateful to have the opportunity to contribute to the newspaper collecting community, and appreciate those who have participated through guest posts, comments, and readership. In 2014 we will revisit the top 25 posts (measured by activity), with the number 1 post being revisited during the first week of 2015. Please enjoy. If you would like to contribute a post for consideration of inclusion on the blog, please contact Guy Heilenman at guy@rarenewspapers.com.
February 3, 2014 by The Traveler · Leave a Comment
I traveled today to New York City by way of The New York Times dated February 1, 1864. There I found that President Lincoln had just "Ordered, that a draft for five hundred thousand men, to serve for three years or during the war, be made on the 10th day of March next, for the
military service of the Untied States, crediting and deducting therefrom so many as may have been enlisted or drafted into the service prior to the 1st day of March, and not heretofore credited." This is signed in type: ABRAHAM LINCOLN.
Also in the issue is an article with the heading "The Death Bandage of Gen. Walker". "…Lieutenant Drennon… brings with him, hermetically inclosed in glass, the bandage which covered the eye of Gen. William Walker, when he was shot at Truxillo, Honduras…. 'Remnant of the bandage which encircled the brow of Gen. William Walker, who having honorably capitulated to Norvell Salmon, Commander of H.B.M. steamship of war Icarus, was treacherously surrendered to the Honduras authorities, and by the executed on the 12th September, 1860, in the town of Truxillo. Posterity will do justice to their memories. The victim will be deplored while the traitor will be execrated.'  The bandage is thick with gore, full of bullet holes, and is partially burned — the file of executioners standing so close that the discharges set fire to it…" This was to be presented to General Walker's father who resided in Nashville, Tennessee. What an item to be presented with to remember your son…
~The Traveler