May 31, 2021 by GuyHeilenman · Leave a Comment
I'm embarrassed. Last year, in the midst of the pandemic, I was so consumed by "in the moment" issues I neglected to take the time on Memorial Day to be thankful for "those who have gone before us" – specifically, the men and women who gave their lives so those of us who reside in the United States could live in safety… freedom… hope – in a land where the ideals of the pursuit of happiness, equality, freedom of speech, etc., while not yet fully realized, were and continue to be part an parcel of the dream we call America. Starting with a revisit of a post from a few years ago, this year I'm committed to being more thankful for others and less self-consumed. Hopefully you'll enjoy the following as much as I have while preparing this post:
We recently discovered an original issue of The Atlantic Monthly for September, 1867, which contained the earliest nationally distributed printing (and maybe the first ever) of 'The Blue and the Gray," by Francis Miles Finch. Although Memorial Day had not been officially proclaimed (via General Order #11, May 5, 1868), the practice of placing flowers and wreaths on the tombstones if the fallen was somewhat common. What was uncommon was the act of a group of women in Columbus, Mississippi, which is best described in the preface to Finch's poem (quoted from the New York Tribune):
"The women of Columbus, Mississippi, animated by nobler sentiments than are many of their sisters, have shown themselves impartial in their offerings made to the memory of the dead. They strewed flowers alike on the graves of the Confederate and of the National soldiers."
In recognition of Memorial Day, please enjoy the full text of this grand expression of appreciation for those who have fallen in battle – be they blue or gray:
Two additional Memorial Day themed posts from the past are:
May 14, 2021 by Laura Heilenman · Leave a Comment
I can't speak for anyone else but, at this moment… I'm over with bad news. I long for news stories that make me smile … that bring to mind sweeter times. Today, in the subtlest of news stories, my wish came true and a huge smile spread over my face. On June 30, 1905, the Springfield Republican published their issue for the day. I am sure no one in the editor's office had a clue that on the sports page there was one line in the box score that would, 80+ years later, inspire one of my favorite movie moments of all time. Allow me to borrow a paragraph from our RareNewspapers website's description for this Springfield issue…
"Spoiler alert: Anyone who has viewed the *movie-classic, "Field of Dreams," starring Kevin Costner, has been touched by Archie "Moonlight" Graham (played by Burt Lancaster). The poor fellow simply cannot catch a break. When this doctor, who had given up baseball after only 1 professional appearance in order to care for people via his physician training, was given (in the movie) a 2nd chance to get on the magical "field of dreams," he was almost immediately faced with the choice between either leaving the field (never to return) in order to save an injured young fan from near-certain death, or stay on the field and enjoy the game he had always loved."
Although Field of Dreams mixes fantasy and reality, this peek into a "real life person" made me dig a bit deeper. Wikipedia sums him up as follows: ""Doc" Graham, as he became known after his career as a ballplayer, served the people of Chisholm (MN) for fifty years. From 1909 to 1959, Graham was the doctor for the Chisholm schools. For many years, "Doc" Graham made arrangements to have used eyeglasses sent to his Chisholm office. On Saturdays, he would have the children of the Iron Range (Minnesota) miners, from Grand Rapids to Virginia, come to his office, have their eyes checked and then fit them with the proper set of glasses, all free of charge."
Wrapped up in this good news from the past is also a reminder that sometimes, when one dream ends, a better one begins.
May 10, 2021 by Laura Heilenman · Leave a Comment
Today I was doing some research  for a customer. This particular customer loves to collect obituaries from music and film stars of a bygone era. As I worked through his want list, I came upon a singer named Bobby Fuller. Unlike other stars on this want list, I had never heard of
Bobby… or so I thought. Upon further research I discovered he was a "1 hit wonder" from 1966 and had released the song, "I Fought the Law and the Law Won". As soon as I saw the title, a big smile formed. I am not sure where I had 1st heard the song…  after all, I would have only been 2 on it's release date however, somewhere in my earliest memories my parents must have played it  or I heard it on a passing radio station. However it happened, the song left an indelible imprint on my young mind and those happy feelings came flooding back. I grabbed my i-phone and quickly brought up the song on my Spotify account and for a few moments was transformed to a simpler time. I am sure I'm not the only one who spent time growing up listening to music with their parents or watching old movies with their Mam Maw. For those of you who delight in those old memories as much as I do, here is a quick search of some of the issues we have with Stars of Past. Feel free to peruse my list or start a personal favorites search to create your own.
May 8, 2021 by Stephanie Williams · Leave a Comment
Under the illustration of St. John's Gate that introduces each issue of the Gentleman's Magazine, is the month and year, followed by the table of contents (each issue via the link will show an image of this – typically the last image posted).  For the first time, I noticed the calligraphy that follows "CONTAINING" and precedes the article headings and their corresponding page numbers.  "More in Quantity and greater Variety than any Book of the Kind and Price."  While I have nothing to compare it to, I can attest that of the thirty-seven distinct articles listed for March of 1782, the subject matter ranges from Parliamentary debates to a Swiss underground road, and includes bull-baiting and the wool trade along the way.  The regular coverage of weather, news from around the world, births and marriages and deaths, trials, and literary reviews is fit in around the special bits.
In particular, my interest was caught by "Usual Causes of Bankruptcy, Caution against — " and turned to page 138 to read.
In all ages there have been men, who, by sudden losses, by entering into indiscreet obligations, by improvident conduct, or through fraudulent designs, have become, or pretended to become, incompetent to the discharges of their just debts; but the number of bankrupts which now appear in every Gazette is a subject of serious and alarming consideration.
Along with the obvious financial harm that can be caused by frivolous living and participation in gambling, the author addresses the lack of care and foresight that must be viewed as the social responsibility of every gentleman, in order to enable him to properly discharge his debts and contribute to the public funds by means of taxes.  He recommends annual reflection for the purpose of seeing areas of weakness in funding, and to not allow debts to unknowingly pile up beyond the ability to repay.  Then, he maintains, steps toward frugality can be made in enough time to avert distress.  Finally, he offers as example the late Sir Stephen Theodore Janssen who he terms a "virtuous citizen."  He records the words of Sir Stephen, addressed to the Livery, as he deems them of value to the general population.  The speech concludes in this way:
I do further declare that it is my determined resolution to continue living in the same frugal manner, till the last shilling is discharged; and in case any turn of fortune should happen to me, my whole just debts shall be discharged so much the sooner, as I am determined to persevere in preserving the character of an honest man.
May 3, 2021 by Laura Heilenman · Leave a Comment
My family often jokes with me (maybe about me ) when they say, "she can use Disney World as an example for anything."  They aren't wrong and have accurately pegged me as a bit of a Disney fanatic.  I won't bore you with all the reasons I have for loving this place but I will tell you how it came to mind today as I was perusing an issue published by Frederick Douglass.  For those of you who have visited Disney World or more specifically Epcot, I hope you have experienced Spaceship Earth.  I never tire of riding this attraction and hearing Dame Judy Dench recount mankind's history of communication to me as I gaze at the vignettes on each side of  my "time machine".  At one point, she is describing how, since the invention of papyrus, knowledge is able to be kept and shared more easily and so civilization advances more rapidly until …
"Rome falls, and the great Library of Alexandria in Egypt is burned. Much of our learning is destroyed—lost forever… or so we think. It turns out there are copies of some of these books in the libraries of the Middle East, being watched over by Arab and Jewish scholars. Call it the first backup system. The books are saved, and with them our dreams of the future."
I get shivers every time I hear those words… so much knowledge… so much history… so many pages.  Just now, as I pause to admire this precious Frederick Douglass paper lying on my desk, I am overwhelmed with gratitude for all the people we, the collectors of historic newspapers, have to thank for watching over the issues that later end up in our hands.  Precious treasures of knowledge and history handed off to us, if even for a moment, to guard for future generations.
April 30, 2021 by GuyHeilenman · Leave a Comment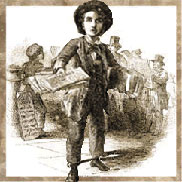 Catalog 306
(for May) is now available. This latest offering of authentic newspapers
is comprised of more than 300 new items, a selection which includes:
the Declaration of Independence (in a newspaper), the Lincoln/Douglas debate (in an Illinois newspaper), the 'closest' to the famous Nathan Hale quote to be found, one of the best Lusitania issues we have offered, Washington's third state-of-the-union address, the first depiction of a baseball game in progress in any periodical
, and more.
The following links are designed to help you explore this latest edition of our catalog:
Don't forget about this month's DISCOUNTED ISSUES.
The links above will redirect to the latest catalog in approx. 30 days,
upon which time it will update to the most recent catalog.
April 22, 2021 by Laura Heilenman · Leave a Comment
As you can imagine, working here at the RareNewspapers office can be a bit like a kid working in a candy shop.  Almost daily I push the thought, "Maybe I should buy this one for myself", to the back of my mind. Sometimes it is because of the historic impact of the content I am seeing and the deep desire to personally protect it for posterity.  Sometimes it is because the issue triggers a fond memory and whisks me away to another day.  Last week this thought would not stay in the back of my mind but continued to crash to the forefront over and over.  Finally, with my many rationalizations in hand, I pulled out my credit card and purchased the issue.  Feelings of nostalgia of a simpler by gone era washed over me as I paged through my new treasure.  This treasure is mine however, if you are ever drawn to that same simpler time, we here at the RareNewspapers office have other options for you to consider.  There is truly something for everyone.  I may have been drawn to the vintage ads, drawings, paper dolls and old stories, but there is so much more.  Take a moment to step back in time.  Sometimes those brief moments are all that are needed to add a bit of perspective to the "thoroughly modern" life we currently live.
April 19, 2021 by GuyHeilenman · Leave a Comment
Monthly Newsletter ~ Rare & Early Newspapers
Welcome to the September 2020 edition of our monthly newsletter. This month we'd like to bring your attention to the following:
Approximately 150 historic newspapers have been discounted by 50%. The prices shown reflect the discount. Included are:  Thomas Nast Santa illustrations, 19th century western Colorado, assassination of Jack "Machine Gun" McGurn, the Rosenbergs found guilty, Babe Ruth's last homerun as a Yankee, Nadia Comaneci scores a perfect 10, Bing Crosby's death, and more.
Since Catalog 302 went to print we've added approximately 50 additional items. Some of the topics/issues include: a mid-1700's map of Eastern Canada, Convicts shipped off to America and Oglethorpe before the founding Georgia in the same issue, several different rare Confederate newspapers, George Washington rejects an honor and the delegates to the Constitutional Convention in the same American issue, a Philip Burke caricature of Donald Trump, and more.
Speaking of the catalog, some links which you may find useful include:
Items which have been listed on our website within the last 30 days.
Timothy Hughes Rare & Early Newspapers . . .
           . . . History's Newsstand
"…desiring to conduct ourselves honorably in all things." Hebrews 13:18b
See what's happening on our social sites
April 16, 2021 by GuyHeilenman · Leave a Comment
Monthly Newsletter ~ Rare & Early Newspapers
Welcome to the April 2021 edition of our monthly newsletter. This month we'd like to bring your attention to the following:
Approximately 200 historic newspapers have been discounted by 50%. The prices shown reflect the discount. Included are: the Dalton Gang is "wiped out", the death of Martha Washington, a broadsheet-extra re: the attempted assassination of President Garfield, the Supreme Court's outlawing of prayer in public schools, and more.
Since Catalog 305 went to print we've added approximately 50 additional items. Some of the topics/issues include: a Frank Leslie's Illustrated issue on the hanging of the "Lincoln Conspirators", Babe Ruth as a Baltimore Oriole (quite rare), a hard-to-find 1840 campaign newspaper, the "fixed" boxing match between Jack Johnson and Jess Willard – 26 rounds, a great map of Jamaica in 1762, and more.
Items which have been listed on our website within the last 30 days.
Timothy Hughes Rare & Early Newspapers . . .
           . . . History's Newsstand
"…desiring to conduct ourselves honorably in all things." Hebrews 13:18b
See what's happening on our social sites
April 5, 2021 by Laura Heilenman · Leave a Comment
I heard an interesting quote the other day: "Long after the medals go into a box and the trophies have a layer of dust on them, will your speech still be having an impact on the audience you gave it to?" (Heather Neumann) Ironically, Heather's statement had the impact it appears she wanted. As I contemplated her statement as I wrote this post, I was curious about who had made a lasting impact on this day throughout the ages, hoping to glean a bit of inspiration for myself. Here are a few that caught my eye.

Having been raised by a mother who took our health seriously, I was encouraged from a very young age to" take Vitamin C at the 1st sign of a cold". Who do I have to thank for this bit of wisdom besides my mother? On 4/5/1932, the New York Times covered research done by Charles Glen King. Prof. King isolated the compound for Vitamin C for the 1st time… over 30 years before my mother began her diligent training. Charles' work continued in the nutritional field to help any with open ears to a step into a healthier life… continuing to positively impact the bodies of mankind.
On April 5, 1990, the LA Times covered the death of legendary jazz vocalist Sarah Vaughn. The University of Central Florida's website asserts … music impacts the brain by "reducing stress, pain and symptoms of depression as well as improving cognitive and motor skills, spatial-temporal learning and neurogenesis". Perhaps the phrase, "music calms the savage beast" is not just an old wives saying enabling Sarah's music to bring a sense of peace and wellbeing to the many who continue to listen to her, bringing far more lasting impact than her 4 Grammy's and lifetime achievement award… continuing to positively impact the minds of mankind.
In April of 1985, USA Today covered Michael Jordon's work with Special Olympics. Most of us can only imagine how hard it must be for someone famous and in the perpetual limelight to tear the focus off of themselves and place it on others. Often times we judge the motives of these people even when they are trying to do a good thing. Perhaps we should take their good deeds at face value and appreciate the fact that when we do good for others, both the giver and receiver are uplifted. In this case, Michael's efforts to reach out to others has a lasting impact on the his life, the lives he touched and all of us watching if we can put our skepticism aside… continuing to positively impact the souls of mankind.
While I am sure I will never sing like Sarah Vaughn or discover a great scientific breakthrough, I do have daily opportunities to bless others. I am sure these will never make it into USA Today or the LA Times and that is okay however, if by chance they would, sometimes those trophies in a box can inspire the next person.