August 17, 2017 by TimHughes · Leave a Comment
Occasionally an "odd-ball" newspaper comes into our inventory, and our "Lampasas Dispatch" is certainly one. With a dateline of "Juvember 33, 1969" (not a typo on our part) and a banner headline announcing: "TEXAS MADE A NATION" we knew this wasn't a legitimate newspaper. The masthead also includes: "For Maneuver Purposes Only—This Publication Created for Operation Long Horn–Not Intended For General Distribution." So with a bit of searching on the web we soon learned of the story behind this newspaper.
See this website for much more on "Operation Longhorn". The site begins: "In the spring of 1952, as Cold War tensions heightened, Lampasas Countians' worst fears seemingly materialized, as "enemy troops" stormed the area, "captured" Lampasas and declared martial law. The U.S. military simulation, dubbed "Operation Longhorn," was just a test…One of the largest peacetime military exercises ever implemented in the United States, Operation Longhorn took place in March and April 1952, and cost an estimated $3.3 million".
This is just a single sheet with the reverse being page 8 of the "Lampasas Dispatch" April 3, 1952, coinciding with the date of Operation Longhorn. A fascinating fictitious newspaper from a long-forgotten event in American history.
August 1, 2016 by The Traveler · Leave a Comment
Today I traveled to New York City by the way of The New York Times dated August 2, 1966. There I found tragedy had stuck the campus of University of Texas. "An architectural honor student who had been undergoing psychiatric care carried an arsenal of rifles and pistols to the top of the 27-story University of Texas tower today and shot 12 persons to death before the police killed him. The student's wife and mother were later found dead in their homes… The police identified the man as Charles J. Whitman…". In all, he had shot an additional 34 people.
~The Traveler
November 10, 2014 by GuyHeilenman · Leave a Comment
Major General Granger's General Order #3, which appeared in the July 25, 1865 issue of Flake's Daily Bulletin, provides contrasting news for the newly freed slaves. Good News: You are now free!  Bad News: Get to work and don't come crying for help! I wonder how we would handle this same situation if it were to happen today???
November 18, 2013 by GuyHeilenman · Leave a Comment
Fifty years ago this week my older sister and I came in from carving Matchbox-car-sized roads through the previously well-manicured turf of our backyard to find our mother staring at the semi-snowy, partially visible screen of our black and white television with tears streaming down her face.  Not being prone to such outward displays of emotion, her anguish screamed to us that something tragic had happened.  This moment was emblazoned in our minds for life… and was reinforced days later when she took us by the hand to lead us on the long trek to the railroad overpass a few miles from our home to peer over the edge to watch a train draped with a flag pass under our feet. President John F. Kennedy was dead!  While at the time my sister and I had no idea whether or not he was a good president (for to a child, all presidents are good), one thing we knew for sure, something vanished from people's eyes which has yet to return – American innocence.
As we reflect on this snap-shot of innocence lost, we wonder where it all began – that is, the overwhelming common-man devotion which inspired many to "Ask not what your country can do for you…".  When did the admiration of the crowd begin? Was it when he was proclaimed a WWII hero as the Captain of PT-109, or did it spring-forth from his impact as a Massachusetts Representative with his first political election victory? While it may be hard to sort out how he had become so beloved, one thing is certain: a split-second in time along a Dallas street changed everything.
Feel free to share your "memory" of November 22, 1963.
To commemorate this historic moment (November 22, 1963), we've assembled a host of "assassination-report" newspapers from all over the country. They are viewable at: JFK Assassination.
July 15, 2013 by The Traveler · Leave a Comment
Today my journeys took me to Baltimore, Maryland, by the means of The Weekly Register dated July 17, 1813. The front page features the headline "Republic of Mexico" which was announcing the Declaration of Independence of Texas. "We, the people of the province of Texas,…declare, that the ties which held us under the domination of Spain and Europe, are forever dissolved; that we possess the right to establish a government for ourselves; that in future all legitimate authority shall emanate from the people to whom alone it rightfully belongs and that henceforth all allegiance or subjection to any foreign power whatsoever, is entirely renounced… We feel, with indignation, the unheard of tyranny of being excluded from all communication with other nations, which might tend to improve our situation, physical and moral, We were prohibited the use of books, of speech, and even of thought — our country was our prison… We conceive it a duty we owe as well to ourselves as to our posterity, to seize the moment which now offers itself, of shaking off the yoke of European domination, and of laboring in the cause of the independence of Mexico; taking the authority into our own hands, forming laws, and of placing the government of our country upon a sure and firm basis, and by the means assume a rank among the nations of the world."
Also within the issue is a full page map (which are rarely found in this title): "Map of the Rapids of Miami, Shewing the situation of Fort Meigs, etc", accompanied by supporting text: "Interesting Topography of Ohio".
~The Traveler
October 25, 2012 by TimHughes · Leave a Comment
Texas had a fascinating history, with flags of six nations having flown over some portion of the present state: Spain, France, Mexico, Republic of Texas, United States of America, &  Confederates States of America.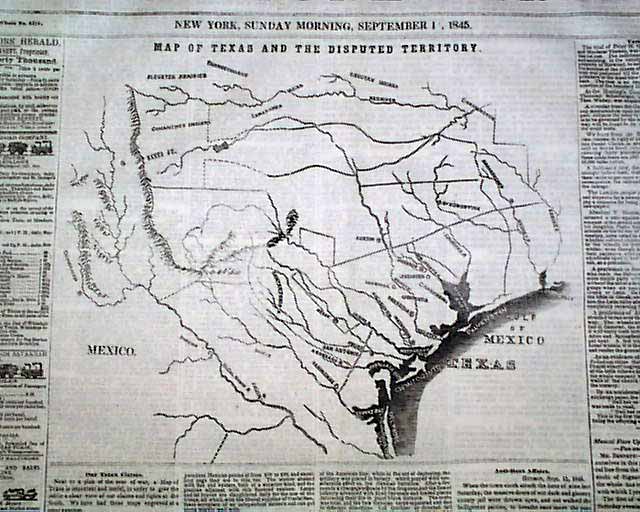 It was during the time when the Mexico flag flew over its land that a periodical titled "El Mejicano" was reportedly printed in Nacogdoches in May , 1813, as noted in Oswald's "History of Printing In The Americas". One report, from the "Southwestern Historical Quarterly" notes that a newspaper was printed from the same press at about the same time, titled "Gaceta de Texas" with a date of May 25, 1813. Some years later Horatio Bigelow and Eli Harris put out the first issue of the "Texas Republican" on Aug. 14, 1819. When Nacogdoches was captured by the Mexicans two months later the printing office was destroyed.
Milton Slocum, a printer from Massachusetts, established the "Mexican Advocate", a newspaper in both English and Spanish, in Nacogdoches in September, 1829. Unfortunately no copies have survived.  Outside of Nacogdoches a weekly paper titled the "Texas Gazette" was begun on Sept. 25, 1829 in San Felipe de Austin. This paper then moved to Brazoria in July 1832 and ultimately was sold to the publisher of an existing newspaper titled the "Texas Gazette & Brazoria Commercial" which had begun just two years earlier. The combined enterprise became the "Constitutional Advocate and Brazoria Advertiser".
Beginning in the 1830's a multitude of newspapers sprang up in present-day Texas, continuing in the 1840's and beyond.
June 18, 2011 by TimHughes · Leave a Comment
With much attention today given to climatic change and how mankind is affecting weather patterns around the globe, it was interesting to find this article in the  "Daily State Journal" newspaper from Austin Texas, May 10, 1871. The article paints a rosier picture in terms of mankind's affect on climate than most environmentalists do today…