October 25, 2021 by GuyHeilenman · Leave a Comment
Perhaps the most common inquiry we receive concerns newspapers from World War II found in parents' attics. As generations pass it is incumbent upon their children to sort out what is of value and what is not.
The list which follows is a guide for determining what to keep and what to dispose.
In general, there are only about 15 events which are sufficiently notable to excite most collectors. Those event not included on the list are considered "generic" or "atmosphere" issues which, although reporting much on the war, are generally not significant enough to draw the attention of the serious collector.
It's worth noting that graphic appeal tends to trump title. Example: the New York Times remains one of the more notable newspapers of the 20th century, but their headlines were typically conservative, lacking any drama, flash, or graphic appeal. Small town newspapers with dramatic graphic appeal will be more desired.
Issues which fit the events and criteria noted below could well have collector value. Feel free to send the exact title and date of each along with photos of the entire front pages (showing margins) to: info@rarenewspapers.com
Note: Perhaps the mostly commonly reprinted issue of the war is the Honolulu Star-Bulletin of Dec. 7, 1941. Most of the issues on the market are the common reprint, still sold at the souvenir stand at the U.S.S. Arizona Memorial in Honolulu. See this blog post on how to tell a reprint from the genuine issue.
Top 15 events of World War II:
1) Germany invades Poland, 9/1/1939
* This event marked what many regard as the start of the war. Although not an American
event, most collectors want this report among their holdings.
2) Attack on Pearl Harbor, 12/7/1941
* Japan's naval air force attacks military bases on Oahu, Hawaii, thus thrusting the United States into the war. The more dramatic and shocking the wording in a banner headline the better.
3) U.S. Declares war against Japan, 12/8/1941
* Just one day after the attack on Pearl Harbor the United States officially declares war against Japan, formalizing America's entry in the war in the Pacific.
4) U.S. declares war against Germany & Italy, 12/11/1941
* The United States enters the war in Europe as well, just 3 days after declaring war against Japan.
5) Battle of Midway, 6/4-7/1942
* Just six months after Pearl Harbor the United States scores a major naval victory in the Pacific against Japan. Being a multi-day event, collectors would pursue the best headline near the end of the battle reporting the American victory.
6) D-Day, 6/6/1944
* With Axis forces controlling much of Western Europe, this day marks the offensive of the Allied forces in re-taking conquered countries. The word "Invasion" is desired somewhere within the headlines.
7) Battle of the Bulge, 12/16/1944
* This was the last major German offensive on the Western Front taking place from December 16, 1944 to January 25, 1945. Issues near the end of the battle which reported an Allied victory would be more desired.
8) Photo of the flag raising on Mt. Suribachi, Iwo Jima, 2/23/1945
* If there was a single, iconic photo of American successes in the Pacific it would be this Pulitzer Prize-winning photo. Many newspapers included it in their editions of a day or two later, many did not. Better if the photo is on the front page, as many newspapers—when using it—did so on an inside page.
9) Death of FDR, 4/12/1945
* Although arguably not a true war event, the death of the President who was Commander-In- Chief of the military through almost the entirety of the war cannot be missed as a notable event.
10) Death of Hitler, 4/30/1945
* Hitler's suicide deep inside a Berlin bunker essentially ended the war in Europe as just days later terms of surrender were agreed to by Nazi officials. Most newspapers reported his death on May 2, and a few published the Nazi propaganda report that the Fuehrer: "…has fallen in battle at the head of the heroic defenders of the Reich capital…". The blunt words: "Hitler Dead" are more dramatic than "Death of Hitler".
11) V-E Day, 5/7/1945
* The official end of the War in Europe. This was one event where newspapers often used patriotic embellishments to celebrate the victory, some multi-colored, some incorporating war photos within letters, etc.
12) Atomic bomb drop on Hiroshima, 8/6/1945
* With the war in the Pacific still raging, the first atomic bomb ever deployed was dropped over the city of Hiroshima. Some newspaper down-played the horrific affects of the bomb. More desired are headlines which more accurately reported the incredible devastation.
13) Atomic bomb drop on Nagasaki, 8/9/1945
* Just 3 days after Hiroshima, the second atomic bomb was dropped, which prompted the Japanese to pursue surrender terms. Again, bluntly accurate reporting in the headline is desired over a more subdued report.
14) V-J Day, 8/15/1945
* Terms for surrender were agreed upon, and the world announced the end of World War II. Much like V-E Day, newspapers typically became very creative in patriotically celebrating the end of the war. The more creative the front page the better.
15) Formal surrender of Japan, ending WWII, 9/2/1945
* Signing of the surrender terms happened on board the U.S.S. Missouri in Tokyo Bay. Although most collectors would consider V-J Day as the end of the war, and in many respects it was, collectors often pursue this event as well.
There are also 2nd-tier items which could be collectible, but the extent of coverage and graphic appeal are paramount, and in some cases the title/publisher is essential. The list below contains such items, and will be updated from time-to-time.
Pre-War
Nuremberg Laws enacted, 9/15/1935
Jews no longer permitted to own property (various)
Opening of Concentration Camps (various)
Kristallnacht,  11/9-10/1938
During The War
Fake Report of attack on Los Angeles, "Battle of Los Angeles" (2/25/1942)
Bismarck Sunk, 5/27/2941
Star of David Badge, 9/7/1941
Doolittle Raid , 4/18-20/1942
USS Lexington Lost, 6/12/1942
Bataan Death March, 1/28/1944
JFK PT Boat, 6/11/1944
MacArthur returns to the Philippines, 10/20/1944
Post-War
USS Missouri – Peace Treaty Signed, 9/2/1945
Louis Zamperini Found, 9/9/1945
Patton's Death, 12/21/1945
October 21, 2021 by Laura Heilenman · Leave a Comment
Sometimes it is difficult to determine if a person really is a philosopher. So it is with the author of the profound statement, "Just because you're paranoid doesn't mean they aren't after you". Philosophical or lyrical, it is the perfect jumping off point for a short series on more obscure conspiracies in American History.  Sure, we have all heard of John Wilks Booth and Lee Harvey Oswald.  Perhaps we have even heard of George Atzerodt, who conspired with Booth to assassinate Lincoln and Johnson however, there are others that will most defiantly leave you a bit slack-jawed if not curious. To begin our series, let's start with our 16th President and those who colluded to bring about his demise. Booth's main conspirators, George Atzerodt, David Herold, Lewis Powell and Mary Surratt had their own press coverage, even if they were not quite as infamous as the malicious actor Booth, but reading their confessions and stories can bring this horrific event into clearer focus.  So, hopefully you will enjoy reading these Lincoln Conspiracy issues… and, until next time, remember the wise words of Kurt Cobain and keep looking over your shoulder.
October 18, 2021 by Laura Heilenman · Leave a Comment
In our thoroughly modern world, many of us chuckle when we see photos of Bigfoot or The Loch Ness Monster gracing the front of a supermarket tabloid. However, in 1773, Gentleman's Magazine, a more reputable publisher, featured several seafaring articles including one which stated: "…a most hideous sea monster was seen". Not to worry, they did balance out this salacious coverage of all things nautical with a more noble seven page article on : "Capt. Wallis's Voyage round the World". Pick your passion, sea monsters or great explorers. Both awaken the imagination and draw our interest.
October 15, 2021 by GuyHeilenman · Leave a Comment
Monthly Newsletter ~ Rare & Early Newspapers
I thoroughly enjoy historic newspapers and greatly appreciate those who have a similar passion. Thanks for collecting with us!
Sincerely,
Guy Heilenman & The Rare & Early Newspapers Team
RareNewspapers.com
570-326-1045
Timothy Hughes Rare & Early Newspapers . . .
           . . . History's Newsstand
"…desiring to conduct ourselves honorably in all things." Hebrews 13:18b
October 11, 2021 by Laura Heilenman · Leave a Comment
All of the Founders are worthy of a great deal of respect however, some grab your attention more than others.  From George Washington's noble bearing to Jefferson's nation building writing.  I would argue none capture the imagination more than Benjamin Franklin.  Larger than life, with his bifocals and kite in a lightning storm, he makes a great historical figure for kids to study while inspiring adults with his witty wisdom such as, "Beer is proof that God loves us and wants us to be happy."
Among the many issues  we have at Rare Newspapers covering Franklin is one which is described as follows:
"The earliest account of the electrical experiments made by Benjamin Franklin, at Philadelphia (where he was then the post-master) appeared anonymously in 'The Gentleman's Magazine for January, 1750'."
This article mentions several of Franklin's important discoveries, including: "…that it will live in water…that it is more strongly attracted by slender sharp points than by solid blunt bodies…that bodies replete with this fire strongly attract such as have less of it, and repel such as have an equal quantity…".
Beer, electricity, bifocals and chess –  take a look at this brilliant, yet quirky Founder with new eyes by reading about him in the papers of his day.
October 7, 2021 by Laura Heilenman · Leave a Comment
It's amazing how one can work intimately with history for years-on-end and still find so much you don't know – and I'm certainly a case in point.  I find that after 2 years of exploring (technically called working) at RareNewspapers, I am still surprised & delighted on nearly a daily basis.  Just yesterday, as I began to dig into the background of one of America's heroes, Frederick Douglass, I discovered he had served as U.S. Marshal –  a fact which may have been known to many of the readers of the History's Newsstand blog, but was new(s) to me:
"When Republican Rutherford B. Hayes was elected president, he named Douglass as United States Marshal for the District of Columbia, the first person of color to be so named. The Senate voted to confirm him on March 17, 1877.[147] Douglass accepted the appointment, which helped assure his family's financial security.[51] During his tenure, Douglass was urged by his supporters to resign from his commission, since he was never asked to introduce visiting foreign dignitaries to the President, which is one of the usual duties of that post. However, Douglass believed that no covert racism was implied by the omission, and stated that he was always warmly welcomed in presidential circles." (Wiki)
I love how I get to spend my days!
October 4, 2021 by GuyHeilenman · Leave a Comment
A recent post focused on a headline which borrowed Jean-Baptiste Alphonse Karr's famous words from 1849: "the more things change, the more they stay the same" (translated from "plus ça change, plus c'est la même chose"). This tendency, as applied to human behavior, has certainly been substantiated time and time again in the world of politics.
During former President Trump's term in office "leaks" were springing up everywhere. For a novice to the political realm this may have appeared to have been a new phenomenon; however, the banner headline from a San Diego Evening Tribune dated January 8, 1917 makes it clear that once again, Jean-Baptiste Alphonse Karr was spot-on. How do we know? They put it in print:
October 1, 2021 by GuyHeilenman · Leave a Comment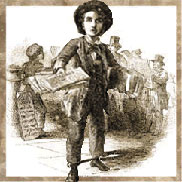 Catalog 311
(for October) is now available. This latest offering of authentic newspapers
is comprised of more than 350 new items, a selection which includes:
the Articles of Confederation, a nice account of Lincoln's assassination, a graphic issue on the sinking of the Titanic, George Washington is elected President, Winslow Homer's famous 'Snap The Whip', Washington crosses the Delaware, an issue almost entirely devoted to the Lincoln assassination (with a print of Booth), the first newspaper published in Alaska (with Seward's speech to the citizens of Sitka), an issue with the iconic Uncle Sam print, a Civil War broadside, the famous Hamilton and Burr duel, the creation of the United States Marine Corps, nice content on Lewis & Clark
, and more.
The following links are designed to help you explore this latest edition of our catalog:
Don't forget about this month's DISCOUNTED ISSUES.
The links above will redirect to the latest catalog in approx. 30 days,
upon which time it will update to the most recent catalog.