September 27, 2021 by Laura Heilenman · Leave a Comment
Each year as the beginning of June rolls around, some of us who live near or have trips to the Eastern Coast of the United States begin to watch the hurricane trackers. By late August through September they are really on our minds as we plan for impact on our homes or vacation destinations.  For Virginia Colonists in 1668, even June would have been too little too late to prepare as Virginia had already been hit by a destructive hurricane which would eventually be covered in the April 13, 1668 issue of THE LONDON GAZETTE. So, for the storm trackers out there who have an interest in the past, accounts of tropical storms through Category 5 monsters often appeared in rare & early newspapers.
September 23, 2021 by GuyHeilenman · Leave a Comment
Many recognize the names of the most famous racehorses of all time: Seattle Slue,  Man o' War, American Pharaoh, and Citation to name a few – especially if they were featured in a major Hollywood Movie, but what about their sired offspring? Do we recognize their names? How do we even refer to them? Perhaps "Seattle Slue and his Crew", "Man o' War and his War Reenactors", "American Pharaoh and his Royal Subjects", and/or "Citation and Prized Awards" would be appropriate? While all of these ideas ended up on the drawing room floor, one did make the cut. Thanks to his jockey's restaurant, we have "Seabiscuit and his Little Biscuits". How do we know? In the July 10, 2003 issue of the Los Angeles Times, they put it in print.
While none of Seabiscuit's foals grew up to become famous in and of themselves, the restaurant he inspired is still in business.
– – – – – – – – –
Update 9/28/2021, compliments of K.W. from Illinois…
September 20, 2021 by Laura Heilenman · Leave a Comment
Sometimes an image perfectly captures an emotion or a moment in time. Sometimes that moment is in the present but sometimes it won't be noticed for decades. Recently, as I was putting together issues for one of our collectors, I came across an image on the front of a Harper's Weekly dated January 4, 1902 which was that perfect snapshot. Our culture seems to have gotten murky and a bit hard to decipher at times., but on the front of the photo of a little boy captured the simplicity of his life. He was thankful for a man who had sacrificed greatly to make his life better. Perhaps, as a way to cut through the muck and mire of our time, a thankful heart is just what our culture… what we… what I need.
September 17, 2021 by GuyHeilenman · Leave a Comment
Monthly Newsletter ~ Rare & Early Newspapers
Welcome to the September, 2021 edition of our monthly newsletter. Please enjoy.
Newly Added Catalog Items (30 more added just this week) – some of the topics/issues include: a rare (1792) printing of what many consider Alexander Hamilton's greatest work ("Report on Manufactures"), President Harding formalizes the United States support of creating a Jewish homeland, a Confederate newspaper from Grenada (Mississippi), the iconic cover of the Village Voice (shows Bob Dylan, The Beatles, and Timothy Leary), a graphic issue on the battle of Gettysburg, Abraham Lincoln's 1863 "We have forgotten God…" proclamation, a 1774 publication with the text of the "Declaration & Resolves of the First Continental Congress" (aka 'Declaration of Colonial Rights') in response to the hated "Intolerable" Acts by Congress, Jackie Robinson's MLB (baseball) debut, Benjamin Franklin's Plan for the Union (1754), and more.
Newly Discounted Newspapers ~ 50% off
 (through October 14th) – topics/issues include: a newspaper printed on plastic, boxing's first world championship (with a mention of the Pony Express as a bonus, a Mormon periodical from Denmark, a French newspaper from the 1600's, the 1778 Siege of Newport (Rhode Island) along with a map of Dominica, a report re: John Wesley in Savannah (Georgia), George Washington's state-of-the-union address to Congress, the Jewish Year of Jubilee convention and Harding's letter to the Jews, The Wizard of Oz debuts on television, the Death of Henry Ford, the stock market reaches 10,000 for the first time, the Battle of Tippecanoe (sorry, no Tyler too from what I can see), and more.
The Wright Brothers' Famous Flight Encircling The Statue of Liberty (1909) – I love this collectible! I am currently reading "The Wright Brothers", by David McCullough, and in the process was reminded of their famous flight encircling The Statue of Liberty in 1909. While we have offered the well-known Harper's Weekly issue which covered this event, I was inspired to explore our archives to see if we had coverage in one of our titles – and voilà, not only did we have coverage, we found it in an original newspaper from New York… with multiple photos to boot. What fun! I immediately read the report and compared it to McCollough's description of this historic event. Analysis? Spot On!
If interested, the following links provide a glimpse of our discovery:
Catalog 310
 – Enjoy both the remaining items from the initial release of our latest catalog of historic newspapers along with a set of newly added items (many added within the past few days):
Thanks for collecting with us.
Sincerely,
Guy Heilenman & The Rare & Early Newspapers Team
RareNewspapers.com
570-326-1045
Timothy Hughes Rare & Early Newspapers . . .
           . . . History's Newsstand
"…desiring to conduct ourselves honorably in all things." Hebrews 13:18b
September 13, 2021 by Laura Heilenman · Leave a Comment
Hiking with kids can teach LOTS of life lessons, not the least of which is: "Don't forget the snacks".  However, a more obscure lesson is more impacting for the long term. Hiking often leads us down a path to a moment we never saw coming…  maybe the sunlight is dappling the trail ahead as we turn a corner or a mother deer lifts her head to check on her fawn as we step into a quiet glen. Life can mimic like these treasured moments. Perhaps we make a choice without much thought one day which leads to hidden treat a year or two down the road or hobby we start with our loved one can pay undreamt of dividends at a perfect future moment in our lives.  Such is the story below.  Take the few minuets to watch as it is uplifting and encouraging and honestly,  isn't that what we could all use right now at this moment in time? Here at RareNewspapers, our small part of the story came about as the father of this remarkable young girl contacted us to see if we had the April 19, 1946 issue of The New York Times which contained this priceless image.  After some research, our success elicited the only appropriate outcry: HOMERUN!!!!!!!!!!!  We are always grateful for moments like these when history leaps off the page and touches our hearts. ENJOY!!!
September 10, 2021 by Laura Heilenman · Leave a Comment
A wise man once said: "There is nothing new under the sun", which is typically accepted as valid. Today, however,  the headline, "Everything Changed, Nothing Changed" (page A10 of a September 11, 2016 Los Angeles Times) caught my attention. As I read the corresponding article covering the 5th anniversary of 9/11,  I was struck by the varying perspectives which exist concerning an event I personally thought was cut and dry, and in so doing, realized this "wise man" may not have captured the whole story. While it is true that history repeats itself (over and over and over again), it's also true each person has their own unique human experience and paradigm – their own lens through which they interpret events from as little as a five-year window. Thus, any historical event can impact people quite differently and for some people, certain life events, although in the past (recent or otherwise), may seem new.  Fortunately for us, as collectors of historic newspapers, we have the opportunity to read a vast array of perspectives covering a wide range of situations as presented the day they were first reported, and are provided with a much broader scope of humanity than what we merely see around us.  Just one more thing to love about this hobby!
September 6, 2021 by Laura Heilenman · Leave a Comment
Recently, while in Cancun, Mexico I was struck by a small yet complicating life perceptive… one man's villain may very well be another man's hero. Here at Rare Newspapers, we see varying sides of news stories on a daily basis… from American Revolutionaries vs. the British perspective to The Confederate troops vs. The Union soldiers. This day, however, as I stood in the Mexican sun, talking history with a young man who was the age of my children, I realized there was a new paradigm I had not considered. As he questioned what I did back in the states, his eyes lit up as he asked if we had any issues covering Pancho Villa. I quickly responded, "Oh, I'm sure we do. Let me check and I will get back to you." Later as I scrolled through our inventory, I realized I would be hard pressed to find an issue that would excite him since the American perspective of this controversial figure was very different from my new Mexican friend's view. I determined to find something to show him and finally settled on a rather benign Harper's Weekly image without a splashy headline. He seemed pleased enough. My take away was a reminder to analyze my own heroes more carefully and to be sensitive to other people's paradigms. There may only be one truth however, our paradigm can make it hard to distinguish at times.
September 3, 2021 by GuyHeilenman · Leave a Comment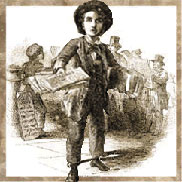 Catalog 310
(for September) is now available. This latest offering of authentic newspapers
is comprised of more than 300 new items, a selection which includes:
the "Handshake of the Century" (between Jackie Robinson & George Shuba), Edmund Burke's historic: On American Taxation… First Continental Congress' appeal, Nice front page reporting on the Custer Massacre, Progressive "Bull Moose" Party is founded in 1912, New York City's Graffiti artists, "The North Star" becomes "Frederick Douglass' Paper", the first convention of clubs: the birth of organized baseball, Lincoln steps upon the national stage… The Cooper Union speech, Synagogues hold memorial services… with much on the assassination & funeral of Lincoln, Extremely early mention of George Washington… French & Indian War, the full text of the Louisiana Purchase, the formation of the Mormon Church, the first full-fledged Broadway musical, and more
, and more.
The following links are designed to help you explore this latest edition of our catalog:
Don't forget about this month's DISCOUNTED ISSUES.
The links above will redirect to the latest catalog in approx. 30 days,
upon which time it will update to the most recent catalog.