February 25, 2021 by GuyHeilenman · Leave a Comment
Thank goodness "cancel culture" did not exist (at least in [Wilbur]force) back in 18th century.
Flashback to the late 17oo's… Although slavery had been part and parcel of many cultures for thousands of years, and was certainly woven throughout all aspects of life and commerce in Great Britain, some were staunchly against the practice and had the courage to fight for those whose skin color did not match their own. One such person who was particularly outspoken in this regard was the popular and well-respected poet/hymnologist William Cowper. Although taking such a stand was both an affront and a danger to the political and social mores of the day, he (and others with similar convictions) were permitted to speak, and in the long-run, the world's view was eventually transformed. How do we know? They (actually) put it in print!
The following excerpt from one of his anti-slavery poems was printed in the Columbian Centinel dated June 16, 1791:
February 22, 2021 by GuyHeilenman · Leave a Comment
On April 15, 1912, the R.M.S. Carpathia became the hero of the day by coming to the rescue of many of the survivors of the Titanic. For the next several stops it went is was met with cheering crowds of adoration. However, a mere half-dozen years later it met a German U-55 submarine, and it was not well-received. Three torpedoes later it joined the Titanic at the bottom of the sea. Sadly, unlike the Titanic, there were no survivors. How do we know? The July 20, 1918 Springfield Republican put it in print.
February 15, 2021 by GuyHeilenman · Leave a Comment
In the midst of rampant anti-Semitism, and just a few years prior to the start of the Holocaust, David Lloyd George, the former Prime Minister of Great Britain, made an impassioned plea for the world to come to the rescue of the Jewish People by providing them with the homeland they had been promised decades earlier. In his speech he reminded the world of how the Jews had come to the aid of England… and the United States… and Russia, and were now in need of a response in kind. Unfortunately his call to action fell on deaf ears and the impact of heads buried in the sand now stands as a black mark on the timeline of history. The following account of his appeal to the House of Commons was found in The Scranton Times dated June 10, 1936:
February 11, 2021 by GuyHeilenman · Leave a Comment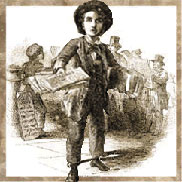 Catalog 303
(for February) is now available. This latest offering of authentic newspapers
is comprised of more than 300 new items, a selection which includes:
Washington's letter to the Hebrew Congregation in Savannah, a trio of Honolulu issues on the key events of World War II, a rare pillar cartoon issue (putting the Constitution into effect), the desired 'Who's A Bum!' newspaper, an issue incorrectly announcing all Titanic passengers are safe, an extremely dramatic issue on the 'Battle of Los Angeles'
, and more.
The following links are designed to help you explore this latest edition of our catalog:
Don't forget about this month's DISCOUNTED ISSUES.
The links above will redirect to the latest catalog in approx. 30 days,
upon which time it will update to the most recent catalog.
February 8, 2021 by Laura Heilenman · Leave a Comment
Have you ever been thinking one thing and a moment later your mind has completely carried you down several rabbit holes and back up into a field far away? As you try to retrace your steps, you are utterly amazed at how you ever ended up where you did. I find history to be much the same. I may begin my historical trek in a tiny town in the mountains of Northern Pennsylvania, but before long I find I've meandered to the center of New York City. Such is the journey I took this snowy afternoon.
Every day I drive past an old industrial complex in my mountain town Of Williamsport, PA.. The signage says, "Williamsport Wire Rope Company" and the factory yard is filled with enormous spools stacked about … a photographer's fantasy for possible black and white images. This picturesque scene is what originally caught my attention on those many drives home. This particular day a rabbit trail led me to an exploration of what the wire cable produced in this factory would have been used for which quickly lead me to an engineer named John Augustus Roebling (1806 – 1869). John had owned the very first wire cable company, similar to the one in my town. Not satisfied to just produce these cables, his mind dreamt of the many, yet be discovered, uses those wires might  have … Voila ! … Suspension Bridges. As a suspension bridge designer and builder extraordinaire, he  was instrumental in creating the beautiful city of Pittsburgh which became known as "The City of Bridges". From Pittsburgh to the Niagara River … from Waco to Brooklyn NY, this man took spools of wire cable and transformed each area he touched into a practical work of art. My rabbit trail reminds me that my local history can be the start of the very best future road trips. Whether your interests lie with new scientific discoveries, historical biographies or works of art, much of history can satisfy almost any inquisitive mind. I see a historical bridge excursion coming this spring… perhaps even from Waco to Brooklyn.
February 4, 2021 by TimHughes · 5 Comments
We recently discovered the November 23, 1844 issue of the iconic "Illustrated London News" from England, featuring on the front page portraits of James K. Polk and Henry Clay, both candidates for the Presidency.
Knowing this was a very early of a portrait of a President in a newspaper, I did a little digging to see if it might be, in fact, the earliest.
I could not confirm an earlier one. Research did note that the issue of April 19, 1845 of the same newspaper has a print showing the inaugural ceremonies and the procession to the Capitol, but that was 5 months later.
Given that most of the illustrated newspapers would not begin until the mid-19th century (Gleason's Pictorial began in 1851), none of the more well-known American illustrated periodicals existed in 1844. Even Harper's New Monthly, which had a wealth of small prints in each issue, did not begin until 1850.
Any collectors out there aware of an earlier print of a U.S. President in a periodical? It would be great to document the earliest, whether it's this Nov. 23, 1844 issue or another.