January 28, 2021 by Stephanie Williams · Leave a Comment
On the front page of a late 1800's issue (Vol. XVII) of The Woman's Journal three different topics caught my eye — and studying those prevented me from even opening up the issue.  Not included in my collection is the second entry of the column on the far right, entitled "Concerning Women".  It reads, "Mrs. Harriet Beecher Stowe has just passed her seventy-fifth birthday."  One of the most appealing things about old newspapers is that they put human details on the outline sketches of history, as with President Lincoln's "little woman who wrote the book that started this great war."
Of the more substantive things reported on June 26, 1886, a third of a column is devoted to the passage of legislation in Massachusetts that made it illegal for a man to seduce a woman, even if he was under 21 years of age.  With a bit of research I found that the crime described, "the making of a false promise of marriage as a way of luring a previously chaste unmarried woman into having sex."  It baffles me that senators argued to keep this form of fraud legal for younger men since, "they did not think it is wise to punish a minor who might commit an offense in a moment of indiscretion."
In the medical arena, Dr. John B. Gray addressed a group at Utica and focused on the malady we currently term postpartum depression.  He classifies this as a "preventable cause of insanity", and urges the organization of private support for women after they have delivered babies, to take the form of home and personal care.  He claims that the burdens of "toil and worry" overwhelm a new mother, in some cases to the point of losing their sense of reason.  The article concludes with his plea, "I have heard the wail of sorrow come up from too many households to keep silent.  I have looked into the meaningless eyes of too many, lost by neglect, to stay my voice."
Finally, I will let the first editorial note speak to the frustration that fueled the fire to grant women the right to vote in this country.  And, as always, I calculate the length of time over which this energy had to be sustained until the final passage in 1919 of the 19th Amendment to the Constitution of the United States.
College degrees are just now being given to men and women without any public outcry against the fair sex, or even a hint that they are out of their sphere or usurping the rights of the other sex.  So much is gained.  But these young women, who in the world of letters hold B.A. and M. A. and even LL.D., are under the law held as equals of lunatics and idiots, and of male felons in prison.  Such men and such women are alike denied the right to vote!
January 25, 2021 by GuyHeilenman · Leave a Comment
Below we continue our series in which we post the "stories" graciously submitted by our collecting friends during the pandemic of 2020-2021.
I have always loved history from as far back as the 8th grade. My teacher started teaching us about Abraham Lincoln [during our unit on] the Civil War. Then one day I went to a garage sale [in upstate New York] with my brother. He knew I loved history, and he found an old school house picture of George Washington. So, I started reading about George Washington. Finally one day my friend called me and told me that he had a gift for me. When I got there he give me my gift – a November 23, 1963 New York Times. I couldn't believe I was holding a newspaper older than me – and especially a newspaper on the assassination of JFK. From that point on I have never stopped buying [historic] newspapers. Thank you Rare & Early Newspapers for helping me have great collection of newspapers.
As additional "stories" are posted they will be available at: MY COLLECTING STORY. We did this many years ago as well – and their posts are also included.
January 21, 2021 by Laura Heilenman · Leave a Comment
A very wise man once said … "We are not makers of history. We are made by history." ~Martin Luther King, Jr. With this in mind, I decided to see what had happened over the years on January 21st hoping to glean a bit of wisdom and foresight as I approach this January 21st. As of today, we here at Timothy Hughes Rare and Early Newspapers, have dozens of items listed from January twenty firsts of the past. Below are a few that jumped off the pages for me.
Two elegant actresses of Hollywood's Golden Age died exactly three years apart … Barbra Stanwyck died in 1990 and Audrey Hepburn, all-time favorite of my 4th daughter Rebekah and me, died on January 21, 1993. The movie world will always have an Audrey sized hole in it. Reminiscing about her persona drives me to be more gracious.
On January 21, 1961, JFK was inaugurated. THE ARIZONA DAILY STAR headline reads: "Kennedy Calls Mankind To 'Quest For Peace'". I wonder, as those words left his mouth, if he ever imagined that roughly a year later he would stand at the brink of what some thought would become WWIII. His short life is a reminder that we never know what tomorrow may bring and so we must approach each day with an eye to its impact on the future.
Finally, only because I ran out of time, not because I ran out of stories, I focused on the mine explosion of January 21, 1935 in Gilberton, Pennsylvania. I live in mine country and stories of mine explosions riddle Northern Pennsylvania newspapers along with stories of families decimated by horrendous working conditions and no hope for a better life. This particular mine explosion story, along with the endless others, is a constant reminder of how good we have it in America on January 21, 2021 and that we should keep an eye focused from whence we came so that we appreciate where we have come to.
January 15, 2021 by GuyHeilenman · Leave a Comment
Monthly Newsletter ~ Rare & Early Newspapers
Welcome to the September 2020 edition of our monthly newsletter. This month we'd like to bring your attention to the following:
Approximately 150 historic newspapers have been discounted by 50%. The prices shown reflect the discount. Included are:  Thomas Nast Santa illustrations, 19th century western Colorado, assassination of Jack "Machine Gun" McGurn, the Rosenbergs found guilty, Babe Ruth's last homerun as a Yankee, Nadia Comaneci scores a perfect 10, Bing Crosby's death, and more.
Since Catalog 302 went to print we've added approximately 50 additional items. Some of the topics/issues include: a mid-1700's map of Eastern Canada, Convicts shipped off to America and Oglethorpe before the founding Georgia in the same issue, several different rare Confederate newspapers, George Washington rejects an honor and the delegates to the Constitutional Convention in the same American issue, a Philip Burke caricature of Donald Trump, and more.
Speaking of the catalog, some links which you may find useful include:
Items which have been listed on our website within the last 30 days.
Timothy Hughes Rare & Early Newspapers . . .
           . . . History's Newsstand
"…desiring to conduct ourselves honorably in all things." Hebrews 13:18b
See what's happening on our social sites
January 11, 2021 by GuyHeilenman · Leave a Comment
We recently discovered a heart wrenching account of a slave mother's attempted escape with her child on an inside page of a New York Tribune dated January 29, 1863. Editorializing on my part will not do it justice. It is accounts like this one, which were part of everyday life for many who were living in bondage, is a continual reminder that I will never be able to comprehend what it's like to walk in the tattered shoes of a slave.
January 7, 2021 by GuyHeilenman · Leave a Comment
This forum has often been used to highlight one of the unique benefits of the hobby of collecting Rare & Early newspapers – that is, collecting a newspaper for one purpose, only to later find a more precious item hidden within its pages. Such is the case with the Harper's Weekly for September 29, 1866. For 40+ years we offered this issue with a spotlight on a variety of the interesting illustrations found within its 16 pages. However, we recently discovered yet another hidden gem: an article accompanying the popular print: "Burning of the California Clipper 'Hornet'". What's so special about this uncredited article? It was written by Mark Twain – making it the first time an article written by him received national attention. What a find!
If you happen to be one of the lucky one's to have purchased this issue without knowledge of the Mark Twain contribution, you now possess an issue of significantly greater notoriety (and therefore value) than what you previously had thought. Good for you.
January 4, 2021 by GuyHeilenman · Leave a Comment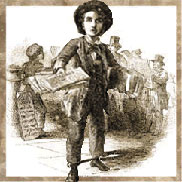 Catalog 302
(for January) is now available. This latest offering of authentic newspapers
is comprised of more than 300 new items, a selection which includes:
a very graphic issue on the sinking of the Titanic, a 'Tombstone Epitaph' (the most famous newspaper in the West), a Honolulu newspaper on Pearl Harbor: the more rare "2nd Extra", the surrender of Lee to Grant at Appomattox, an American map: creating the Mason Dixon Line, Washington's state-of-the-union address
, and more.
The following links are designed to help you explore this latest edition of our catalog:
Don't forget about this month's DISCOUNTED ISSUES.
The links above will redirect to the latest catalog in approx. 30 days,
upon which time it will update to the most recent catalog.