November 27, 2019 by Stephanie Williams · Leave a Comment
Sometimes rabbit trails lead to revised destinations – particularly those that meander through the annals of history.  This week is a big deal on the US calendar because of colonists and survival and a heritage of gratitude…and I am a person full of thanks this year, as I have been much of my life.
I obtained permission from Guy to be a bit personal in my post, which he graciously granted, but a communication with a favorite collector in NYC derailed my reflection.  Ms. P told me about Evacuation Day, which commemorated the rousting of the British troops from their occupation of New York City following this nation's fight for independence from England.  I had never heard of the liberation of NYC, let alone the celebrations that occurred annually until Lincoln's Thanksgiving Proclamation co-opted the seasonal celebrations.  To be honest, I had never considered the duration of conflict following the 1776 declaration.  Anyway, this information came to light in a peripheral way, and the collector who brought it to our attention, attended this year's anniversary hoopla in the city that was liberated.
It's a privilege to learn from the staff here, as well as those who are ordering papers.  The collecting community is made up of a broad spectrum of interest and study, and I get to glean from the riches that move through the Rare and Early Newspapers archives.
I am thankful for the people who envisioned the United States of America — this great experiment.  I am thankful for those who kept their convictions through a long, wearying stretch of conflict, and I am thankful for families and communities who continued to manage the stuff of life through the political upheaval.
If you have some time over the upcoming holiday, our catalog is much more fascinating than any Black Friday special.  Whether you find the perfect gift for yourself or another, the time spent perusing the pages is a treat all by itself.
Cheers!
November 25, 2019 by GuyHeilenman · Leave a Comment
When one considers the evolution of the computer, certain names come to mind: Charles Babbage and his son Henry, Alan Turing, John Atanasoff, John von Neumann, Henry Edward Roberts, Bob Bemmer, and James Gosling to name a few. However, like any grand endeavor, the number of unsung contributors is endless. Case in point: Have you ever heard of Vannevar Bush & Harold Locke Hazen? If you answered no, you are not alone. In fact, their names are absent on most lists of "pioneers in computing". However, like thousands of others, their efforts were not insignificant. An article on the front page of a NEW YORK TIMES for October 21, 1927 places them front-and-center – albeit if only for a snapshot in time.
November 18, 2019 by GuyHeilenman · Leave a Comment
In 1934 Bonnie penned what most believe to be her last poem: "The Story of Bonnie and Clyde", which appeared in newspapers throughout the country shortly after their deaths. The uncanny foretelling of their fate would capture the imagination of many, and help transform them into legendary figures – a fantasy she had held since her teenage years. Although the poem appeared in quite a few newspapers, few can be found. However, we recently came across a Chicago Daily Tribune dated May 25, 1934 which printed the poem on the day of their funeral. Enjoy.
November 15, 2019 by Stephanie Williams · Leave a Comment
Two things jumped out at me recently, and perhaps I recollect both since this week is a planned combination post.  Also, in a strange way, they are related to one another.
First of all, anyone who has visited our facility has probably been struck by the magnitude of material that is literally everywhere, and the evident esteem in which all of these papers are held.  At my desk (which faces a window) I am flanked by two framed issues.  To my right, a Cleveland paper pronounces the Pirates the World Series Champions of 1925.  And the headline hung on my left shouts, "ALLIES PROCLAIM VICTORY IN EUROPE."  There are nine similarly matted and mounted newspapers in this area that holds a couple of desks, four tables, and seven bookshelves — in addition to nine well-stocked shelving racks.  I am drawn to observe again this strange blend of work and wonder.  This is a business, after all, but it is also a repository of beauty.  The staggering volume of issues does not detract from the appreciation of each distinct title and headline (or buried mention).
A different interesting aspect of this Rare & Early Newspapers environment, is the way it has shifted personal perspective.  Most people hear of a grounded ship moving after one hundred years, and wonder, comment or possibly exclaim.  Here, however, it is a call to research.  "I wonder if we have a report from that incident of Niagara Falls' history?"  Even random queries are seldom abandoned before at least a cursory glance at either database or archives.  Anniversaries turn into memos to check for same city coverage.  "Do we have a first report?"  And when research brings new facts or figures or labels to old history, the same material is scoured for people or places that used to be commonplace.  A purported  Alexander Hamilton pen name, or the mention of a ship traveling the Erie Canal, or DNA testing for a relationship between a slave and an American President – all can bring a new way to look at old news.
And here, carefully kept among millions of issues, it is likely we have it.
November 11, 2019 by GuyHeilenman · Leave a Comment
Bob Dylan returned from a nearly eight-year break from touring by teaming up with The Band for a 40-concert, 21-city tour – which was kicked off at the Chicago Stadium. As the crowd waited for the concert to begin many wondered whether he would return to his stripped-down, acoustic-forward style, or his amped up, electric-infused experiment – a style which he, to the chagrin of many of his devoted followers, had introduced at the *Newport Music Festival in 1965.  After such a long absence, which Dylan would show up? One thing was certain, although he had received considerable criticism for his change in style, what they were about to hear would be pure Bob Dylan – according to his own terms.  The Village Voice out of Greenwich Village, NY, wrote a nice review in their issue dated January 10, 1974: "Most Likely He'll Go His Way."
Forty concerts within a 2-month span! Were you there?
*Prior to his touring hiatus, Bob Dylan began experimenting with playing Folk Music infused with electric instruments. This uncommon practice began with his concert at the 1965 Newport Music Festival and continued for approximately 2 years. While many of the songs were familiar, their sound was unlike anything they had previous heard. In the end, although others had tried a similar style, he made it popular and once again solidified his reputation as a pioneer in music.
November 7, 2019 by GuyHeilenman · Leave a Comment
Anyone in the past 100+ years who has visited Niagara Falls could not help but notice a structure, a mere 3 football-fields upstream, which seems precariously out of place – yet, the word precarious is far from the appropriate descriptive. Truth is, for 100+ years, this iron eye-sore – now refereed to "The Niagara Scow", has not budged – until now. Due to recent heavy rains, what was thought to be a permanent fixture in the Niagara landscape has reminded us that nothing lasts forever – faith, hope, and love excepted. 🙂
One of the many pleasures of collecting rare newspapers is the ability to grab a current-events story such as this, and run back into time to explore its roots. We did just this in regards to the Niagara Scow, and we found a report in a New York Times dated August 7, 1918. Whereas the issue itself can be viewed/purchased on eBay, the entire text of the article is available on our website. Enjoy.
November 4, 2019 by GuyHeilenman · Leave a Comment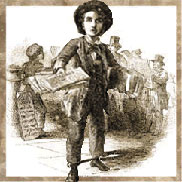 Catalog 288
(for November) is now available. This latest offering of authentic newspapers
is comprised of more than 300 new items, a selection which includes:
a complete printing of The Declaration of Independence, George Washington is elected President, a first report of the Great London Fire, a terrific & displayable Abe Lincoln centerfold, the full text of the Continental Association (in a Virginia newspaper), the Coronation of the King & Queen (in a London newspaper)
, and more.
The following links are designed to help you explore this latest edition of our catalog:
Don't forget about this month's DISCOUNTED ISSUES.
(The links above will redirect to the latest catalog in approx. 30 days, upon which time it will update to the most recent catalog.)
November 1, 2019 by Stephanie Williams · Leave a Comment
This week I discovered another section of the archives previously unexplored — actually, I didn't even realize it was there.
The walls in these connected buildings are shelved from floor to ceiling, as are the aisles and corridors.  Inside those rigid 15′ dividers are movable racks that provide another layer of coordinates for filing archival folders of old and rare newspapers.  It was here, highlighted by the angle of the tag, that I saw the title and date of voices for abolition.  The Liberator  issues that are housed here go as late as 1865, but I was interested in the ones that preceded the Emancipation Proclamation. What was being written and discussed by this publication from the "Anti-Slavery Office" in Boston in 1859?  What was the tone prior to that April bombardment that marked the start of the Civil War?
The rag paper is full-sized ("folio", in fact) and consists of four pages, mostly devoted to telling the stories of injustice and accounts that should provoke outrage.  Headed by an illustration intricately representing people divided into groups based on the color of their skin, a banner curves along the bottom proclaiming, "THOU SHALT LOVE THY NEIGHBOR AS THYSELF" while a sign above a wooden structure crowded with human beings advertises, "Slaves, Horses & Other Cattle In Lots To Suit Purchase."  I feel the effectiveness of the graphics, of the pleading tone in the "Letter to Southern Ladies" and the headline which queries, "Shall Massachusetts Be Slave-Hunting Soil?"  But what surprises me the most in this new acquaintance was the attitude toward the forerunner of Abraham Lincoln.  A full front-page column is headed "PRESIDENTIAL FALSIFICATIONS", and pulls no punches in its criticism of James Buchanan's avoidance of the situation with the Free State Men of Kansas and the powerful politicians whose support of Slavery  led to an effort summarized with, "The Missourians openly exulted in the sure prospect they had of making Kansas a slave state, in spite of the Free State men."
I am looking forward to delving into the dates that discuss the events that followed — in all the permutations and compromises and regrets and triumphs.  And I can't help but wonder how much of a change anyone could have honestly expected after such a long period of such passionate division.