November 26, 2018 by GuyHeilenman · Leave a Comment
The following snapshot comes from the Boston Evening Transcript dated August, 9, 1847. Perhaps the journalist should have included a little less sarcasm in the reporting on this historic woman's suffrage gathering.
November 23, 2018 by GuyHeilenman · Leave a Comment
Probably the most infamous, yet often romanticized outlaw couple is Bonnie and Clyde. While many are familiar with a host of the exploits and eventual demise, few are aware of a poem which Bonnie wrote which in retrospect appears quite prophetic. This post-death printing appeared in the  Chicago Daily Tribune on May 25, 1934 – two days after her death:
November 19, 2018 by The Traveler · Leave a Comment
Today I traveled to Boston, Massachusetts, by the way of The Boston Chronicle Extraordinary dated November 17, 1768. I found reports from London within the issue, one being: "The total number of the militia, in the large province of New-England, is upwards of 150,000 men, who all have and can use arms… Yesterday it was reported, that the people of Boston had taken Governor Bernard prisoner… The report of to-day is… all was quiet on the 24th of July… People in general seem much dissatisfied with the behaviour of the Bostonians. However these things will end, time only will determine: many people think it will not terminate without bloodshed; but I hope they will be mistaken." 
Another article reads: "…I find Rulers in the mother country are resolved on the ruin of North-America. We have got no money, and many of our merchants have even pledged their plate to pay the taxes. — We indeed are of opinion that our grievances do not reach the royal ear."
~The Traveler
November 12, 2018 by GuyHeilenman · Leave a Comment
What news was reported in the month of November – 50 (1958), 100 (1918), 150 (1868), 200 (1818), and 250 (1768) years ago? Such a walk back through time via the eyes of those who read the daily and weekly newspapers of the period can be quite revealing. This is why we often say, "History is never more fascinating than when it's read from the day it was first reported." The following links will take you back in time to show the available newspapers from the Rare & Early newspapers website. There's no need to buy a thing. Simply enjoy the stroll.
November:

November 8, 2018 by The Traveler · Leave a Comment
Yesterday my travels took me to Los Angles, California, via the Los Angeles Record dated November 7, 1918. I found the big announcement "Peace! War Is Over". "The allies and Germany signed an armistice at 11 o'clock this morning. Hostilities ceased at 2 o'clock this afternoon. the Americans took Sedan before the armistice became effective. Immediately upon the announcement by General Foch that the armistice terms were signed, orders were sent to all allied and German [field] commanders to stop fighting…"
This was a bit premature reporting as the the war would not officially end until four days later!
~The Traveler
November 5, 2018 by GuyHeilenman · Leave a Comment
Who should have the right to vote? Should Native Americans? Blacks?  Poor Whites? Women? Citizens who either don't own land or who are unemployed (i.e., don't pay taxes)? Although all of these at one time did not have the right to vote, today, we all (hopefully) unanimously agree the answer is a resounding YES – and thankfully, although it took time, they now can. However, although we are unified in our appreciation that all citizens should be granted this privilege, is there a responsibility that comes with this right – a civic duty to not only exercise this "right", but to do so as an informed voter? THE DAILY GRAPHIC's (New York) November 2, 1875 illustrated front page weighed in on this issue with a degree of sarcasm. Enjoy.
November 1, 2018 by GuyHeilenman · Leave a Comment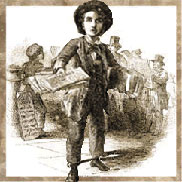 Catalog 276
(for November) is now available. This latest offering of authentic newspapers
is comprised of over 300 new items, a selection which includes:
two extremely rare 1774 Virginia Gazettes from Williamsburg (one with Boston Tea Party references, and the other with a woman publisher), the "Frederick Douglass' Paper", Washington elected President of the Constitutional Convention, The Constitution of the United States, a Honolulu Star-Bulletin reporting the Pearl Harbor attack, an "Oxford Gazette" from 1665
, and more.
The following links are designed to help you explore this latest edition of our catalog:
Don't forget about this month's DISCOUNTED ISSUES.
(The catalog links above will redirect to the latest catalog in approx. 30 days, upon which time it will update to the most recent catalog.)