March 30, 2018 by GuyHeilenman · Leave a Comment
The following snapshot comes from the February 20, 1817 issue of the National Intelligencer, Washington (D.C.)…
March 28, 2018 by GuyHeilenman · Leave a Comment
It is easy to look at the deficiencies of our current political climate and forget from whence we came. It is one of the reasons why many of those from "The Greatest Generation," who saw friends give up their lives for the cause of freedom, quickly become frustrated with those who take those freedoms lightly, and neglect to see the progress this "experiment is self-government" has made in less than 250 years.  I was reminded of this truth when I came across a June 28, 1924 issue of the Leominster Daily Enterprise which had the heading: "COMMITTEE [DNC] GRAPPLES ALL NIGHT WITH KU KLUX KLAN ISSUE." Let's put down our partisan-tipped weapons, reopen the lines of communication, and with a degree of civility and mutual respect, move forward in our quest to make this country a place where each and every citizen can prosper on a foundation of equality, hard-work, and freedom.
March 24, 2018 by GuyHeilenman · Leave a Comment
Slavery, along with its multitude of abuses, has been part and parcel of society for millennia. This point was brought to the forefront as we were reading a July 10, 1671 London Gazette. It reports of letters from the Island of Corfu which talk about Turks transporting Christian slaves – with a mention that they were good workers. While a bit troubling, it also makes a request for everyone to stay clear of the vessels in order to keep the peace. Interesting.
March 19, 2018 by The Traveler · Leave a Comment
I traveled today to Springfield, Massachusetts, by the way of The Springfield Republican dated March 17, 1968. I found that Robert Kennedy was the star of the New York City's St. Patrick's Day parade. "The spotlight was supposed to be on St. Patrick but it was presidential candidate Robert F. Kennedy who stole the show Saturday. He turned the annual St. Patrick's Day parade up Fifth Avenue into his first campaign appearance… pinned two "Bobby" buttons to his label and moved in with 125,000 real and adopted Irishmen marching in the parade…"
In less than three months, Bobby would be assassinated by Sirhan Sirhan while in California following winning a major victory there.
~The Traveler
March 16, 2018 by GuyHeilenman · Leave a Comment
Each month the staff of Timothy Hughes Rare & Early Newspapers sends out a newsletter to our members which includes special offers, discounts, alerts to new inventory, and information related to the rare newspaper collectible.
The March, 2018 newsletter:
Welcome to the March edition of our member's newsletter. This month we have a new set of issues being offered at a discount (50% off), an early look at an extremely rare hand-written Confederate camp newspaper, an offer for a free issue, and links to our most recent posts. Please enjoy.
Free Issue
– Through March 31st, while supplies last, we are offering a free issue (only pay S&H – which could be free) of the Gentleman's Magazine dated from 1819 to 1839. We have up to 25 issues to offer. Please, only one per customer:
The Gentleman's Magazine (free)
A Handwritten Confederate Camp Newspaper – We've recently acquired an extremely rare newspaper:
The Stonewall Register
Catalog 268
– Enjoy the remaining items from our latest catalog of historic newspapers.
Recent Listings
– Over 700 items have been listed within the last 20 days, many of which will never appear in catalogs. They may be viewed at:
Recent Listings
History's Newsstand Blog
– Some of the recent posts include: "Great Headlines Speak For Themselves… Malcolm X assassinated," "March thru time (50, 100, 150, 200, & 250 years ago) – 2018 edition," "The Traveler… impeachment begins," "Who's Who in Newspapers? Joseph A. Turner edition," "The Traveler… Notre Dame hires a new coach, but didn't get his name right," and more. These and more may be viewed at
History's Newsstand Blog
Thanks for collecting with us.
Sincerely,
Guy & The Rare & Early Newspapers Team
March 12, 2018 by The Traveler · 2 Comments
The best headlines need no commentary. Such is the case with the LOS ANGELES TIMES, February 22, 1965: "MALCOLM X GUNNED DOWN"…
March 8, 2018 by GuyHeilenman · Leave a Comment
What news was reported in the month of March – 50, 100, 150, 200, and 250 years ago (1968, 1918, 1868, 1818, 1768)? Such a walk back through time via the eyes of those who read the daily and weekly newspapers of the period can be quite revealing. This is why we often say, "History is never more fascinating than when it's read from the day it was first reported." The following links will take you back in time to show the available newspapers from the Rare & Early newspapers website. There's no need to buy a thing. Simply enjoy the stroll.
March:

March 5, 2018 by The Traveler · Leave a Comment
Today's journeys took me to Madison, Wisconsin, by the means of the Wisconsin State Journal dated March 6, 1868.  There I found the headline "IMPEACHMENT." "Opening of the High Court of Impeachment by Chief Justice Chase." "… At 1 o'clock precisely, Chief Justice Chase appeared at the door of the Senate Chamber, …Acting Vice President Wade then said: 'The Senate will suspend business for the purpose of proceeding to the consideration of the impeachment of the president of the United States.' … The Chief Justice said: 'I am here for the purpose of joining with you in forming a Court for the Court of Impeachment. I am now ready to take the usual oath to the Chief Justice…"
This was the opening day for the three month long impeachment trial of President Andrew Johnson.
~The Traveler
March 1, 2018 by GuyHeilenman · Leave a Comment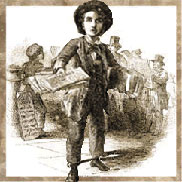 Rare Newspapers' monthly offering of collectible newspapers, Catalog 268, is now available. This latest collection of authentic newspapers is comprised of nearly 350 new items. Some of the noteworthy content includes: the desired New York Times reporting Lincoln's assassination, Causes & Necessity of Taking Up Arms, Winslow Homer's famous 'Snap The Whip", Battle of Lexington & Concord, a great 1757 map of the French & Indian War, the Battle of the Alamo, and more.
To view the above key issues and a whole lot more, go to: Catalog 268

(The catalog links shown above will redirect to the latest catalog in approximately 30 days, upon which time it will update to the most recent catalog.)