September 29, 2016 by GuyHeilenman · 2 Comments
Collectible Civil War Era Newspapers
"History is never more fascinating than when it's read from the day it was first reported."
Records of a Nation in Turmoil
In the 1860s, Americans' interest in the Civil War, and its collateral effects, caused a spike in demand for news reports. These were days of heightened concern, and newspapers were one of the few resources that people were able to rely upon for war news.
Aside from specific war news, Civil War newspapers also reported on citizens' reactions to how the war was shaping the American economy and politics, and opinions about slavery.
Reading an authentic Civil War newspaper and holding the original print paper between your fingers will transport you to the frontlines of battle, and provide a glimpse into the psyche of Civil War-era citizens, politicians, and soldiers.
Original Civil War newspapers are genuine pieces of American history a collector or anyone interested in American history must have.
Harper's Weekly
Harper's Weekly was one of the most popular newspapers during the Civil War. Although its base was in New York, its moderate stance on slavery (pre-war) was seen as a way not to upset the newspaper's Southern readership. However, once the Civil War began, President Lincoln and the Union received Harper's complete loyalty and support.
As the war went on, the many illustrations and prints from Thomas Nast and Winslow Homer provided a vivid visual account of the battlefields, the people, and the bloodshed—"I'm hoping next week's edition will show scenes of the battle of Fort Sumter in Charleston Harbor. I've read all about it, now I want to see it!" – A Harper's Weekly reader in 1861. Another Harper's reader noted, "I look forward to the end of the month and seeing just what transpired at Charleston."
The illustrations and prints from Harper's Weekly remain striking in both their detail and artistry. We have several noteworthy issues of Harper's Weekly in our inventory.
Civil War People & Generals
The Southern States' call for secession from the Union grew louder after the election of Abraham Lincoln in 1860. A disagreement between President Lincoln and Confederate leader Jefferson Davis over control of Fort Sumter led to overwhelming demand for war. Many men began enlisting for military service shortly after the battle of Fort Sumter.
Our vast inventory of genuine, historic Civil War newspapers highlight the efforts of military heroes from the North and the South that we have all come to know, including Ulysses S. Grant, George McClellan, Robert E. Lee, George Meade, "Stonewall" Jackson, William T. Sherman, and more.
Significant Civil War Battles & Events
Battle reports were common, including struggles at Fort Sumter, Bull Run, Manassas, Antietam, Shiloh, Gettysburg, Chickamauga, Vicksburg, Fredericksburg, Richmond, and so much more.
We have newspapers covering the first shots at Charleston Harbor to the final surrender at Appomattox, plus the Lincoln assassination.

Southern Illustrated News
The Southern Illustrated News was to the Confederacy what Harper's Weekly was to the Union. Based in Richmond, Virginia, Southern Illustrated News had a rather ornate masthead and its front pages regularly featured portraits of notable Confederate figures, such as Robert E. Lee, "Stonewall" Jackson, and John S. Mosby. Southern Illustrated remains one of the most sought-after Civil War-era titles in the collecting hobby to date. Visit our Southern Illustrated Pinterest board to view several interesting portraits.

Reporting the Civil War
Before the start of the war, there were 3,725 newspapers in the United States. American newspapers accounted for one-third of all newspapers printed in the world. Most of them were weeklies. At the time, standards for what constituted sound, thorough, and responsible journalism did not exist on the eve of the war, according to Ford Risley, a Civil War journalism expert and head of the Department of Journalism at Penn State University.
Newspapers printed news dispatches, editorials, illustrations, maps, and various other tidbits, such as President Lincoln's famous letter to Mrs. Bixley "…to have laid so costly a sacrifice upon the altar of freedom." At times, the dispatches were entirely hearsay and wildly inaccurate, such as this series of short reports from the Daily Journal of Wilmington, NC or this report from the New York Tribune stating that Stonewall Jackson was "Dead Again."
The Reporters
Reporters were a diverse group. Some had previous experience, but many reporters were lawyers, teachers, clerks, bookkeepers, and ministers. Their levels of education ranged from Ivy-league educated to only basic schooling.
Civil War reporters faced many difficulties, among them uncooperative and unreliable sources, difficulties with dispatching reports back to their newspapers, and even death. One correspondent closed a story with "Your readers must pardon a short letter. No man can write in a happy vein or style while minnie [sic] balls are flying uncomfortably close to his head." Needless to say, conditions for Civil War reporters were not safe or ideal. More on how reporters lived and worked can be found here.

Unique Printing and Reporting Conditions
After the Union won the Battle of Memphis in June 1862, the Memphis Daily took to the road and became known as the Moving Appeal. During just a four-year period, this newspaper published in nine different cities.
A truly one-of-a-kind newspaper was "printed on board Steamer Des Moines" on blue-lined ledger paper in 1864. This issue also contains a letter written by a soldier to his wife. Letters from soldier correspondence frequently contained glorified accounts of battlefield glory meant to inspire confidence in the readers back home. Occasionally, letters from soldiers had reliable news and insights.
—————————–
Much more can be said regarding newspapers from the Civil War, but for now, please enjoy the Rare Newspapers dedicated page dedicated to original and historic issues from this era:
September 26, 2016 by TimHughes · Leave a Comment
While the most significant feature of the "St. Louis Daily Globe" of February 2, 1875 is a report regarding Frank and Jesse James, the front page has a curious report headed: "A Peculiar Bill" concerning the need to create nonsmoking cars which would: "…afford relief to a great many ladies who are annoyed by cigar smoke, and other evils arising from the use of tobacco by gentlemen…" (see image).
September 22, 2016 by GuyHeilenman · Leave a Comment
Collectible Revolutionary War Era Newspapers
"History is never more fascinating than when it's read from the day it was first reported."
First-hand Accounts of the American Revolution
What is now American history was once current news. Revolutionary War newspapers produced daily reports mentioning political leaders such as George Washington, Thomas Jefferson, Benjamin Franklin, John Adams, John Hancock, plus military leaders (both American & British) including Gates, Gage, Carleton, Howe, Clinton, John Paul Jones, Burgoyne, and the infamous traitor, Benedict Arnold, along with other noteworthy names, such as Paul Revere and Thomas Paine.
Follow The Stuggle Against Tyranny
We offer an opportunity to own complete, genuine newspapers from the era of America's founding fathers. Read first-hand battle reports from including Lexington & Concord, Bunker Hill, Saratoga, Ticonderoga, and Valley Forge. Immerse yourself in significant political events, such as the Declaration of Independence, the "Causes and Necessity for Taking Up Arms," Articles of Confederation, the Stamp Act, and other historical happenings. Read of soldiers protecting the liberty of their families; the British taking over our prized cities of Boston, Philadelphia, and New York; and the struggle of the 13 colonies as they fought to be freed from the tyranny of British rule and taxation.
The Relationship Between Great Britain and the Colonies
It's always interesting to get a glimpse into how the British newspapers reported news about "her charter colonies in America." The London Chronicle published some terrific content on that topic in April 1774, and another article about taxing the American colonies containing the quote: "Might not America, under tax masters thus interested in their oppression, be deemed in a state of abject slavery?"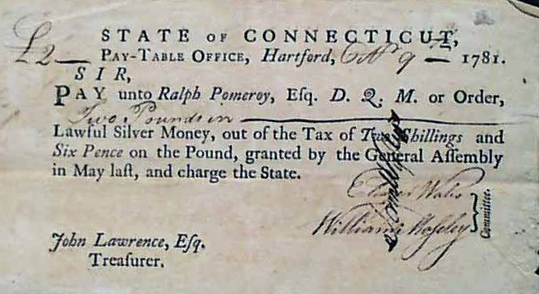 Hold History in Your Hands
It comes as a surprise to many that newspapers from the Revolutionary War that are 200-plus years-old are available for purchase, and are reasonable priced and well preserved. The reason that 18th century newspapers have held up so well is mostly because they were printed on durable rag linen. Rag linen was a common type of paper that was made from pulping linen rags often from ship sails or clothing.
September 19, 2016 by The Traveler · Leave a Comment
Today my journey took me to London, England, by the means of The Post Boy dated September 20, 1716. There I found the Ottoman-Venetian War was going strong with little relief for the Turks. Even their truce request of a couple hours in order to bury dead had been denied. Then only to be faced with coming into
battle with nails and iron and iron spikes being hidden in the sand and planks at the Communication Bridge which lamed their horses and then to be fired upon by cannon and small shot, killing more men.
I found an interesting article on the back page. "…Last Wednesday night, a Man being at the Gallows, about to be hang'd, was pardon'd; and the Friday following, another being just ready to be turn'd off, the Duchess of Berry pass'd by that Place to the Opera, and ask'd what was the Matter. Being told, she order'd the Lieutenant-Criminal to deferr Execution, while she went back, and interceded for him to the Duke-Regent. Having obtain'd his Pardon, she sent one of her Pages with it; whereupon, the Cord was cut from about his Neck, and he with much ado brought down the ladder…"
~The Traveler
September 15, 2016 by GuyHeilenman · Leave a Comment
Collectible 1600s & 1700s Newspapers
"History is never more fascinating than when it's read from the day it was first reported."
It might not be your first thought, but newspapers from the 1600s and 1700s are very similar content-wise to modern newspapers. Early newspapers contained reports on wars, natural disasters, listed items for sale, and published death notices. Sound familiar? Newspaper content hasn't changed drastically in 300-plus years. It is interesting to read accounts from this era and realize how similar we modern folk are to our ancestors. It seems that people at their core are mostly the same, and to this day, want to read news covering similar topics. That being said, some aspects of newspapers definitely have changed.
What has changed are the dimensions (smaller then, larger now), the number of pages (fewer then), paper quality (higher quality rag linen then), and the format. Newspapers of this period typically had an inflexible format, meaning that if page three was dedicated to foreign news, even if the most amazing foreign event occurred, it would appear on page three, not page one—period.
Due to the time it would take to typeset and print an issue, breaking news of major events would often be printed on a separate sheet called an "Extra" or an "Extraordinary" that was delivered with the daily issue or sometimes was not distributed until the following day.
Much more can be said regarding newspapers from the 1600's and 1700's, but for now, please enjoy the Rare Newspapers dedicated page dedicated to original and historic issues from this era:
September 12, 2016 by TimHughes · 2 Comments
The history of the origin of the name of the "Baby Ruth" candy bar by the Curtis Candy Company is interesting, brought to light recently with our finding the "Frank Leslie's Illustrated" issue of Jan. 5, 1893.  The full front page is an illustration captioned: "Baby Ruth and Her Mother" being the child of President Grover Cleveland. This is the person for whom the "Baby Ruth" candy bar was named, not Babe Ruth the famous baseball star as was popularly though. And the story behind the name is interesting.
In Chicago in 1921 Otto Schnering had a turnaround plan for his Curtis Candy Company. He reformulated his "Kandy Kake" brand confection—a conglomeration of milk chocolate, peanuts and a pudding center "richer than marshmallow, fluffier than nougat, better than either of them"—into a chocolate-covered candy bar with peanuts, caramel and nougat. Along with the new recipe came a new name—Baby Ruth. At first glance, it seemed clear that Schnering had taken advantage of the home run king's well-known name and tweaked it by one letter in order to avoid paying the "Sultan of Swat" any royalties.
Perhaps because of its perceived connection to the Yankee slugger, Baby Ruth was a big success. By 1926, sales of the candy bar totaled $1 million a month, and the company's candy-making facilities were the largest of their kind in the world.
In 1926, Ruth decided to enter the candy business himself and licensed his name to the George H. Ruth Candy Company, which sought to register "Ruth's Home Run Candy" with the U.S. Patent and Trademark Office. Wrappers showed a head shot of a smiling Ruth in his uniform along with the note "Babe Ruth's Own Candy." The Curtiss Candy Company sued for copyright infringement and claimed that the candy bar had not been named after the baseball star, but Ruth Cleveland, eldest daughter of President Grover Cleveland. The explanation seemed odd given that the girl nicknamed "Baby Ruth" by the press had been born in 1891, three decades before the introduction of the candy bar. By 1921, not only was she not a baby, she wasn't even alive, having died of diphtheria in 1904. Newspapers and the American public paid close attention to "Baby Ruth" after her father returned to the White House in 1893 for his second presidential term, but the Clevelands fiercely protected their daughter's privacy and refused repeated requests by American newspapers to take her photograph. Few Americans ever knew what "Baby Ruth" looked like. By 1921, Babe Ruth was a household name while "Baby Ruth," who died 17 years beforehand, was an historical footnote. (credit www.history.com)
Given the above, it is curious that this image of Baby Ruth Cleveland appeared on the front page of this very popular illustrated newspaper. Perhaps it is the only image of her in a newspaper.
September 8, 2016 by GuyHeilenman · Leave a Comment
Catalog 250 is now available. This latest offering of authentic newspapers is comprised of nearly 350 new items. Some of the noteworthy content includes: a printing of the Constitution of the United States, an issue of The Royal Gazette from Charleston (1782), a 1659 newsbook we've never offered before, Winslow Homer's famous "Snap The Ship", an issue with the British response to the Declaration of Independence, coverage of Cornwallis surrenders at Yorktown, and more. Key items which include the remaining items from the above may be viewed at: Noteworthy Catalog 250
Whereas the entire catalog is shown at Catalog 250, the following links are intended to aid in quickly finding items from the catalog based on era:
• 1500-1799 (full view OR quick-scan "compact" view)
• 1800-1899 (full view OR quick-scan "compact" view)
• 1900-2015 (full view OR quick-scan "compact" view)
To view items from both the current and the previous catalog, go to: Combined Catalogs
September 5, 2016 by The Traveler · Leave a Comment
Today I traveled to New York City by the way of The New York Times dated September 7, 1966. I found the announcement "Margaret Sanger Is Dead at 82; Led Campaign for Birth Control."  "…As the originator of the phrase 'birth control' and its best-known advocate, Margaret Sanger survived Federal indictments, a brief jail term, numerous lawsuits, hundreds of street-corner rallies and raids on her clinics to live to see much of the world accept her view that family planning is a basic human right…"
As per Wikipedia… "She founded the American Birth Control League (ABCL) in 1921 to enlarge her base of supporters to include the middle class. The founding principles of the ABCL were as follows:  We hold that children should be (1) Conceived in love; (2) Born of the mother's conscious desire; (3) And only begotten under conditions which render possible the heritage of health. Therefore we hold that every woman must possess the power and freedom to prevent conception except when these conditions can be satisfied."
~The Traveler
September 1, 2016 by GuyHeilenman · Leave a Comment
What news was reported in the month of September – 50, 100, 150, 200, and 250 years ago (1966, 1916, 1866, 1816, 1766)? Such a walk back through time via the eyes of those who read the daily and weekly newspapers of the period can be quite revealing. This is why we often say, "History is never more fascinating than when it's read from the day it was first reported." The following links will take you back in time to show the available newspapers from the Rare & Early newspapers website. There's no need to buy a thing. Simply enjoy the stroll.
September: