July 9, 2015 by GuyHeilenman · Leave a Comment
What news was reported in July, 1865 – 150 years ago? The horrors of the Civil War were now in the past, but the emotions and sorrow of the assassination of President Abraham Lincoln were still fresh. Where would the nation go from here? How would we move forward? Was unity possible?
Such a walk back in time through the eyes of those who read the daily and weekly newspapers of the period can be quite revealing. This is why we often say, "History is never more fascinating than when it's read from the day it was first reported." The following link will take you back in time to show the available newspapers from the Rare & Early newspapers website. There's no need to buy a thing. Simply enjoy the walk back in time:
A sampling of what you will find may include articles and info regarding: The end of the Massachusetts 54th Regiment, the hanging of the Lincoln assassination "conspirators", the capture of Kirby Smith, P.T. Barnum's tragic fire, the emancipation of slaves, the return to a degree of normalcy as shown through interest in post-war sports (baseball and others), and more. Please enjoy your travel into the past as you browse through the currently available original newspapers!
November 10, 2014 by GuyHeilenman · Leave a Comment
Major General Granger's General Order #3, which appeared in the July 25, 1865 issue of Flake's Daily Bulletin, provides contrasting news for the newly freed slaves. Good News: You are now free!  Bad News: Get to work and don't come crying for help! I wonder how we would handle this same situation if it were to happen today???
February 24, 2014 by GuyHeilenman · Leave a Comment
I absolutely love this collectible!
We had in our possession for a number of years an original issue of the Frederick Douglass' Paper, dated March 17, 1854. It certainly was a grand paper – it being a continuation of Douglass' North Star. However, while the notoriety of the title was well-established and the angst of slavery oozed throughout, it was a 21st century movie which infused new life into it's weary 150+ year-old raglinen pages.
A collector recently went to see the theatrical adaptation of "Twelve Years a Slave – The Memoir of Solomon Northup", and was moved to visit the Rare & Early Newspapers' website to see if we had newspapers with his mention. Searches for his name were unsuccessful – but this collector was not to be deterred. Having previously viewed the Frederick Douglass' Paper in question, he took the next step and began to go over the corresponding images with a fine-tooth comb. Success. The newspaper was not only noteworthy for its editor and rarity, but it also had an article on the front page with mention of Solomon Northrup (see below). Fantastic.
Like I said, I love this collectible!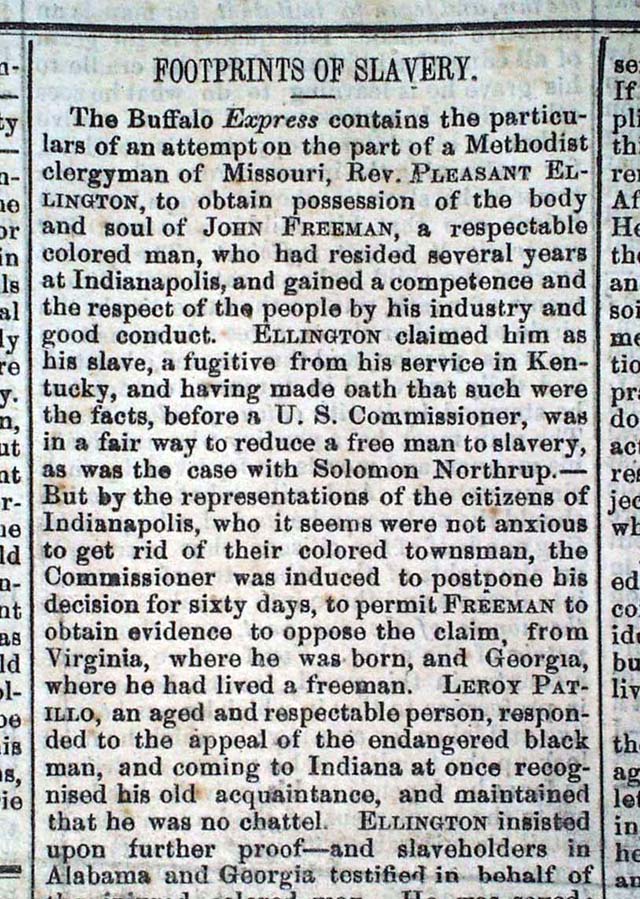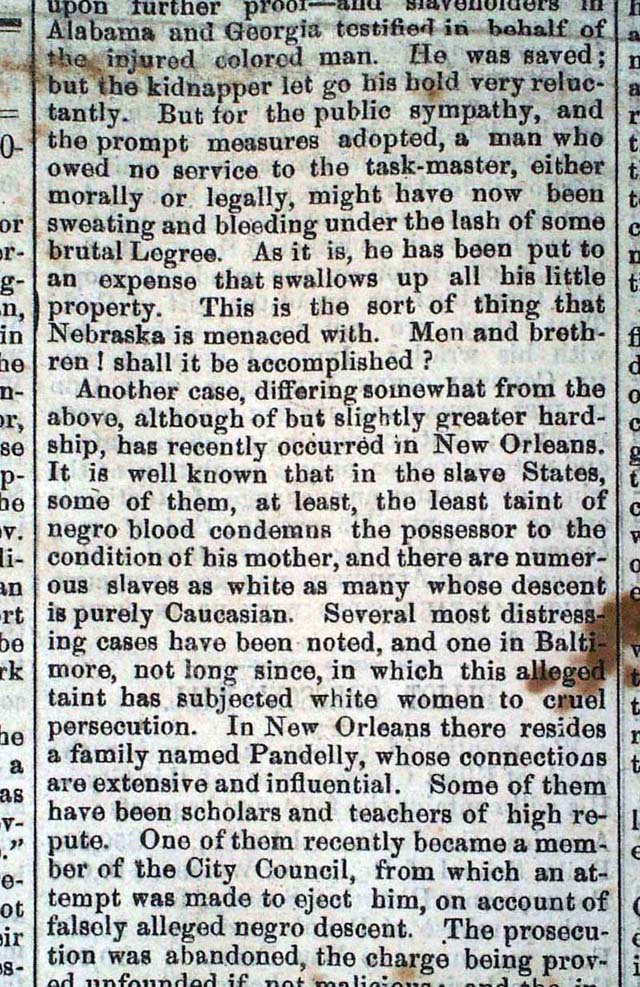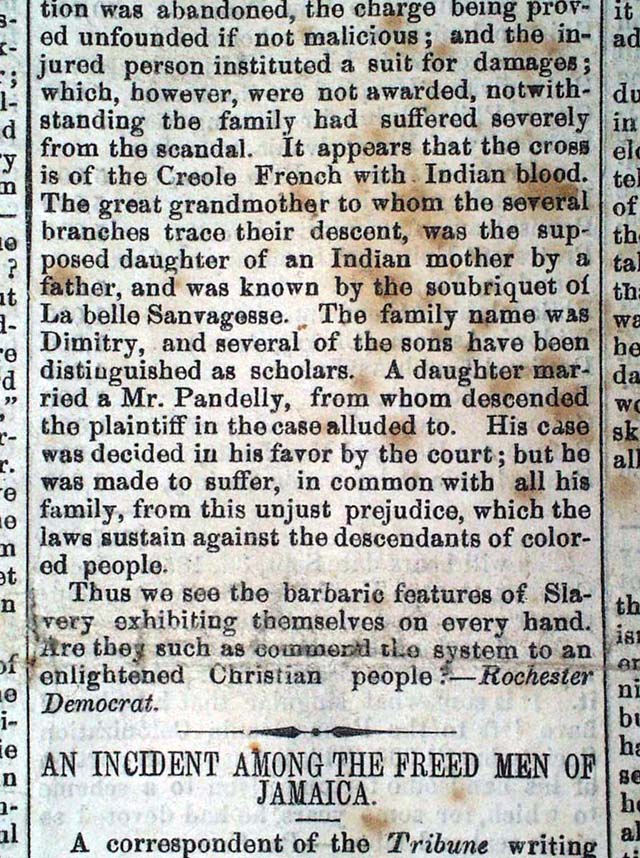 July 29, 2013 by GuyHeilenman · Leave a Comment
There is no doubt Abraham Lincoln is one of the most beloved historical figures of all time. Similar to how Robert E. Lee is respected by "Yankees", as time goes by Abe Lincoln also seems to garner mutual appreciation. Once seen as polarizing, he is now credited with opposite – preserving unity. To what can we
credit the change in how he was/is viewed?  Perhaps it was his address at Gettysburg or our post-Civil War hindsight which appreciates (or at least acknowledges) the end result – that we remain a united nation.  However, one danger in turning a flesh-and-blood human being into an icon is that we lose perspective on the conflicted realities the people of this era were facing.  We also tend to eliminate anything about such individuals which may present them in a light which bristles against how we perceive them. Doing so marginalizes the issues they were grappling with and minimizes the complexities surrounding change. It is with this in mind we invite you to explore another side of Abraham Lincoln – as he discusses his views on what to do about the slave issue. The best way to take this journey is to read his thoughts via the images provided through the link to the Liberator of August 22, 1862: Abraham Lincoln on African Colonization
June 21, 2013 by GuyHeilenman · Leave a Comment
Every now and then we'll come across an article which either illustrates a different side of a well-known historic figure, or provides a glimpse of someone whom we wonder why they have not received more recognition over time. Every now and then we'll try to bring some of these to light. In this instance, our attention is drawn to Toussaint L'Ouverture. While he may be known to historians, the average person has most likely never heard of him. However, there was a time when this was not the case. In the mid-1800's, his influence was known world-wide, and the ripple effects of his actions continue to be felt today. If you desire to know more, a lengthy biographical sketch by the often-verbose Wendell Phillips printed in the April 3, 1863 issue of The Liberator might be an excellent launching point. The entire article may be viewable at: The Liberator, April 3, 1863.
Wikipedia also does a pretty good job of providing additional details regarding his fascinating life. While most are no longer available, a few additional tidbits may be gleaned from other newspapers of the period:  Toussaint L'Ouverture
Enjoy!
March 4, 2013 by The Traveler · Leave a Comment
Today I decided to travel back to the era of the Civil War through The New York Times of March 4, 1863. In this issue I found the Southern President Jeff Davis had appointed March 27th to be a Day of Fasting and Prayer. "…Under these circumstances it is my privilege to invite you once more to meet together and prostrate yourselves in humble supplication to Him who has been our constant and never-failing support in the past, and to whose protection and guidance we trust for the future. To this end I, Jefferson Davis, President of the Confederate States of America, do issue this, my proclamation, setting apart Friday, the 27th day of March, as a day of fasting, humiliation and prayer…" This is also signed in type: JEFFERSON DAVIS.
Also under the "Important from Washington" are the new establishments of "The New Banking Law"; "Designs for Currency Notes" due to the recent passing of the National Currency Act; "A Branch Mint in Nevada"; as well as the establishing of "The Territory of Idahoe (Idaho)" from within the territory of Montano (Montana). "Slavery is forever prohibited within the limits of the new Territory".
What an incredible time in history!

~The Traveler
February 22, 2013 by GuyHeilenman · Leave a Comment
Slavery. The word itself stirs intense emotions for nearly all who hear it… even for those who have not been directly confronted with the institution. For some it brings feelings of guilt… "How could my forefathers have engaged in such activity?" For others it brings feelings of oppression… anger… and more.  While many people groups have been subjected to this burdensome yoke of man through time, for Americans, none is quite as impacting as the enslavement of African Americans. In honor of Black History Month, Timothy Hughes Rare & Early Newspapers has created a Pinterest Board which takes a look back at a time in U.S. history when slavery was alive and (not so) well:
Additionally, we've arranged our available authentic newspapers related to Black Americana in chronological order (recent first) to provide a snapshot into the past for those interest in reviewing how slavery in general, and Black History more specifically, has been depicted in newspapers over the past few centuries. They may be viewed at:
January 21, 2013 by The Traveler · Leave a Comment
This week I traveled 150 years back in time and through the activities of the Civil War via the Harper's Weekly dated January 24, 1863. This issue contains a double-page illustration by Thomas Nast entitled "The Emancipation of the Negroes, January, 1863 – The Past and The Future." Mr. Nast shows their present life in the center circle, of a happy home including a picture of President Lincoln hanging on the wall. The illustrations to the left show obstacles they had to endure — being sold at auctions and separated from loved ones, beatings, and being chased (if running away). The illustrations to the right show what they are looking to in the future with the implementation of the Emancipation Proclamation — owning a home, children going to public school, being treated fairly by the employer and being paid for working.
This illustration has an accompanying article that describes the illustration and also includes text from the Tribune of March 11, 1859, which dealt with the largest single sale of humans (slaves) in the United States. Mr. Pierce M. Butler of a city near Savannah, Georgia, sold 486 slaves — men, women and children — to pay his debts. This gives a prospective of what the slaves had to endure as they were being separated from each other as family members and long term friends.
As a contrast , this issue also presents a look into the past with an illustration and small article, "A Slave-Pen at New Orleans – Before the Auction. A Sketch of the Past."
Today we also celebrate Martin Luther King, Jr. day. Let us all remember his famous words… "Free at last. Free at last. Thank God Almighty we are free at last."
~The Traveler
November 26, 2012 by TimHughes · Leave a Comment
Mentions in pre-Civil War newspapers of slave auctions are not uncommon, and those which mention prices fetched for various slaves are somewhat more rare. But it is very difficult to find period articles which offers detail as to how an auction is conducted, how the slaves are examined, and comments on the slaves' reaction to their sale.
The "New York Tribune" issue of April 28, 1860 includes an article titled: "The Negro Market In Savannah" which has such detail. It offers an interesting perspective on this  institution which seems so barbaric today, but which was an accepted part of business in the pre-war South. A snippet of the text is found below, with the text in it's entirety, along with a report of a fugitive slave case, is found at: "The Negro Market In Savannah".
February 11, 2012 by TimHughes · 1 Comment
The "Supplement to the New-York Daily Tribune", May 11, 1849, has the following at the top of the front page. Note the incredibly strong pro-slavery bias in the first paragraph: