Announcing: Catalog #269 (for April, 2018) is now available…
April 2, 2018 by GuyHeilenman

Email This Post |
Print This Post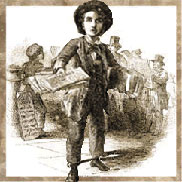 Rare Newspapers' monthly offering of collectible newspapers, Catalog 269, is now available. This latest collection of authentic newspapers is comprised of nearly 350 new items. Some of the noteworthy content includes: a great stock market crash newspaper, the famous "Dewey Defeats Truman" newspaper, the surrender of Cornwallis at Yorktown, Wyatt Earp in a Tombstone newspaper, consideration of a compromise to full independence, a newspaper printed onboard a transcontinental railroad train, and more.
To view the above key issues and a whole lot more, go to: Catalog 269

(The catalog links shown above will redirect to the latest catalog in approximately 30 days, upon which time it will update to the most recent catalog.)
If you liked this post, you may also enjoy...
Comments