October 7, 2019 by GuyHeilenman · Leave a Comment
Typically, the day after a MLB team is defeated in the World Series, an acknowledgement along with a few humble, congratulatory remarks are the focus of the losing team's hometown newspaper. However, after the New York Yankees eliminated the St. Louis Cardinals in the 1941 World Series, the St.Louis Post-Dispatch decided to ignore decorum and instead, predicted that the following year, the Cards would return to defeat the Yankees in the 1942 World Series? How do we know they made such a bold prediction? They put it in print – and, Nostradamus would  have been proud. The following year both teams returned to the World Series, and the Cards defeated the Yankees in only five games.
October 4, 2019 by GuyHeilenman · 2 Comments
Unless you grew up in the Philadelphia – New York City corridor, you may not recognize the name, but he certainly made his mark on American culture in general, and the Philly region in particular. Famed merchant, marketing pioneer, founder of one of the first major department stores, U.S. Post Master General, notable Christian philanthropist, and more, his name was recognized throughout the world in the mid-to-late 19th century. Until its closing, the Wanamaker Building was a frequent destination for most who visited Philadelphia, especially during the Christmas Season. Some of his more-famous quotes include: "People who cannot find time for recreation are obliged sooner or later to find time for illness." "People who cannot find time for recreation are obliged sooner or later to find time for illness." "Half the money I spend on advertising is wasted; the trouble is, I don't know which half."

As was reported in the December 12, 1922 issue of The Bethlehem Times, John Wanamaker met his Maker on the same day as this report. While his influence lives on through such simple things as "the price tag" (on products), his name is slowly succumbing to that which befalls us all. Still, those of us who know of his contributions appreciate his impact on society, and have fond memories of his Christmas Light Show and one of the most amazing pipe organs in the world. Thanks John.
Update from a comment posted as a follow-up to this post: "It is true that Wanamaker department store is closed, but since then, the building has housed two other department stores, Hecht's and Macy's. Both companies have continued the Christmas light and organ traditions. Macy's, the current owner, even funded a multi-million dollar restoration to the light show. Going to Wanamaker's at Christmas is still a yearly tradition that my family enjoys, and many a Philadelphian still "meet at the eagle," on a daily basis." Thanks Bill (see posted reply)
October 1, 2019 by GuyHeilenman · Leave a Comment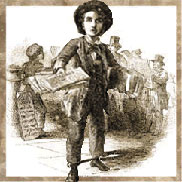 Catalog 287
(for October) is now available. This latest offering of authentic newspapers
is comprised of nearly 300 new items, a selection which includes:
the famous "Dewey Defeats Truman" newspaper, a rare Civil War camp newspaper, the "Corinth Chanticleer" from Mississippi, a Broadside "Extra" on the capture of Jeff Davis, a great Battle of Gettysburg newspaper, a Confederate broadsheet "Extra" from Georgia
, and more.
The following links are designed to help you explore this latest edition of our catalog:
Don't forget about this month's DISCOUNTED ISSUES.
(The links above will redirect to the latest catalog in approx. 30 days, upon which time it will update to the most recent catalog.)
September 22, 2019 by GuyHeilenman · Leave a Comment
As we were searching through our issues from 1941 looking for new WWII content, to our great dismay we discovered a article on page 3 of the San Francisco Chronicle dated November 15th headed:  "Goebbels Tells Germans How To Hate Jews", which was followed by his ten "reasons" to hate them. There are some who wish to ignore and/or deny the existence of the hatred which ran rampant during this time in world history, but thanks to the S.F. Chronicle, they put it in print:
September 16, 2019 by GuyHeilenman · Leave a Comment
Price being equal, would you typically choose a tangible gift, or an experience? Why do I ask?
Context: My wife and I have been blessed with 6 children. As each approached the end of their high school education, we offered each of them a sizeable (to us – the parents of a large family with only one of us working outside the home) amount of money as a graduation gift, or its equivalent in cost to go on a trip of their own creation. Two of them opted for the $$$ to put toward items they wanted (at the time), while the other four each elected to go on a trip. Many years later, as we all reflect back on the "gifts", those who chose the "experience" are pleased they did – and have vivid fond memories, and the others struggle to remember what it was they had purchased. The reality is, "things" are typically for the moment, and have short life-spans, whereas memories are for a lifetime.
It is with this in mind we embark on a new, experiential series of posts: "Where you there?" Our hope is that in so doing, those of you who were present will be flooded with good memories of your experience. To kick things off…
On September 13, 1980, Elton John performed a free concert in Central Park, New York. To this day, it remains one of the top ten most-highly attended musical events held in Central Park. Were you there? The ad below was printed in the September 9th, 1980 (f0r the 10th-16th) issue of The Village Voice. Feel free to share your family-friendly memories.
September 9, 2019 by GuyHeilenman · Leave a Comment
The following snapshot comes from the Village Voice, Greenwich Village, New York, June 6, 1968. In a bizarre twist of fate which is a bit stranger than fiction, Robert (Bobby) Kennedy died this same day at the hand of an assassin, and although the coverage was not included since this issue had already been printed, the back page has an eerie ad soliciting help with his campaign which states: "ROBERT F. KENNEDY is alive and living in N.Y." What could possibly have motivated the one placing this ad to include such wording?
September 2, 2019 by GuyHeilenman · Leave a Comment
Labor Day weekend is often received with quite divergent emotions. Most children view its encroachment with sadness as marks the end of their summer and a return to school, whereas at least a portion of parents view it in a positive light as a return to a bit of normalcy, and to sports enthusiasts, the onset of football season. However, regardless of which point of view one embraces, for coastal residents in the east and south, their emotions are typically coupled with a bit of trepidation as it also signals the onset of prime hurricane season. In this regard, the Albany Evening News for September 4, 1935 tells of what has become known as The Great Labor Day Hurricane. The image below tells of at least the initial detail of this historic weather-generated disaster. So, as we ask the Lord's blessing before enjoying our outdoor BBQ's today, let's be thankful these tragic events are few and far between.
August 26, 2019 by GuyHeilenman · Leave a Comment
The following snapshot comes from the Minneapolis Sunday Tribune, dated April 22, 1945, which shouts of America as the world's melting pot in a thousand words… and perhaps a million drops of blood.
August 23, 2019 by Stephanie Williams · Leave a Comment
Vacation is a good thing – as is coming back after a small change of scenery. I was up in Maine on a pond that is larger than any lake in my home state. And, while there, I was introduced to some important, prestigious folks who are third generation cabin ("camp" in the local vernacular) owners . We met at a covered dish supper out on one of the islands, bringing our contributions of bread and pie by way of a handmade wooden boat with a small outboard motor. And the inevitable question, "what do you do?" gave me a temporary fascinating status within the small group that included a renowned city planning consultant, a state representative, a former missionary to one of the Pacific islands and a couple of people who loosely classify themselves as "working in finance".   And, once again, I can reflect on the wealth that comes to anyone with access to information and knowledge.
Last week I had intended to tell about The National Tribune – a paper packed full of everyday life. My bit of time away in a very small town where people still own the original house that their great grandfather built, or moved, or rebuilt after fire swept through that portion of the town, made me even more eager to share it.
We have here, in the annex, the years of 1885 through 1887. Within these weekly offerings is that strange blend of folksy and elite – the movers and shakers of a national capital as they move around town and shop and advertise and gossip and greet. Unlike that other Washington title The National Intelligencer, the first of the eight pages contains very little news, while the third page is devoted to veteran accounts of the American Civil War, with columns headed by campaign and battle names. Sandwiched between the words of the wife of the Speaker of the House concerning her eight children and the scientific reporting on the application of incandescent mantles to carriage lights are details of Senate hearings and policy matters that still impact us today.
If you have the opportunity, consider purchasing a random date from this collection. It's less than two movie tickets and popcorn, and will likely enrich your life as much as it entertains. The newsy, small town tone reminds me of my recent time in New England, with the strange familiarity induced by elements we all have in common, whatever our circumstances or position.
Anyway, I plan to wander the New England titles from the 1800's in my next bit of adventuring time. Life, as described by a community newspaper, is filled with unexpected moments of beauty, kindness and every day heroism.
Note: If you would like to purchase an issue of this title from the 1800's, feel free to do so at: National Tribune, 1885-1887
August 15, 2019 by GuyHeilenman · Leave a Comment
There has rarely (if ever) been someone who has walked through our archives of historic newspapers and not been overwhelmed by the history that courses through the premises, but what is uncommon is to have such an individual become a member of our staff. Unlike many things that initially overwhelm or amaze us but soon lose their wonderment, if you love history, there are enough hidden treasures buried deep within our stacks to create excitement and appreciation for a lifetime. It was with this unique opportunity in mind we decided to have Stephanie Williams, our new office manager, chronicle her "learning curve" through a series of ongoing posts titled, "I'm New Here…". Now that she has eclipsed the six-month mark, we thought it might be nice to assemble the posts into one easy-to-access location. Please enjoy her initial 6-month trek.
(Also, Stephanie was on vacation so we thought it was a good time to create this chronology.)